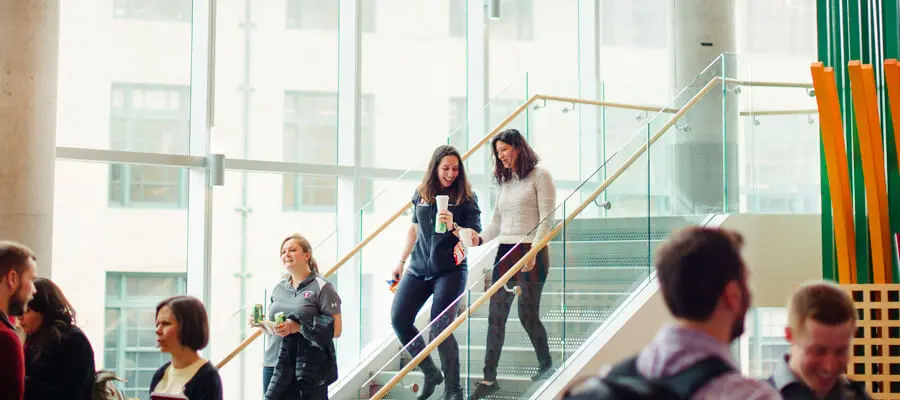 The MBA for Pittsburgh's Future: Tepper Flex MBA 
Our STEM-designated Flex MBA is the same as our top-ranked full-time program but in a flexible format for Pittsburgh's working professionals.
---
As Pittsburgh evolves as a leader in technology, health care, and energy, demand for a workforce with a sophisticated skill set is increasing.
Our MBA curriculum — rooted in advanced analytics and leadership — is specifically designed to prepare local professionals to lead at the intersection of business and technology.
Explore the Tepper Flex MBA
MBA Application Deadlines
Chart Your Path Toward Admission
We've taken the guesswork out of submitting your strongest application! Follow these seven steps to access essential resources and progress toward admission.

"What I have found to be the most beneficial is that I can immediately apply the skills that I have learned. My boss and my peers can see the immediate effects."
Jessica Gallick
Business Analyst
EQT
Why Choose Tepper Flex MBA
Our Part-Time Flex MBA is not like other Pittsburgh MBA programs. The Tepper School is the right place for Pittsburgh professionals to take their career to the next level. 
Flexibility
Access Weekends — taking place six times a year at CMU's campus in Pittsburgh — give you an in-person experience with classmates and faculty at the start of every core course.
Following the weekend, interactive, online core classes take place just two evenings a week, allowing you to attend from anywhere. Once you complete the core, you have the choice to take elective courses on campus or online, allowing you to tailor your study to your schedule. 
Thinking you may want to switch to full-time later? No problem — you have that option.
Same Top-Ranked MBA
Our part-time program has the same rigorous curriculum focused on analytics and leadership taught in weekly live sessions by the same faculty who teach our full-time students. No matter how you earn it, it's a Tepper MBA.
Community and Professional Growth
Access Weekends include more than just classes. You'll attend leadership workshops and corporate visits, meet with career counselors, or work on your personalized professional development plan for part-time students — the Tepper Roadmap. The roadmap provides a framework to focus your efforts to advance your growth during and after the program. Most importantly, you'll build relationships with your classmates and alumni.
All the Tepper Advantages
The Tepper MBA experience isn't just about the classroom experience. Top-ranked career services, student clubs, and leadership training are essential components of the Tepper School advantage. All of these are available to you as a Pittsburgh-based part-time student. 
Have more question about the Part-Time Flex MBA? Check our Frequently Asked Questions.