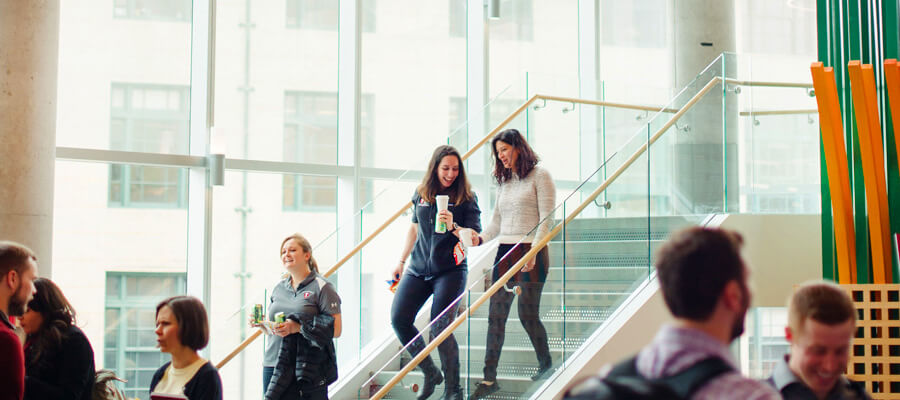 The Tepper Part-Time Flex MBA: The MBA for Pittsburgh's Intelligent Future
Pittsburgh professionals, this one's for you.
Level up your career with convenient online classes, on-campus electives, and a local cohort of smart, motivated people eager to lead in a fast-changing business world. Tap into the Tepper community during a series of six immersive Access Weekends, where you'll forge close ties with faculty, alumni, and classmates.
In the Part-Time Flex MBA program, you'll learn to analyze data for better decisions, delve into emerging technologies, and graduate ready to drive innovation in a future defined by disruption.
Taught by the same dynamic faculty who teach our Full-Time MBA program, you'll earn this STEM-designated MBA in a flexible format that blends online and in-person learning. You'll also get personalized leadership coaching that develops your ability to manage people, build networks of influence, and share your unique vision.
MBA Application Deadlines
Chart Your Path Toward Admission
We've taken the guesswork out of submitting your strongest application! Follow these seven steps to access essential resources and progress toward admission.

"What I have found to be the most beneficial is that I can immediately apply the skills that I have learned. My boss and my peers can see the immediate effects."
Jessica Gallick
Business Analyst
EQT
Why Choose Tepper Flex MBA
Part-Time flexibility. Pittsburgh-based cohort.
Redefine the possible with a Part-Time Flex MBA program situated at the nexus of data and human intelligence. You'll tackle the same tough, rewarding coursework as students in the Tepper Full-Time MBA program, and be taught by the same professors. And you'll earn the same STEM-designated degree, and emerge ready to unleash the power of data.
Personal Connection
Connect with your Tepper cohort during Access Weekends — a series of six immersive experiences where you'll collaborate in diverse teams, gain fresh insights, and forge deep ties with faculty and fellow students.
Professional Growth
How will you shape the future of business? You'll need cross-functional expertise and a healthy dose of humility to lead across disciplines and break through boundaries. The Tepper Part-Time Flex MBA includes personalized leadership coaching to develop your leadership expertise. You'll graduate ready to lead tomorrow's workforce with insight and inspire others to join you.
Full-On Flexibility
Following each Access Weekend, you'll attend live, online classes that meet two evenings a week. After you complete the core courses, you can tailor your Part-Time Flex MBA with on-campus or online electives at the times that suit you best. Add an interdisciplinary edge by taking classes at any of the six other Carnegie Mellon colleges.
Hoping to switch to the Full-Time MBA program later? No problem — you have that option.
All the Tepper Advantages
Professional career services. One-on-one leadership coaching. More than 40 student clubs. Enjoy all the Tepper advantages as you pursue a Part-Time Flex MBA alongside other local professionals. When you're on campus for electives or Access Weekends, your home base is the Tepper Quad — a lively innovation hub at the heart of the Carnegie Mellon, located in the center of Pittsburgh, a thriving community of technological growth and entrepreneurship.