Boyarski Named New Head of Design School; Buchanan Credited for Restructuring Curriculum
Dan Boyarski, a faculty member in Carnegie Mellon's School of Design since 1982, has been appointed head of the school, effective July 1. He succeeds Richard Buchanan, who has announced he will step down as head after serving two five-year terms. Buchanan will return to the Design School faculty.
Martin Prekop, the Stanley and Marcia Gumberg Dean of the College of Fine Arts (CFA) applauded Buchanan for his enterprising leadership.
"We are grateful for Richard's efforts to position the school as a vibrant, highly respected and innovative program," Prekop said. "The curriculum is acknowledged as a dynamic model for design schools around the world.
"We are also fortunate to have Dan, a leader in the design world and an extraordinary educator, assume this administrative role in the School of Design."
Boyarski is director of graduate studies in the Design School. This year, the school has seen a 30% increase in applications to the two master's and Ph.D. programs.
Boyarski believes that Buchanan and a cohesive faculty have influenced the school to become one of the top five undergraduate and one of the top three graduate design programs in the country. He looks forward to working in a position that is primed for development.
"Dick was the catalyst for change," Boyarski said. "I will keep in mind what we have achieved over the past 10 years and maintain that momentum."
Boyarski, whose self-acclaimed first love is teaching, was the recipient of CFA'S Outstanding Teaching Award in 1984. He instructs courses in typography, information design and interaction design.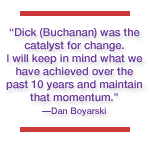 In 1999 Boyarski spent a sabbatical pursuing his interest in educating at the corporate level at the Innovative Design Lab of Samsung (IDS) in Seoul, Korea. There, he instructed a small interdisciplinary group of researchers from the international corporation for six months.
In April 2001 Boyarski returned to Seoul with a team of Design faculty and students to present their solutions to a project sponsored by Samsung Electronics. "The Samsung New Interactions Project" was a six-month investigation into two interaction design topics, third-generation mobile communication devices and modular television systems. Six Design and two Human-Computer Interaction Institute (HCII) students conducted research in human factors and trend analysis to generate future scenarios of product use and to create design concepts and interface designs.
"It was wonderful to see Design and the HCII working hand-in-hand on a project with so much impact," Boyarski said. "When a design project's focus is in human-machine interaction it's natural to form teams comprising communication designers, industrial designers and experts from related fields.
"Progressively we have seen more Design faculty and students join research and development teams in other Carnegie Mellon research centers, such as the Institute for Complex Engineered Systems, the Robotics Institute and the Human-Computer Interaction Institute. As head I will encourage programs that facilitate such cross-pollination that can only benefit the School of Design with new knowledge formed from the blurring of disciplines."
As a designer, Boyarski's work focuses on how words, images, motion and sound work together to produce effective communication pieces. His course "Time, Motion and Communication" emphasizes the synthesis of typography with time and motion. He is considered a pioneer in the field of interaction design with research interests that include visualizing complex information spaces, legibility of digital letterforms and interactive navigation.
In 1999 the Design Management Institute (Boston, Mass.) awarded him the Muriel Cooper Prize for outstanding achievement in advancing design, technology and communications in the digital environment.
Boyarski received his bachelor's degree from St. John's University, Minnesota, and his master's degree from Indiana University. He did postgraduate work at the School of Design in Basel, Switzerland, where he met Swiss graphic designer Ruedi Ruegg, who later helped Boyarski establish The Swiss Poster Collection at Carnegie Mellon in 1985. Boyarski collaborated with Ruegg to provide the university with a teaching collection that would serve as a stimulus to experimentation and new work.
Ruegg updates the collection annually, often adding other examples of eminent poster design he believes will benefit students through close study. Boyarski is co-curator of the collection located in Special Collections of the Carnegie Mellon University Libraries. The Swiss Poster Collection (http://swissposters.library.cmu.edu/Swiss/) contains exceptional works from 1971 onward by designers such as Ruegg, Max Bill, Paul Bruhwiler, Herbert Leupin, Josef Muller-Brockmann, Roger Pfund, Niklaus Troxler, Wofgang Weingart, Kurt Wirth and many others.


Buchanan Credited for Restructuring School of Design's Undergraduate Curriculum
Shortly after taking the reigns as head of the Design School in 1992, Richard Buchanan spearheaded a faculty effort to restructure the undergraduate curriculum to reflect the changing society and to better meet the professional needs of design students.
"The national accreditation team that reviewed the (new curriculum) plan declared it the most clearly thought out and interdisciplinary program they had seen," Buchanan said.
"It is because of Dean (Martin) Prekop's support that the School of Design has been able to undergo a tremendous and positive transformation during my service as head."
Today, the School of Design offers a range of degrees and majors and a minor in either Communication Design or Industrial Design. The school also offers master's degree programs in Communication Planning and Information Design, and Interaction Design. It recently initiated a doctoral program, joining a small number of national institutions in preparing the next generation of design professors, researchers and professionals.
The university's commitment to interdisciplinary cooperation is a factor Buchanan says is necessary to advance the theory and practice of design in the contemporary world. In research efforts, the school has collaborative relationships with the Human-Computer Interaction Institute, the Robotics Institute and the Institute for Complex Engineered Systems. Buchanan said the school's strengths are enhanced by "ready access" to expertise in other parts of the university.
"New facilities and renovations have also brought the school to a new level of excellence," he said.
The School of Design manages four facilities that directly support the work of students and faculty: the John Reese Memorial Electronic Studio, the 3-D Laboratory, the Imaging Laboratory and the Letterpress Facility.
Buchanan teaches Interaction Design, Communication Planning, and the Philosophy and Theory of Design. He is editor of the international journal "Design Issues: History, Theory, Criticism," one of the foremost scholarly journals of design in the world. Buchanan is also the new president of the Design Research Society, a multidisciplinary international society for the design research community.
Buchanan received his bachelor's and doctor's degrees from the University of Chicago.
Joelle Park
(04/11/02)