Homeland Security Chief Tom Ridge to Deliver Keynote Address at Commencement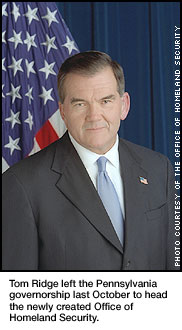 Director of Homeland Security Tom Ridge will give the keynote address at Carnegie Mellon's 105th commencement. The ceremony, at which more than 2,000 degrees will be conferred, will be held at 11 a.m., Sunday, May 19, in Gesling Stadium on the Carnegie Mellon campus. Ridge will also be among five prestigious professionals who will be awarded honorary degrees.
Ridge left the Pennsylvania governorship last October, when U.S. President George W. Bush, in response to the tragic events of Sept. 11, appointed him to head the newly created Office of Homeland Security and to develop and coordinate a comprehensive national strategy to protect the U.S. against terrorist threats or attacks. Ridge recently announced a new color-coded terrorist alert system that will guide federal government officials on how to respond to threats.
Born in Pittsburgh's Steel Valley, Ridge, 56, was raised in Erie, Pa. He earned a scholarship to Harvard University and graduated with honors in 1967. After his first year at The Dickinson School of Law, he was drafted into the U.S. Army, where he served as an infantry staff sergeant in Vietnam, earning the Bronze Star for Valor. After returning to Pennsylvania, he earned his law degree and was in private practice before becoming assistant district attorney in Erie County.
Ridge was elected to Congress in 1982. He was the first enlisted Vietnam combat veteran elected to the U.S. House and was overwhelmingly re-elected six times. He was twice elected Governor of Pennsylvania, serving from 1995-2001.
"It is a great honor for the Carnegie Mellon community to acknowledge Governor Ridge's lifetime of public service," said President Jared Cohon. "And, it will be a special pleasure to welcome him back to his hometown, for which he has done so much."
At the commencement ceremony, Ridge will receive an honorary doctorate of public policy to recognize his exemplary record of public service as well as his support of higher education and research.
Other honorary degree recipients are Anita Borg, founder of the nonprofit Institute for Women in Technology in Palo Alto, Calif., doctor of science and technology; William G. Bowen, president of the Andrew W. Mellon Foundation in New York, former president of Princeton University, and co-author of "The Shape of the River: Long-Term Consequences of Considering Race in College and University Admissions," doctor of humane letters; George Cowan, a scientist and philanthropist who founded the Santa Fe Institute, doctor of science and technology; and John H. Seinfeld, a leading researcher and educator in air quality engineering at the California Institute of Technology, doctor of science and technology.
The student speaker at the main commencement ceremony will be Jeff Walch, a senior in the Bachelor of Science and Arts program with concentrations in biology and architecture. Walch auditioned for the honor and was selected by a committee of faculty, staff and students.
For more on commencement, visit www.cmu.edu/commencement
Ruth Hammond
(04/11/02)