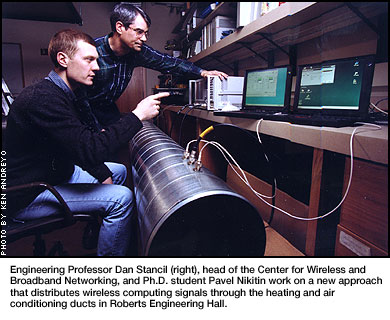 New Center Addresses Growth of Wireless, Broadband Networking
As new wireless technologies are introduced for everything from mobile phones to the neighborhood coffee shop, how we work will change.
Carnegie Mellon's new Center for Wireless and Broadband Networking will tap into collaborative research and university innovations under way to help accelerate growth in today's $116 billion telecommunications and networking industry.
Already, Carnegie Mellon has installed a wireless local area network (LAN) that lets students and faculty connect to the university Intranet from any spot on its 100-acre campus.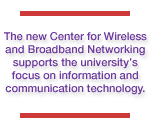 The new center, under the direction of Engineering Professor Dan Stancil, is designed to create and disseminate knowledge about advanced heterogeneous networks through research, teaching and technology transfer. The center, featuring more than 20 faculty members and 100 research projects, is organized into four distinct areas of expertise, including networking, wireless communication, telecommunications policy and optical communications.
In the networking area, researchers are studying topics ranging from the quality of service to network management and e-commerce issues. The work naturally extends into mobile computing and wireless communications. In addition to the campus-wide wireless network (known as "Wireless Andrew"), wireless research also includes procedures for designing wireless networks, positioning location technologies, novel approaches for wireless signal distribution in buildings and strategies for getting the most information through a wireless connection.
Research related to optical networks rounds out the new center's research agenda. As more and more voice calls and Internet data are sent via long distances using light signals on optical fibers, the center is investigating how best to configure optical fibers, how to improve ways to route messages to their destinations and how to use optical components such as lasers and switches, the building blocks of networks.
The center also will provide a policy forum for industry partners and policymakers to learn more about telecommunication issues.
"The forum will be designed to help companies stay abreast of new developments and debate concerns on neutral turf," Stancil said.
A research review is scheduled April 25-26 for companies interested in learning more about the center's research and Industrial Partners Program.
Chriss Swaney
(04/11/02)