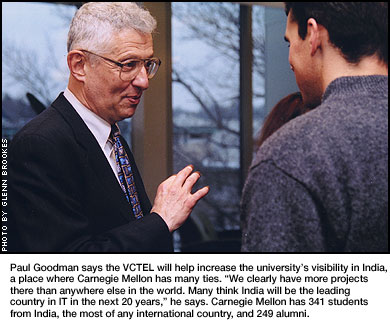 University Helping to Improve Education for Thousands in India
Carnegie Mellon is using its strength in information technology to help improve education on its own campus as well as on campuses around the globe. One of its latest efforts targets thousands of students in India, the most populated country in the world.
The university recently helped create the Virtual Center for Technology Enhanced Learning (VCTEL), an initiative aimed at providing Indian students with greater access to educational resources and improving the learning process at hundreds of campuses across the country.
India's government has committed several million dollars to the project, which will be driven by the highly selective and prestigious Indian Institutes of Technology (IIT) and the Indian Institutions of Management (IIM).
"This is the first time that the leading technical universities and the leading management schools in India were brought together in a consortium," said Ashish Arora, associate economics professor in the Heinz School, who was one of several Carnegie Mellon faculty members who helped to foster the collaboration. "Carnegie Mellon catalyzed this consortium and over time, faculty from Indian universities took the lead and became champions."
Arora called Paul Goodman, the Richard Cyert professor of organizational psychology in the Graduate School of Industrial Administration (GSIA), and the late Provost Paul Christiano "the pioneers" in conceptualizing and pushing the VCTEL initiative forward.
M.S. Ananth, director of IIT Madras said VCTEL would serve as an "information clearing house" for all Indian educational institutions interested in technology enhanced learning. He said the IITs and IIMs hope to eventually offer more than 200 academic courses online.
Goodman, director of Carnegie Mellon's Institute for Strategic Development—established in the late 1990s to lead the university's international efforts—said the new project hopes to narrow the "significant digital divide" that exists in India.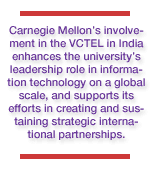 "There are huge differences regarding access and non-access in education in India," Goodman said.
"Our intent is to help use the knowledge and technologies used—and in some cases developed—at Carnegie Mellon to enhance education and learning in India," Arora said. "VCTEL represents a very important step for higher education in India, particularly technical and management education."
Goodman, editor of "Technology Enhanced Learning," a book that discusses many learning tools developed and created at Carnegie Mellon, said university faculty, such as Chemistry Professor David Yaron, will help VCTEL build "virtual educational environments." These learning environments will be made accessible to students throughout the country through the Internet and other distance learning methods.
Goodman noted that several Carnegie Mellon distance-learning initiatives are being implemented around the world, such as GSIA's Financial Analysis and Securities Trading program that allows students to trade in real-time with other business students in 15 countries. He also noted that distance-learning methods will be used to teach information networking courses to master's degree students in the Athens Information Technology Institute in Greece, and that Carnegie Technology Education, a Carnegie Mellon spinoff, is teaching information technology courses via distance learning applications to students around the globe.
Yaron, who participated in a technology enhanced learning symposium in India during VCTEL's initial planning stages, heads Carnegie Mellon's IrYdium Project, which develops educational software that can be integrated into introductory chemistry courses nationwide. The goal of the project is to create simulation-based learning environments in which students can conduct experiments from their computer screens.
"The virtual laboratory provides an environment in which students can select from hundreds of standard chemical reagents and combine them in any way they see fit," Yaron explained. "Instructors can easily create experiments for the lab much as they would a real lab. They can choose what chemicals and instruments to make available to the student."
Yaron said the virtual lab enhances the actual lab experience.
"We believe it can lead to more efficient use of lab time through pre-labs that better prepare students for the physical lab, and post-labs that allow them to think more deeply about their experiences," Yaron said.
He said the virtual labs are also useful tools for curriculum development. He noted that over the past two years teams of students at Carnegie Mellon have collaborated with students at ITESM in Monterrey, Mexico, in a virtual lab project to create rocket fuel for a mission to Mars.
The software was produced using Carnegie Mellon's CreateStudio, a set of "authoring tools" that enable instructors without programming expertise to create interactive student activities around simulations. CreateStudio, funded by the National Science Foundation's Digital Library program, is expected to be a valuable resource for VCTEL.
"We've been instrumental in the conception and start-up of VCTEL, but the ownership and day-to-day operation is theirs and it should be that way," Goodman said. "Our role is to provide guidance, resources and help."
Goodman said VCTEL will also be beneficial to Carnegie Mellon because it will sustain and possibly increase the university's high visibility in India.
"We have lots of ties there, alumni, faculty and current students. We have a large contingency from India and we have many ongoing projects there. We clearly have more projects there than anywhere else in the world. India is clearly an 'IT' place. Many think India will be the leading country in IT in the next 20 years," Goodman said.
Carnegie Mellon has 341 students from India—71 undergraduates, 173 master's degree students and 97 doctoral students—the most of any international country. There are 249 university alumni from India, fourth highest among international countries behind Japan (412), Taiwan (261) and Canada (250).
Some of the university's collaborative educational projects with India involve its software engineering, computational sfinance and Capability Maturity Model programs.
Key faculty leading these academic partnerships are Provost Mark Kamlet, Raj Reddy, the Herbert A. Simon university professor of computer science and robotics, Professor Pradeep Khosla, head of the Electrical and Computer Engineering Department, Steve Cross, director of the Software Engineering Institute, Jim Tomayko, director of the master of software engineering program, and Vallampadugai Arunachalam, distinguished service professor in the Engineering and Public Policy Department.
Goodman said the next project between Carnegie Mellon and India may be the establishment of an Information Technology Policy Center. He said the center would look at privacy, security and intellectual property issues in India.
Bruce Gerson
(04/11/02)