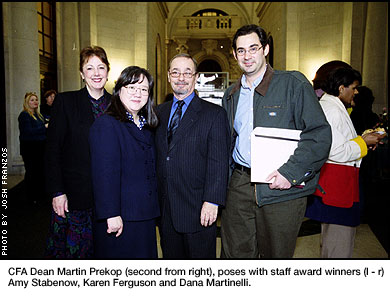 CFA Honors "Exceptional Staff Who Help Make College a Success"
College of Fine Arts (CFA) Dean Martin Prekop presented awards to Karen Ferguson, Amy Stabenow, Dana Martinelli and Christian "Todd" Brown at CFA's annual staff awards ceremony last month.
Prekop described the program as a celebration of "exceptional staff members, as well as all of the staff contributions that have helped to make the college a success."
Awards were given for Excellence in Job Performance, Citizenship and Innovation. A Rookie Award was also presented. Winners received a cash award and certificate.
Karen Ferguson, administrative coordinator for the CFA Dean's Office, received the Excellence in Job Performance Award for producing quality work consistently and dependably.
Patricia Pavlus, CFA assistant dean for business affairs, describes Ferguson as "a perfectionist and the ultimate organizer.... She has a wide variety of skills that she shares for the benefit of all. She is considerate and gracious and always produces work of the highest quality."
Barbara Anderson, professor of drama, noted that in addition to working full time with development, "Karen is pursuing a degree from the School of Design and has been eager to share her skills with the college. For about a year now she has been creating beautiful invitations for events sponsored by Fine Arts.... Though I know this must add a considerable time commitment to Karen's workload she does it willingly and displays the joy that using her skills and doing a good job obviously bring to her."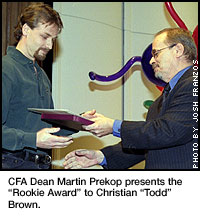 Music Professor Robert Page said Ferguson is creative and efficient. "When I found out that she was the person assigned to design the invitations, including the text, for the reception in my honor on receiving the Paul Mellon Professorship award, I was overjoyed, for I knew that all of the details would be handled with care and 'Ferguson Efficiency.'"
Amy Stabenow, concert manager in the School of Music, received the Citizenship Award for exemplary citizenship and consistent dedication to the college.
Stabenow does her "difficult job of concert manager with efficiency, grace and good humor," said Professor Denis Colwell of the School of Music. "She is highly talented, kind, caring, compassionate, creative, energetic and intensely committed to the School of Music students."
Pavlus said Stabenow is "the public face of CFA for many concert patrons —coordinating and attending hundreds of music events, running Music's box office and welcoming audience members in her warm and inviting way.... She has worked tirelessly, and with very good results, to increase attendance at Music events—providing larger audiences for our student and faculty performers and expanding CFA's visibility in the community and beyond."
Christine File, CFA's director of development, said "every person who attends a music event feels welcome because of Amy's warmth."
Dana Martinelli, lead visual designer on the EventScope project team, won the Innovator Award for developing initiatives that improve school or college procedures and policies.
EventScope is a NASA and foundation-funded art-technology "telepresence" computer interface that allows middle school students to explore 3D worlds constructed from NASA planetary orbiter, rover and lander data.
"During his time on the project, Dana initiated ideas that have improved our technology, the aesthetics of our interface and our work environment," said Peter Coppin, principal investigator of the EventScope project in the STUDIO for Creative Inquiry. "Early in the project, Dana applied his expertise in 3D visualization and art to make the EventScope learning activities inherently visual."
Karl Fischer, lead software engineer for the project, said Martinelli's work has enabled the software interface to become "more dynamic, more animated, more engaging and exciting.... At several recent trials of the software in middle school classrooms, the students spontaneously applauded at the end of class. The teacher commented that that had never happened before."
Christian "Todd" Brown, lighting technologist for the School of Drama, won the "Rookie Award" given to a new or current staff person in a new position who had a great rookie year, going above and beyond new job responsibilities with quality work and a positive attitude.
Cindy Limauro, professor of lighting design, said Brown, who joined the school last September, "is responsible for the safe operation and maintenance of all theatrical lighting systems in the Purnell Center for the Arts. In addition, he supervises student crews on 24 productions in three theatre spaces. This is an enormous task and demands a lot of preparation and an expertise of knowledge."
Despite the heavy work load, Limauro added, "Todd... has gone above and beyond his job description to teach classes. (He) is a superb teacher and a valuable contributor to the students' overall education. He has also taken the initiative to write job descriptions for lighting crew positions, revised the production calendar deadlines to best serve the students' process and begun long-term budget planning for the lighting area."
"He is here often until 10 or 11 (p.m.) if a production is in the load-in process," said Associate Professor of Drama Anne Mundell. "He has an incredible commitment to his job, the School of Drama and the students.... Within weeks [after joining the staff] Todd had garnered respect from staff and students alike.... He is intelligent, articulate, level headed and phenomenally dedicated and has already been a terrific influence on the students."

---
Service awards were presented to staff celebrating milestones in years of service.
Recipients included Hannelore Peterson, Drama (32 years), Joseph Dicey, Design, (30 years), Gerald Dantry, Drama, and Martha Harris, Dean's Office (25 years), Judith Kampert, Architecture (22 years), Elizabeth Fox, Dean's Office (21 years), Marlene Speranza, Drama (13 years), Jennifer Brodt, STUDIO For Creative Inquiry, and Ben Carter, Drama (12 years), Else Holter, Center for Building Performance and Diagnostics (11 years) and Cynthia Lammert, Art (10 years).
Edmund Delaney
(04/11/02)