Led by sophomore Brian McCarthy, the national champion in the 200-yard individual medley, Carnegie Mellon's men's swimming team finished a school-best fourth-place in the NCAA Division III Men's Championships at Miami (Ohio) University.
The Tartans scored 269 points to finish behind Kenyon College (589), Johns Hopkins University (382) and Emory University (358).
"This is the best national meet I've ever been associated with," said Head Coach David Belowich. "Things really fell into place this weekend. When you combine talent and hard work with opportunity, that creates the ingredients for a very successful meet. We had the most successful national meet in Carnegie Mellon history."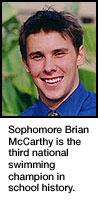 Including McCarthy, nine Tartans earned All-America honors and set 13 school records. Records were set in the 400-yard medley relay, 100-yard backstroke, 200-yard individual medley (IM), 400-yard IM, 100-yard butterfly, 50-yard freestyle, 200-yard freestyle, 1650-yard freestyle, 200-yard backstroke, 100-yard freestyle, 200-yard freestyle relay, 400-yard freestyle relay and 800-yard freestyle relay.
McCarthy, a sophomore from Wexford, Pa., and North Allegheny High School, is the third NCAA swimming champion in Carnegie Mellon history. He won the 200 IM in a school-record time of 1:50.11. He also placed second in the 400 IM (3:56.07) and second in the 200 backstroke (1:50.31).
Other top performers were freshman Chris Pearson, the 2002 University Athletic Association (UAA) Swimmer of the Year, and sophomore Brian Jucha. Pearson finished third in the 500 freestyle (4:27.95) and 200 freestyle (1:38.96), and fifth in the 1,650 freestyle (15:46.44). Jucha finished sixth in the 100 butterfly (49.84) and eighth in the 50 freestyle (20.96).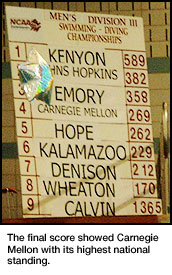 Carnegie Mellon's relay teams scored valuable points for the Tartans as well. Junior Billy Gaines, freshman Kevin Paavola, McCarthy and Pearson placed third in the 800 freestyle relay (6:48.72). In the 200 freestyle relay (1:23.82), seniors Sean Belowich and Matt Shewchuk, Jucha and McCarthy finished fifth, while Shewchuk, Jucha, McCarthy and Pearson finished fifth in the 400 freestyle relay (3:04.46).
Sophomore Steve Chiou, Jucha, McCarthy and Pearson finished seventh in the 400 medley relay (3:25.50), and Chiou, Jucha, Belowich and Shewchuk finished seventh in the 200 medley relay (1:33.72).
Carnegie Mellon finished its regular dual-meet portion of its season with a 7-0 mark and placed second in the UAA Championships. The women's squad also placed second in the UAA meet following a 6-1 regular season. Freshman diver Mindi Finnegan was the UAA Diver of the Year and qualified for the NCAA Women's Championships. She placed 13th in the one-meter event and 14th off the three-meter board. She is Carnegie Mellon's first diver to compete in the NCAA meet.
For a listing of complete results log on to www.ncaachampionships.com.
Bethany McClam
(03/27/02)