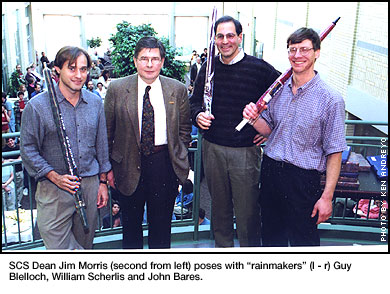 SCS Honors Best and Brightest at Annual Awards Ceremony
Roger Dannenberg, Alex Waibel Receive Newell Medals for Research Excellence


The School of Computer Science (SCS) honored its best and brightest in mid-March when Dean Jim Morris bestowed the annual array of awards on outstanding members of the SCS community. Morris opened the awards ceremony in the Newell-Simon Hall Perlis Atrium by saying it had been "an incredible year both scientifically and financially" for SCS.

Senior Research Computer Scientist Roger Dannenberg and Alex Waibel, professor in the Language Technologies Institute, received the prestigious Allen Newell Medals for Research Excellence. Dannenberg was cited for his work in computer music and supporting real-time systems. His research has ranged from music search and retrieval to creating artificially intelligent systems that accompany living musicians.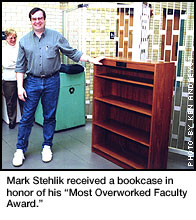 Waibel received a Newell medal for outstanding work in speech-to-speech machine translation. He initiated the Janus project that made international headlines in 1999 with a demonstration that had computers around the world talking to each other and translating from English, French, German, Korean and Italian. Waibel's colleagues Lori Levin, Alon Lavie, Monika Woszczyna and Tanja Schultz were also recognized for their important contributions to the project.
Other aspects of the university's major and ongoing efforts in speech research were also highlighted. Robert Frederking, Ralf Brown, Alexander Rudnicky and Alan Black were honored for their work on the Diplomat/Tongues projects, which quickly develop translatable systems between two languages. Their work resulted in a portable, handheld, voice-enabled speech-to-speech machine translation system developed to support U.S. Army chaplains. The language pair for the first iteration of the system is English/Croatian.
They've also done work in Arabic, which resulted in a 2001 real-time demonstration for the U.S. Army (www.lti.cs.cmu.edu/Research/Diplomat/).
"Rainmaker" awards went to Computer Science Professor Guy Blelloch for spearheading receipt of a $5.6 million National Science Foundation grant for the Aladdin Project, which develops and promulgates algorithms for commercial use.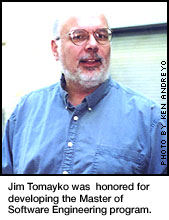 William Scherlis, a principal research scientist in the school's Institute for Software Research International (ISRI), was given an umbrella for bringing in a $23.3 million grant from NASA to establish a High Dependability Computing Program. John Bares, director of the National Robotics Engineering Consortium, was also named a rainmaker for bringing in $10 million of new funding for projects at the Lawrenceville-based facility.
James Tomayko, director of the Master of Software Engineering program in ISRI, was honored for a decade of outstanding performance in developing the program, which is widely recognized as a model of excellence. Morris noted that the hands-on studio course practicum Tomayko developed serves as the model for many similar programs around the world.
"Jim has lived this program," Morris said. "And its alumni respond the most."
Much-loved Mark Stehlik, principal lecturer and assistant dean for undergraduate education in the Computer Science Department, received the SCS award for "Most Overworked Faculty Member."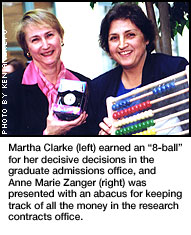 Anne Marie Zanger and Martha Clarke received Staff Excellence awards. Zanger was honored for her unflagging efforts in the research contracts office and Clark for her work in the graduate admissions program.
"Anne Marie puts in amazing hours at the last minute to help faculty get grants," Morris noted. "I think it was a miracle that Martha was able to get things going smoothly in admissions despite the very large increase in the number of applicants this year."
Robotics graduate student Bernardine Dias was recognized for her role as "a primary agent in the formation of Women@SCS," the school's student advisory mentoring group for women in computer science. Dias was the creative developer of "Is there a Robot in Your Future?" and "Expanding Your Horizons," two conferences held in Pittsburgh. She also helped to write a proposal to the National Science Foundation on "Women in IT: Expanding the IT Pipeline at the Graduate Level and Beyond."
A "Special Award for Meritorious Service" was presented to the Women@SCS Web Team of Meenakshi Delory, Sabrina Haskell, Jennifer Li, Galit Ronen, Bernice Ma and Stefanie Shriver.
Sharon Burks, associate head of the Computer Science Department, and Allen Stoltzfus, SCS business manager, were both honored for 25 years of service to the college. Howard Wactlar, vice provost for research computing, was recognized for 32 years of service as director of facilities.
Anne Watzman
(04/11/02)