Nierenberg Chair of Design Plans to Continue Ties with Design School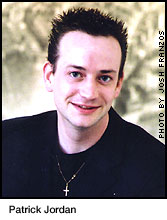 Patrick Jordan, the Nierenberg Chair of Design in the School of Design this semester, has enjoyed his stay at Carnegie Mellon so much that he plans to continue his ties with the school and Pittsburgh after he returns to London later this spring.
The international design and marketing consultant, author and professional speaker, is co-chairing the coordination of an international "Conference on Affective Human Factors" with Design School faculty members Bruce Hanington and Jodi Forlizzi. The conference, which will address issues of affective and emotional response to product design, will be held on campus in June 2003. He also is considering managing his new company, The Institute of Mobile Commerce, from Pittsburgh.
"Pittsburgh offers something of great value, peace and quiet in an urban setting. It's really quite a remarkable place," he said.
Jordan's theories and methodologies have influenced the design and marketing of many of the products found in most cities, homes and workplaces. A recognized scholar, Jordan is a frequent keynote speaker at conferences throughout the world. Among his numerous publications are the landmark book, "Designing Pleasurable Products: An Introduction to the New Human Factors" (2000) and "An Introduction to Usability" (1998).
Jordan is founder and president of the Contemporary Trends Institute, an international trend and branding consulting firm. He is also vice president, head of design and head of the Design Lab at Symbian, a joint mobile communications consortium in London. Symbian creates the systems that operate new generation, "3G-technology" mobile phones.
Jordan is an expert in trend analysis and applying human factors to product design. At Symbian, he is researching how these circumstances contribute to the design of software for wireless communication technology. He anticipates every possible future marketing scenario and interprets this in the final product's form and function.
Jordan uses a contemporary approach to meet the needs of the consumer and to create a product for a highly competitive market. He analyzes lifestyle trends, social issues such as personal security, and physical, psychological and ideological issues.
"The key to product design is in the ability of the designer to put themselves outside of their own experience and to gain insight into the life of the person they are designing for," Jordan said.
Jordan was formerly head of Human Factors and director of the Trends and Identity Unit at Philips Electronics. For seven years he created award-winning products and he and his colleagues received the profession's prestigious Design Team of the Year Award in 1998.
Away from the workplace, Jordan is a sports enthusiast, both as a participant and spectator. He has a record of accomplishment in "extreme" sports, taking national honors in hang gliding and skydiving. Prior to his professional career he was an instructor in rock climbing, kayaking and sailing. He is also an avid soccer fan and a supporter and shareholder of the Celtic Football Club, based in Glasgow, Scotland.
Jordan received his undergraduate degree in mechanical engineering from the University of Bristol, England, and a master's degree from the University of Birmingham, England. He earned his doctor's degree in human factors from the University of Glasgow, Scotland.
The Nierenberg Chair of Design is a visiting professorship established through the generosity of Carnegie Mellon alumnus and Emeritus Life Trustee Theodore D. Nierenberg, a founder of Dansk International Designs. The chair is considered to be one of the most important and prestigious appointments in design education in the United States. The appointment provides an opportunity for innovators in the field to share their knowledge with the School of Design's students and faculty.

Patrick Jordan's Top 10 Lifestyle Trends
1. Feminization
There is a narrowing of the distinction between male and female behavior and an ascendancy of values traditionally regarded as female.
2. Hedonism
Guilt-free indulgence has emerged as a backlash to "political correctness."
3. Spirituality
People are searching for meaning outside of, and beyond, materialism.
4. Every Second Counts
Acceleration and time compression of activities and processes has increased the value of personal free time.
5. Tribalism
The search for group identity is a reaction to globalization and a concomitant mixing of values and lifestyles from different cultures.
6. Staying Alive
The aging of the population has impacted a desire to prolong and increase the quality of life.
7. Fear
There is a mistrust of all systems and authority and an increased desire for control and privacy.
8. Individuality
People are increasingly searching for opportunities for self-expression.
9. Growing Up Fast
Children and young adults are exerting increased power in the marketplace and society in general.
10. Fusion
An assimilation of influences from other cultures are blending together to blur domestic culture.
Joelle Park
(04/11/02)