SCS is #1 Says U.S. News & World Report's Annual Survey
CIT Ranks 10th, GSIA 18th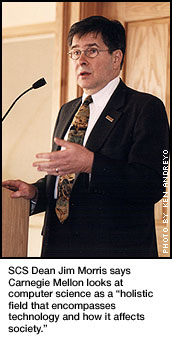 Carnegie Mellon has the best computer science doctoral program in the country along with the Massachusetts Institute of Technology, Stanford University and the University of California at Berkeley, according to U.S. News & World Report magazine's annual analysis of "America's Best Graduate Schools."
Carnegie Mellon's graduate programs in engineering ranked 10th and its business programs ranked 18th. The 2002 issue also includes some rankings from 2001, when the H. John Heinz III School of Public Policy and Management ranked 7th overall and first in the information technology and policy area. The latest ratings appear in the magazine's April 15 issue (www.usnews.com).
This year, U.S. News also ranked three specialty areas of computer science: artificial intelligence, systems and theory. Carnegie Mellon ranked second in artificial intelligence; tied with MIT to rank second in systems; and ranked sixth in theory.
"We look at computer science as a holistic field that encompasses technology and how it affects society," said School of Computer Science Dean Jim Morris. "We're actually in a different dimension from other computer science groups that are embedded in engineering. We've never lost track of the fact that the computer is just a new element in a rich, evolving society.
"In computer science at Carnegie Mellon, we explore all sorts of intelligent systems which include considerations of human interaction, cognitive psychology, organizational behavior, plus the contexts of business, policy and ethics."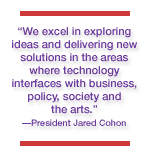 "Our faculty, students, research partners and government leaders tell us that it is this distinctively multidisciplinary and highly practical approach to information technology that distinguishes Carnegie Mellon from other leading universities," said President Jared Cohon.
"Recently Intel cited this as the deciding factor for selecting Carnegie Mellon for a research lab in data storage software development. David Tennenhouse, vice president of Intel's Corporate Technology Group and director of research, said we were chosen 'not just because of great research, students and faculty, but also because of the great collaborative culture here—the way faculty work with each other and with industry.'
"These rankings certainly point out Carnegie Mellon's established position among the nation's top research universities," said Cohon, "but they also reflect what sets us apart from many of our peers. We're not looking to top the charts in every field. We're looking for those special niches where we can make a substantive contribution to a field and to society.
"That's why you'll see most of our top rankings in specialty areas, such as artificial intelligence, computer engineering, management of information systems, cognitive psychology, and information technology and policy. We excel in exploring ideas and delivering new solutions in the areas where technology interfaces with business, policy, society and the arts."
Overall ratings of computer science programs are based on the results of surveys sent to computer science deans, department heads and directors. Individuals were asked to rate the quality of the program at each institution on a 5-point scale. Carnegie Mellon, MIT, Stanford and Berkeley all garnered 4.9 averages.
The university's graduate program in engineering ranked 10th overall, tied with the University of Texas at Austin. In specialty areas, Carnegie Mellon rated fourth in computer engineering and 10th in the electrical/electronic/communications category.
"Our high rankings are a testimonial of our ability to engage in interdisciplinary research and leverage the work of our small but outstanding faculty," said John L. Anderson, dean of the engineering college. "The whole is greater than the sum of the parts. Of the more than 300 engineering colleges in the U.S., ranking in the top 10 is recognition of our creativity and hard work."
Overall engineering ratings are determined by surveys of engineering school deans and corporate recruiters (40%), faculty resources (25%), research activity (25%) and student selectivity (10%). Specialty areas are ranked based on the opinions of engineering school deans.
The Graduate School of Industrial Administration (GSIA) ranked in an 18th-place tie with the University of Texas at Austin. In specialty rankings GSIA ranked second in management information systems and quantitative analysis, and third in production/operations management.
"Our unique approach to business education continues to be a strong advantage for our students and alumni," said Business School Dean Douglas Dunn. "The toolkit we help students build consistently achieves top scores for innovation and real-market relevance, and our world-class faculty research keeps us on the leading edge of global business issues."
Overall graduate business school ratings are based on the surveys of business school deans and corporate recruiters (40%), placement success (35%) and student selectivity (25%). Specialty areas are ranked based on the nominations of business school deans.
Carnegie Mellon was also ranked in several science disciplines.
Carnegie Mellon's doctoral program in applied mathematics ranked 11th, tied with the University of Maryland and the University of Texas at Austin. The university ranked 28th in physics, tied with Brown, Michigan State and Northwestern universities. Carnegie Mellon ranked 34th in mathematics, tied with Brandeis University and CUNY. It ranked 54th in biological sciences, tied with Ohio State University, Rutgers University, the University of Florida, the University of Georgia and the University of Oregon.
Overall ratings of doctoral science programs are based on the results of surveys sent to deans, department heads and directors of science programs.
This year's "America's Best Graduate Schools" also includes several 2001 ratings, such as Carnegie Mellon's number nine rating in psychology, tied with the University of Wisconsin, its number two ranking in the specialty area of cognitive psychology, and its 19th rating in economics, tied with New York University.
Kyle Fisher Morabito, Anne Watzman and Bruce Gerson
(04/11/02)