Carnegie Mellon Researchers Can Help Build Reliable "Wi-Fi" Wireless Networks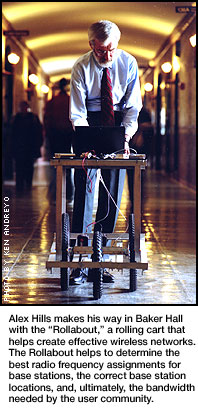 Carnegie Mellon researchers have created a new tool that can help business and industry sort out the chaos created by the new technology called "Wi-Fi."
For Internet mavens, "Wi-Fi"—the technology known in engineering parlance as 802.11—provides a new way to provide unprecedented mobility for Internet users. It allows users of laptop and handheld computers to freely move about while remaining connected to the Internet—at high speed.
The problem is that Wi-Fi networks don't always provide reliable, high quality connections. In fact, corporate information technology executives frequently mention reliability and quality of service as the reasons they hesitate to deploy Wi-Fi networks in their companies. Most wireless local area networks (LANs) fall short in that they do not provide the high speed, reliable service that is needed.
Carnegie Mellon researchers have developed a set of design methods and tools that allow builders of wireless, local area networks to ensure high speed, reliable service. 
The challenges in building large Wi-Fi networks are significant. They include designing the network so that coverage blankets the target area and that adequate capacity is provided to handle the traffic load generated by the user community. Access points (base stations) must be placed correctly, and radio frequencies must be correctly assigned to these base stations.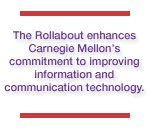 Only by following a valid design process can one ensure that adequate radio coverage will be provided throughout the service area. Carnegie Mellon's experience shows that the layout must be based on measurements, not just on "rule of thumb" calculations.  These measurements involve extensive testing and careful consideration of radio propagation issues, especially when the service area is large like an entire campus, for example.
Carnegie Mellon researchers have also created a new tool dubbed "Rollabout," a rolling cart that automatically collects data from a number of base stations and creates an accurate coverage map of a particular wireless network. Rollabout helps to determine the best radio frequency assignments for base stations, the correct base station locations, and, ultimately, the bandwidth needed by the user community.
In other words, the mobile cart can help businesses build cheaper, more reliable wireless networks by speeding up the layout process and taking the guesswork out of the design process.
"The challenges in building large wireless networks are significant," said Alex Hills, distinguished service professor and formerly chief information officer at Carnegie Mellon. "We are developing ways to design networks capable of handling any kind of user community."
Carnegie Mellon has many years of experience designing and building these networks; in fact, the university built the first such network anywhere, beginning in 1994, long before the Wi-Fi standard was adopted. Carnegie Mellon's network is called "Wireless Andrew" after university benefactors Andrew Carnegie and Andrew Mellon.
Started in 1994 as a National Science Foundation-funded research network to support Carnegie Mellon's wireless research initiative, Wireless Andrew originally provided coverage in seven campus buildings. It was expanded in 1999 to serve all 65 residential, academic and administrative buildings on the campus, with a total floor area of approximately three million square feet, as well as outside areas.
Hills, the architect of Carnegie Mellon's Wireless Andrew network, is working to solve the challenges and potential created by Wi-Fi and other complex network issues.
Chriss Swaney
(04/11/02)