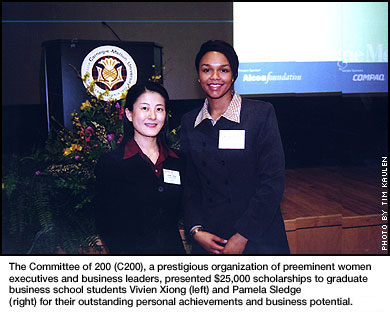 Prestigious Seminar for Women Held at Business School
Two GSIA Students Receive $25,000 Scholarships


The Committee of 200 (C200), an organization of some of the nation's preeminent women executives and business leaders, held its semi-annual outreach seminar, "Discovering Your Worth, Your Path, Your Possibilities," at the Graduate School of Industrial Administration (GSIA) in mid-March.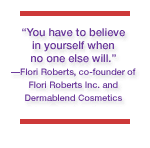 The one-day summit, attended by nearly 200 faculty, staff and students, has rotated among the nation's elite business schools including those at the University of Pennsylvania, Harvard University and Stanford University.
Among the highlights of the seminar were two keynote addresses by C200 members Veronica Hagan, president of Alcoa Engineered Products, and Patricia Cloherty, chairman of the board for the U.S. Russia Investment Fund.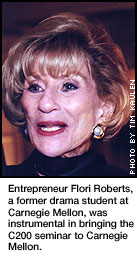 Hagan spoke at the morning session attended by Carnegie Mellon President Jared Cohon, GSIA Dean Doug Dunn and C200 member Florine Mark, president and board chairman of WW Group, the largest Weight Watchers franchise group in the world. Hagan's remarks centered on the importance of values and how women in business don't necessarily follow a predetermined path to the top.
"I really expected to do the school thing, then the college thing, then marriage and children, and then I'd be an old lady. It didn't work that way, "said Hagan, who started her own company at age 35 and joined the corporate world at 50. She challenged the women MBAs to measure their own success by how much they give back.
Instrumental in bringing the prestigious event to GSIA was Flori Roberts, co-founder of Flori Roberts Inc. and Dermablend Cosmetics. Roberts, whose companies develop and market ethnic and camouflage cosmetics, is a former drama student at Carnegie Mellon. Commenting on her initial training in the College of Fine Arts and a stint on Broadway, Roberts said, "You have to believe in yourself when no one else will. Certainly, when you are a 'dramat,' you learn to do that."
The Committee of 200 had come to Carnegie Mellon with the intention of awarding one scholarship to a first-year female MBA student. However, after meeting the exceptional finalists at GSIA, the group awarded two scholarships.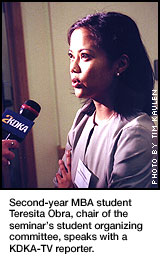 Pamela Sledge, from Duquesne, Pa., and Vivien Xiong, from China, impressed committee members with outstanding personal achievements and strong business potential. Each recipient will receive $25,000 for next year's tuition, an internship with a C200 member company and an invitation to C200's 2003 annual conference.
Xiong spent her earliest years in a remote corner of northwest China where her parents volunteered to help build a railway system in the Gobi desert. She was home-schooled and worked to support her parents and two sisters. She is the first person in her family to earn an advanced degree.
Sledge graduated from Duquesne High School, a school with very few resources situated in an economically depressed community just outside of Pittsburgh. Four years after graduating, she was invited to speak at Duquesne High's commencement ceremony. During her address, she told graduating seniors that she was anxious about competing with students from other schools.
She apparently overcame her anxiety. Sledge ranked second among more than 4,700 freshmen after her first semester at Indiana University of Pennsylvania. She went on to graduate from IUP magna cum laude.

MBA Applications Reach All-Time High
The number of applications to the MBA program in GSIA has reached an all-time high. As of March 1, the school had received 40 percent more applications than it had received the same time last year.
Director of Admissions Laurie Stewart credits the increase to a number of factors, including the economy, GSIA's number two ranking among worldwide business schools by The Wall Street Journal and the degree name change. GSIA recently changed the degree name from a master of science in industrial administration to the more popular master of business administration (MBA).
Stewart notes that the number of students taking the graduate business school exam (GMAT) worldwide has increased 26 percent from last year.
Mike Laffin
(04/11/02)