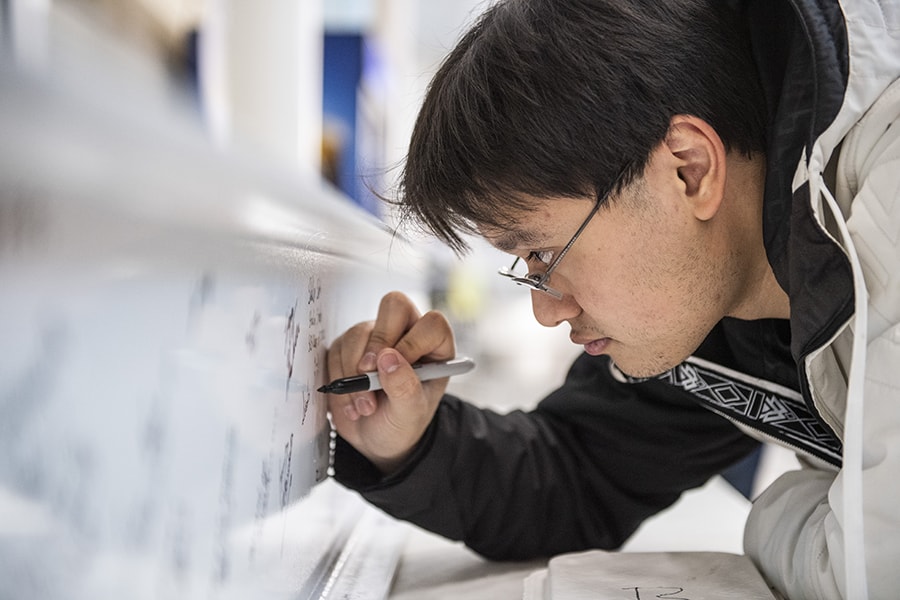 October 12, 2022
News Briefs
Be a Part of History; Sign a Steel Beam for the Highmark Center for Health, Wellness and Athletics
You're invited to participate in a special opportunity to commemorate an important milestone in the construction of the Highmark Center for Health, Wellness and Athletics. It is a tradition during new building construction for community members to sign a major final structural beam before it is lifted into place. You're invited to leave your mark on the Highmark Center from 2-4 p.m., Saturday, Oct. 15, at the future site of the center at the intersection of Margaret Morrison and Tech streets.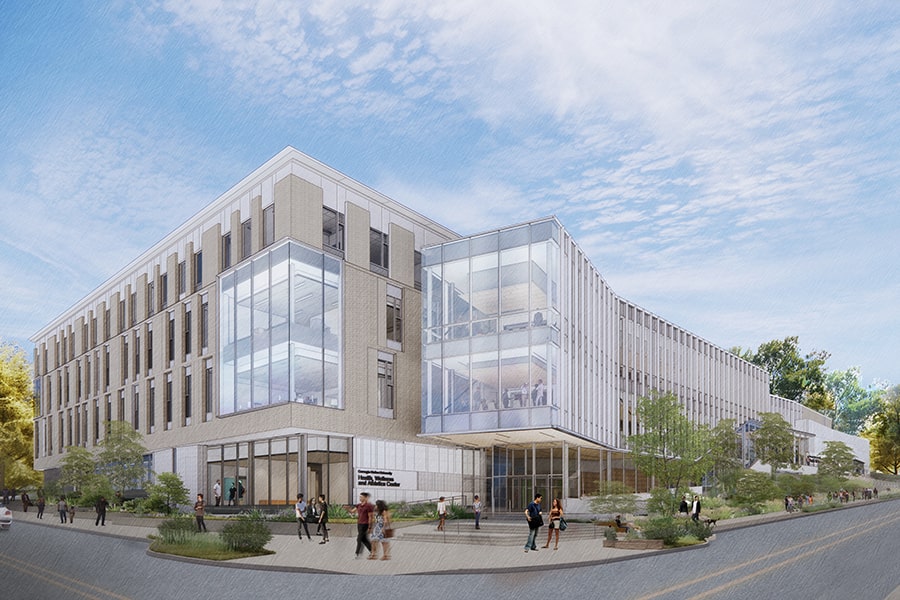 A rendering of the Highmark Center for Health, Wellness and Athletics.
The Highmark Center for Health, Wellness and Athletics will unify robust services, contemporary facilities and educational programs that support students' minds, bodies and spirits in a comprehensive care model. With new full-service clinical areas such as an expanded University Health Services; private and supportive spaces for Counseling and Psychological Services; and a modern athletics facility for practice, performance, training and athlete care, students will have the opportunity to expand their knowledge and access to resources that will help them establish the foundation for a lifetime of physical, spiritual and emotional health.
Find out more about the Highmark Center.  View the construction.
Pictured above, a student signs one of the final steel beams for Ansys Hall in 2018.

Engineering Offers New Graduate Program in AI
The College of Enginering is offering a new Master of Science in Artificial Intelligence Engineering degree. The graduate degree combines the fundamentals of artificial intelligence and machine learning with engineering knowledge and culminates in an integrated capstone project.

"I'm excited to see what transformations will happen to our profession once these students have graduated and taken on the workforce," says Mario Bergés, a professor in the Department of Civil and Environmental Engineering. "This new generation of engineers will not only be able to master AI tools but to recognize how they can leverage engineering domain knowledge to extend them to be more practical and powerful."
The program — a first-of-its-kind in the nation — trains students to truly integrate AI solutions into practical solutions to civil and environmental engineering problems — capabilities that are currently not addressed by either computer science or traditional engineering disciplines alone.
"This program is unique in that it acknowledges the fact that engineers in the future will need to make use of and develop innovations in AI as part of their toolbox when formulating solutions to the problems they face," says Bergés.
Nominate an Educator for the 2023 Celebration of Education Awards
Each spring, the CMU community recognizes educators who exemplify the university's standards of excellence in education at the Celebration of Education Awards Ceremony.

Nominations are now being accepted for 2023 and you are encouraged to nominate an educator whom you admire for their outstanding contributions to the university's educational mission.

To be considered, nominations must be submitted by Monday, November 7. Visit the Celebration of Education website to learn more about the award categories and nomination process.
SCS Faculty Earn Meta Award for Privacy-Enhancing Research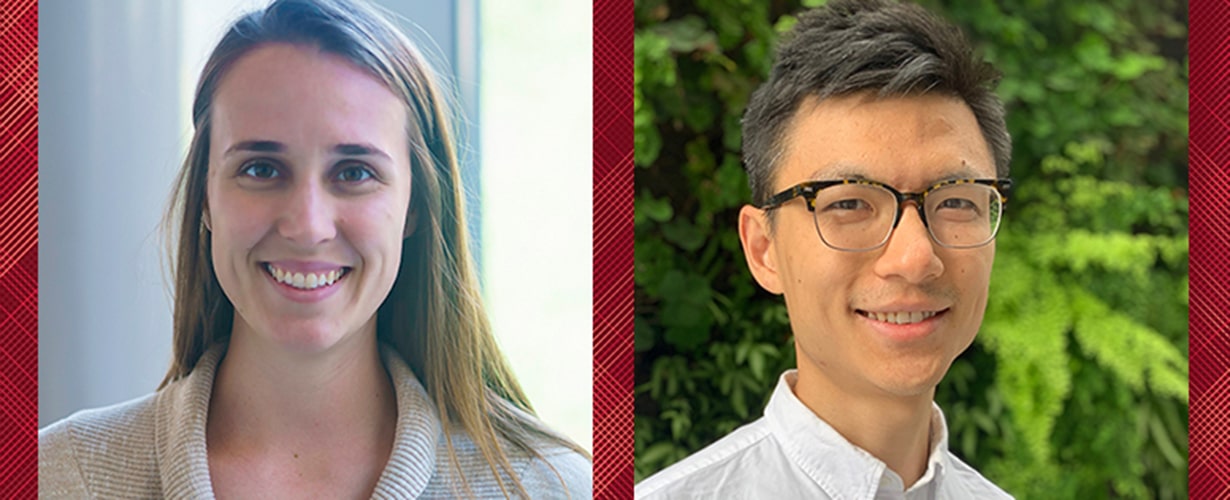 School of Computer Science faculty members Virginia Smith and Steven Wu have received a Meta Research Award for their project, "Private Multi-Task Learning." The nearly $100,000 award is part of Meta's Privacy-Enhancing Technologies initiative, which aims to design and deploy new solutions that minimize and secure the data the company collects, processes and shares.
Smith, an assistant professor in Carnegie Mellon's Machine Learning Department (MLD), and Wu, an assistant professor in the Software and Societal Systems Department with appointments in MLD and the Human-Computer Interaction Institute, will investigate how personalization techniques impact utility in machine learning. Specifically, their work will analyze and evaluate a suite of novel tools for differentially private multitask learning, a machine learning personalization technique that aims to solve multiple learning tasks simultaneously across different data silos.
Smith and Wu's project joins nine others selected for funding from more than 160 proposals.
October is Neurodiversity in the Workplace Awareness Month at CMU
This year, the Office of Human Resources launched a new pilot Employee Resource Group for neurodivergent individuals. The mission of the Neurodiverse Employee Resource Group (NERG) is to provide intentional space for cognitively diverse employees, as well as allies, in search of resources, community and support across all Carnegie Mellon University campuses. 
Neurodivergence describes people whose brain differences affect how their brain works. Under this umbrella, you might recognize experiences like autism, ADHD, dyslexia, auditory processing disorder, anxiety and post-traumatic stress disorder.
Whether at home, at work, out with friends, or running errands around town, for many people neurodivergence is a disability that can only be managed, not cured. For many neurodivergent individuals, the space in which our challenges really come to the forefront is at work. 
Learn more about neurodivergence, how to join the group or how to become an ally to neurodivergent individuals in the workplace.
New Lactation Resources are Available
As part of its commitment to providing a family friendly work environment, the university has made special accommodations to support families as they work to provide breastmilk for their children. Whether you are on campus or at home, Carnegie Mellon's award-winning lactation support program is designed to ensure parents have the time and resources they need.
The Office of Human Resources (OHR) has recently launched a new website that provides breastfeeding resources, helpful links for expecting parents, emotional support resources and information on pumping. The site also features information about lactation rooms, which provide a private space for those who need to express milk while on campus. On the website, you can view available lactation rooms and request access to lactation rooms for personal use, for visitors or for events.
Please review the Lactation Support Policy [pdf] and the FAQ document for guidance on lactation breaks and roles and responsibilities based on current recommendations from the Affordable Care Act, or contact hrfamilycare@andrew.cmu.edu for questions about lactation room use.
Carnegie Mellon's lactation support program has been recognized by the Pennsylvania Breastfeeding Coalition with a Breastfeeding-Friendly Employer certificate. The award distinguishes CMU as a leader in Pennsylvania, joining a growing number of businesses, schools and universities providing employee lactation support.
Employee Resource Groups to Sponsor Second Annual Winter Necessity Drive Through Oct. 21
Help support CMU's employee resource groups (ERGs) by donating items during their Winter Necessity Drive. Donations will benefit Veterans Place, a Pittsburgh-based organization that empowers veterans to transition out of homelessness and helps at-risk veterans become engaged, valuable citizens who contribute to their communities.
With your generous support, the ERGs are collecting;
Hats, gloves, scarves and socks, new with tags, in men's, women's and children's sizes
Unopened toiletries
To Donate:
Drop off items Oct. 20 and Oct. 21 from 8 a.m. – 5 p.m. in the Cohon University Center's Wean Commons (first floor, outside of the Connan Room). 30-minute free parking is available in the East Campus Garage.
Purchase items via the Clothing Drive Registry by Oct. 21. 
The Piper Will Return After Fall Break
Next week, Oct. 17-21, is Fall Break. The Piper will return after the break on Thursday, Oct. 27.

Who's New at CMU?
Carnegie Mellon welcomes the following new staff members this week.
Alex Johnson, Software Engineer,  National Robotics Engineering Center;

Elizabeth Howard, Early Childhood Educator, HR Operations;

Emily Shepard, Early Childhood Educator, HR Operations;

Lahari Gadey, Lab Technician, Computational Biology Department;

Philip Geist, Web Content Manager, Integrated Innovation for Products and Services;

Patrick Hnidka, Executive Administrative Assistant, Engineering & Public Policy Department;

Sharon John, Research Associate - Weber Lab, Neuroscience Institute;

Timothy Flaherty, Fire Safety Manager, EH&S, Enterprise Risk Management;

Amy Simpson, Music Prep School Instructor, Music Prep School;

Patrick Hyzy, Part-time Admissions Officer Central, Undergraduate Admissions; and

Zulqarnain Khattak, Project Systems Scientist, Civil & Environmental Engineering Department.
Did You Know?
Andy Warhol, who has been credited with saying, "In the future, everyone will be world-famous for 15 minutes," became one of the most influential figures in contemporary art and culture. He graduated from CMU with a degree in fine arts in 1949.  The Andy Warhol Museum holds an extensive permanent collection of art and archives from the Pittsburgh-born pop art icon.