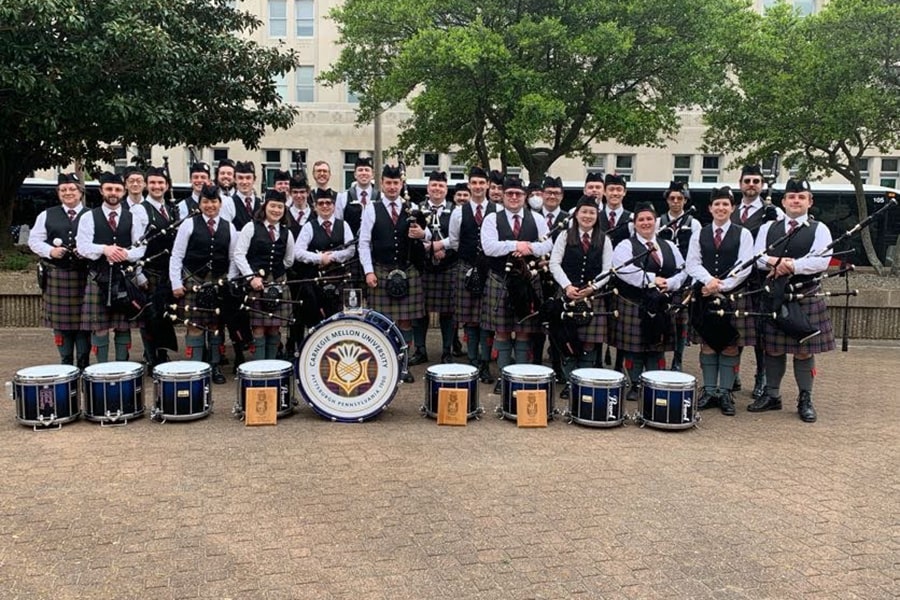 May 11, 2022
News Briefs
CMU Wins American Pipe Band Championship
Carnegie Mellon's Pipes & Drums won the American Pipe Band Championship April 30 in Norfolk, Virginia.
"The students really worked hard and made it all come together when it mattered," said Pipes & Drums Director Andrew Carlisle. "This was the band's first competition since Miles Bennington joined us as our new drumming instructor, and his drum corps won the drumming prize in addition to the band awards."
The band won both the March, Strathspey and Reel (traditional) and Medley (contemporary) sections. Finishing second in the competition was "Wake and District Public Safety Pipes and Drums" from Raleigh, North Carolina. Third-place went to "The Royal Regiment of Scotland" (British Army, UK).
Learn about CMU's Pipes & Drums.
CMWA Names its 2022 Scholarship Recipients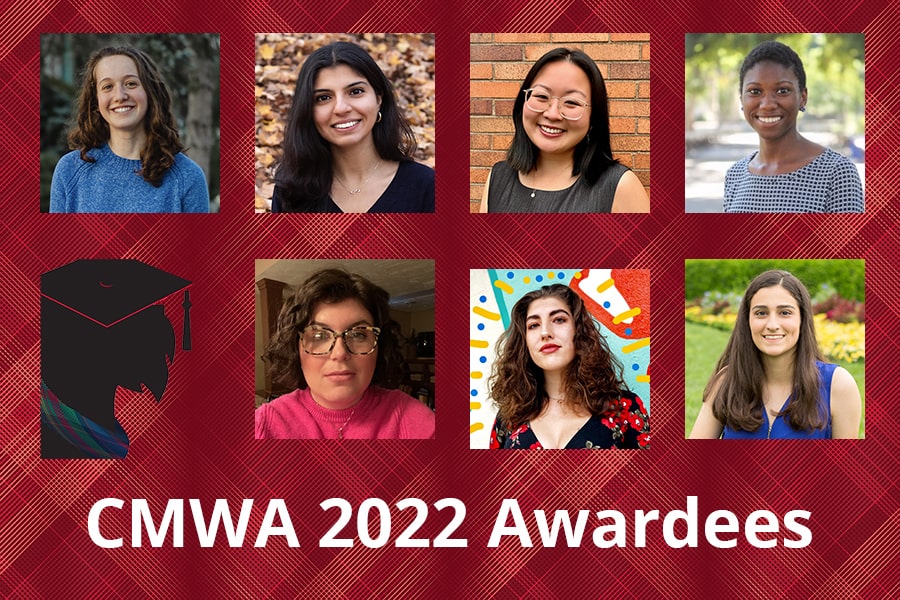 Top Row (l-r): Carmel Baharav, Simran Khungar, Jackie Wu and Charet Bolton. Bottom Row (l-r): Mallory Page, Sanna Legan and Dilara Ozdoganlar.
Seven graduating seniors representing all seven schools and colleges have been named 2022 recipients of Carnegie Mellon Women's Association Scholarships.
The CMWA Scholarship Awards began in 1964 to "honor an outstanding girl at the university." The tradition continues today as each year the CMWA Scholarship Fund awards scholarships to selected graduating senior students, with a preference for students who demonstrate a commitment to the advancement of women in their academic pursuits.
This year's winners are:
Carmel Baharav, School of Computer Science;
Charet Bolton, Heinz College;
Simran Khungar, Mellon College of Science;
Sanna Legan, College of Fine Arts;
Dilara Ozdoganlar, College of Engineering;
Mallory Page, Dietrich College; and
Jackie Wu, Dietrich College and Tepper School.
Read about this year's winners.
Gelfand Center Announces Student Educational Outreach Award Winners
The Leonard Gelfand Center for Service Learning and Outreach has named Dilara Ozdoganlar, Shaelyn Parker and Anesha Santhanam as the 2022 winners of its Gelfand Student Educational Outreach Award. The award recognizes students who have made a commitment to sharing their knowledge, skills and time to make a difference in the lives of children with a priority for STEM educational outreach activities.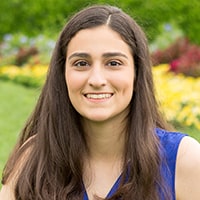 Ozdoganlar, a senior studying materials science and engineering and biomedical engineering, completed an Emerging Leaders project designed to build awareness about the impact of income inequality on educational opportunities for children. The project motivated Ozdoganlar to contribute to the outreach activities of the Society of Women Engineers (SWE) for four years, helping to introduce children to engineering and coding through High School Days, Middle School Days and SWE++. As SWE president, Ozdoganlar helped coordinate the events to ensure success during 2021-2022.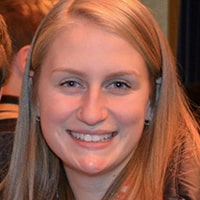 Parker, a senior majoring in chemistry at CMU, shared her talents through a variety of educational outreach programs, including serving as a grader for the CMU Science Olympiad for high school students, helping young children have success with STEM activities as a TA for on-campus programs for children, mentoring children at Assemble, and developing Digital Education Modules for elementary students during an experiential learning course. She even created additional modules on her own following the course.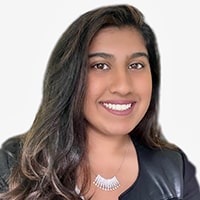 Santhanam, a sophomore in information systems at CMU, founded Likeable STEM to promote fun and interactive STEM education to communities without an available computer science curriculum, partnering with local learning hubs such as libraries, nonprofits and schools to ensure STEM is accessible to all. Partnerships with groups such as NCWIT (National Center for Women and Information Technology), CS4All and Girls Who Code enable workshops for younger girls. Through an independent study, Santhanam is working with Pittsburgh Public Schools to gather information from students and educators on how CMU can encourage students to pursue technology careers.
Last Call: Don't Forget to RSVP for CMU's Community Picnic
The CMU Community Picnic, hosted by the Office of Human Resources and Staff Council with support from the Office of the President, honors the vital contributions that CMU Community members make to the university. Please join us as the CMU community gathers to enjoy some good food, outdoor games, raffles and more!
Who:  All CMU Community members are welcome to attend
When:  May 18, 2022 from 11:30 a.m. to 1:30 p.m.
Where:  Wiegand Gym and Rangos Ballroom
RSVP:  Register by May 12, 2022
CMU-Q Team Wins National Arabic Debate Championship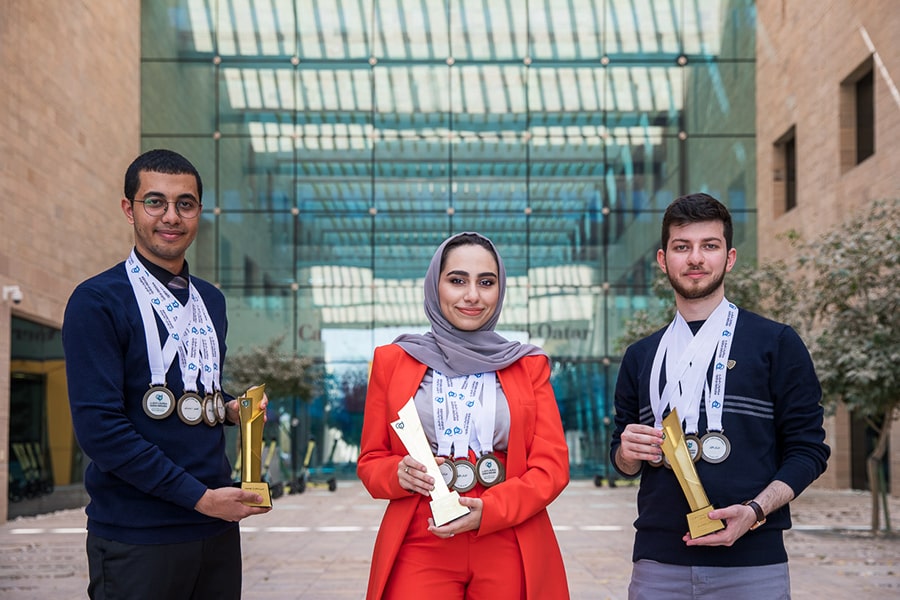 Ammar Karkour, Rahaf Abutarbush and Abdullah Shaar were the first team from Education City to compete in Arabic debate.
A team of students from Carnegie Mellon in Qatar (CMU-Q) won the QatarDebate Arabic National Universities Debating Championship, with all three debaters placing among the top 10 speakers in the tournament.
Rahaf Abutarbush, Ammar Karkour and Abdullah Shaar had a perfect record in league competitions this academic year, placing first in the Arabic National Universities League. In the championship final, they faced off against a team from Qatar University, and were ultimately victorious. This is the second consecutive year the team has won the Qatar national championship, and the second consecutive year that Shaar won best speaker.
All three students are graduating from CMU-Q this year.  Abutarbush will receive her degree in information systems, Karkour will receive his in computer science, and Shaar will complete dual degrees in biological sciences and computer science.
The three graduates credit their coach, Mohammad Khader, for helping them hone their debating skills. The team will compete one last time at the sixth International Universities Debating Championship in June. 
Listen to VOICES From the Intelligent Future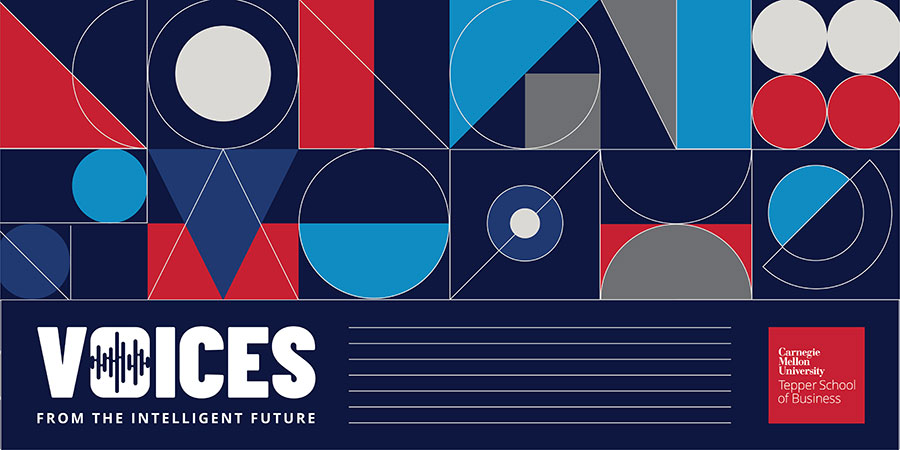 From creating the first post-prohibition whiskey distillery in Pennsylvania to developing new technology to make surgeries more effective, guests on The Tepper School of Business' new podcast series, VOICES From The Intelligent Future, give listeners a glimpse into their innovative business ventures.
Hosted by Matthew Stewart, the Accelerate Leadership Center's academic program manager and operations manager, Tepper School alumni share their experiences as they reflect upon their time at the school and the work that they are doing now to co-create a data-informed, emotionally intelligent approach to business.
Learn more and stream new episodes now.
Control Your Smartphone with CMU's Gaze-Tracking Tool
Researchers in the Future Interfaces Group at the Human-Computer Interaction Institute (HCII) are developing a tool called EyeMU, which allows users to execute operations on a smartphone by combining gaze control and simple hand gestures.
"We asked the question, 'Is there a more natural mechanism to use to interact with the phone?' And the precursor for a lot of what we do is to look at something," said Karan Ahuja, a doctoral student in human-computer interaction.
Senior Andy Kong had been interested in eye-tracking technologies since he first came to CMU. He found commercial versions pricey, so he wrote a program that used a laptop's built-in camera to track the user's eyes, which in turn moved the cursor around the screen — an important early step toward EyeMU.
"Current phones only respond when we ask them for things, whether by speech, taps or button clicks," Kong said. "If the phone is widely used now, imagine how much more useful it would be if we could predict what the user wanted by analyzing gaze or other biometrics."
ANSYS Hall Team Earns Architecture Award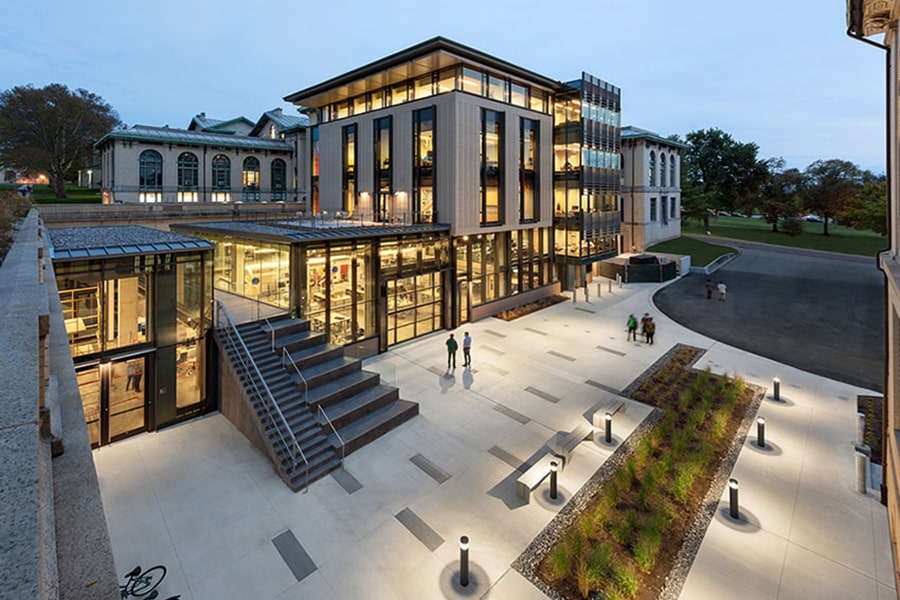 The ANSYS Hall design and construction team has won an Excellence in Architecture Award from the Society for College and University Planning. The Excellence Award honors "achievement in strategic, integrated planning that results in exemplary buildings and grounds, institutional success and careers that inspire."
ANSYS Hall is named for ANSYS, Inc., the global simulation software company that made the lead gift in 2016 to support its construction. ANSYS Hall is a four-story, 36,000 square-foot mixed-use building and the hub of the College of Engineering's "Maker Ecosystem." The facility provides students, faculty and researchers with cutting-edge computational, prototyping and simulation tools that inspire innovation and creative problem-solving. The building includes a large high bay space where students can assemble full-scale projects and prototypes, collaboration areas, conference rooms, undergraduate lab spaces, training and lecture space, and office space.
ANSYS Hall has achieved LEED (Leadership in Energy and Environmental Design) Gold certification from the U.S. Green Building Council for its energy efficiency and sustainability. The building uses 30% less energy and 40% less water compared to buildings of similar size and occupancy. About half (47%) of all materials used during construction of ANSYS Hall were located within 500 miles of campus, reducing the project's overall carbon footprint and boosting the local economy.
The ANSYS design and construction team includes CMU's Campus Design and Facility Development Department and its Facilities Management and Campus Services Department; the architectural firm Bohlin Cywinski Jackson; construction manager Mosites Construction & Development Company; Eckersley O'Callaghan; Barber & Hoffman; Langan Engineering; Buro Happold Engineers; and Klavon Design Associates.
Who's New at CMU?
Carnegie Mellon welcomes the following new staff members this week.
Antony Duggan, Manager, Domestic Student Recruitment, Marketing and Public Relations, Heinz-Australia;
Erin O'Connor, Assistant Director, Online Programs, Tepper School of Business Masters Program;
Elizabeth (Liza) Allison, Program Manager, Acc:Engg Research Accelerator;
Amelia Baisley, Academic Program Coordinator, Human Computer Interaction Institute;
Brian Cordon, Copy Center Coordinator - Tartan Ink, Printing & Publication Services;
Jennifer Monahan, Content Writer - Communications, Heinz College;
Katie Downey, Animal Husbandry Technician I, Micv Lab;
Lindsey Shaw, Facilities Assistant, Integrative Design, Arts and Technology;
Sara Golembiewski, Administrative Assistant II, Computer Science Department; and
Sheila Yates, Sponsored Research Accountant, Cost Analysis, Sponsored Projects, Property Accounting.