April 13, 2021
Ansys Hall Earns LEED Gold Certification
By Bruce Gerson bgerson(through)cmu.edu
Media Inquiries
Jason Maderer
Marketing and Communication
Carnegie Mellon University's Ansys Hall has achieved LEED (Leadership in Energy and Environmental Design) Gold certification from the U.S. Green Building Council for its energy efficiency and sustainability.

The building is named for Ansys, Inc., the global simulation software company that made the lead gift in 2016 to support its construction. Ansys Hall is a four-story, 36,000 square-foot mixed-use building and the hub of the College of Engineering's "Maker Ecosystem." The facility provides students, faculty and researchers with cutting-edge computational, prototyping and simulation tools that inspire innovation and creative problem-solving. The building includes a large high bay space where students can assemble full-scale projects and prototypes, collaboration areas, conference rooms, undergraduate lab spaces, training and lecture space, and office space.

Ansys Hall, which opened in summer 2019, is energy efficient, using 30% less energy and 40% less water compared to buildings of similar size and occupancy. The building's water quality is controlled by a state-of-the-art filtration system and its green roof has helped to decrease its stormwater runoff by 25%, reducing pressure on the city's sewage system.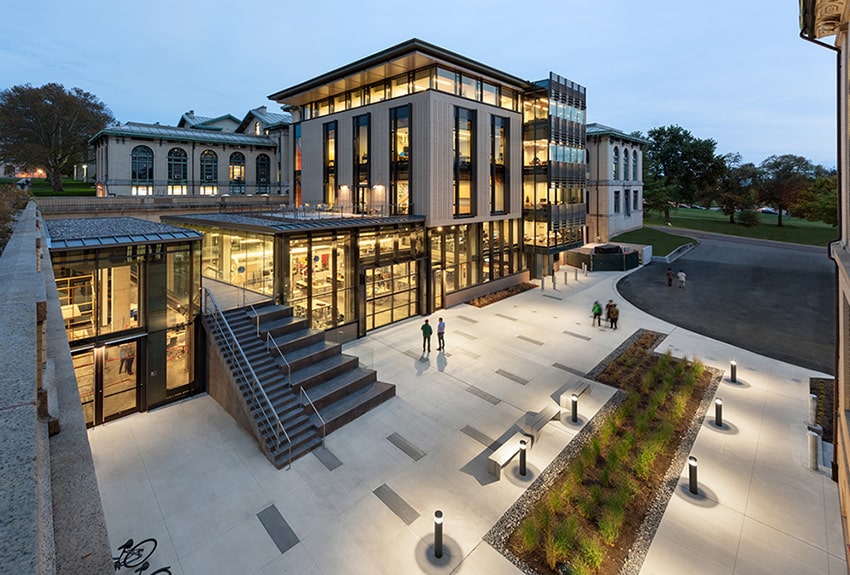 Ansys Hall
About half (47%) of all materials used during construction of Ansys Hall were located within 500 miles of the building, reducing the project's overall carbon footprint and boosting the local economy. Approximately 95% of construction and demolition waste was diverted from the landfill.

Ansys Hall's location and interconnectivity with other facilities on campus promote many transportation options, including walking and biking, as well as using campus shuttles and public transportation.

Carnegie Mellon is committed to adopting the LEED green building rating system for all new construction and significant renovations. All projects are designed and constructed to meet the current version of the LEED for New Construction and Major Renovations (LEED-NC) standard, or Commercial Interiors (LEED-CI). The university has established the goal of achieving a minimum of a LEED "Silver" rating.

Ansys Hall is the 24th CMU project to earn LEED certification.

In 2020, Ansys Hall received an honor award for its architecture from the Pennsylvania chapter of the American Institute of Architects.