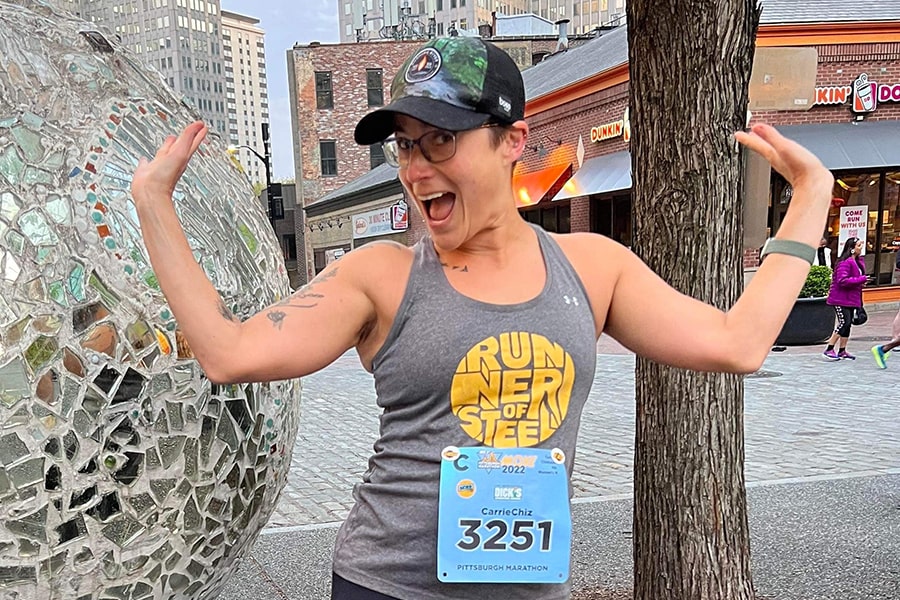 June 09, 2022
Chisholm Can't Stop Her Streak Now
By Bruce Gerson bgerson(through)cmu.edu
Carrie Chisholm has run at least two miles per day for more than 2,000 days in a row. Think about that. That's every day for five and a half years. Outside, in all types of weather.
She started this running streak business several years ago, when she ran every day between Thanksgiving and New Year's Day to stay motivated around the holidays. But in 2017, she didn't stop on January 1. She kept going and going and going.   
"I wanted to see if I could get to 100 days and I did," Chisholm said. "Then, I said 'why quit.' I was hitting milestone after milestone. After each one, I just looked to the next one."
Chisholm, who has achieved "proficient" status on the Streak Runners International Association Registry — yes, there really is such a thing — has been running the same number of miles per year as the year itself, 2,021 last year and 2,022 this year. She has structured her life around running. It's become part of her daily routine, like taking a shower. 
"I don't shower for the day unless I run first. Why waste the water," she laughed. "If I know I'm going somewhere, I'll run before I go, then shower. It's been a nice way to break up the day while working from home." 
Chisholm says she wasn't very athletic growing up, but got interested in running at the encouragement of a few CMU colleagues when she joined the university 17 years ago. Since then, and getting fitted for her first pair of running shoes years later, she has run more than 20 marathons and several ultra-marathons. She's completed every Pittsburgh Marathon since 2013, even the pandemic induced virtual races in 2020 and 2021.
"I can feel a sense of elation and accomplishment," she said about running. "I like to be outside in the fresh air and moving. It's time for myself. I don't like to sit still."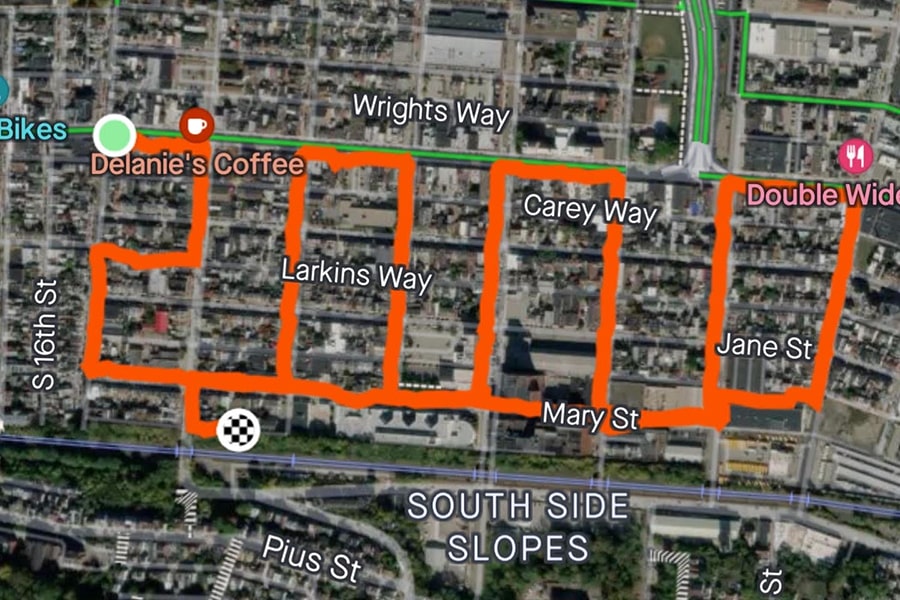 Chisholm mapped her route around Pittsburgh's South Side on day 2,000.
Chisholm's favorite routes include running along Pittsburgh's three rivers and a relatively flat two-mile stretch in her hilly Brookline neighborhood. While running, she loves listening to true crime podcasts and "people talking about interesting things."
Off the running trail, Chisholm is director of photography and video for University Communications and Marketing. She makes sure her creative team has the resources they need, and she strategically plans video and photography coverage for major university events and initiatives, like Tartan Community Day, Spring Carnival and Commencement.  
She said one of the highlights of her career thus far happened early in her tenure, when she helped to launch CMU's YouTube channel in 2007, which debuted with the late Randy Pausch's "Last Lecture" video.
"I realized that [Last Lecture] was going to be big," said Chisholm, who grabbed one of the last remaining seats in McConomy Auditorium for the live lecture. "That became a truly viral video and international phenomenon. We had over 100,000 subscribers to our channel because of the Last Lecture, which has more than 20 million views."
Today, she and her team are focused on supporting CMU's Office of Admission and in producing videos and photography that promote the university brand and the unique student experience at CMU.   
"My favorite project recently was interviewing students for admission videos," she said. "The students are amazing and so enthusiastic about the university."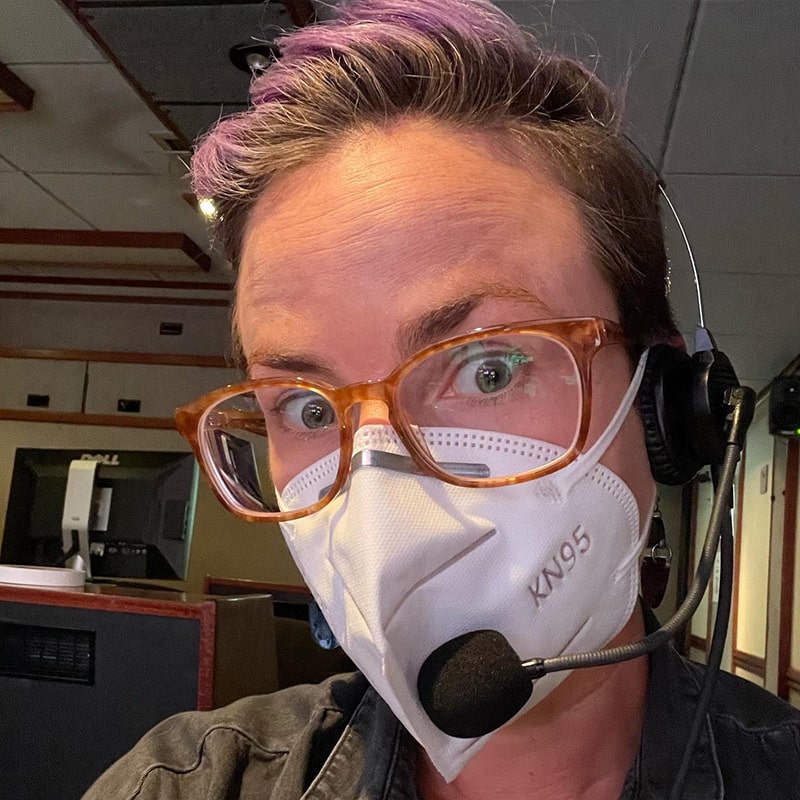 In May, Chisholm was a producer for the live Commencement ceremonies in Gesling Stadium, a role she's played every year for more than a decade. Positioned in the production truck in front of seven camera monitors, she provided the directors with the institutional knowledge they needed to select the appropriate camera shots for broadcasting online and on the in-stadium video screens.
Chisholm is active in the campus community. She's a member of the Trans, Intersex and Nonbinary Alliance (TINA), the LGBTQIA+ Employee Resource Group and is interested in joining a Neurodiverse Employee Resource Group that may be created this fall. Earlier this month, she helped CMU's Center for Student Diversity and Inclusion coordinate student participation in the Pittsburgh Pride Revolution Parade and March.
Chisholm said she likes that Pride Month has become a time to celebrate the LGBTQIA+ community, but it doesn't give the world an excuse to marginalize and harm the queer community the rest of the year. 
"I knew I was different growing up but I didn't realize nonbinary was a thing until I became an adult," she said. "It's a discomfort with the idea that I have to define myself with one of two ways and I don't feel either really fits for me.
"I am fortunate to have been accepted for who I am by my family and other people that I care about."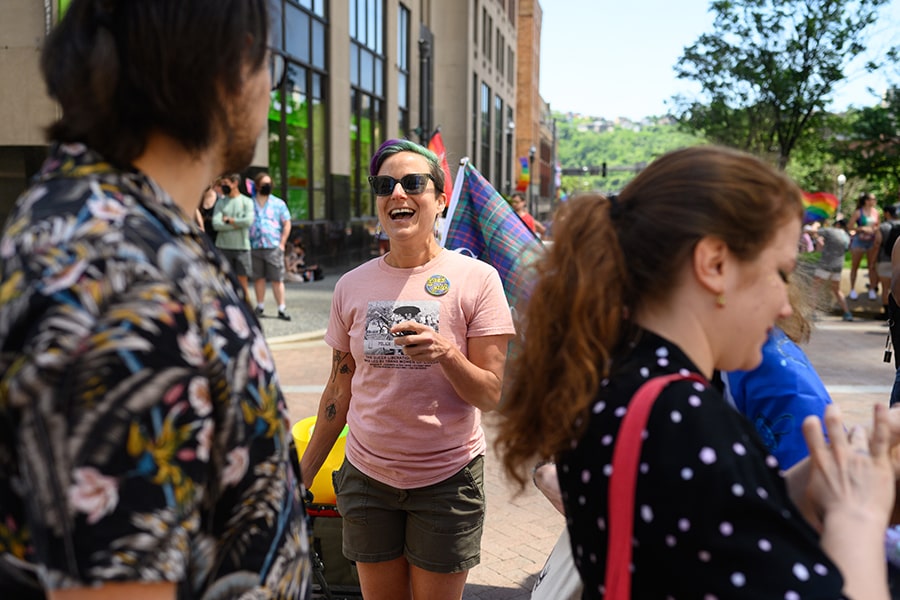 Chisholm helped coordinate student participation in the Pittsburgh Pride Revolution Parade and March.
Through her participation in TINA, Chisholm tries to support others who may not have experienced the same level of acceptance she has. 
"You meet people and learn about their lived experiences and then you can help make changes that might help them," said Chisholm, who serves on CMU's All-Gender Restroom Committee. "Day-to-day existence for some people can be such a struggle in ways you don't even think about."
Something she doesn't think about is ending the running streak.
"I'm at the point where to stop would be pretty devastating. I haven't come this far only to come this far," she said.