April 22, 2022
CMU Honors its Best in Education
Carnegie Mellon University honors faculty, staff and graduate students for their exceptional contributions in education, teaching, advising, mentoring and service with its annual Celebration of Education Awards. The awards recognize the accomplishments of those who exemplify the university's standards of excellence in education, and celebrates CMU's distinguished faculty members and educators for their outstanding contributions and devotion to the university. 
This year's recipients are:
A Celebration of Education honoring the above award recipients will be held at 5 p.m. April 28 in Rangos Ballroom. You also can attend virtually.
You might have seen Howie Choset on "The Tonight Show Starring Jimmy Fallon" a few years ago, encouraging a snake robot to slither up the host's leg. But his true legacy isn't late-night TV antics. It's robotics education.
Choset joined the Robotics Institute faculty in 1996 and according to nominator Matthew Mason, former director of the institute and now a professor emeritus, he quickly began making his mark on how CMU taught robotics. At the time, the institute offered only a Ph.D. program, and undergraduate education wasn't really on the radar. Within two years of his arrival, Choset had created and begun teaching the undergraduate Introduction to Robotics course — the first to use LEGO to bring hands-on robotics to undergrads — and had begun developing a minor in robotics.
"Looking back, I'm amazed to realize that he did all of this in his first two years at CMU. I think it is fair to say that was the beginning of the RI's serious and committed relationship with undergraduates," Mason wrote.
Choset also created the additional major in robotics in 2013. Between it and the minor, more than 400 undergraduates have earned some sort of credential in robotics. All under Choset's watch.
"Howie's move to create the additional major and minor were revolutionary for robotics education. … Nearly 10 years later robotics undergraduate degree programs have proliferated across the country with CMU as the model," wrote Mark Bedillion, a teaching professor in the Mechanical Engineering Department.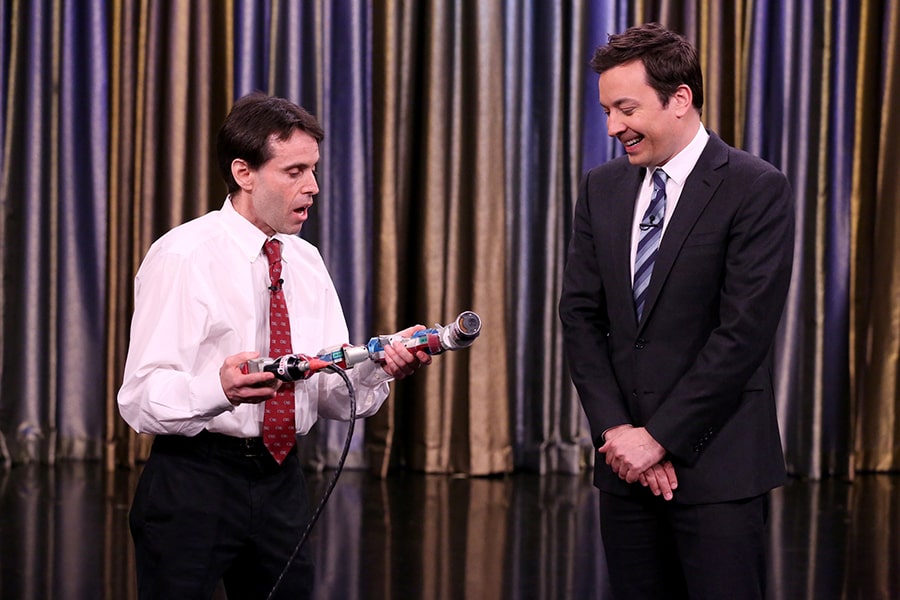 Howie Choset and his Snakebot with Jimmy Fallon on The Tonight Show in 2017.

Choset's work didn't stop with creating undergraduate programs. In 2005, he co-wrote the textbook "Principles of Robot Motion: Theory, Algorithms and Implementation," which went on to be widely used and adopted in classrooms around the world.
Outside the classroom, Choset has advised more than 300 undergraduates and 115 graduate students, who are quick to point out the impact he's had on their lives.
"From a personal experience, I owe my entire academic career to Howie," his former Ph.D. advisee Elie Shammas noted. "He took a risk on me and coached me for six years. The effort he dedicated to his students is immense."
Choset has become a go-to person for students or colleagues facing harassment and discrimination, has created real change in the Robotics Institute as part of its Climate and DEI committee, and works at CMU and locally with the Greater Pittsburgh Food Bank to raise awareness about food insecurity and explore ways technology could help.
"It is difficult to imagine what robotics education would look like here and elsewhere without the contributions that Howie has made to teaching, curriculum development, program creation, mentoring students and fostering an inclusive community," wrote nominators George Kantor, Matthew Travers and Ananya Rao of the Robotics Institute
"Fortunately, we don't have to."
— Susie Cribbs
David Anderson teaches introductory physics to non-physics majors, and he has made learning this intimidating subject both enjoyable and rewarding for students, according to their faculty course evaluations.
His nominators say he "pours his heart and soul into preparation for his classes" and has shown himself to be knowledgeable, engaging and respectful, confident in his delivery, occasionally and appropriately humorous, and always energetic, bringing historical perspective to his discussions of physics and providing useful applications to get his students to think more deeply about the material.
Colleague Barry Luokkala said he is one of the most outstanding teachers with whom he has had the pleasure to work in all his 35 years of experience at Carnegie Mellon. Fellow Ryan Award winner Helmut Vogel considers him "an enormously valuable asset to the Physics Department, to the college and to the university."
When he is not teaching, Anderson works on a number of committees, including the CMU Academic Review Board and the Physics Department's Undergraduate Curriculum Committee, which is focused on keeping Carnegie Mellon's physics courses up to date and making sure students are as well prepared as possible for whatever is the next phase in their life, whether that's graduate school, or industry, or applying their physics skills to data science, finance or some other field of their choosing.
He leads the annual teaching techniques workshops, a three-day series of training sessions for incoming physics graduate students at Carnegie Mellon. Faculty members often sit in on these sessions to try to capture some of Anderson's magic, an example of how his teaching extends far beyond the hundreds of students he interacts with annually.
Anderson received his bachelor's degree in theoretical physics from the University of Essex (UK). He then moved to York to study Condensed Matter Physics under Professor Mohamed Babiker, focusing on the theory of electron-phonon interactions in low-dimensional materials. He received his Ph.D. in physics from the University of York. After working a temporary appointment at the York Structural Biology Laboratory examining the structure of proteins, he moved to the U.S. to teach at Deep Springs College in Inyo County, California. He lived briefly in Baltimore before moving to South Carolina to teach at Francis Marion University for three years. He has also taught in short-term positions at Duquesne University, the Pennsylvania Governor's School and Sichuan University in China.
"Anderson is the quintessential teacher, dedicated to his students and his subject, hardworking and someone who loves his work," his nominators wrote. "He has succeeded in bringing introductory physics to reticent students in a way that they truly appreciate and leverage for their future success."
— Kelly Saavedra
Maggie Braun has had a profound impact on undergraduate education and advising during her 13-year tenure at the Mellon College of Science. Through her work advising first-year students and her significant role in the development and implementation of the MCS Core Curriculum, she has ensured that thousands of MCS students have a fulfilling and rewarding experience during their time at Carnegie Mellon and that they leave prepared for a future as 21st century scientists. 
"Maggie has dedicated herself to creating an environment at Carnegie Mellon that fosters excellence in advising and education. She is a dedicated, collaborative and impactful leader," said her nominators, Biological Sciences Teaching Professor Carrie Doonan, Biological Sciences Emeritus Professor Eric Grotzinger and the Dr. Frederick A. Schwertz Distinguished Professor in Life Sciences Veronica Hinman.
Braun joined Carnegie Mellon in 2008 as the assistant department head for undergraduate affairs in Biological Sciences, where she was responsible for advising all majors, curriculum development and program administration. In 2016, she was appointed Associate Dean for Undergraduate Affairs in MCS, where she advises first-year students, student-defined majors and general studies majors, and coordinates curriculum development at the college level.
"Maggie goes above and beyond expectations in supporting MCS students. She truly cares about all students, and makes a plan to support their best interests," Doonan said.
Braun is known for her dedication to her students and always making time to help students in good times and bad. Students say that Braun is their biggest advocate, sounding board and cheerleader, guiding them in every situation from selecting their classes during their first year to deciding what to do post-graduation. Students also consider her to be their go-to when they are struggling, due to her ability to support them in any circumstance and connect them with the help they need to become successful.
Braun is also a well-respected educator. She was an instrumental part of the team that developed MCS's Core Curriculum, which prepares students as scholars, professionals, people and citizens. She serves as one of the instructors for the MCS first-year seminar "EUREKA! Discovery and its Impact," for which she won a Team Teaching Innovation Award in 2017.
"Maggie is an amazing educator.  She sees the big picture of what a college education should be and is able to translate that into a plan of action," Grotzinger said. "She brings all her talents to work every day and is able to help students not only meet their educational goals but also their personal challenges."
Braun also supports students outside of the classroom as co-advisor of the MCS Student Advisory Council and as a mentor for Coaching and Mentoring Progress and Success in Science (COMPASS), MCS's minority mentoring program.
— Jocelyn Duffy
Every year, Jessica Hammer delivers a presentation for new faculty in the School of Computer Science (SCS) called "Running a Lab While Also Sleeping and Having Fun" that's so popular SCS made the session longer. It's just one of the ways Hammer shows her dedication to mentoring.
Hammer does research on transformational games, which change how players think, feel and behave. Her nominators argue that her commitment to change extends well beyond her research.
"I can attest to the sustained effort, specific actions and positive outcomes that Jess's mentorship and community-building have helped to foster in our community," wrote Jodi Forlizzi, director of the Human-Computer Action Institute (HCII). "Jess has been highly impactful not only in the HCII, but also to SCS and the university."
Hammer is devoted to graduate students, junior faculty and post-doctoral researchers in her departments. In 2019, she began a group called Spreadsheet Magic for junior faculty members. Initially intended as a demo of her detailed spreadsheets for navigating faculty life, it grew into a safe space for faculty members to share concerns, strategies for traversing the tenure process and best practices for mentoring.
"Aside from learning from her organizational wisdom, this 'spreadsheet magic' group also serves as a young faculty peer support group. We discuss issues we are facing or solutions we manage to figure out, and these stories of success or frustration apply to many of us," wrote Adam Perer, an assistant research professor in the HCII. "Without Jessica's initiatives, I would have had little exposure to my young faculty colleagues, which had instead led to collaborations and a rich support network."
In 2020, Hammer created a virtual mentoring group for post-docs to provide a safe space to build community for a group that can too easily feel isolated.
"The postdoc mentoring group was a major highlight of my time at CMU and a true turning point in how I navigate academia," wrote LuEttaMae Lawrence, a former HCII post-doc.
All of this work stems from the culture Hammer has established in her own lab, which influenced her recent paper "Lab Counterculture."
"Jess has modeled her research lab as a comprehensive center where people lift up and practice anti-racist policies. She ensures that every member of her lab feels welcomed, respected and empowered to contribute to the community," Forlizzi wrote.
Former Ph.D. advisee Alexandra To said Hammer embodies all the best qualities of a mentor.
"She represents a critical shift in the culture of … all academic spaces in doing outstanding work while empowering and elevating everyone she works with," To said. "I can only hope to do as well by my students and colleagues."
— Susie Cribbs
"Learning by doing" is one of the primary tenets of the Carnegie Mellon educational approach, and for nearly four decades, Judy Hallinen has been translating those words into action through her own work in educational outreach and service learning in both local and global contexts.
Amy Burkert, vice provost for education and chair of the Gelfand Award Committee this year, has worked with Hallinen for many years and has personally witnessed the breadth and depth of her numerous contributions in this domain.
"Judy's own outreach efforts have had an impressive, positive and sustained impact on countless K-12 students, teachers and programs throughout the region," Burkert said. "That said, as the Gelfand Committee reviewed the letters in the nomination packet, it became clear that Judy's even greater impact has been achieved through the sharing of her own passion and expertise to educate and engage thousands of Carnegie Mellon undergraduates, graduate students, staff members and faculty in educational outreach and service learning."
Hallinen combines her background in education and teaching, her talent in translating complex research concepts to engage K-12 populations, and her connections to community educators and partnerships with her willingness to do whatever is needed to help others learn and translate their own ideas into community impact.
"Through her ongoing efforts, the seeds Judy has planted over many decades, are blossoming, spreading and changing lives for the better," Burkert shared.
Numerous faculty nominators said Hallinen was instrumental in helping them establish programs to impact the broader community, and to develop outreach plans essential to their NSF CAREER awards success. She helped them understand how to create innovative outreach portfolios that complemented and synergized with their research and teaching.
Annette Jacobson, associate dean for undergraduate studies in the College of Engineering, has been involved in K-12 outreach since 1990 and partnered with Hallinen on a number of initiatives.
"Judy has been a great resource for many of our efforts, including providing contacts of students and educators locally for our programs," Jacobson wrote in her nominating letter. "As director of the Gelfand Center, Judy provides the university with expertise making it possible for students, staff and faculty to have volunteer and service-learning experiences. She has made the Gelfand Center an essential university resource for educational outreach."
Burkert also praised Hallinen for serving as a "bridge to community engagement for many of us."
"Judy has dedicated her career to making a difference through education, and the Gelfand Award is one small way we as a community can recognize her impact and offer our appreciation," Burkert said.
In a world where course designers traditionally sacrifice depth for breadth, Assistant Professor of Human-Computer Interaction Ken Holstein stands out as a nonconformist.
"Instead, he uses mindset shifts and clever pedagogy to help students go broad and deep at the same time," said nominator Jessica Hammer, the Thomas and Lydia Moran Associate Professor of Learning Science and interim director of the Human-Computer Interaction Institute (HCII) in the School of Computer Science.
Holstein, who earned his Ph.D. from the HCII in 2019 and a bachelor's degree in cognitive psychology from the University of Pittsburgh in 2014, directs the HCII's CoALA Lab. His work explores participatory approaches to AI research and design, as well as the design of effective, responsible human-AI collaborations. 
In collaboration with Ph.D. student Lea Albaugh, Holstein developed a new undergraduate core course, Prototyping Algorithmic Experiences. The project-based class gives students an overview of and hands-on introduction to iterative prototyping methods in human-computer interaction, emphasizing new and emerging technologies. Students learn approaches for creating and using prototypes to develop new technologies, and how to strategically evaluate whether a given prototyping approach is a good fit for exploring a given design or research question.
According to Hammer, the course presented a challenge in that it aimed to help students deeply integrate technical knowledge (for example, machine learning) with user experience research approaches. The course is designed to help students explore the impact that design decisions beyond user interfaces may have on user experience, such as exploring the impacts of dataset, algorithmic or model design choices.
"Ken has done an exceptional job in addressing this challenge in ways that are generalizable to other courses," Hammer said.
Hammer notes that the course emphasizes important skills like strategy and project scoping. Holstein also creates regular opportunities for reflection on both the prototypes themselves and the students' prototyping strategies.
"Educational research has shown that reflection is key to transfer, and Ken effectively leverages it to help students turn their prototyping insights from one project into lifelong skills," Hammer said.
Hammer also highlighted Holstein's strategy of having students work on low-stakes projects in small teams, with each team member simultaneously prototyping different designs in parallel.
"As a previous winner of the Teaching Innovation Award, I want to point out both the value and the generalizability of Ken's work," concluded Hammer, who received the award in 2018. "I am already planning ways to incorporate Ken's strategies into my class next year. I suspect that anyone who is teaching at the intersection of design and technology would benefit as well."
— Susie Cribbs
The Computational Biology Department in Carnegie Mellon's School of Computer Science began offering a first-of-its-kind master's degree in automated science in 2019. It's not an exaggeration to say it wouldn't have been possible without Assistant Teaching Professor Joshua Kangas.
"The involvement of Josh, who did pioneering work in this area during his Ph.D. before returning to us as a member of the teaching faculty, was absolutely essential to creating the new program," said Russell Schwartz, a professor of biological sciences and computational biology, and head of the Computational Biology Department.
Kangas earned his Ph.D. in the School of Computer Science, primarily studying how automated science — which combines robotic scientific instruments with machine learning and artificial intelligence techniques to build models from experimental data and select new experiments to improve them — could be applied to drug discovery and development. He went on to co-found the company Quantitative Medicine with his advisor and now professor emeritus Robert Murphy to improve pharmaceutical research through automated science software. He then returned to CMU as a faculty member in computational biology, where he discovered a passion for giving students important hands-on experience at the interface of lab experimentation and computation. 
That passion for lab instruction became critical when the department launched its automated science master's degree program, for which Kangas created the two-semester course, Laboratory Methods for Automated Biology.
"No course like this had ever been taught anywhere before," Schwartz wrote in his nomination. "Laboratory classes are notoriously difficult to design and teach, and this one added all the complexity of needing to do this for a wholly new kind of class while simultaneously developing and teaching a software system on top of the experimental apparatus. Josh single-handedly created all of the lectures, laboratory modules and supporting software to enable this."
The course wasn't without challenges. First renovation delays and then the COVID-19 pandemic presented some initial complications. But because the lab was designed to run with minimal manual intervention, students barely missed a beat. A set of remotely accessible cameras meant they could design and execute their lab experiments from anywhere in the world, view the robots running in real time, and analyze the data they generated. The course received rave reviews.
"Josh has gone above and beyond even by Carnegie Mellon's high standards for educational innovation, pioneering a wholly new area of study, creating the first coursework anywhere to teach it and doing so while adapting to the most challenging of circumstances," Schwartz wrote.
— Susie Cribbs
Graduate Student Teaching Award
Lea Albaugh, Human-Computer Interaction Institute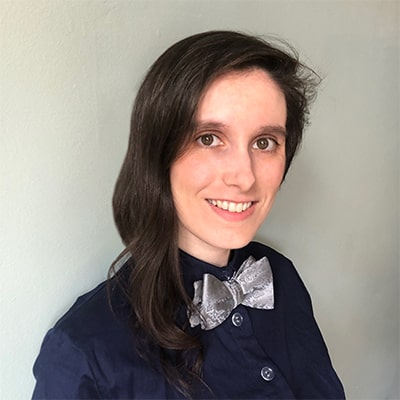 Lea Albaugh is a Ph.D. student who researches fabrication and material creativity, but she's known by some as "Professor Lea" says assistant professor Kenneth Holstein.
"I can think of no graduate student more deserving of this award than Lea Albaugh, who has made many outstanding teaching contributions at CMU over the last half-decade," said Holstein in his nominating letter. "Lea is an incredibly skilled educator, who puts more time, energy and care into her teaching than any other graduate student I've encountered in my 7+ years at CMU."
Last summer, Albaugh helped Holstein develop and design a new project-based course called Prototyping Algorithmic Experiences (PAX). She leveraged her past teaching experiences in CMU's Integrative, Design, Arts and Technology (IDeATe) Network, at the Children's Museum of Pittsburgh and as a research associate at Disney to design project assignments, and met with Holstein weekly to design the overall structure of the course.
Her contributions continued into the fall.
"Lea brought this energy into the classroom," Holstein said. "She frequently complemented my perspective during class discussions and activities, drawing fascinating, pedagogically valuable connections between the course material and knowledge from a wide range of other disciplines, such as art, engineering, fabrication, e-textiles, game design and the design of theme parks." 
Albaugh had a great rapport with the students, offering support when they were struggling with helpful and productive feedback. By the end of the fall semester, Holstein said he was "blown away" by her talent and dedication to teaching.
In addition to her work with PAX, Albaugh has taught the E-Textiles Micro course in IDeATe for five semesters and has been a member of the teaching team for HCII's core-curriculum User-Centered Research and Evaluation course. She has also mentored undergraduate and graduate student collaborators, and led the HCII's first Ph.D. student application mentoring program to reach out to underrepresented prospective students.
Her nomination for the Graduate Student Teaching Award was supported by several faculty members.
Professors Motahhare Eslami and Raelin Musuraca said Albaugh did an outstanding job as a teaching assistant (TA) for one of the HCII's largest courses, User-Centered Research and Evaluation.
"Lea did an outstanding job teaching in the classroom by providing an energetic and engaging space for students. Her wonderful energy made her section so popular that some students requested to move to her section," they said in their supporting letter.
Elami and Musuraca said Albaugh has gained the reputation from students as being "the best TA ever."
— Bruce Gerson
The Computer Science Department's new course focusing on issues of justice, equity, diversity and inclusion in computer science and society got its start when a group of graduate students decided to create the training they wished they had received.
CS-JEDI: Justice, Equity, Diversity and Inclusion is now a required part of the curriculum for incoming Ph.D. students in computer science and is being looked at as a model by both other departments in the School of Computer Science and universities elsewhere.
"This team of 15 students have done exemplary service to CMU, which will pay dividends for years to come. They saw a problem on campus and took it upon themselves to find a constructive, evidence-based solution," a group of computer science professors, including Srinivasan Seshan, the head of the Computer Science Department (CSD), wrote about the students. 
The motivation for the course began in 2020 when members of the team informally surveyed Ph.D. students in CSD, many from historically underrepresented groups, and found that many students mentioned encountering unwelcoming and distressing behavior from other students, faculty and staff. Students surveyed described struggling to address issues they faced; not knowing how to intervene on the behalf of themselves and their peers; and being unsure who to involve when handling issues with advisors, professors, collaborators and students.
The survey prompted the team to create a course for new Ph.D. students to prepare them to engage with a diverse community. The team developed the curriculum and worked with students, faculty and staff to refine it.
Several students said they enjoyed the course and valued hearing the experiences, opinions and perspectives of others. Students also said they wouldn't have typically picked the course but were glad they did.
The course gave a Ph.D. student in the Human-Computer Interaction Institute a language for discussing diversity, equity and inclusion issues, and a space to engage in these issues with fellow students.
A Ph.D. student in the Language Technologies Institute who took a version of the course in 2021, wrote that the class taught her the basic concepts about diversity, equity and inclusion that helped her understand systematic biases and what individuals can do to address them. She said the course allowed her to become more compassionate and empathetic toward members of the SCS community and reflect on her personal experiences.
— Aaron Aupperlee