April 20, 2022
News Briefs
You're Invited to the CMU Community Picnic, May 18
The CMU Community Picnic, hosted by the Office of Human Resources and Staff Council with support from the Office of the President, honors the vital contributions that CMU community members make to the university. Please join us as the CMU community gathers to enjoy good food, outdoor games, raffles and more!
Who:  All CMU community members are welcome to attend
When: 11:30 a.m. - 1:30 p.m., May 18
Where: Wiegand Gym and Rangos Ballroom
RSVP:  Register by May 12
Artists Wanted
Are you a CMU community member who creates art during your spare time? If so, this is your chance to share it with the CMU community! The CMU Community Picnic will once again feature a small exhibition of two-dimensional art in Kirr Commons. Space is limited, so the organizing committee reserves the right to make the final selections for display. To submit a piece, refer to the Art Exhibit Instructions and Guidelines [pdf]
Pictured above are staff having fun at the selfie-station in Wiegand Gym at the 2019 Community Picnic.
Dedication Celebration Set for Fifth and Clyde House, Fifth Ave. Commons
Join the campus community to celebrate the dedication of the Fifth and Clyde House and Fifth Avenue Commons. Students, faculty and staff can tour the residential and Commons spaces, enjoy student performances and meet special guest and local artist Thaddeus Mosley, sculptor of "Inverted Dancer." The dedication takes place on Wednesday, April 27 from 4-6 p.m. with remarks beginning at 4:05 p.m. Register to attend by 5 p.m. Friday, April 22.
Participate in the Earth Day Scavenger Hunt
This Earth Day (April 22) Sustainable Earth and CMU Green Practices are hosting an Earth Day Scavenger Hunt. Show some love for our Earth and educate yourself about environmentally friendly resources on campus by completing items during the week — top participants will earn cool sustainable prizes! Some of the items to look for include:
a location on campus where you can recycle gym shoes;
one of the bike maintenance stations on campus; and
an example of green infrastructure such as a rain garden, green roof or rain barrel.
Submissions will be accepted through Wednesday, April 27. Learn more and happy hunting. 
Register for Take Our Children to Work Day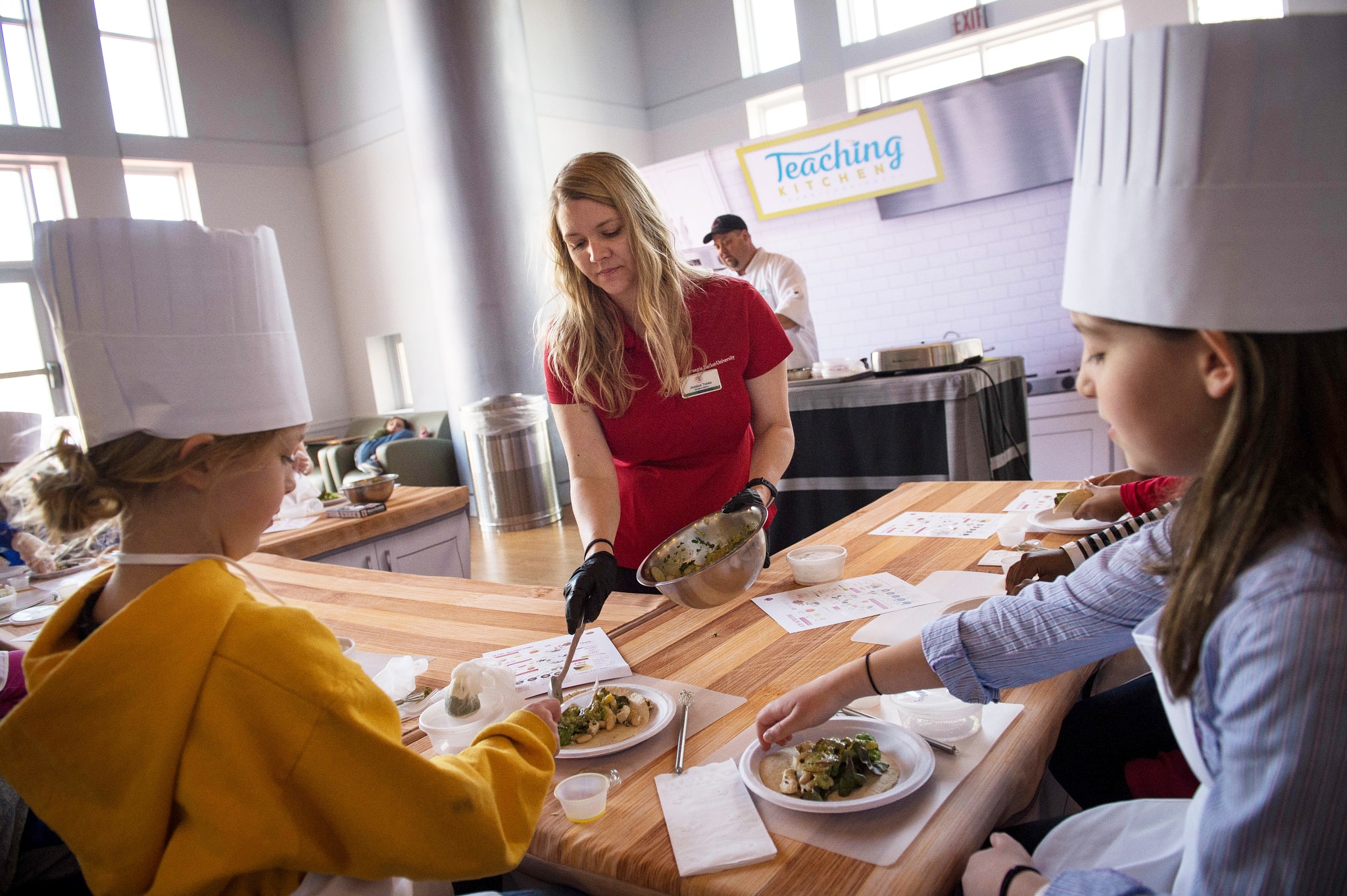 Jessica Tones, nutrition and marketing director for Dining Services, and Executive Chef Vic of Chartwells put on a demonstration for kids during Taking Our Children to Work Day in 2018.

Registration is open for Carnegie Mellon's Take Our Children to Work Day on Thursday, April 28. 
The Take Our Children to Work program introduces children between the ages of 8 and 15 to what a parent or mentor in their lives does during the work day. The program also aims to show children the value of their education and make them aware of some of the many professions and fields they can pursue.
 
In the morning, the children "shadow" their campus host. Lunch, from noon to 1 p.m. is $8.50 from Chartwheels and includes two slices of cheese pizza or chicken tenders plus an apple, bag of chips and Turner's lemonade. In the afternoon, participants can attend a variety of short presentations in areas such as the ETC, chemistry, the Department of Student Affairs, EH&S, Chartwells, the SEI, sustainability, Campus Police and biomedical engineering. Each presentation features engaging activities facilitated by faculty, staff and students. 
Volunteers Needed:  Members of the campus community are needed to assist with registration, serve as lunch aides, chaperone guided tours across campus, and monitor the children waiting to be picked up from the gym. The time commitment for each role is detailed below.
Registration volunteers are needed from 10:45 a.m. through about 12:15 p.m.;
Lunch aides are needed from 11:45 a.m. through 1 p.m.;
Track guides are needed from 1 to 3:30 p.m.; and
Monitors are needed at pick-up from 3 to 4 p.m.
Since these positions include direct contact with children as defined by the Pennsylvania Child Protective Services Law (as recently amended by "Pennsylvania Act 153") you will be required to obtain certain clearances prior to participating in the event. Information about these clearances and how to obtain them will be provided in a separate message.
If you are interested in volunteering in any capacity, please send email to toctwd@andrew.cmu.edu
Swartz Center Seeks Applicants for Innovation Commercialization Fellows Program
The Swartz Center for Entrepreneurship is seeking applications for the 2022 Innovation Commercialization Fellows program.
The Swartz Center is seeking graduate students, postdoctoral fellows and research assistants working with faculty investigators, who are interested in driving the commercialization efforts for their Carnegie Mellon research-based startup companies.
Innovation Commercialization Fellows is a year-long program beginning July 1. Along with cohort-based educational workshops and expert one-on-one mentoring, fellows will receive a $50K contribution from the Swartz Center, contingent on a $50K match from another source, to support them while they focus on the commercialization process.
Further details on eligibility and program outcomes can be found on the Swartz Center website. Questions can be directed to Melanie Simko at msimko@andrew.cmu.edu. The deadline to apply is midnight ET, Monday, May 2.

Tuition Benefits Open Forum Set for Tuesday, May 3
Staff Council and the Office of Human Resources will host a Tuition Benefits Open Forum on Tuesday, May 3 from noon to 1 p.m. The forum will take place virtually via Zoom; registration is required.
This forum is open to all staff members who are interested in learning more about the tuition benefits available to Carnegie Mellon employees. Members from the Human Resources benefits team will be on hand to present a summary of benefits and address any questions. In addition, we will welcome representatives from the Office of Undergraduate Admissions (for bachelor's degrees) and the Registrar's Office (for non-degree courses) to share information on applying for those programs. 
Following the formal presentation, representatives from Heinz College and the Tepper School of Business will be available until 1:30 p.m. to speak with staff members interested in pursuing one of their master's degree programs.
To help prepare for this session, we are soliciting questions in advance. Please submit your questions by Tuesday, April 26.
If you have questions about the forum, please contact David Danenberg, Staff Council Benefits Committee Chair, or Becky McGhee, Senior Manager, Benefits.
New Hours at the Credit Union
The CMU Federal Credit Union will be closed on Monday, April 25, and new office hours will go into effect beginning Tuesday, April 26. The Credit Union's new hours will be 10 a.m. to 2 pm., Tuesday, Wednesday and Thursday until further notice.
Who's New at CMU?
Carnegie Mellon welcomes the following new staff members this week.
Frank Noll, Office Assistant, International Education;

Jiaqi Wang, Research Assistant, Chemical Engineering;

Matthew Giardina, Office Assistant, International Education;

Kestrel Merritt, Research Associate, Neuroscience Institute;

Demetrius Baldwin, Program Manager, Office of Diversity, Equity and Inclusion, Mellon College of Science Dean's Office;

Hannah Starcher, eLearning Administrator, SEI OCOS Transition Services;

Keishawna Davis, Temporary Employment Service, HR Operations;

Kirsten Keister, Senior Communications/Information Designer, SEI OCOS Communication Services;

Marissa Thompson, Web and Graphics Designer, Pittsburgh Supercomputing Center;

Michael Hill, Temporary Employment Service, HR Operations;

Pin Lin, Senior Research Programmer, Robotics Institute; and

Tendai Ushendibaba, Coordinator of Community Standards & Integrity and Housefellow, Community Standards & Diversity Initiatives.