March 23, 2021
SLICE, Activities Board Set Stage for New Outdoor Venue
A portable stage has been installed on the College of Fine Arts lawn giving members of the campus community a new outdoor venue for events and live performances with COVID-19 protocols in place.
"The stage can be used for any number of things," said Elizabeth Koch, associate director of Student Leadership, Involvement and Civic Engagement (SLICE). "It can be a space for dance practices and performances, dramatic and music performances, group exercise classes and even trivia and movie nights."
Student organizations, academic departments and other campus groups can submit reservation requests to use the stage using 25live, CMU's online scheduling platform. Student groups must then receive approval through the In-Person Activity Request process, while departments must gain approval through Conference and Event Services. Performance-based student organizations and curricular activity will be given first priority.
The Partnership
Inspired by the tents and picnic tables that popped up on campus last fall, the stage was an idea brought to university leadership by Koch and Activities Board Concerts Chair Ethan Rich.
After months of planning and collaboration between students and staff, the 32'x24' stage arrived last weekend. Koch said it's been a "labor of love," and called the stage an "investment and privilege" for the community.
The first step for Koch and Rich was to determine whether student organizations would use the space. After receiving positive feedback, they began to draft the proposal.
To address some of the more technical aspects of the project, Koch and Rich reached out to Ryan Eckert, one of the heads of AB Tech. Eckert and his team created plans for the stage to have as much "self-service technology" as possible so students and departments can easily host events.
"We need to be able to support the events without always being there," Eckert said. "All the technology that has been set up is accessible to students — technology that in the past has been manned by student crews."
The stage's technical aspects include a lighting system that can easily be turned on via light switches, and a sound system that can be picked up at the Cohon Center Information Desk. The system includes two speakers, one microphone and stand, and an auxiliary cable to plug in a phone or music player and detailed instructions. The stage also is equipped with a 30'x19' projection screen, and a basic projector and cart that can be picked up at the Cohon Center Information Desk as well. Additional on-stage outlets are available for any laptops or other items that require power.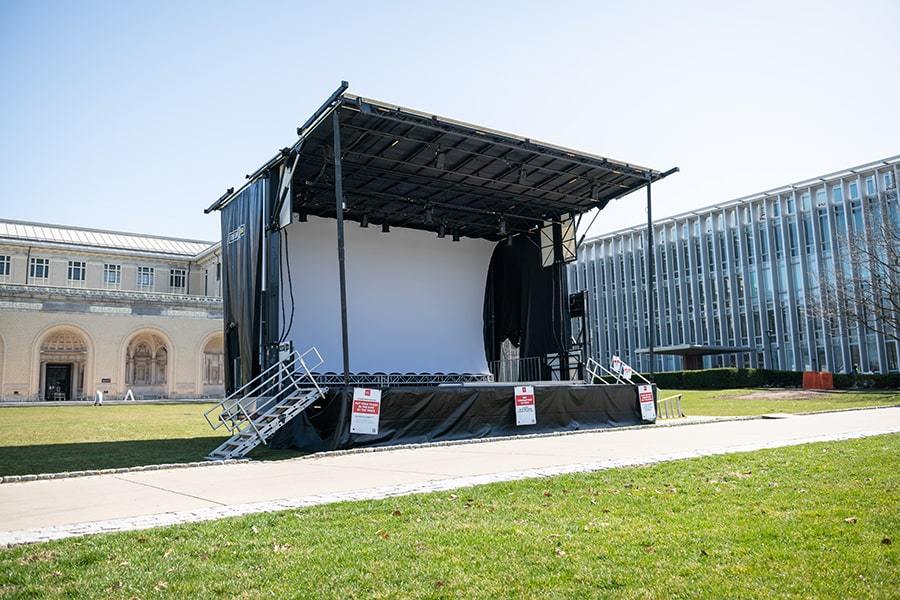 The portable stage was acquired through a rental and service agreement with Flyspace Productions. School of Drama alumnus Cory Cope is a principal and director of operations for the company.
Imagining the Space
Koch and Rich emphasized that the new outdoor space is intended to be a resource for everyone on campus.
"For as many people on campus who are looking to be entertained, there are probably just as many people who are looking to entertain," Rich said.
College of Fine Arts Dean Dan Martin agrees.
"Live performance — acting, dance, music or performance art — is never a fully realized experience for the artists until they are able to engage with audiences," Martin said. "All of us, performers and audience members, are eager for the opportunity to again enjoy that very special human experience. The outdoor stage could not come at a better time. I have no doubt that it will be a site for us to nourish our spirits and restore our energy."
The space also provides an opportunity for organizations to share some of the skills that haven't been translatable in virtual meetings and to transfer the knowledge and traditions that will keep their organizations alive. Eckert said he is excited for hands-on work again, and to pass on his skills to the younger members of AB Tech.
"The outdoor stage could not come at a better time." — CFA Dean Dan Martin
Koch hopes members of the community will think outside of the box and take advantage of this unique opportunity.
"We want this stage to be used for curricular and co-curricular purposes," she said. "So, if a department wants to screen a movie, they can utilize the space as well."
Rich said he hopes the stage will be a "blank canvas."
"Our role is not to prescribe the limits of this space but really allow the community to take the reins," he said.