Tartan COVID-19 Asymptomatic Testing Program
Tartan Testing Hours
*Tartan Testing will be closed in observance of Juneteenth on Monday, June 20 and will resume regular hours on Tuesday, June 21.
Monday: 6 a.m. to 4 p.m.*
Tuesday through Thursday: 8 a.m. to 4 p.m.
Testing is available Monday through Thursday and specified Fridays in January and February by appointment only. You must arrive within 15 minutes of your scheduled appointment. If you miss your scheduled appointment, you may not be able to get tested if you walk-in at a different time. Individuals with appointments will be prioritized.
Facial coverings are always required in the Tartan Testing area.
Tartan Testing Parking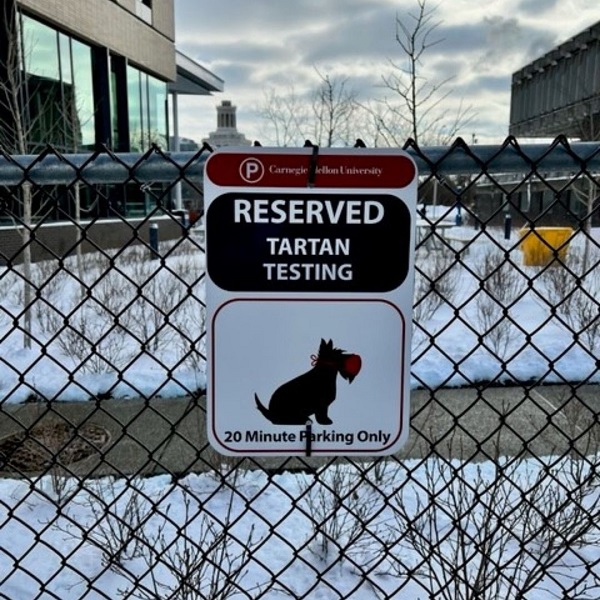 If you are arriving from an off campus location to participate in Tartan Testing, the parking lot behind the GATF building (4615 Forbes Avenue) has dedicated spaces available for temporary 20 minute parking. To access the GATF parking lot, turn onto Filmore Street from either S. Craig or S. Neville Streets. Turn into Zebina Way to enter the parking lot.
Tartan COVID-19 Asymptomatic Testing Program
The Tartan COVID-19 Asymptomatic Testing Program, or Tartan Testing for short, is Carnegie Mellon University's program for the diagnosis of COVID-19 in asymptomatic individuals and is an important element of CMU's ongoing strategy to detect and prevent the spread of COVID-19 in our community.
Tartan Testing is for all Pittsburgh-based Students, Faculty and Staff 
Who Must Participate Weekly in Tartan Testing
The university no longer requires individuals who have received a COVID-19 vaccination/booster exemption to complete Tartan Testing on a weekly basis, although it is strongly recommended. Tartan Testing remains available to all students, faculty and staff who seek an asymptomatic COVID-19 test.
To complete Tartan Testing, see the steps below on this page. If you have questions or concerns about the Tartan Testing Program, please email drbc@andrew.cmu.edu. 
Tests provide a snapshot of the moment at which the test is taken, so it is critical to remain committed to our mitigation behaviors. Background on CMU COVID-19 Testing
FAQ: Should I be tested if I previously had COVID or received the vaccine?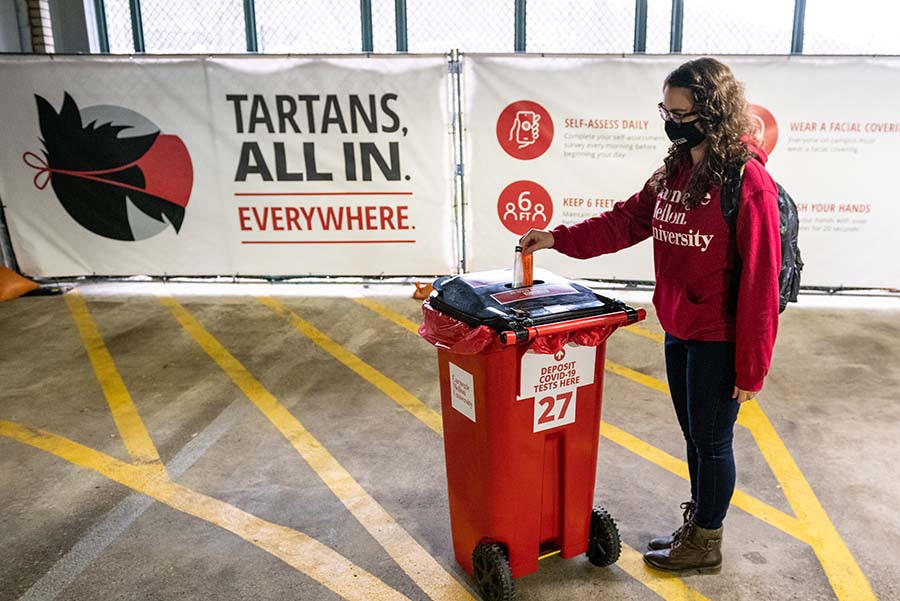 1. Schedule an appointment.
Select an appointment through the HealthConnect portal. The sooner you elect an appointment time, the more flexibility you will have to choose among available slots.
Appointments will last approximately 15 minutes. However, during high volume testing periods, the process may take longer, and unexpected delays may occur (e.g., inclement weather, etc.). We appreciate your support and patience with this very important process.
Sign onto HealthConnect with your date of birth.
Select the "Schedule an appointment" button.

Select your primary campus status and then select the "Continue" button.

Select "COVID-19 Asymptomatic Testing" 

and then select the "Continue" button.

Faculty and staff need to read and approve a

COVID-19 Test Consent Form and students are required to sign an annual Treatment Agreement 

before booking their appointment.
After selecting the "Submit" button, you can then "Search for appointments."
HealthConnect is CMU's secure online portal for University Health Services (our students' primary care provider). We have expanded the system's functionality so that faculty and staff will also use HealthConnect to schedule asymptomatic COVID-19 testing. HealthConnect is housed on campus and monitored by Carnegie Mellon's Information Security Office (ISO). Access to the stored information is limited to authorized personnel and treated confidentially.
Faculty and staff are currently not required nor expected to answer any health or medical history related questions in order to participate in Tartan Testing. If you are prompted in HealthConnect for this information, please click through the questions without entering a response.
If you have issues logging into HealthConnect to schedule your appointment, please contact drbc@andrew.cmu.edu.
2. Prepare for your appointment.
Before You Arrive 
If your sample is contaminated or discolored, it will not produce a test result and will not be processed.
To reduce the incidence of contaminated saliva and rejected test results, note these important steps regarding how you should prepare to provide your saliva sample.
During the 60 minutes prior to your appointment, do not eat, drink (other than water), smoke or vape, brush your teeth, or chew gum.
Do not wear lipstick, lip gloss or lip balm to your appointment.

10 minutes before your appointment, swish water in your mouth and swallow it. After this, do not drink anything else before your appointment.
What To Bring 
CMU ID and mobile device: 

Bring your university ID (or government-issued ID) and a mobile device (or printed page) to display your 

appointment QR code.
Facial covering: You are required to wear a facial covering/mask throughout the testing process, including during saliva sample collection.
3. Go to TCS Hall to check in for your appointment.
Check-in Process: TCS Hall
You will check in for your test at TCS Hall. Just before you are called to a check-in table, click "Appointments" in the HealthConnect menu and select today's appointment to pull up your personal QR code on your mobile device.
A staff member will give you a test kit, and you will be directed to an individual testing station to provide your sample.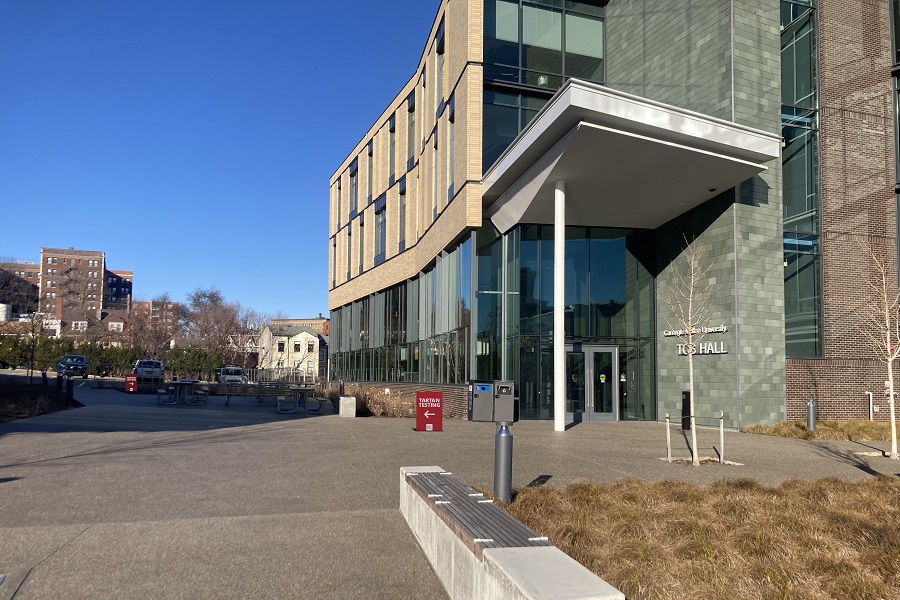 4. Provide your saliva sample at TCS Hall and await results.
Remember to practice CDC recommended hygiene practices before and after you provide your test sample.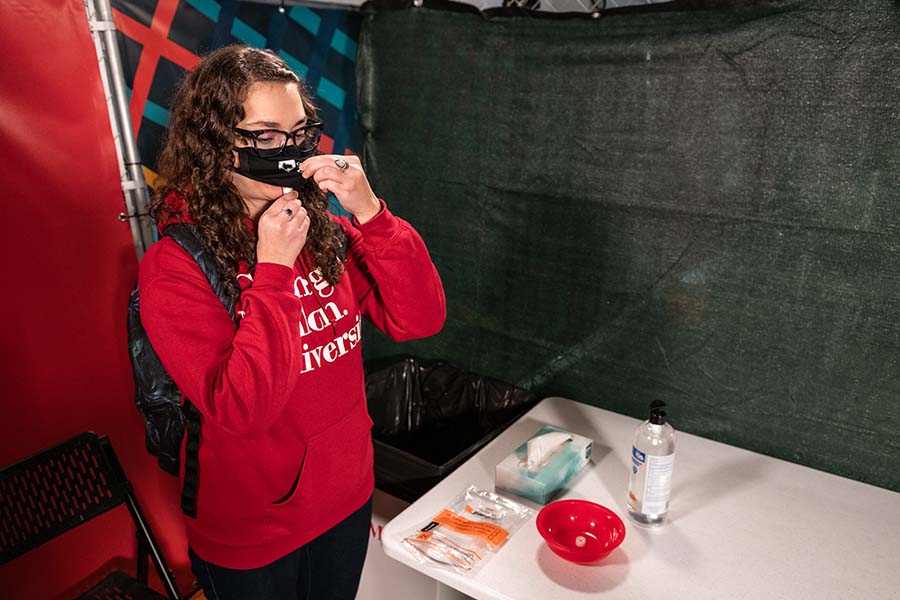 Receiving Results
Your saliva sample will be processed by the Tartan COVID-19 Testing Lab and results will be returned to you within 2-3 business days. 
Students 
If you have a positive test result, you will receive a call and an email from University Health Services (UHS) directing you to log in to HealthConnect and view your test results. UHS and university staff will provide guidance and support to those who test positive or are close contacts of someone testing positive. A plan for care, isolation and contact tracing will be initiated.
If you have a negative test result, you will receive an email from UHS directing you to log in to HealthConnect and view your test results.
process for students who receive a positive test result
Faculty and Staff
You will receive an email from UHS directing you to log in to HealthConnect and view your test results when they are available. 

Faculty or staff with positive test results should consult their health care provider regarding a plan for care and isolation. CMU's Community Health and Well-Being will assist with referrals to primary care providers, as needed. Additionally, a plan for contact tracing will be initiated.
Process for faculty and staff who receive a positive test result
About the Test
Tartan Testing employs a COVID-19 asymptomatic test based on the SalivaDirect open-access protocol developed by the Yale School of Public Health. This test uses saliva samples to detect the presence of RNA from the SARS-CoV-2 virus, which causes COVID-19.
Client Reference Manual
The Tartan Testing Lab Client Reference Manual is available upon request by contacting drbc@andrew.cmu.edu.