CFA Celebrates Women's Herstory Month
The College of Fine Arts will celebrate "Women's Herstory Month" by highlighting the contributions self-identified women have contributed to culture, herstory and society. The new take on the name is intentional, according to Valeria Martinez, CFA's assistant dean for Diversity, Equity and Inclusion.
"When we say 'herstory,' we're using the feminist term for history, keeping the focus on feminine and feminist perspectives," she said.
Martinez said the activities planned during March will follow a sub-theme, titled "Honoring Women's Resilience to Silence."

"Women continue to demonstrate remarkable effects on society. From greater achievement by girls in schools across the world to decreasing violence against women, and more stable and cooperative communities, the impact of women's work for equity is undeniable," she said. "Women's Herstory Month is a crucial time to remind the nation and the world of our important work and the barriers that exist to full gender equality."
Find out more about CFA's monthlong celebration.
Staff Council Seeks Nominations for At-Large Reps
Are you or a fellow staff member interested in contributing more to the Carnegie Mellon campus community? Is there an issue that you are passionate about and want to make a change? If so, Staff Council encourages you to participate in the 2021 Staff Council At-Large Elections. You can nominate yourself or other staff members to serve as a representative for the 2021-2023 term.
Staff Council Representatives:
o   Attend the general body meeting on the third Thursday of every month;
o   Serve on at least one standing committee;
o   Communicate information to their colleagues; and
o   Serve a two-year term.
A link to the nomination form was mailed to each staff member this week. The nomination period closes March 12. Visit the Staff Council website for more information.
Heinz Begins "Managing AI in Transportation" Exec Ed Program
Heinz College has launched a new executive education program focusing on the role of artificial intelligence (AI) in the transportation industry. "Managing AI in Transportation" was developed by the experts at Heinz College's Traffic21 Institute and will explore critical areas that are required for breaking down barriers and understanding how managing AI can benefit key stakeholders throughout the transportation industry.

Managing AI in Transportation will debut as a five-day virtual bootcamp in May 2021. Participants will explore the impact of disruptive technology on transportation; AI in traffic control devices; AI in connected and autonomous vehicles; the role of AI in predictive analytics; and more.
"Since Traffic21's founding more than 10 years ago, we have seen firsthand the various ways AI is impacting and improving transportation," said Stan Caldwell, executive director of Traffic21. "From asset management to automated vehicles, the use of AI is transforming transportation sector, and we are pleased to have the opportunity to share what we have learned with both public and private sector executives to leverage the power of this technology and mitigate its risk."
Presenters Needed for Take Our Children to Work Day, April 22
Take Our Children to Work Day, presented by Staff Council, is virtual this year and the organizing committee is looking for presenters who can put together a brief video for the event. This year's theme for kids 8-15 is "Boldly moving forward with what I want to be when I grow up."
Pre-recorded videos could be as short as 3-5 minutes or up to 20 minutes. You can talk about your job, your background, your goals, what it's like working at CMU and the challenges you face. If you have a pre-recorded session that you think would be appropriate for children, then presentations could be up to 45 minutes.
If you're interested in being a presenter, please complete the registration form. The submission deadline is April 1.
Questions? Reach out to the Take Our Children to Work Day Committee at toctwd@andrew.cmu.edu.
Traffic21 Announces Smart Mobility Challenge Winners
The Township of Shaler, the City of Monessen and Heritage Community Transportation are the winners of Traffic21's third Smart Mobility Challenge.
Walk Bike Shaler, in partnership with the Township of Shaler, will partner with CMU researchers from the Remaking Cities Institute to contribute to the Better Boulevard Initiative. CMU, providing urban design and computer vision expertise, will deploy cameras for visual data, develop computer vision algorithms to analyze data, develop mobility/urban design recommendations from the data and respond to community priorities.

The City of Monessen will partner with CMU researchers from the Remaking Cities Institute to contribute to the ongoing work of the city's comprehensive plan and initiatives related to mobility, equity and safety with a focus on Mid-Downtown Monessen.
Heritage Community Transportation, a program of Heritage Community Initiatives, will partner with CMU researchers to review the impact of COVID-19 on its services with the objective to recommend rider-focused service enhancements including service routing.
Find out more about the challenge.
Need a Ride to Tartan Testing? Take the Free Shuttle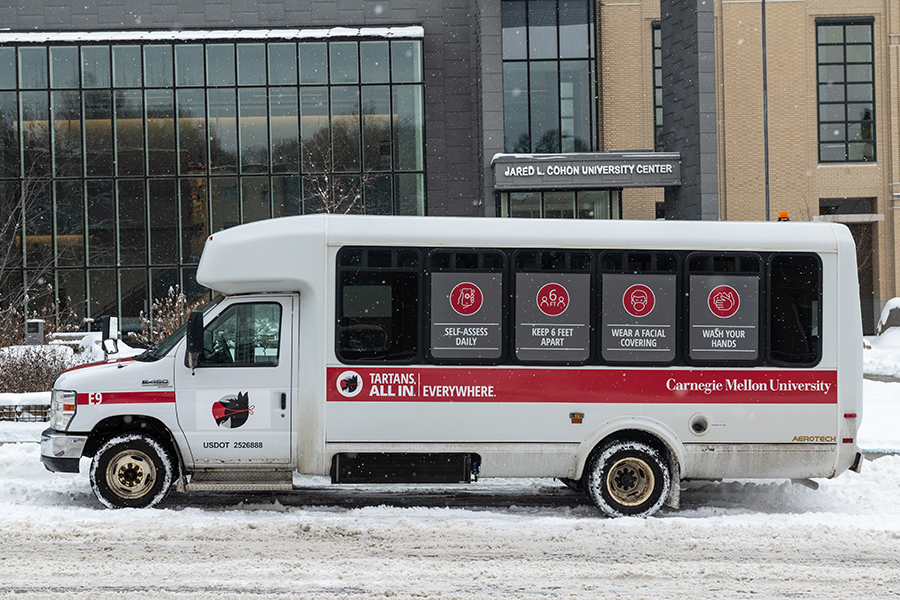 As part of the Tartan COVID-19 Asymptomatic Testing Program (Tartan Testing), CMU is providing free shuttle service to the Pittsburgh campus testing location from various off-campus locations in the area.
From the following stops, the shuttle service will transport faculty, staff and students with a CMU ID to the Cohon University Center (CUC) escort stop or the Morewood Gardens Turnaround stop (located across the street from the CUC) and then loop back to their starting location. 
Shuttle stops include:
6555 Penn Avenue (Blue door entrance next to dock doors)
Bakery Square (Across street from shuttle stop)
National Robotics Engineering Center (NREC) in Lawrenceville (main entrance)
300 S. Craig Street, near Mellon Institute (main entrance at escort stop sign)
Pittsburgh Technology Center (PTC) on Second Avenue
Mill 19 at Hazelwood Green (middle entrance on Lytle Street at the crosswalk)
Shuttles run Monday through Thursday from early morning to late afternoon. Each shuttle route takes approximately 45 minutes. The shuttles will seat a maximum of 11 people due to safety protocols. Riders must wear facial coverings and keep 6 feet apart.  
See the shuttle routes and times. 
CMU Team Raises $27K+ for Special Olympics
Carnegie Mellon Police and Campus Design and Facilities Development participated in the virtual Polar Plunge for Special Olympics this year. The CMU team raised $27,679 for the Pennsylvania Special Olympics to place third in the state.
CMU Police Detective Joseph Bernarding thanks all those who donated.
"This year has been challenging for everyone; especially for our athletes," Bernarding said. "Events have been canceled, the spirit of competition and the camaraderie of the games have been sorely missed. Hopefully, we are near the end of this period of separation and will get back to some spirited engagement soon.
"If you donated, thank you," Bernarding said, "your commitment and dedication to the cause are appreciated."
CREATE Lab Honored for Monitoring Emissions
Carnegie Mellon University's CREATE Lab and the advocacy group Allegheny County Clean Air Now (ACCAN) are winners of an inaugural Constellation Prize for their collaboration on the Shenango Channel, an effort to highlight pollutants from a now-defunct coke works near Pittsburgh.
The Constellation Prize was created by a group of engineers and social scientists to reimagine the role of engineering in society. The award for the Shenango Channel and three other winners were presented in a virtual ceremony Feb. 24.
The Shenango Channel was an offshoot of Breathe Cam, a network of cameras that the CREATE Lab uses to monitor visible air emissions in Allegheny County. The channel focused on DTE Energy's Shenango Inc. coke works on Neville Island in the Ohio River.
CREATE Lab and ACCAN worked together to set up cameras to record high-resolution video of the plant 24 hours a day and collaborated to catalog thousands of fugitive emission events from it. The videos, along with other measurements of pollutants and reports of unusual smells, were shared by the public on the channel's website. The reports of fugitive emissions resulted in citations by the Allegheny County Health Department before DTE Energy shuttered the plant in 2016.
Alumni Awards Nomination Deadline Extended to March 14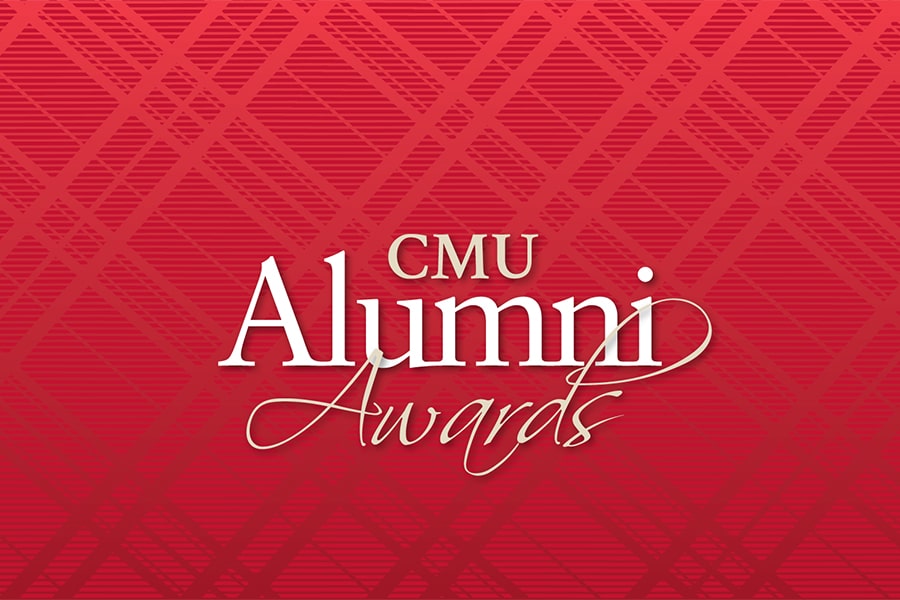 There's still time to nominate a Tartan for the 2021 CMU Alumni Awards! The nomination deadline has been extended to March 14.

We hope you will consider nominating individuals who have reached extraordinary achievements in their careers, devoted their time and energy to Carnegie Mellon and created a legacy for this university. Alumni are honored in six categories:
Founders Medal for Outstanding Service and Exceptional Achievement;
Alumni Achievement Award;
Alumni Service Award;
Outstanding Recent Alumni Award;
Faculty and Staff Impact Award; and
Student Engagement Award.
For more information on the awards and how to nominate a Tartan, please visit alumni.cmu.edu/awards or contact us at alumni-awards@andrew.cmu.edu. The nomination deadline has been extended to March 14.
Who's New at CMU?
Carnegie Mellon welcomes the following new staff members this week.
Andrew Karp, Temporary Employment Services;
Katharine Jones, Academic Coordinator, Mechanical Engineering; and
Nicholas France, Investment Operations Analyst, Investment Office.