December 01, 2021
News Briefs
CMU Honors Longstanding, Loyal Staff Members
For many staff members across campus and the world, Carnegie Mellon is home. It's where they've spent most of their time and dedicated the majority of their lives, diligently working and striving to help make CMU a world-class institution.
Forty-nine of those staff members are being honored this year for reaching a major milestone in years of service to the university. Two are being recognized for 50 years at CMU; two for 45 years; 11 for 40 years; 20 for 35 years and 14 for 30 years. Another 577 staff members are celebrating 5 to 25 years of service this year.
"Staff Council is proud to pay tribute to these hardworking, loyal individuals who truly have their heart in the work," said Amy Kunkle, Amanda Perkins and Liz Fox of Staff Council. "Please join us in thanking these exceptional, dedicated staff members for their longstanding loyalty to their work, their colleagues and this university."
Those with 30, 35, 40, 45 and 50 years of service will receive framed certificates through the mail since they were not able to receive them in person during this year's Andy Awards. They will be invited to be recognized at a future in-person Andy Awards ceremony. 
Congratulations to this years' amazing service award recipients. 
Restroom Signage Has Been Updated to Promote Safety, Sustainability and Inclusivity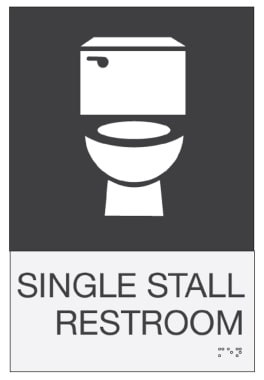 CMU acknowledges that gender is a spectrum and supports an individual's choice to use the restroom facility that most closely aligns with their gender identity. As part of its mission to make restrooms on CMU's campus safe and welcoming for all individuals, the All-Gender Restroom Access Committee led the design and placement of temporary signage for all campus restrooms in the fall of 2021. Designs for permanent signage will be finalized and installed sometime during 2022.

The signage of all single-stall restrooms on the Pittsburgh campus was updated to be consistent and to reflect they are open for private use by anyone.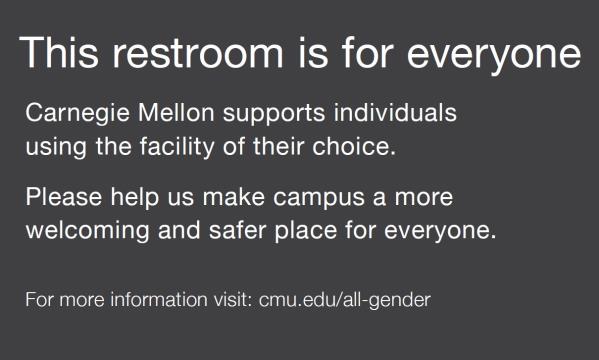 CMU also recognizes that many members of our community, including trans and nonbinary individuals, may not be able to access a single-stall facility when they need to, and do not feel welcomed or affirmed by the existing gendered, multi-user restrooms. New signs were added to the exterior doors and interiors of all multi-stall restrooms on the Pittsburgh campus that affirm CMU's long-standing non-discrimination policy, and support an individual's choice to use the restroom where they feel the most comfortable and safe.
These signs, and future plans to expand and create more inclusive, non-gendered facilities on campus, are important measures that Carnegie Mellon is taking to create safe, sustainable and inclusive public restrooms for everyone regardless of age, gender, race, religion and disability.
TRAFFIC ALERT: No Turns From Forbes Onto Beeler Beginning Dec. 6
Beginning Monday, December 6, motorists will be prohibited from making turns from Forbes Avenue onto Beeler Street due to construction work that will connect the city's storm and sanitary sewer systems to the Forbes Beeler Residence Hall. This turning restriction, which will not affect eastbound and westbound traffic on Forbes, will last through December.
For pedestrians, the sidewalk along the west side of Beeler will be closed but the east side sidewalk and crosswalk on Forbes will be open.
All side streets connecting to Beeler and all residences along Beeler will be accessible from Wilkins Avenue. The detour route will take motorists from Forbes onto Morewood Avenue, before turning right onto Fifth Avenue. From Fifth, motorists will turn slight right onto Wilkins before turning right onto Beeler.
The Port Authority Transit will modify its bus routes and detour information will be posted at the bus stop at Forbes and Beeler and on the PAT website.
Once this work is completed, Duquesne Light will be working at Forbes and Beeler for three additional weeks. The Forbes-Beeler intersection will be open during this work, but lane restrictions will be in effect.
As always, motorists and pedestrians should take extra precaution when navigating by the construction site. Thank you for your patience and cooperation.
This Weekend's Winter Festival Celebrates CFA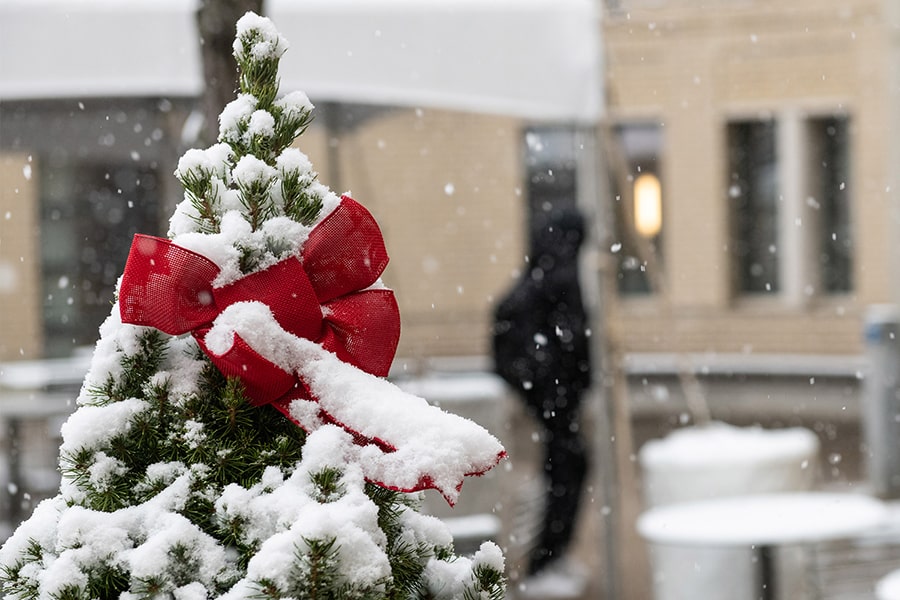 It's back! The College of Fine Arts' tradition of sharing activities with the campus and at-large communities will return this weekend, Dec. 3 and 4, via the CFA Winter Festival. Whether in person or virtually, CFA has planned activities this weekend that will appeal to all.
The School of Art, which created the Winter Festival, will have student art on display and for sale in its "Open Studios." New this year is the MFA Studios in the Hall of the Arts. Please note that COVID protocols will be followed for all public events.
For full details about events and activities from all CFA schools and programs, click here.
Chemistry Faculty Members are Among World's Most Highly Cited Researchers
The research of two Mellon College of Science faculty is some of the world's most highly cited in the sciences, according to a list published by Clarivate Analytics.
Rongchao Jin, professor of chemistry, was listed among the most cited researchers in the field of chemistry. Jin's research focuses on nanochemistry, and he is well known for developing new methodologies to create gold nanoparticles with precise numbers of atoms. He and his students have continuously pushed this work forward, refining gold nanoparticles so they can be used to create functional nanomaterials that can be deployed in a number of fields, including energy, manufacturing and biomedicine.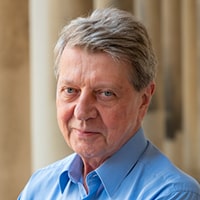 Krzysztof Matyjaszewski, the J.C. Warner Professor of Natural Sciences and director of Carnegie Mellon's Center for Macromolecular Engineering, was also listed among the most cited researchers in the field of chemistry. Matyjaszewski is known worldwide for developing atom transfer radical polymerization, a method that lets scientists carefully structure polymers. With this precision, he and other scientists are able to develop innovative products with a wide range of functionalities. 
Learn more about the list of highly cited researchers.
CMU Police, SLICE Seek Your Help in Supporting Toys for Tots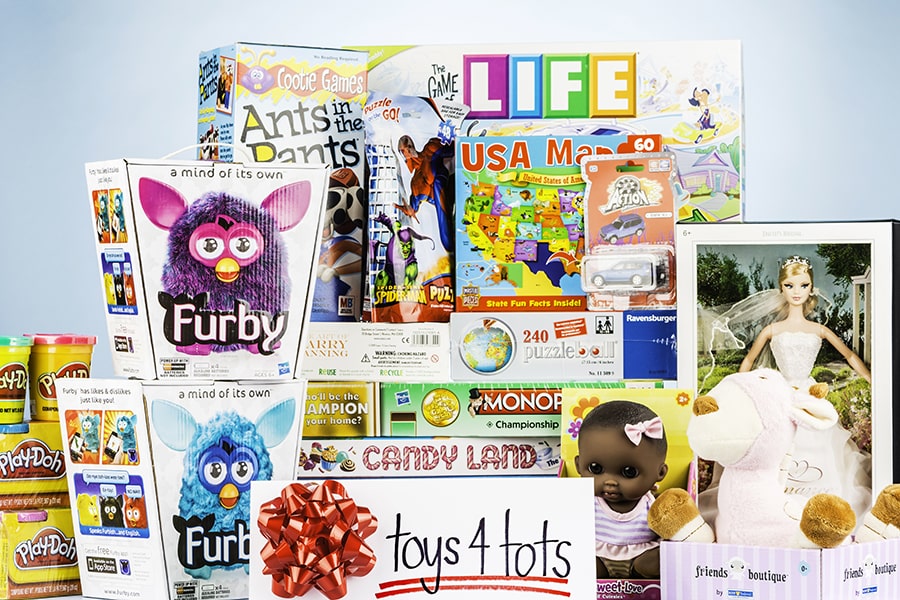 Give a toy and bring some joy this holiday season!
Carnegie Mellon Police and the Office of Student Leadership, Involvement and Civic Engagement (SLICE) are once again asking for your help as partners supporting the U.S. Marine Corps' Toys for Tots program. The program collects new, unwrapped toys and distributes them as Christmas gifts to less fortunate children in the local area.
You can help by purchasing a toy from the Amazon Wish List at tinyurl.com/cmuwishlist and dropping it off unwrapped at several locations on campus. Donations are being accepted through Friday, December 10.
Drop-off locations are:
CMU Police Station, 4551 Filmore Street;
CMU Police Community Resource Office, Tepper Quad 2201;
Hunt Library, front entrance;
Alumni House;
SLICE Office, Cohon University Center;
Hamburg Hall, front entrance lobby;
CyLab, second floor Collaborative Innovation Center;
Enrollment Services, Warner Hall;
SEI, main entrance lobby;
Mellon Institute, Bellefield Street entrance lobby; and
NREC lobby.
You can also purchase toys from the Amazon wishlist and have them delivered directly to the CMU Police Department at 4551 Filmore, Street, Pittsburgh, PA 15213.
Questions? Send email to atwade@andrew.cmu.edu or mvillase@andrew.cmu.edu.
Tepper School to Expand its Business Analytics Program
The Tepper School of Business is expanding its Master of Science in Business Analytics (MSBA) program this fall by adding a full-time option for recent college graduates who want to specialize in business analytics. The nine-month, in-person program will take place on campus in Pittsburgh and will enable students to build their skills and gain a competitive advantage for the job market, which is increasingly seeking analytically minded professionals.
"At the Tepper School, we design programs, like the new full-time MSBA, to equip graduate students with the tools they need to not only fulfill the needs of the evolving business landscape, but to co-create the future of that landscape," said Willem-Jan van Hoeve, the Carnegie Bosch Professor of Operations Research and senior associate dean of education. "We're excited to expand our program to students who may not yet have professional experience."
Until now, the Tepper School MSBA was offered in a two-year, part-time, online format. The program has had strong measures of success with 89% of graduates earning a promotion or new position by the completion of the program. Students also received an average of a 21% salary increase. In response to this success and the burgeoning market for graduates with strong business analytical skills, the Tepper School created the full-time version of the program to deliver business fundamentals and state-of-the-art quantitative analysis.
CMU Is a Watershed Friendly Property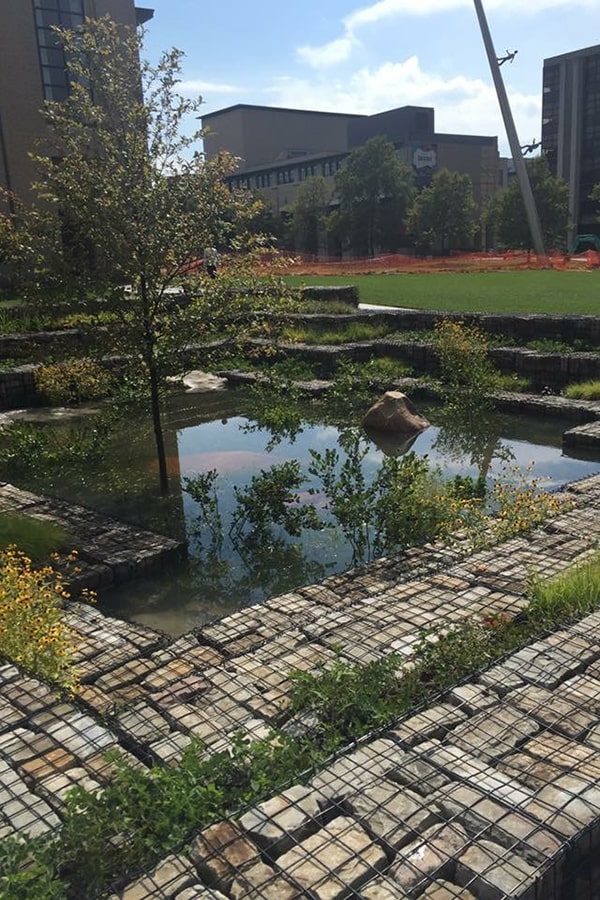 Carnegie Mellon has earned the Penn State Watershed Friendly Property Certification for its efforts to conserve water and reduce storm water runoff and pollution.
Protecting the watershed has been part of CMU's approach to Green Practices for more than two decades. A few examples are:
Three square rain gardens in front of the Cohon University Center capture rainfall from the large building roof and prevents water from entering the combined Pittsburgh sewer system.
Installed cisterns retain 400,000 gallons of storm water for reuse on campus, so the rainfall never enters the watershed.
The perennial gardens at the Tepper Quad provide habitat and food for birds, butterflies and pollinators.
CMU's grounds management strategies return campus compost to flower beds and lawns to help retain water and improve soil health.
The certification program is a collaboration between the Penn State Extension Master Watershed Steward Program and the Nurture Nature Center.  
Learn more about CMU's environmental initiatives.
Sudoc Named Startup to Watch by Chemical & Engineering News
Sudoc, a startup co-founded by Carnegie Mellon University chemists Terrence J. Collins and Ryan C. Sullivan, has been named one of 10 startups to watch by Chemical & Engineering News (C&EN). Sudoc is developing and commercializing TAML catalysts, a bioinspired environmentally friendly molecule that outperforms toxic chemicals in a wide range of applications and can be used to remove pollutants from natural and built environments.
Collins, the Teresa Heinz Professor of Green Chemistry and director of the Institute for Green Science (IGS) at Carnegie Mellon, invented TAMLs and has been developing them for environmentally safe and efficient use over the last three decades. This career-spanning work has created a family of catalysts with the remarkable oxidation capabilities needed to remove harmful chemicals from the environment and disappear with no harmful impact once their work is done.
"It is an honor that Sudoc has been chosen to be part of this impressive list of companies, which are working to address pressing global issues by leveraging chemistry as a solution," said Collins. "Given an ever-expanding number of chemicals in use today — over 300,000 — we are thrilled to share how TAML(r) catalysts by replicating and out-performing enzymes yield faster and dramatically more active processes that have game-changing possibilities. It is critical for the health of the planet that we lessen the chemical burden that we are placing on all living beings, and I believe that Sudoc is aligned to a better and more sustainable future."
Tepper, Deloitte to Help Mid-Career Black and Hispanic/Latinx Accounting Professionals
With the goal of developing the next generation of diverse accounting and business leaders, the Tepper School of Business Executive Education and Deloitte are collaborating to launch the Climb Fellowship program, a leadership development initiative focused on bringing together mid-career accounting professionals across industries to create a community providing resources to help support their career goals.

The program is intended to help position Black and Hispanic/Latinx leaders for senior roles within their organizations by creating opportunities for mentorship and sponsorship, fostering a collaborative peer network, enabling participants to identify ways to further their professional growth and increasing visibility of talent across organizations. The academic curriculum combines management-building essentials with content that addresses social systems that may impact the workplace and may be felt most by rising racially and ethnically diverse leaders.
The Climb Fellowship program is an important component of Deloitte's MADE: Making Accounting Diverse and Equitable (MADE), a $75 million commitment to generate more advisory, auditing, and tax career opportunities and leadership pathways for the next generation of certified public accountants. MADE combines both financial support and resources to attract racially and ethnically diverse individuals into the accounting field and support individuals at various stages of their career journey, from high school to business professional to leaders in the profession.
Learn more about the fellowship program.
Who's New at CMU?
Carnegie Mellon welcomes the following new staff members this week.
Amber Atkins, HR Coordinator - Shared Services, HR Operations;
Belyse Uwera, Admissions Officer, Rwanda - ICT;
Chimene Chetty, Director of Entrepreneurship and Industry Partnerships, Rwanda - ICT;
Devontae White, University Store Sales Consultant, University Stores Administration;
Eliza Kopetchne, Administrative Coordinator, Human Computer Interaction Institute;
Max Burgess, Cage Wash Technician, Micv Lab;
Nancy Biwott, Associate Director of Diversity and Inclusion, Rwanda - ICT;
Prema Windokun, Associate Vice Provost for Academic Budget, Office of the Provost;
Timothy Valentine, CERT Workforce Development Intern, SEI;
Vivian Boyse-Peacor, Unix Systems Administrator, SCS Dean's Office;
Madison McMeans, Early Childhood Educator, HR Operations;

Amy Herlich, Temporary Employment Service, HR Operations;

Ashley Hillgartner, Dispatcher, University Police;

Alexander Laroco, Senior Accounts Payable Representative, AVP - Finance;

Shaun McCartney, Laborer I, FMCS; and

Valerie Testa, Gardener I, FMCS.