Three New Scotty Backgrounds Remind Us To Be "All In, Everywhere"
The Marketing & Communications Division has created three new spring Zoom backgrounds that remind us to participate in Tartan Testing and to continue to follow COVID-19 mitigation behaviors — take the daily assessment, wear a facial covering, practice social distancing and wash your hands frequently.  
The new Zoom backgrounds feature Scotty on Campus, Scotty in the Community and Scotty Downtown. Go to "Tartans, All In. Everywhere" and scroll down to download the backgrounds.
BME Students and Alumni Earn NSF Fellowships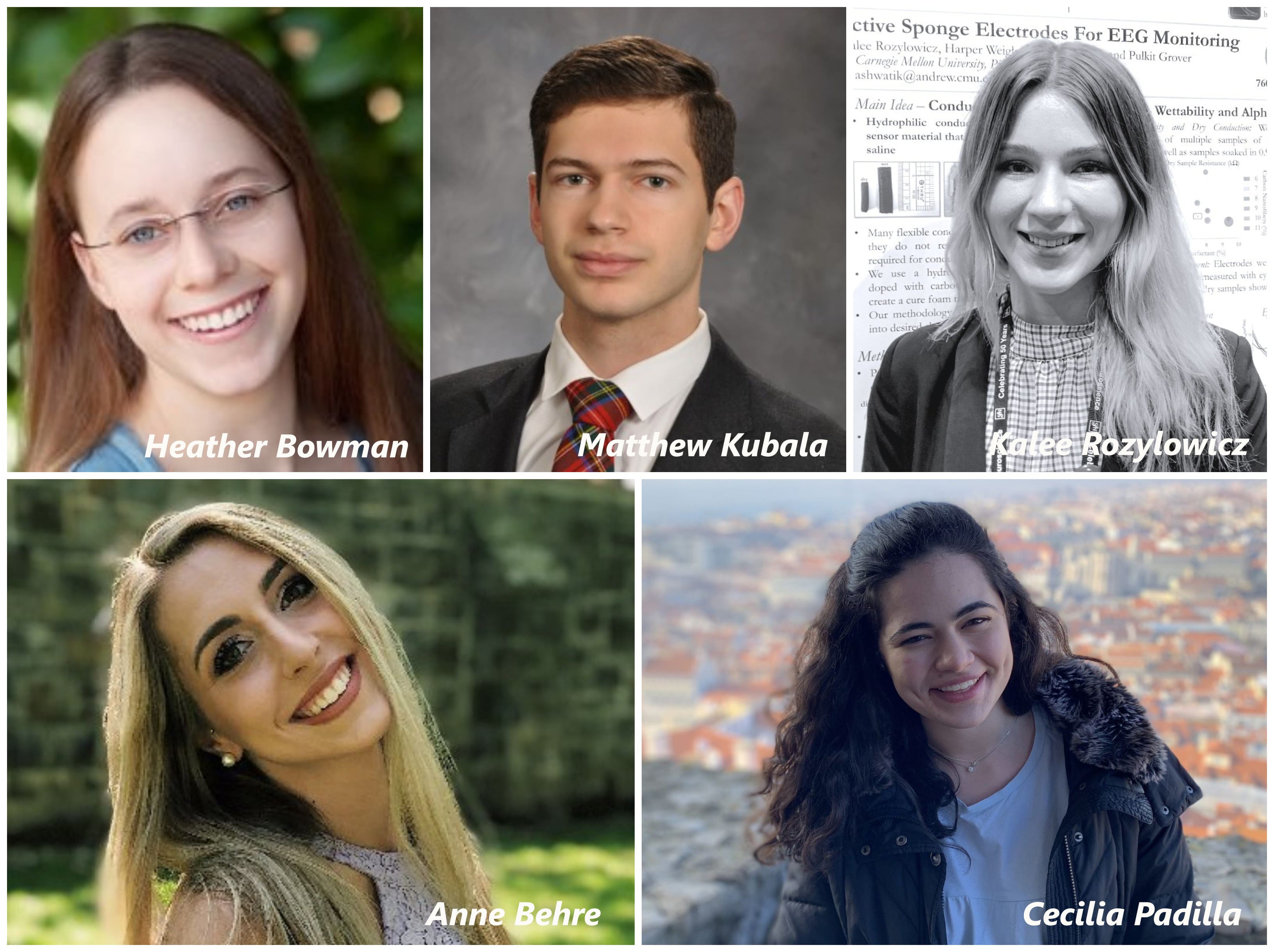 The Biomedical Engineering Department has announced its winners of the 2021 National Science Foundation (NSF) Graduate Research Fellowship Program (GRFP). The fellowship recognizes and supports outstanding graduate students in NSF-supported STEM disciplines who are pursuing research-based master's and doctoral degrees at accredited U.S. institutions. The five-year fellowship includes three years of financial support including an annual stipend of $34,000 and a cost of education allowance of $12,000 to the institution.
Two current Ph.D. students, Anne Behre and Cecilia Padilla received this prestigious fellowship. Behre a student in Adam Feinberg's lab, is working on 3D bioprinting hydrogel scaffolds, using the FRESH method, in hopes to regenerate muscle function after a volumetric muscle loss injury. Padilla, a student in Keith Cook's lab, focuses on the development of tissue-based, biofabricated lungs.
Senior Kalee Rozylowicz, a materials science & engineering student in the Class of 2021, has been admitted as a Ph.D. student in the Department of Materials Science and Engineering at Stanford University.
BME alumni who earned the fellowships were Heather Bowman, a 2017 Materials Science & Engineering Graduate who is pursuing her master's degree at MIT, and Matthew Kubala, a 2019 mechanical engineering graduate who is currently a Ph.D. student at the University of Minnesota Medical Robotics and Devices Lab. 
Learn more about these scientists.
Ansys Hall Earns LEED Gold Certification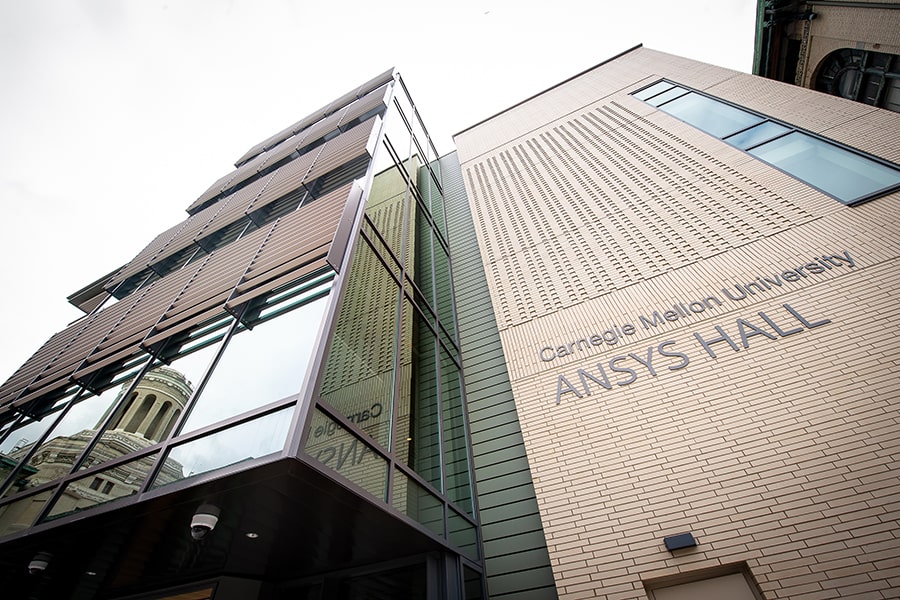 Carnegie Mellon's Ansys Hall has achieved LEED (Leadership in Energy and Environmental Design) Gold certification from the U.S. Green Building Council for its energy efficiency and sustainability.

The building is named for Ansys, Inc., the global simulation software company that made the lead gift in 2016 to support its construction. Ansys Hall is a four-story, 36,000 square-foot mixed-use building and the hub of the College of Engineering's "Maker Ecosystem." The facility provides students, faculty and researchers with cutting-edge computational, prototyping and simulation tools that inspire innovation and creative problem-solving. The building includes a large high bay space where students can assemble full-scale projects and prototypes, collaboration areas, conference rooms, undergraduate lab spaces, training and lecture space, and office space.

Ansys Hall, which opened in summer 2019, is energy efficient, using 30% less energy and 40% less water compared to buildings of similar size and occupancy. The building's water quality is controlled by a state-of-the-art filtration system and its green roof has helped to decrease its stormwater runoff by 25%, reducing pressure on the city's sewage system.
About half (47%) of all materials used during construction of Ansys Hall were located within 500 miles of the building, reducing the project's overall carbon footprint and boosting the local economy. Approximately 95% of construction and demolition waste was diverted from the landfill.
Ansys Hall is the 24th CMU project to earn LEED certification. Learn more about Ansys Hall.
Take Our Children to Work Day is Thursday, April 22
Carnegie Mellon's Take Our Children to Work Day Committee will publish pre-recorded videos on its website for children to view on the morning of Thursday, April 22, National Take Our Children to Work Day. Video topics are:
Pathways to Careers in Software;
Take Your Working Dog to Work;
Journey to Finance Careers;
Working in the Arts - Behind the Scenes at Miller ICA; and
A day in the Life of a Chemist.
The website will also link to appropriate pre-recorded videos on other CMU sites. In addition, children can view programming from the Gelfand Center as well as the National Take Our Daughters and Sons to Work website.
Provost Hosts Virtual Office Hours Wednesday
Provost Jim Garrett will host virtual office hours for students, faculty and staff on Wednesday, April 21, from 2 – 3:30 p.m. ET. Participants can register for a timeslot within the designated hours. To sign up, email provost@andrew.cmu.edu to receive the meeting ID and timeslot.
CMU Film Festival Features Oscar-Nominated "For Sama"
The Carnegie Mellon International Film Festival's latest documentary in its "Faces of Home" series is "For Sama," the recipient of an Oscar nomination and numerous international awards. For Sama is based on the remarkable videos made by Syrian journalist Waad Al-Kateab.
The film documents her journey as she volunteers at one of the few remaining hospitals, meets and marries one of the doctors there, and gives birth to their first daughter, Sama, all in the face of repeated bombings and fighting on the ground. The film is cast as a letter to Sama when she is older, intended to explain why her parents chose to remain so long in their home city as the violence and civilian deaths kept mounting around them. In a passing comment about her wedding night, the filmmaker's hopes for the film are voiced: "The sound of our songs were louder than the bombs outside."
You can view "For Sama" through April 16. Watch the trailer. The first 30 people to register with the promo code"CMUIFF" will be able to watch for free. Tickets afterward will be $5. There will be a free live discussion at 6 p.m., April 15  but will require registration. 
Purchase tickets. Register for the live discussion.
Join the CMU Team: Take the Ecochallenge Through April
Join Carnegie Mellon's Earth Month Ecochallenge; Drawdown team and dedicate April to taking action on the 80 most practical solutions to stopping climate change.
Earth Month Ecochallenge: Drawdown is a solutions-oriented engagement program focused on individuals taking action to reduce greenhouse gases in our atmosphere. The actions in the ecochallenge connect to global solutions highlighted by Project Drawdown, a research-based organization that is leading the efforts to map, measure, model and describe existing, amazing solutions to climate change.
The ecochallenge provides tools and inspiration to turn intention into action, and gives participants a fun and social way to think about and act on proven solutions to reverse climate change. Over 100 actions within eight challenge categories provide participants with diverse options to reduce greenhouse gas emissions.
Every team member can select actions, check off their completed actions, track and share their individual progress, earn points for taking action, and see the real-time impact of their actions in a robust online platform. The combination of collective action, camaraderie, and friendly competition makes change a little easier — and a lot more fun.
Learn more and join the team.  Questions, contact CMU's Environmental Coordinator Barb Kviz. 
Webinar Series on Digital Accessibility is Now Online
CMU's fall 2020 webinar training series on digital accessibility is now available on demand on the Disability Resources website. Topics include:
Creating accessible content;
Accessible design;
Accessible coding and development;
PDF training; and
Multimedia accessibility.
The Digital Accessibility Committee partnered with Perkins Access to offer the fall series, part of the university's commitment to equity and inclusion. Learn more about digital accessibility resources at CMU.
Who's New at CMU?
Carnegie Mellon welcomes the following new staff members this week.
Justin Messenger, Sr. IT Service Desk Consultant, Desktop Support (Comp Services);
Blair Dunckel, Facilities Manager, Ul - Administration, Planning & Assessment;
Elizabeth Rosevea, Communications & Marketing Coordinator, Energy Institute;
Susie Sheldon Rush, Part-Time Outreach Program Manager, SCS Dean's Office;
Natalie Jane Hatcher, Outreach Project Manager, SCS Dean's Office;
Sarah Grmek, Dispatcher, University Police; and
Scott Sinclair, Software Architect, SEI Ssd Engrg Intelligent Software Systems.