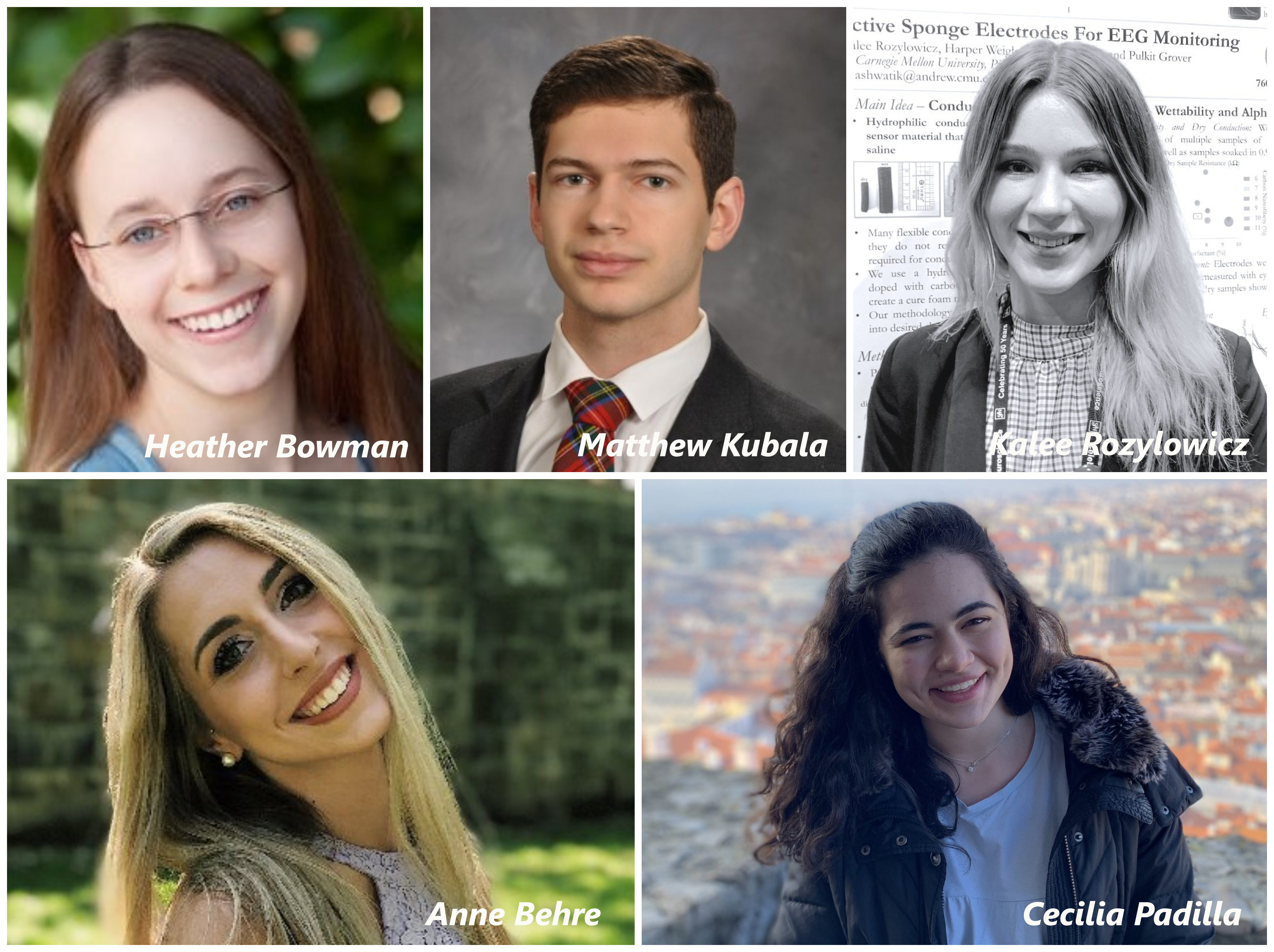 March 26, 2021
BME Students and Alums Receive 2021 NSF Fellowships
The Biomedical Engineering Department at Carnegie Mellon is excited to share the names of the winners of the 2021 National Science Foundation (NSF) Graduate Research Fellowship Program (GRFP). The fellowship recognizes and supports outstanding graduate students in NSF-supported STEM disciplines who are pursuing research-based master's and doctoral degrees at accredited US institutions. The five-year fellowship includes three years of financial support including an annual stipend of $34,000 and a cost of education allowance of $12,000 to the institution.
Two current PhD students in the Department of Biomedical Engineering at Carnegie Mellon received this prestigious fellowship. They are:
Anne Behre, is currently a 2nd year PhD student in Dr. Adam Feinberg's lab. She is working on 3D bioprinting hydrogel scaffolds, using the FRESH method, in hopes to regenerate muscle function after a volumetric muscle loss injury. 
Cecilia Padilla, is currently a 1st year PhD student in Dr. Keith Cook's lab. Her research focuses on the development of tissue-based, biofabricated lungs.
In addition, two former and one current CMU BME undergraduates received the fellowship.  They are:
Heather Bowman, a 2017 Materials Science & Engineering graduate with an additional degree in Biomedical Engineering. Heather is pursuing her Master's degree in the Department of Mechanical Engineering at MIT. Her research is focused on broadly exploring drug delivery applications for bioadhesive hydrogels, and developing a drug delivery bioadhesive patch design that will reduce intimal hyperplasia in vascular graft surgeries.
Matthew Kubala, a 2019 Mechanical Engineering graduate with an additional degree in Biomedical Engineering. Matt is currently a PhD student at the University of Minnesota Medical Robotics and Devices Lab and leads a team of interns to develop a portable and more affordable vascular doppler with an improved user interface. 
Kalee Rozylowicz, a Materials Science & Engineering student with an additional major in Biomedical Engineering and a member of the Class of 2021. She has been admitted as a PhD student in the Department of Materials Science and Engineering at Stanford University to research organic electronic devices with application areas ranging from computation to biosensing.
According to the National Science Foundation, "NSF Fellows are anticipated to become knowledge experts who can contribute significantly to research, teaching, and innovations in science and engineering. These individuals are crucial to maintaining and advancing the nation's technological infrastructure and national security as well as contributing to the economic well-being of society at large."