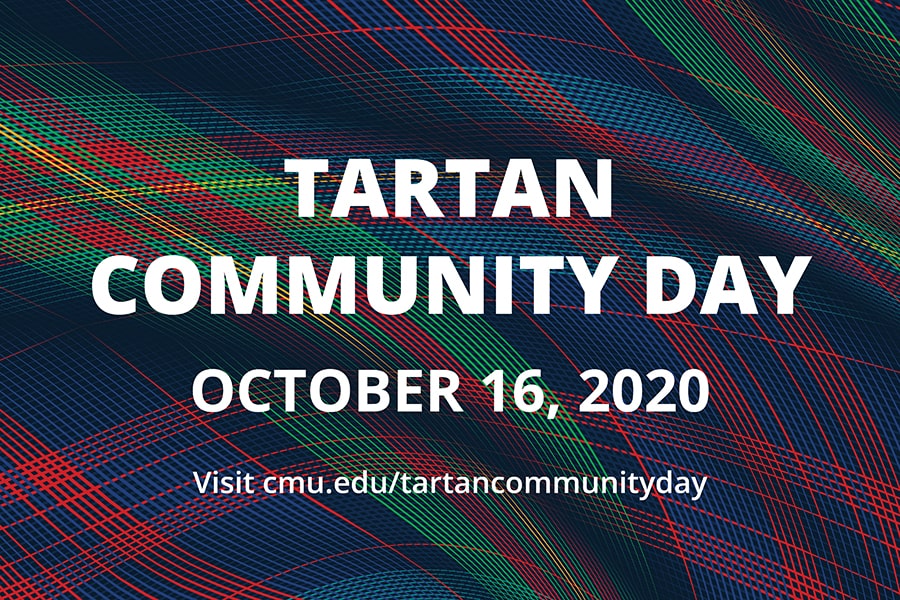 October 14, 2020
Tartan Community Day Puts Focus on Rest, Wellness & You
By Bruce Gerson bgerson(through)cmu.edu
It's been a long year, so take some time for yourself Friday, Oct. 16, and recharge. It's the second annual Tartan Community Day and this year's theme is the "Power of Rest."
Established last year at the recommendation of the Task Force on the CMU Experience, Tartan Community Day is a time set aside for students, faculty and staff to take a break from the normal routine to relax, connect with others, rejuvenate and have fun. This year, like most everything else, events and activities will be virtual.
Khulood Al Ali, a biomedical engineering master's degree student, said after months of isolation, uncertainty and spending days working in front of a computer screen, this year's Tartan Community Day is more important than ever.
"It took me some time to realize that I need to slow down and convince myself that it is a pandemic, not a productivity challenge," Ali said. "This is the time we need to log off work, erase whiteboards, and enjoy some peaceful time with our community members. We need this day more than any other to recharge our souls and to reconnect with our peers."
Rie Ohta, a fifth-year scholar in computer science, is studying from California this semester. She said it's easy to feel disconnected, especially when she hits the "Leave Meeting" button in Zoom.
"Tartan Community Day will be good, especially for those who are new to CMU, to get a chance to interact with other parts of the CMU community and exchange stories of how we've all been coping with the chaos of these times," Ohta said. "I have a strong belief in the power of stories. My Fifth-Year Scholar project, the CMU Strangers Project, revolves around the idea, hope and belief that sharing stories with one another will remind us of our shared humanity and vulnerability." Ohta invites you to tell a story on Tartan Community Day.
To align with this year's theme, Friday morning is open for you to rest and re-energize on your own. Take a walk and enjoy the fall foliage in Schenley Park, do a puzzle or color campus in the CMU Coloring Book.
The schedule begins at noon with "A Conversation with Eliza Bishop" via Zoom, titled "The Permission to Rest." A 2004 graduate of the Dietrich College, Bishop is a certified lyengar Yoga instructor, meditation guide, poet and podcaster. She will lead a discussion on self-compassion during the pandemic and how to put your mind at rest, as well as host a Q&A period afterward.
"We need this day more than any other to recharge our souls and to reconnect with our peers." — Khulood Al Ali
At 1 p.m., you can choose your own adventure — from a virtual tour of the Miller Institute for Contemporary Art, a Q&A on meditation and a presentation on expressive writing to an asynchronous panel discussion on wellness and a workshop on self-care. A students-only Zoom session will focus on finding a wellness path, working through setbacks, prioritizing rest, practicing self-compassion and living through a pandemic.
"#BlackLivesMatter: A Moderated Discussion" will take place at 4 p.m. This timely session will focus on the meaning of Black Lives Matter and why some are in conflict with its intended purpose. Alumni will lead the conversation by sharing their perspectives on the BLM movement. Participants will include Shauna C. Grovell, CEO and president of The Customer Experience Unleashed in Atlanta; Ivan Cao-Berg of the Pittsburgh Supercomputing Center; and Dr. Kym Jordan Simmons, psychologist and therapist with CMU's Counseling and Psychological Services. 
At 7 p.m., Tom Freeman, Headspace's manager of global engagement, will host a fireside chat on "The Value of Rest and Renewal." His virtual presentation will include a restful meditation session and specific strategies for embedding restful breaks into an active day. Headspace is free to Carnegie Mellon faculty, staff and students. To redeem your free subscription, go to CMU's landing page on the Headspace website, enter your Andrew ID and create a new password for your account.
Scotch'n'Soda's TisbertxNPP takes the virtual stage at 8 p.m. with "Jest in Peace," a comical performance that blends sketch comedy, improv and stand-up.
Lola LeCroix, recently voted Pittsburgh City Paper's Best Drag Queen of 2020, closes the day by hosting Drag Bingo at 9 p.m.  It's free, fun and you could win prizes.
Events and activities will be held on various streaming platforms like Zoom, Instagram and Twitch, and several asynchronous activities will be available on the Tartan Community Day website.  You must register to receive access to the streaming links. You can register for events all day Friday — there is no cutoff time for registration.
Tartan Community Day was organized by the Provost's Office, the Division of Student Affairs and Advancement/ University Events. The collaborative effort was led by Angie Lusk, program director for Student Affairs Wellness Initiatives, and Patience Whitworth, assistant vice provost for Operations and Strategic Initiatives. They received strong support from Laurel Bosshart, senior associate director for University Events and Engagement; Sarah College, special projects manager for the Provost's Office; and Andrew Greenwald, coordinator of Student Leadership, Involvement and Civic Engagement.
Register for Tartan Community Day and learn more about the day's activities.