October 28, 2019
Tartan Community Day Enriches the CMU Experience
Students, faculty and staff took a break from their normal routine to relax, recharge, enjoy the company of others and have fun during the inaugural Tartan Community Day.   
Initiated by the Task Force on the CMU Experience, Tartan Community Day (Friday, Oct. 25) included a variety of exciting activities for the mind, body and spirit — from an insightful conversation with alumna Renée Elise Goldsberry and student talent show, to riding a zip line, yoga and the comedy of Michelle Wolf.
Ayana Williams, a sophomore acting major, said she Ioved the conversation with Goldsberry.
"I have loved Renée since 'Hamilton.' It was so inspirational to hear from a black woman who went through the same process that I'm going through right now," Williams said. "It was almost like looking at what I want to be in the future. I just loved how she talked about not only being a black female in the arts community and theater world, but about her experience at Carnegie Mellon and balancing her work and life."
Take a look back at Tartan Community Day.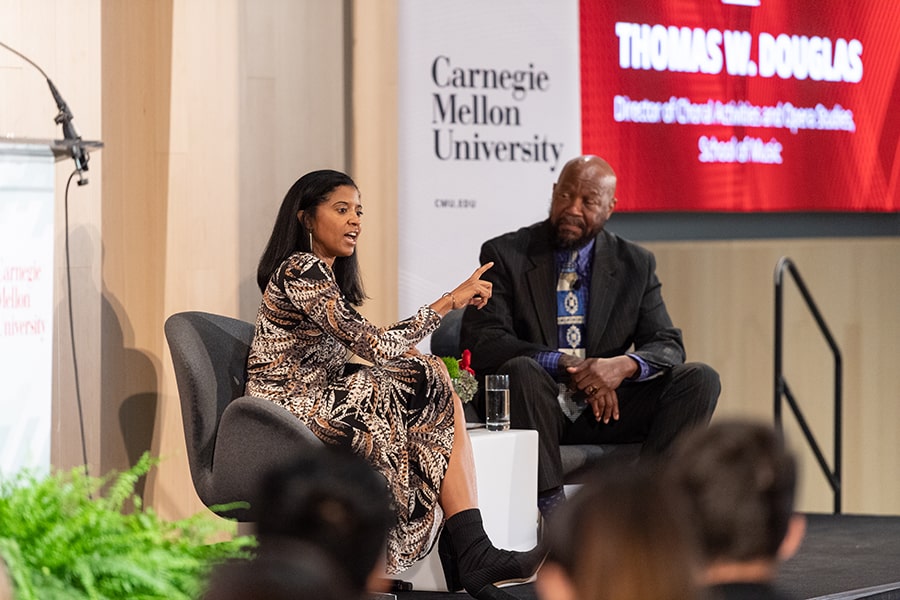 Alumna Renée Elise Goldsberry speaks to students as Thomas W. Douglas looks on. Douglas, director of choral activities and opera studies at CMU, moderated the conversation.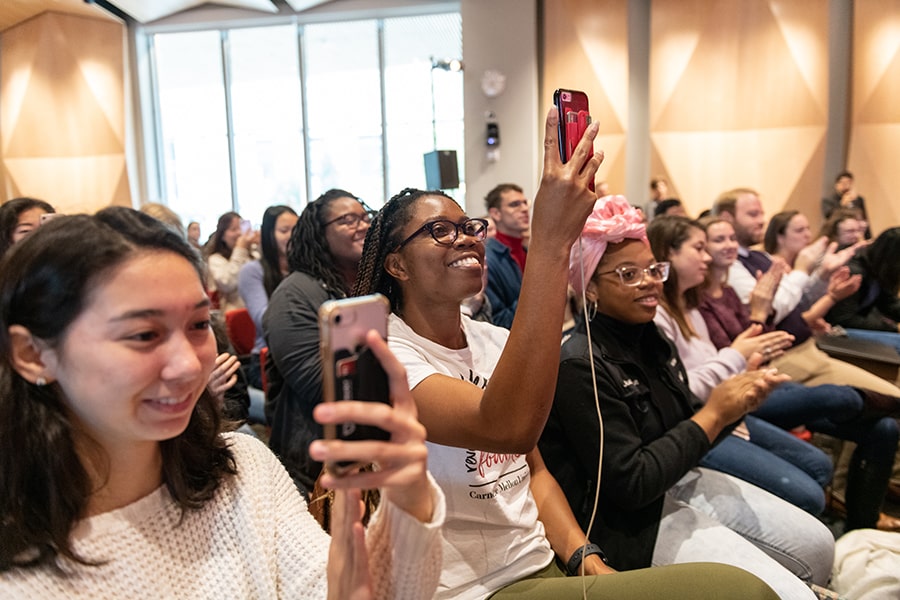 Students take cellphone pictures and video of Goldsberry on stage in the Tepper School's Simmons Auditorium.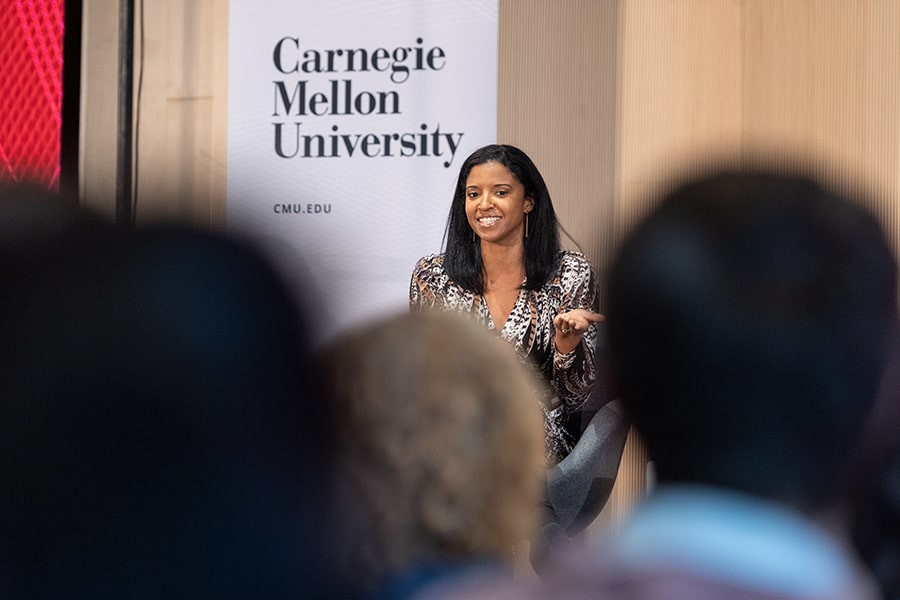 Goldsberry spoke candidly to students about her career, her work-life balance and her experience at CMU, including some of the most valuable lessons she learned as a student.
"The first thing I learned was how not to be the most talented person in the room," she said. "That's why I tell people to go to college. In the real world there's always somebody more prepared, more intelligent, more talented, more beautiful, more connected. You have to be comfortable in that situation and figure out who you are.
"I loved being here because I learned how to work. It wasn't ennough to be talented. I met people who were talented that worked really, really hard. I learned a work ethic watching other people. That's one of the best things I learned being here," Goldsberry said.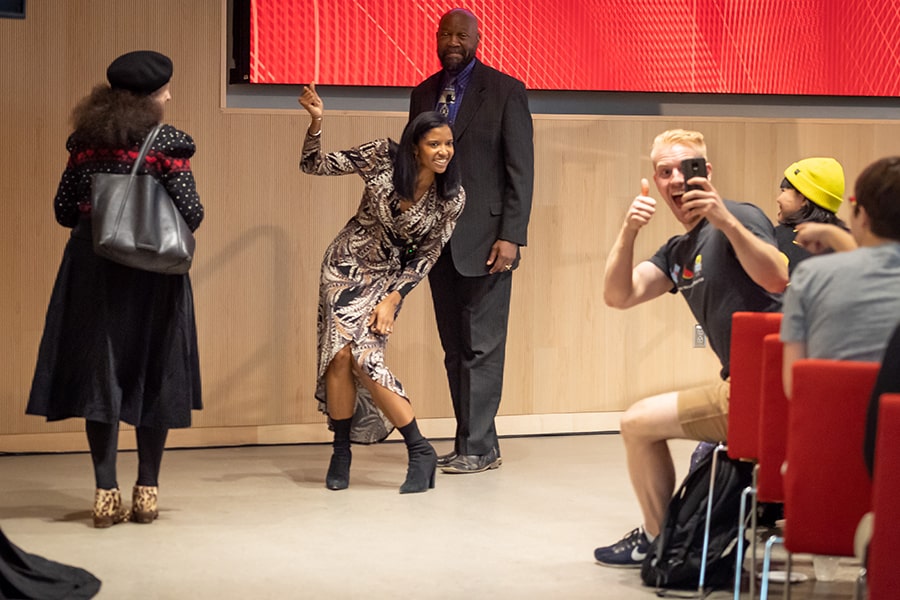 A student gets a long-distance selfie with Goldsberry as she leaves the stage.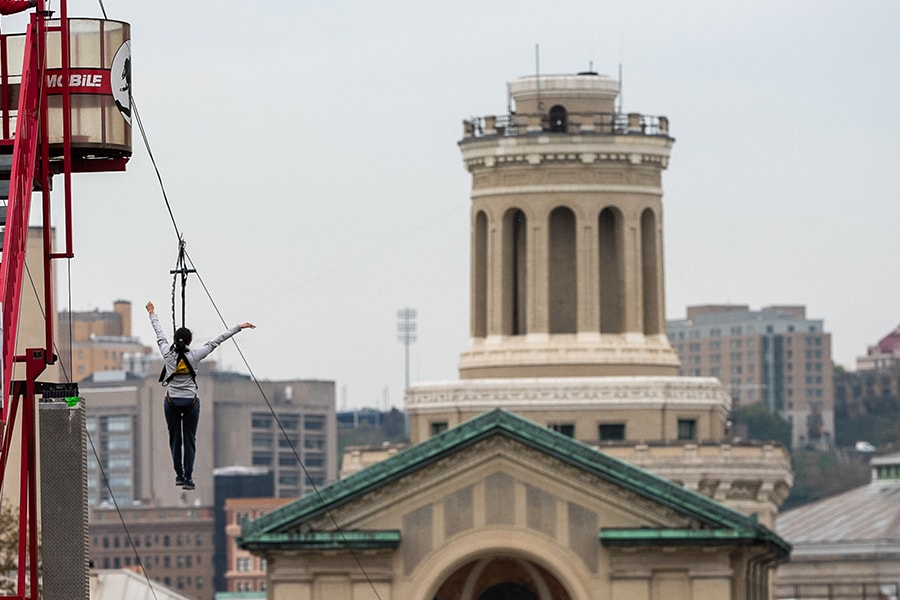 Flying through the air on the zip line with the iconic Hamerschlag Tower in view.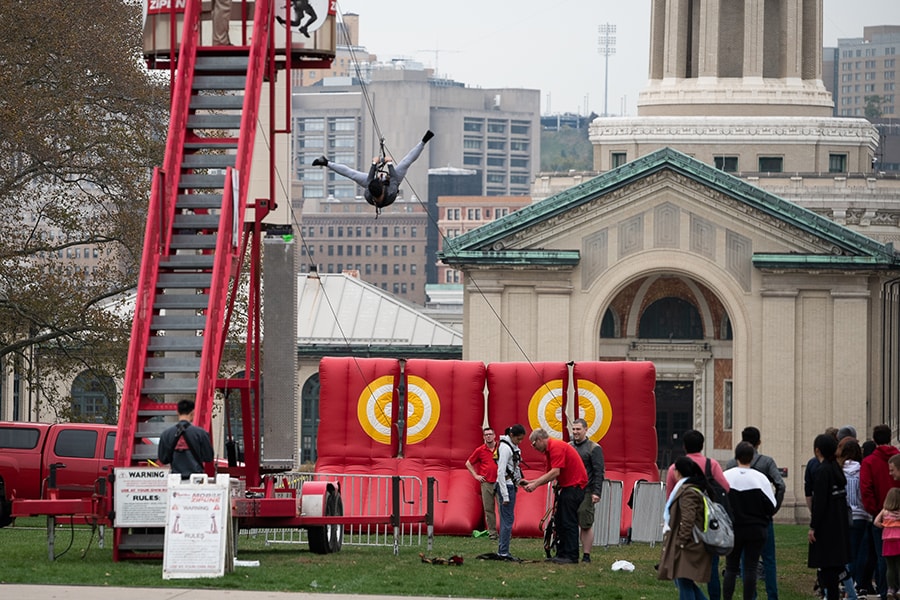 The zip line was a popular activity during Tartan Community Day.
A student takes her turn on the rock climbing wall.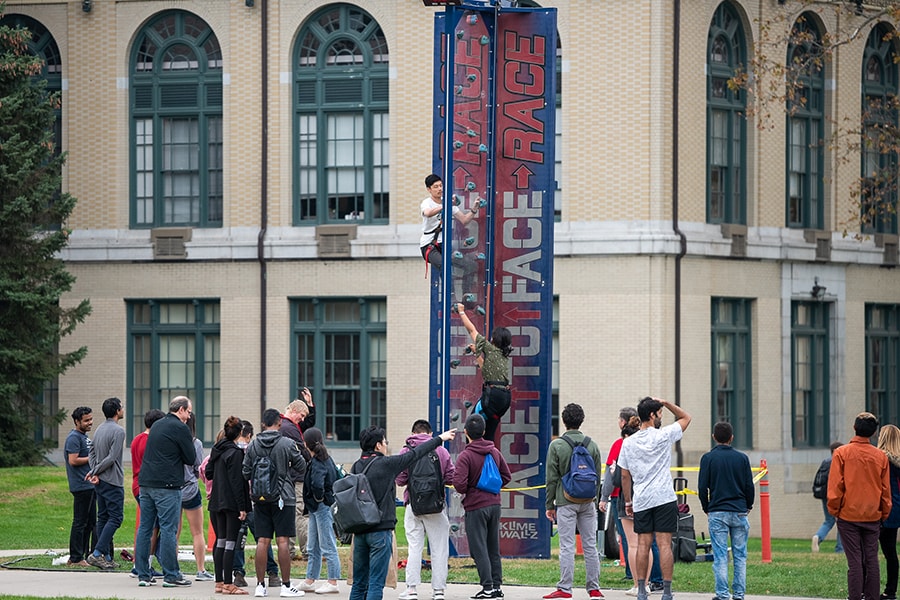 A race to the top of the rock climbing wall.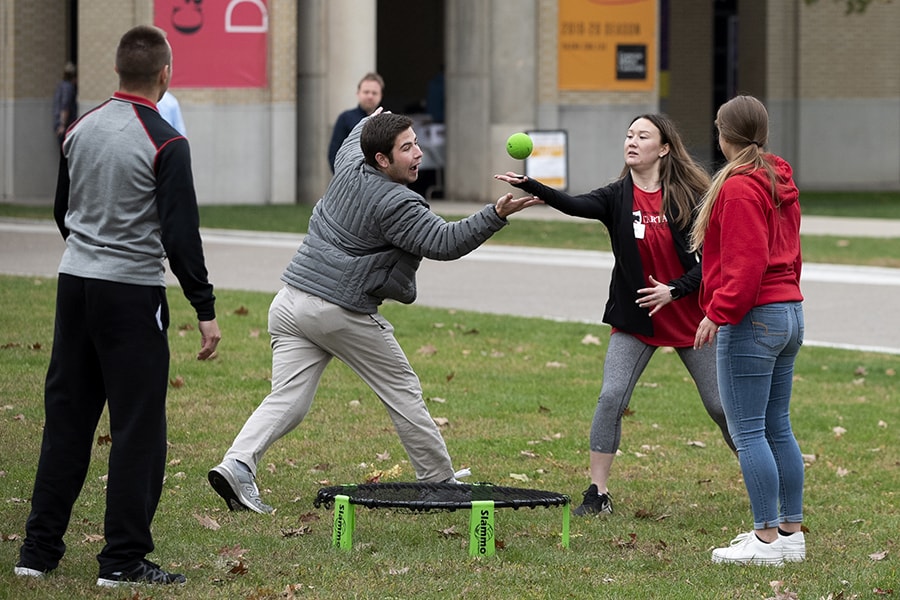 Fun and games on the Cut.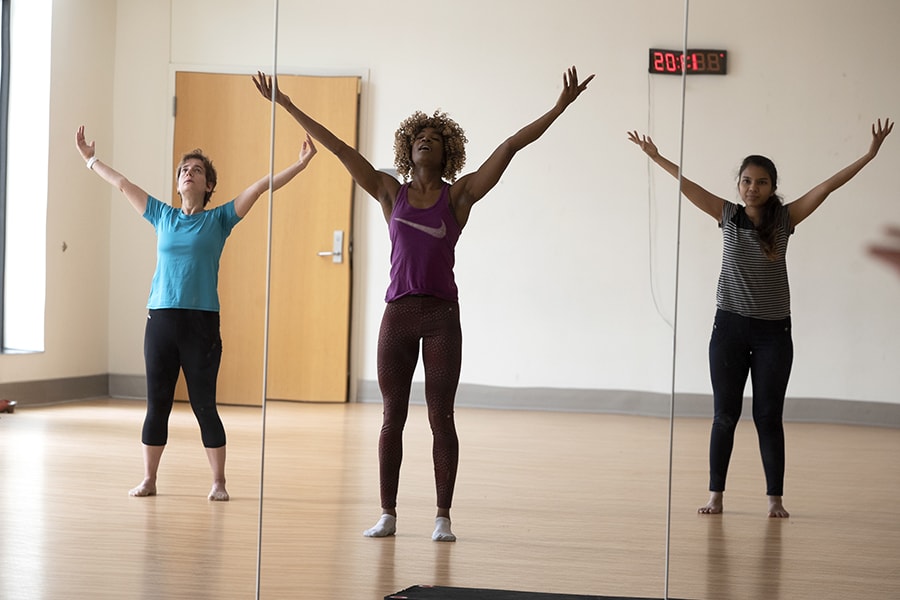 The exercise sampler adventure included a tai chi class.
Professor Andrea Ritivoi, head of the English Department, is a regular participant in group fitness classes at CMU.
"I come as often as I can. It does wonders for me. It's what keeps me healthy, not just physically but mentally," Ritivoi said. "I enjoy it, I like the music, the instructors and the variety. I've done yoga, Zumba, strength, and I tried tai chi for the first time today and loved. It. If I had more time I would sample everything on a regular basis."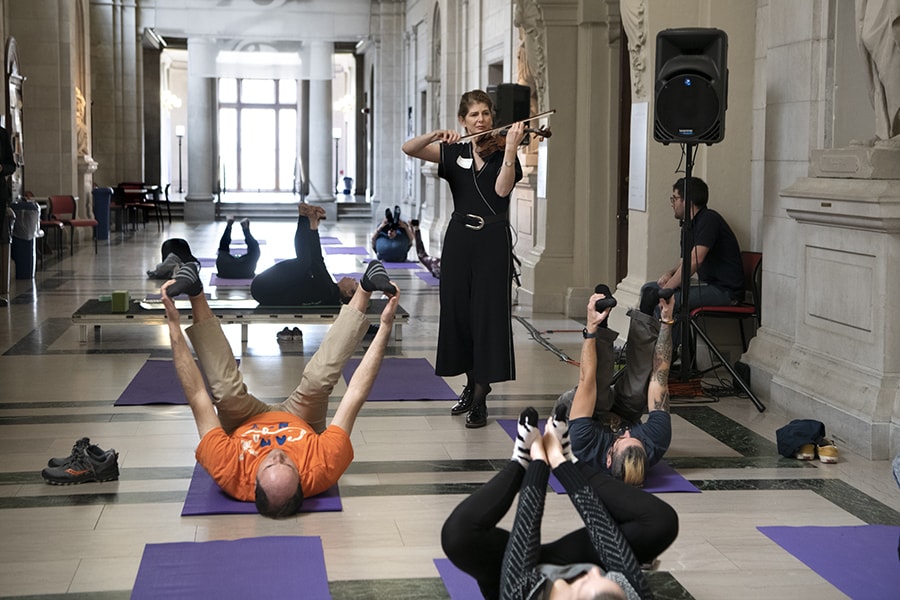 The exercise sampler also included yoga with live music in the College of Fine Arts Great Hall.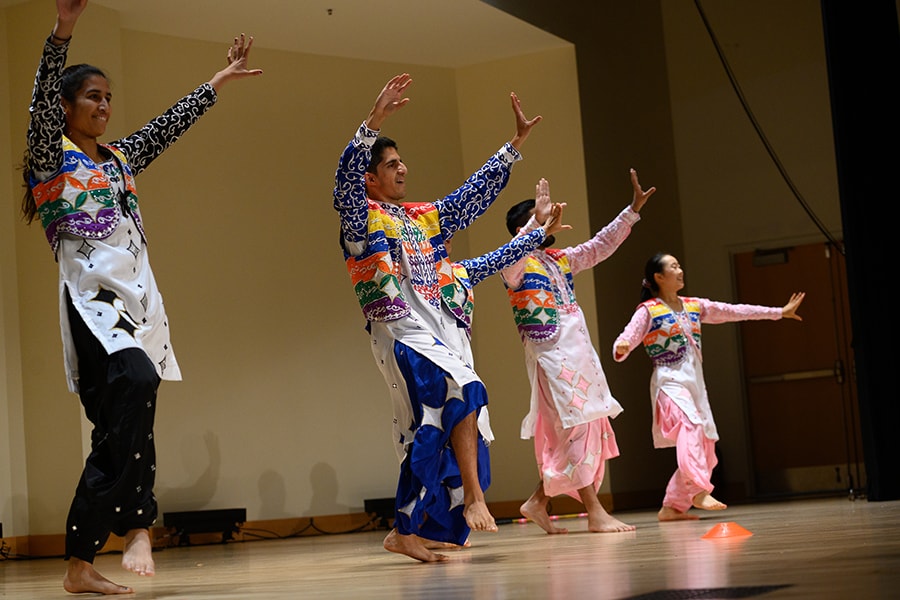 The CMU Bhangra dance group performed during the talent showcase.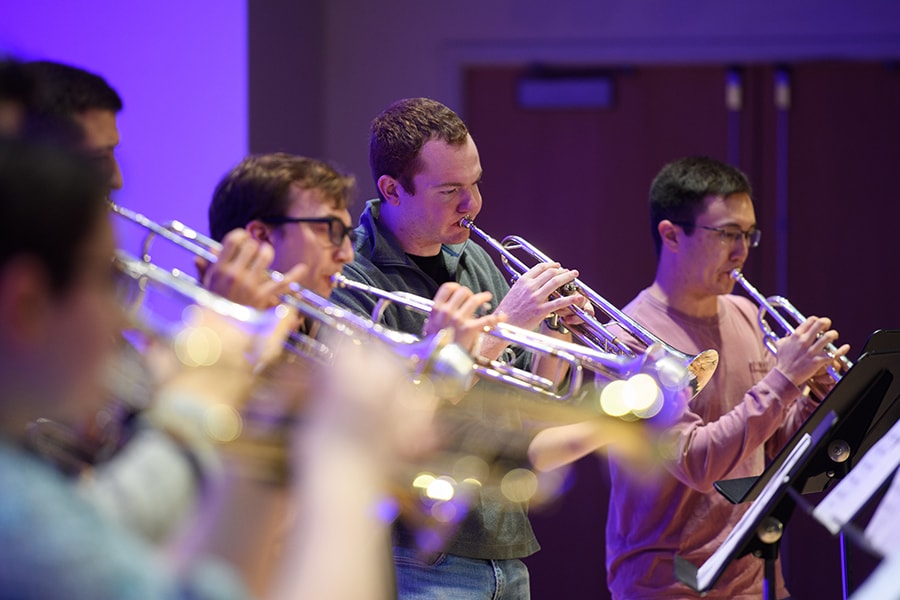 The Trumpet Studio performed in the talent show.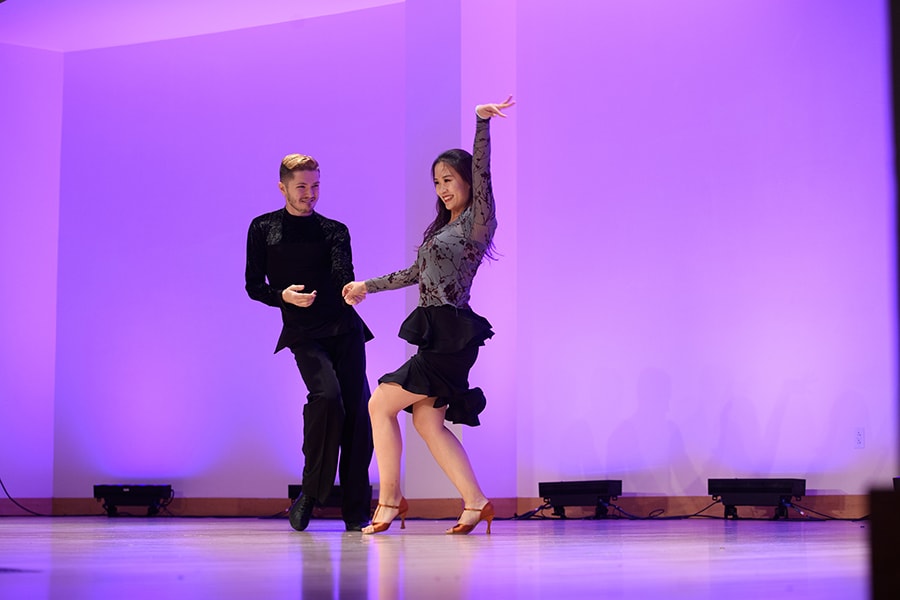 The talent showcase also included members of the CMU Ballroom Dance Club.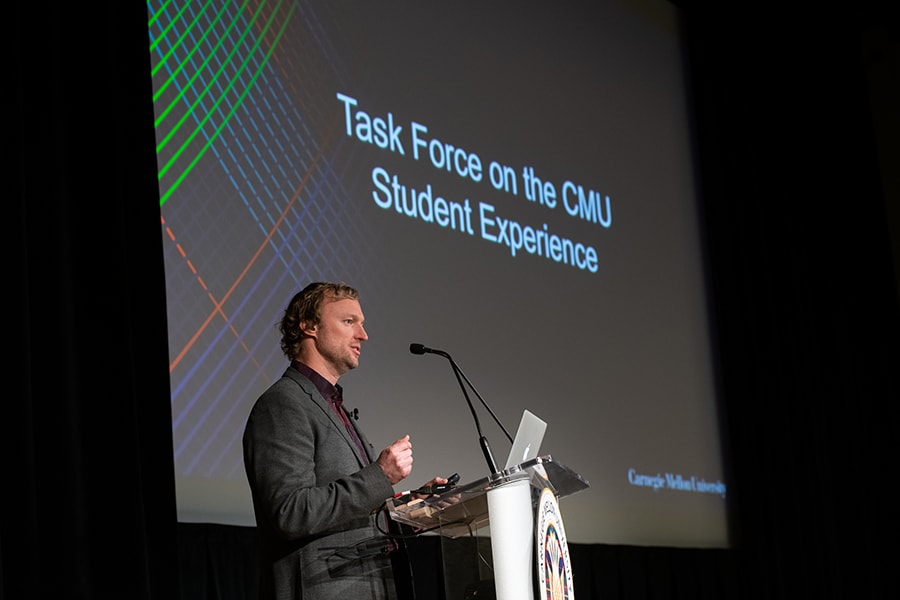 Professor David Creswell discussed his
Life@CMU Project
, which examined student behavior and how factors like stress and sleep affect and predict overall wellbeing. He led a discussion about how we can find better ways of supporting one another.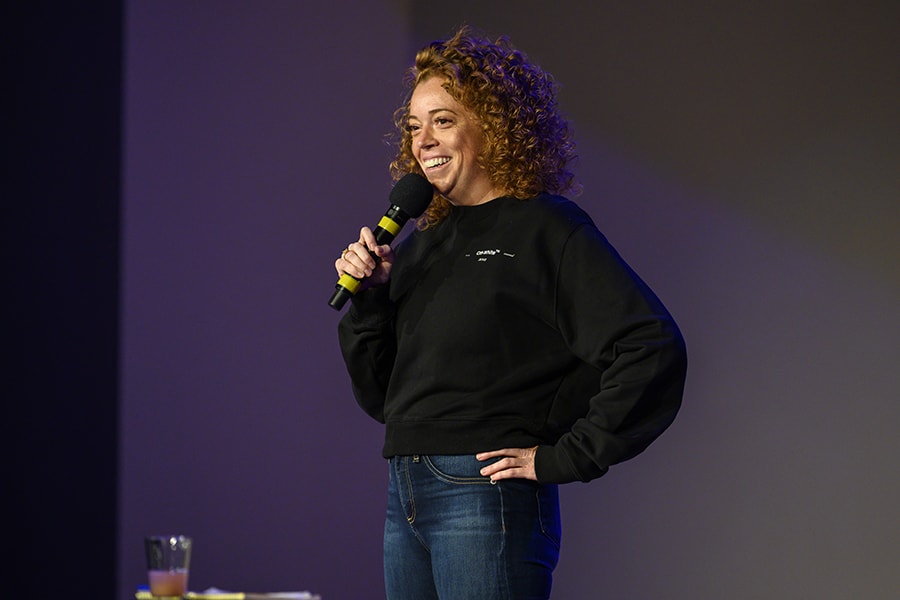 Michelle Wolf closed the day with some comic relief for hundreds in Rangos Ballroom. Wolf has become an influential voice in the comedy landscape since her performance at the 2018 White House Correspondents Dinner and her critically acclaimed variety sketch series "The Break with Michelle Wolf" on Netflix.