October 21, 2020
News Briefs
Verstynen, Yttri Awarded Grant for Work on Decision-Making
Using casino-style games, Carnegie Mellon Neuroscience Institute researchers Timothy Verstynen and Eric Yttri are trying to understand how the brain changes its mind.
Verstynen, Yttri and their collaborators have been granted over $1 million from the National Institutes of Health through the Collaborative Research in Computational Neuroscience program, an international effort that supports collaborative activities that will advance the understanding of the nervous system.
"We are going to examine what happens when the brain shifts gears," Verstynen, an associate professor of psychology, explained. "What are the dynamics that happen when the brain either learns something new or relies on prior knowledge?"
Over the last few years, Verstynen and his team have been collecting data on what are called "bandit tasks," simple tasks where a subject has a limited number of decisions to make. For example, think of a Las Vegas slot machine, or "one armed bandit." Though simple, bandit tasks can tell us a lot about how our brains make any kind of decisions.
"When you play the slots, you can only play on one machine at a time, with one coin at a time. How do you choose which machine to put your coin in? That's the fundamental decision of the bandit task," Verstynen said.
Learn more about the research.
CMU Heads New $10M Center for Studying Structure of Cell Nuclei
Carnegie Mellon will direct a new multi-institution research center funded by the National Institutes of Health to develop a better understanding of the three-dimensional structure of cell nuclei and how changes in that structure affect cell functions in health and disease.
Jian Ma, the lead principal investigator of the new center and an associate professor in CMU's Computational Biology Department, said researchers will be developing fundamental knowledge to provide new insights into the role that the three-dimensional organization of cell nuclei plays in developmental disorders, aging and other cell processes.
The five-year, $10 million effort is formally called "Multiscale Analyses of 4D Nucleome Structure and Function by Comprehensive Multimodal Data Integration." It is funded through the 4D Nucleome (4DN) program of the NIH's Common Fund, which sponsors research of broad relevance to the NIH's many specialized research institutes.
COVIDcast Now Monitoring Daily U.S. Mask Use, COVID Testing
Nationwide trends in mask use, access to COVID-19 tests, and test results are now being monitored by CMU and shared publicly as part of a symptom survey distributed daily to Facebook users.
Since April, CMU's Delphi Research Group has been collecting real-time data on self-reported COVID-19 symptoms nationwide, providing county-level information about the coronavirus pandemic that is updated continuously and available from no other source. The survey has now been expanded to include questions about how people are responding to public health recommendations, such as mask use, and whether people are getting the access to COVID-19 testing they want.

"Some of these topics were partially addressed by the original survey, but we knew that as the pandemic changes and public health priorities adapt, our survey must change too," said Alex Reinhart, assistant teaching professor in the Department of Statistics and Data Science and a member of the Delphi group.

Aggregated data from the survey is updated each day and shared publicly via the COVIDcast website. Data also is shared in greater detail with health researchers. Delphi uses the data to develop localized forecasts of COVID-19 activity.
University Endowment Reaches $2.07 Billion
In a year defined by dramatic rises and falls of the market due to the COVID-19 pandemic, Carnegie Mellon University's endowment reached $2.07 billion as of June 30, 2020. The endowment reached a new milestone by supporting more than 7% of the university's operating budget for the fiscal year ending June 30, 2020.

Gifts and other additions contributed $56 million, while investment performance added $102 million. Distributions from the endowment for university operations totaled $92 million, or approximately 7.1% of operating expenditures. As a comparison, that number was 5% five years ago.

The university's long-term, global equity-focused investment strategy, along with gifts from university alumni and friends and other funds invested in the endowment, has grown the endowment value from $815 million in 2010, while distributing $633 million to support university operations within the last 10 years.
Learn more about the endowment.
Provost Hosts Virtual Office Hours Tuesday
Provost Jim Garrett will host virtual office hours for students, faculty and staff from 7 - 8:30 a.m. ET on Tuesday, October 27. Participants can register for a timeslot within the designated hours. To sign up, email provost@andrew.cmu.edu to receive the meeting ID and timeslot.
CMU Launches New Child Care Options
Carnegie Mellon has begun two new child care programs for faculty, staff and graduate students.
Temporary All Day On-Campus Proctoring
Registration has started for the temporary all day on-campus proctoring. This affordable service ($5/hour) is for children in online school between the ages of 6 and 12 years-old. The sessions are being offered Monday through Friday from 7:30 a.m. to 3 p.m. in a space in Posner Center. 
New Kindergarten Proctor and Play
Registration is now open for a new full-day program that has been created for children currently enrolled in fully remote, mostly asynchronous kindergarten. The program is best suited for children enrolled in kindergarten programs with flexibility as to when children can log into lessons and/or complete assignments. Educators will connect with scheduled families about the program and their child's kindergarten remote experience before scheduling occurs. 
In addition to the above programs, CMU has added a temporary flexible child care option for children ages 24 months to 5 years-old at the Penn Avenue Cyert Center. Families can choose between two sessions of child care during the work week — a morning and an afternoon session. This new child care option is not part of the Cyert Center program. Scheduling is now open.
CMU also has begun a free family and child care concierge service. The service will provide parents and families with information, support, guidance and education on all dependent- and care-related topics and will use current available resources, such as Care.com, Carelink, EAP, local child care centers and other after school programs. You can reach the concierges at hrfamilycare@andrew.cmu.edu. 
To learn more about any of these child care options or the concierge service, visit Human Resources' Family Care for COVID-19 website.
Join CMU's Ecochallenge Team Before It's Too Late
Connect the dots between your values and the impact of your actions. The People's Ecochallenge is a 21-day environmental and social engagement program. Through Oct. 28 you can select or create actions that align with your individual values and make a 21-day commitment to complete those actions, all while practicing and reinforcing good habits. For every completed action, you earn points and create impact. Your points contribute to your team's total points, and your impact contributes to our collective impact.
The People's Ecochallenge harmonizes individual and collective action, camaraderie and friendly competition all for a better shared future. Over 100 actions within nine challenge categories encourage you to think about and act on proven solutions, connecting the dots between your values and your action.
CMU has participated for several years – join the team before it's too late.
Swartz Center Hosts Second Annual Corporate Startup Lab Forum, Nov. 4-12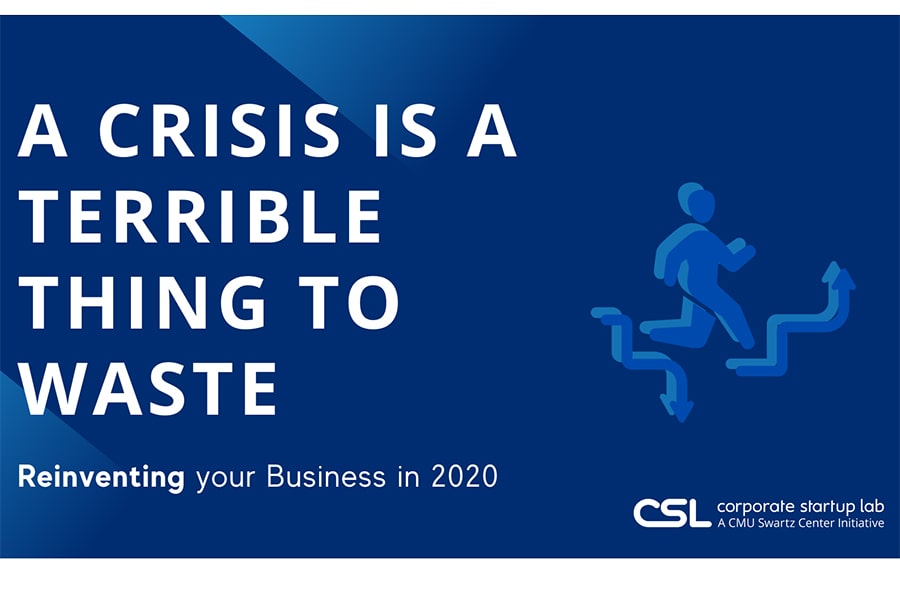 "A Crisis is a Terrible Thing to Waste: Reimagining Your Business in 2020" will give students, faculty and staff a chance to virtually interact with corporate leaders and innovators who continue to take risks and change the world. The forum aims to inspire new ways to reinvent your business in the health care, industrial/advanced manufacturing, automotive/mobility and financial technology industries.
The forum, which will be held in three-hour sessions each day Nov. 4-12, will feature fireside chats, expert panels, startup pitches, and small group conversations with guests such as author and entrepreneur Seth Godin, Optum Health Senior VP Kerrie Holly, Steve Blank, author of "The Father of Modern Entrepreneurship," and Michal Preminger, head of Johnson & Johnson Innovation for East North America. Also providing their expertise will be CMU professors Taya Cohen, Laurie Weingart, Rebecca Nugent and Denise Rousseau, among others.
Find out more and register online.
Final Session of INTERSECT@CMU to Focus on Pandemic's Effects on the Economy
The final session of Carnegie Mellon's virtual INTERSECT@CMU Conference will discuss the pandemic's long-term global effects on the economy.
On Thursday, Oct. 29, William S. Demchak, chairman, president and chief executive officer of The PNC Financial Services Group, will deliver the Economy Keynote, followed by a panel bringing together business leaders, academics and community leaders to envision how to rebuild a more robust and equitable economy that is more resilient to future shocks.
We encourage you to participate in this university-wide conversation. Find out more and register here.
Open Enrollment Begins Monday, October 26; Benefits Fair is Virtual This Year
Open Enrollment for 2021 benefits begins on Monday, October 26, and ends on Monday, November 16 at 5 p.m. ET. Open Enrollment is your annual opportunity to review your benefit coverage options and make selections for the upcoming calendar year. Elections made during Open Enrollment are effective January 1, 2021, and will remain in effect for the calendar year. Open Enrollment is the only time you can change your benefit elections unless you experience a qualified life or family status change.
If you do not elect your benefits during the Open Enrollment period, you will be automatically enrolled in the benefits in which you are currently enrolled with the exception of Flexible Spending Accounts. The IRS requires you to re-enroll in these accounts each year to participate. Enrollment changes can be submitted online through Workday beginning Monday, October 26. For information about 2021 benefits, including rates and the 2021 Benefits Guide, visit the Open Enrollment website. If you have questions regarding Open Enrollment, please contact the HR Service team at 412-268-4600 or hr-help@andrew.cmu.edu.
Attend a Virtual Event to Learn More
In-person gatherings may be off limits this year, but the Office of Human Resources remains committed to providing assistance to faculty and staff members as they navigate their benefits elections. You are encouraged to participate in a virtual event to learn more about your benefits options and get help making your elections in Workday. Employees can access the events remotely throughout the Open Enrollment period. So, if it's been awhile since you've reviewed your benefit elections, please take this opportunity to explore your options and determine which offerings best fit your needs.
Virtual Benefits/Open Enrollment Fair – Visit the fair through your computer at any time, beginning on Monday, October 26 and throughout Open Enrollment, to learn more about the benefits available to you. Explore booths to find information on health and welfare benefits, retirement savings plans, family care resources, and more.
Drop-In Sessions via Zoom – Join the session offered to your college or area, or drop in on whichever session best fits your schedule. Benefits and HR Service team members will be available to answer your questions about benefit plan options and the enrollment process in Workday. Zoom's breakout room functionality will be used so you can speak one-on-one with an HR team member.
Who's New at CMU?
Carnegie Mellon welcomes the following new staff members this week.
Rumi Bumbera, Registered Nurse, Community Health & Well-Being;
David Bernabo, University Archives - Oral History Production Assistant, University Libraries;
Sabeel Ahmed, User Services Consultant, SEI OCOS IT Services; and
Daniel Noone, Assistant Director, MSCF Career Services, Tepper School of Business Masters Program.