October 14, 2020
News Briefs
CMU a Host Institution Sponsor for Sustainability Conference, Oct. 20-22
Carnegie Mellon is a host institution sponsor for the Association for the Advancement of Sustainability in Higher Education's (ASHE) Global Conference on Sustainability in Higher Education, Oct. 20-22. As a host institution sponsor, CMU students, faculty and staff can register for free.
The event will deliver inspiring content, engaging networking opportunities, and thought-provoking keynote speakers and presenters. Alex Hiniker, CMU's executive fellow for sustainability initiatives, will give a presentation on CMU's recently completed Voluntary University Review and its Sustainability Initiative.
"The provost's Sustainability Initiative is committed to educating, empowering and aligning the campus community around the world to address the Sustainable Development Goals," said Steve Guenther, university engineer, assistant vice president for Facilities Management and Campus Services, and co-chair of the Sustainability Initiative's Steering Committee. "With our host institution sponsorship providing free registration for all students, faculty and staff, the Global Conference on Sustainability in Higher Education is an excellent opportunity for the entire community."  
This year's theme, "Mobilizing for a Just Transition," will focus on a shift from an extractive economy to a regenerative economy. Conference speakers and presenters will encourage higher education sustainability leaders to reflect and act on the Just Transition Principles articulated by the Climate Justice Alliance and to spotlight inspirational examples of institutions championing this work.
Register here and enter the code CMU091420 to gain free access.
New Studies Highlight Group's Contributions to Cancer Research
In two new collaborative studies, researchers in the Mellon College of Science's biological physics group used advanced neutron scattering techniques to further the understanding of proteins crucial to the development of cancer.
"We have developed the scattering methodology, the preparation of suitable membrane mimics, the protein handling and the analysis of the scattering data to a point that we are now able to provide useful information to biomedical groups that work on important disease-related systems," said Associate Research Professor of Physics Frank Heinrich of the work CMU's Supramolecular Structures Lab completed in collaboration with the National Institute of Standards and Technology.
Led by Professor of Physics Mathias Lösche, the lab contributed to studies seeking to better understand the biophysical foundation of cancer.
In research published in the Proceedings of the National Academy of Sciences, Heinrich and his collaborators were able to characterize the structure and dynamics of the signaling protein KRAS, a member of the Ras family of Small GTPase proteins located at the cell membrane that can mutate to contribute to the development of many cancers.
In another study published in Science Advances on Sept. 30, the researchers characterized a different protein, ASAP1, which is essential for the activation of a distinct Small GTPase, Arf, a signaling protein that is also associated with a variety of human cancers. Learn more about their contributions.
Researchers Partner with USRA, Amazon to Teach Quantum Computer Programming
Carnegie Mellon and the Tepper School of Business have long been leaders in transformational education, where researchers successfully challenge the status quo to create new technologies and processes that solidify our reputation as innovative thinkers and doers.
Sridhar R. Tayur, the Ford Distinguished Research Chair and University Professor of Operations Management, believes quantum computing will be one of the next consequential innovations to put the university's name in the history books. Along with David Bernal Neira, a chemical engineering Ph.D. candidate in the College of Engineering, and Davide Venturelli, manager of the Research Institute of Advanced Computer Science at the Universities Space Research Association (USRA) and Quantum Research Scientist at NASA, Tayur is teaching Quantum Integer Programming, a new course developed to train Carnegie Mellon students on how to use this technology.
"Now, quantum computing, which was mostly studied from an intellectual academic perspective by theoretical physicists and theoretical computer scientists until we came along at Tepper, is close to becoming practical," Tayur said. "We want to invent this future. This is going to significantly change how we can compute." Find out more about the effort. 
Two SCS Students Win 2020 Google Ph.D. Fellowships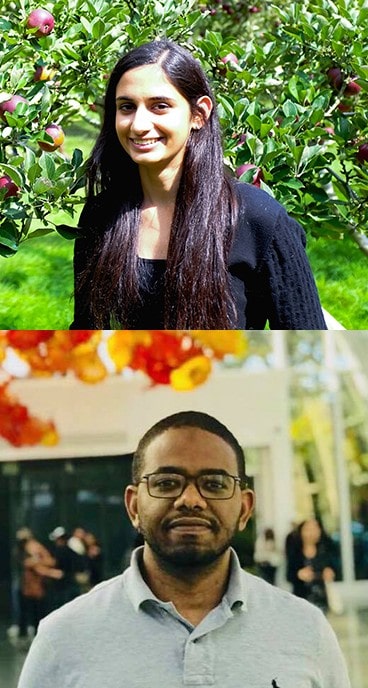 Abdelkareem Bedri and Anjalie Field, Ph.D. students in the Human-Computer Interaction Institute and Language Technologies Institute, respectively, have received 2020 Google Ph.D. Fellowships. They are among 53 recipients this year worldwide.
The Google Ph.D. Fellowship Program recognizes outstanding graduate students doing exceptional and innovative research in areas relevant to computer science and related fields. In addition to providing tuition and a stipend, the program matches each fellow with a Google research mentor.
Bedri's research has focused on tracking physical activity and calorie intake, striving to make food tracking "as easy as tracking footsteps." He has built wearable devices powered with machine learning models to automatically detect eating and drinking activity, help identify food types and estimate consumption.
Field's work focuses on developing social-oriented natural language processing (NLP) models. This has included research on detecting gender bias in social media and analyzing bias in narratives about the #MeToo movement. Her latest efforts involve a collaboration to analyze case notes written by social workers through the development of interpretable NLP models.
Staff Council Kicks Off CMU's 27th Annual Food Drive Today
You're invited to Staff Council's October general body meeting today via Zoom from noon to 1 p.m., when Provost Jim Garrett and representatives from the Greater Pittsburgh Community Food Bank and the CMU Food Pantry will help launch CMU's 27th annual food drive, which will run from Nov. 2-16. Garrett is this year's honorary chair of the food drive.
All members of the campus community are welcome to attend the meeting. Information shared will include a video tour of the Greater Pittsburgh Food Bank, an update on the increase in need due to the pandemic and a report on the needs of CMU's food pantry.
Public Summit on Preventing Sexual Harassment in Higher Education is Oct. 19-20
Carnegie Mellon is a member of the National Academies' Action Collaborative on Preventing Sexual Harassment in Higher Education, a cohort of over 60 colleges, universities and research institutions working toward targeted, collective action on addressing and preventing sexual harassment across all disciplines and among all people in higher education. The Action Collaborative has released an annual report on its progress in its first year and a repository of innovative work at 45 member colleges, universities and research institutions.
To learn about some of these practices, you can register for the upcoming Public Summit, Oct. 19-20, at www.nas.edu/ACSummit2020. The summit is an open forum for those in the higher education ecosystem to collaboratively identify, discuss and elevate innovative and effective approaches for addressing and preventing sexual harassment.
Learn more about the collaborative.
Schatz Dining Room Re-Opening for All-You-Care-to-Eat Dining
On Monday, October 19, the campus's all-you-care-to-eat dining location will move from The Food Hall at Resnik to Schatz Dining Room, located on the second floor of the Cohon Center. The last day of service at The Food Hall at Resnik will be Sunday, October 18. 
Schatz will be open for breakfast, lunch and dinner, Monday through Friday, and for brunch, Saturday and Sunday. The lunch and dinner menus will feature a rotating selection of hot entrees, with menus inspired by Thai, Italian, Caribbean, Mexican, Asian and regional American cuisines. Hot and cold sandwiches, soup, a made-to-order salad bar and desserts will be offered daily. For breakfast or brunch, customize your meal with a variety of choices including cold cereal, oatmeal, egg dishes, breakfast meats, potatoes and fresh fruit.
For hours of operation and menus, please visit the Dining Services website.
Get Your Flu Shot Today
This year more than ever, getting a flu shot is an important contribution we can all make to help keep our community safe.
All Pittsburgh-based students are required to get a flu shot this year as part of A Tartan's Responsibility. University Health Services (UHS) has already begun providing flu vaccinations for students. Student vaccine appointments and clinic times are plentiful and vary over the fall semester to allow for maximum access to vaccination services. To make a flu shot appointment online, simply log onto your SIO and go to the HealthConnect link to schedule. You may also call UHS at 412-268-2157 to learn more about available vaccination times.
Faculty and staff can get their flu shot at any participating Giant Eagle pharmacy. The university is covering the cost of the vaccine for faculty and staff. As an added incentive, employees who are vaccinated at a Giant Eagle Pharmacy location are eligible to receive $5 off their next visit to Giant Eagle. You must present your Giant Eagle Advantage Card at the pharmacy to receive the $5 credit.
Final Session of INTERSECT@CMU to Focus on Pandemic's Effects on the Economy 
The final session of Carnegie Mellon's virtual INTERSECT@CMU Conference will discuss the pandemic's long-term global effects on the economy.
On Thursday, Oct. 29, William S. Demchak, chairman, president and chief executive officer of The PNC Financial Services Group, will deliver the Economy Keynote, followed by a panel bringing together business leaders, academics and community leaders to envision how to rebuild a more robust and equitable economy that is more resilient to future shocks.
We encourage you to participate in this university-wide conversation. Find out more and register here.
Open Enrollment for 2021 Benefits is Oct. 26 - Nov. 16
Open Enrollment is the annual opportunity for faculty and staff to review their benefit coverage options and make selections for the upcoming calendar year. Enrollment changes can be submitted online through Workday beginning Monday, October 26 and ending at 5 p.m. ET Monday, November 16. Benefit elections become effective on January 1, 2021, and remain in effect for the calendar year. After the enrollment period, you cannot change your benefit elections unless you experience a qualifying status change.
Additional information on 2021 benefits, including rates and the 2021 Benefits Guide, will be available closer to the start of Open Enrollment. For questions regarding Open Enrollment, please contact the HR Service Center at 412-268-4600 or hr-help@andrew.cmu.edu.
Who's New at CMU?
Carnegie Mellon welcomes the following new staff member this week.
Brian Katana, Security Guard, University Police.