Watch the Andy Awards Virtual Ceremony Monday
This year's Andy Award recipients will be announced during a virtual ceremony that will be livestreamed at noon, Monday, November 16, on the Andy Awards website.
Forty-nine individuals and 18 teams have been nominated for this years' Andy Awards, CMU's annual recognition program that honors staff for their exceptional job performance and dedication. Staff have been nominated in five categories — Commitment to Excellence, Commitment to Students, Innovative and Creative Contributions, Spirit, and Teamwork and Collaboration.
A sixth category, Community Champion, has been added this year to recognize staff who have met 2020's unique challenges caused by the pandemic with extraordinary action and commitment.
Cheer for your colleagues by using #AndyAwards on Twitter or by posting a comment on the CMU Facebook page. 
See this year's nominees and plan your virtual celebration today!
Keep the Donations Coming! Food Drive Reaches Nearly $58K, Ends Monday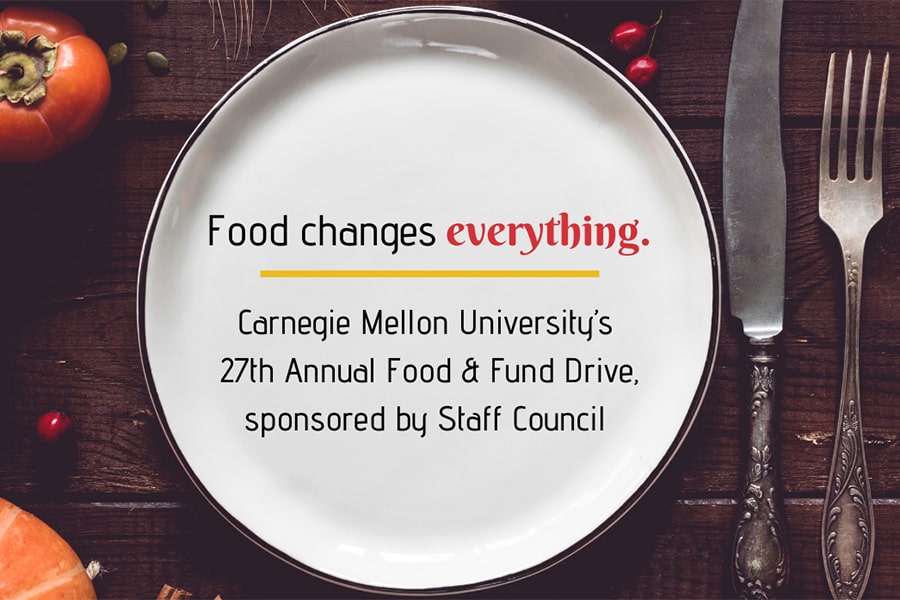 Carnegie Mellon's annual Food Drive, sponsored by Staff Council, has set a record this year with nearly $58,000 donated (as of 4:30 p.m., Nov. 11) to benefit the Greater Pittsburgh Community Food Bank, and ultimately thousands in need. Last year's Food Drive raised a then-record $28,787.
There is still time to make your donation online at www.PittsburghFoodBank.org/CMU or by texting CMUGives and your donation amount to 50155.
In addition, nonperishable items will be collected at a Drive and Drop event on Monday, November 16, the final day of the food drive. Drive by and drop off your nonperishable items at the Tepper Garage from 1 to 3 p.m. on Monday.  Requested items include peanut butter, fruit snacks, granola bars, snack crackers, pudding cups, juice boxes and can openers**, though all nonperishable contributions are welcome! **Note can openers will be given directly to the CMU Food Pantry.

Learn more about the food drive by visiting the food drive website. Contact Committee Chair Carole Panno with any questions.
Open Enrollment Ends Monday, November 16
Open Enrollment is your annual opportunity to review your benefit coverage options and make selections for the upcoming calendar year. Benefit elections become effective on January 1, 2021, and remain in effect for the entire year. After the enrollment period, you cannot change your benefit elections unless you experience a qualifying status change.
2021 Benefit Offerings
For information about 2021 benefits, including rates and the 2021 Benefits Guide, visit the 2021 Open Enrollment website.
Enroll Online Through Workday 
Enrollment changes may be submitted online through Workday. If you do not want to change your benefit elections for 2021, and you are not enrolling in a spending account, you do not need to do anything. Your 2020 benefit elections (except spending account contributions) will automatically roll over to 2021; new 2021 rates will apply and will be deducted from your first pay in 2021.
If you are enrolling in either the Health Care Flexible Spending Account (HCFSA) or the Dependent Care Reimbursement Account (DCRA), you must log in to Workday and select your contribution level. If you are currently participating, your 2020 spending account elections will not automatically roll over to 2021. The IRS requires that you enroll in spending accounts each year.
Workday Quick Guides are available to assist you with the online enrollment process.
Attend a Virtual Event to Learn More
This year, in accordance with Carnegie Mellon's Return to Campus Guidelines, the Office of Human Resources is hosting virtual events to help faculty and staff learn more about benefit offerings and the enrollment process:
2020 Virtual Benefits Fair

 

– Visit the Fair any time throughout Open

Enrollment

to learn more about the benefits available to you. 
Virtual Drop-In Sessions via Zoom

 

– Join the session offered to your college or division, or drop in on whichever session best fits your schedule. Benefits and HR Service team members will be available to answer your questions about benefit plan options and the enrollment process in Workday. 
If you have questions regarding Open Enrollment, please contact the HR Service Center at 412-268-4600 or hr-help@andrew.cmu.edu
Calling All Student Entrepreneurs!
Registration is now open for the Swartz Center for Entrepreneurship's 2021 McGinnis Venture Competition.
The McGinnis Venture Competition is a platform exclusively for Carnegie Mellon's global community of student entrepreneurs, bringing together the best and brightest to compete for $60K in investments. All participants receive coaching, valuable feedback and an opportunity to raise capital.
The multi-round competition begins with two virtual rounds, and will culminate in a final live-round celebration on March 23, 2021. Check out the requirements and guidelines.
Information Session November 20
Students are invited to learn more about the competition and hear from past winners about their experiences during an information session from 11 a.m. – 12 p.m., Friday, November 20. The session will be hosted virtually and advanced registration is required. Zoom information to all registered attendees will be send out the day before the event.
Contact Allyson Hince with questions.
Support the Children's School Library; Virtual Book Fair, Nov. 23-Dec. 6
Carnegie Mellon's Children's School is hosting a virtual book fair to help purchase books for the school's library. The Children's School will receive 30% of the purchase price of every book purchased between November 23 and December 6.
Please note that if you purchase books either before or after the book fair dates, the Children's School will still receive 15% of the purchase price. Contact Maggie Rosenblum with questions.  Happy shopping!
Eligible Staff Get Three Additional Floating Holidays
The Office of Human Resources has announced that due to the difficulties caused by the pandemic, eligible full-time staff members will receive three additional floating holidays, effective November 23. These additional days will be available for use from November 23 through June 30, 2021.
"As we continue to face both work and personal challenges due to the ongoing COVID-19 pandemic, we are hopeful that having a few extra days to spend with family and friends, extend time off around the holidays, or simply step away from the important work we do to recharge and refresh will help us sustain our commitment to the university's vision to have a transformative impact on society through continual innovation in education, research, creativity and entrepreneurship," said Michelle Piekutowski, chief HR officer.
Learn more by visiting the Human Resource's Temporary Amendments to PTO Policy and Holiday Schedule website.
Guide Helps Startups Incorporate Ethics into Business Plans
Founders of new ventures may spend most of their time creating business plans, perfecting new technology and contracting with suppliers, but it behooves them to also think about how to treat employees fairly, design and market their products ethically and be transparent with investors.
To help founders establish these ethical values early and determine how they will act on them, Carnegie Mellon's CREATE Lab has developed a guide for use by business accelerators and other organizations promoting startups.
Written by Jessica Pachuta and Dror Yaron, both research staff members at CMU's Robotics Institute, the guide, "Making Ethics Practical in Startup Spaces," helps founders anticipate ethical dilemmas and tradeoffs before they are faced with making difficult or irreversible decisions.
"It's hard for a lot of young businesses to access formal ethics training," Pachuta said. "Most people in startups don't have time to stop and read Aristotle."
She and Yaron embedded themselves last year in Innovation Works' AlphaLab Gear accelerator, working with eight of its companies to develop a guide that is practical and accessible. It's available online, but is designed for use by a facilitator, not as a self-help tool. Operating within an accelerator, such as AlphaLab Gear, provides accountability as founders think hard about what values really matter to them, she explained.