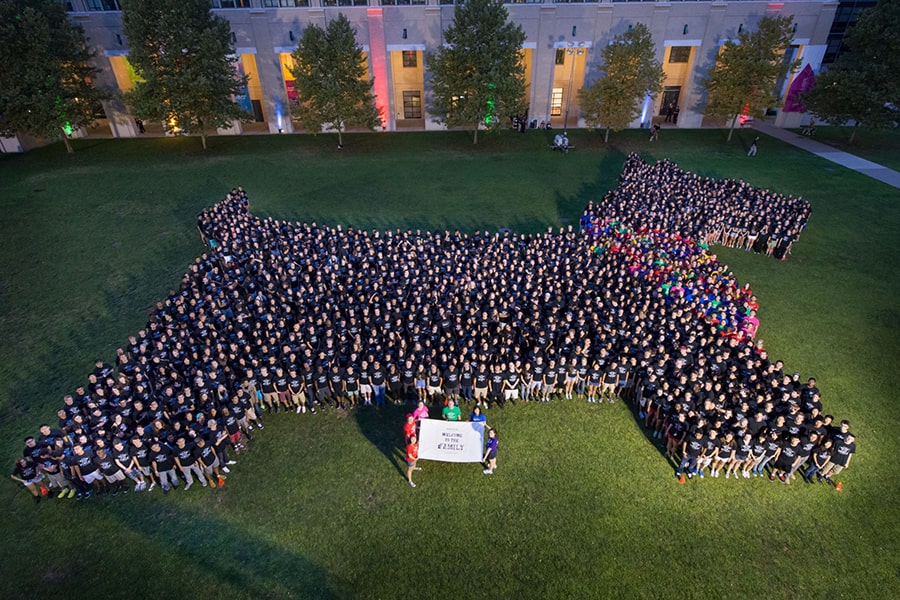 March 25, 2020
News Briefs
Get a New Zoom Background from University Libraries
University Libraries has created a Box folder with interior library images as well as campus images to be used as custom backgrounds for Zoom. Check out all the options.
Online Appreciation Sale at University Store
Carnegie Mellon's University Store is having an online Faculty and Staff Appreciation Sale on Apple products. You can save $75 off a MacBook Air, Pro & iMac, and $25 off an iPad Pro. Order today and pick it up on April 17. Custom configured items must be ordered by March 27.
Questions? Email ps00@andrew.cmu.edu or go online.  
Cohon Center Operations Modified
Those needing access to the Cohon University Center should use the entrance along the The Cut near the bookstore. You will need your CMU ID to enter the building. All other entrances are locked.
The Post Office in the Cohon Center will continue to operate under reduced hours; the retail section of the Post Office is closed. Student postal services will be open from 10 a.m. to 2 p.m. The Post Office will continue to serve departmental needs, but departments are encouraged to put a hold on all mail.  Approximately 50 departments have already done so. The Post Office also recommends that you redirect UPS, Fedex and DHL shipments if no one is there to receive them. Please use their website tools to help you and your department with tracking packages, and with signature waivers and redirecting shipments.
Other services within the CUC also have limited hours. The CMU Credit Union will be open from 10 a.m. to  2 p.m. by appointment only. Members of the WRCT radio station will have access to the building to maintain broadcast operations. 
CMU Shuttle and Escort Services Update
Due to a change in the number of riders, CMU shuttle services are adjusting their frequency and routes. CMU shuttles will remain on a seven-day schedule, but will adjust their daily schedule to hourly pick-ups between 8 a.m. to 6 p.m. Please continue to check the website and Ride System GPS app for updates.
Athletic Venues Closed Following Stay-at-Home Order 
To align with Pennsylvania Governor Tom Wolf's stay-at-home order, Gesling Stadium, the outdoor track, the soccer field, the outdoor basketball court, and the tennis courts have been closed to all community members. Signage will be posted around these and other outdoor spaces prohibiting social interaction and sports competition.
Need exercise? Rather than a game of football, soccer or frisbee, take a walk or run around campus or Schenley Park to exercise — but please keep six feet of distance between you and others. The Department of Athletics and Recreation will soon be offering a number of virtual opportunities and challenges for all members of our community to stay active and fit, while maintaining appropriate social distancing.
Pittsburgh Paid Sick Days Act Implemented
On March 15, the Office of Human Resources (OHR) implemented a process to provide eligible employees with paid sick time to care for an employee's or their family member's illness, injury or health condition in accordance with the City of Pittsburgh's Paid Sick Days Act (PSDA).
Eligible employees will accrue one hour of paid sick time for every 35 hours worked within the geographic boundaries of the City of Pittsburgh, up to a maximum of 40 hours in a calendar year. Employees who are currently eligible for paid time off through the university are not eligible for Pittsburgh Paid Sick Leave. During the current emergency situation, employees can borrow up to 40 hours even if the time has not yet been accrued for COVID-19 related absences.
At this time, eligible employees will submit requests for paid sick time through their pay worklet located in Workday. In the future, OHR will launch an enhancement in Workday that will allow eligible employees to view accrued time and submit requests online similar to the existing process for paid time off and time entry requests.
Please visit the Paid Sick Days webpage for detailed instructions on how to submit requests and other information related to the PSDA including additional details regarding who is eligible.
Provost Announces New Online Office Hours
Provost Jim Garrett is rescheduling this week's office hours to Thursday, April 2, from 4:30 - 6 p.m. via Zoom. He welcomes you to use this time as an opportunity to tell him what's on your mind, and share your experiences, ideas, and aspirations for Carnegie Mellon. Details on how to connect will be posted on the Provost's Office hours page: https://www.cmu.edu/leadership/the-provost/office-hours/index.html.
Take the Fitness Challenge, Virtually
The Department of Athletics and Recreation is hosting a Social Distancing Fitness Challenge. It's a little friendly competition between members of the campus community – students, faculty and staff — to see who moves the most.  Enter how many minutes you worked out, what the activity was and the time you worked out on the spreadsheet! Find out more and sign up by adding your name to the tracking form. 
Athletics and Recreation is also offering GroupX classes online via GroupX On Demand.
Guided Weekly Meditation Sessions Offered
The University of Pittsburgh and the Center for Integrative Medicine are offering two, free weekly guided meditations to anyone interested. The links will be the same each week. You should be able to just click the links, follow the instructions and join. You can use any device with a camera and mic (laptop, iPad, computer, or with a smartphone with the free zoom app).
CaPS, UHS Offering Services Remotely
Counseling & Psychological Services (CaPS) is able to provide telemental health distance counseling services using Zoom Healthcare, a secure and confidential virtual platform, for students who are located within the state of Pennsylvania. For out-of-state students, CaPS offers Thriving Campus as a search tool to find providers or can guide you individually to find a provider in your area.
University Health Services (UHS) is offering telehealth services. Call 412-268-2157, option 2, to discuss your needs. Please do not walk into the health center.
Who's New at CMU? 
Carnegie Mellon welcomes the following new staff members.
Eugene Hastings, DevSecOps Specialist, The Simon Initiative;
Samuel Lemley, Librarian, University Libraries;
Annika Horgan, Associate Software Developer, SEI ETC Leadership;
Christopher Russo, Laborer I, FMS Operations;
Daniel Gongaware, Financial Coordinator, Language Technologies Institute;
Eleni Andrulonis, Accounting Assistant I, FMS Operations; and
Brendan Hart, Senior Accountant, Investment Office.
Vanguard Participants: Important Update Regarding Transition to TIAA
As communicated in February, Carnegie Mellon University will be consolidating administration of the retirement plans to one recordkeeper relationship with TIAA. Due to market volatility concerns stemming from the coronavirus, CMU has decided to postpone the transfer of balances from Vanguard to TIAA and therefore there will be no blackout period at this time.
For those with balances in Vanguard, your balance will remain with Vanguard for the near-term. Until we set a new date to transfer balances, you should direct any questions about your current Vanguard account or requests for assistance to the existing Vanguard phone number and/or website. 
Other parts of the transition are proceeding according to the original timeline and as previously communicated in the Transition Guide [pdf]:
New Retirement Choice/Retirement Choice Plus accounts with TIAA will be set up on March 23 for participants who are currently contributing and/or hold a mutual fund balance. Once your account is set up, you may review your beneficiary designations and adjust your investment allocations.
Vanguard investment options are being added to the TIAA platform as planned.
All future contributions will be directed to your new accounts at TIAA starting March 26. Plan participants with balances in Vanguard will need to log into their accounts through both Vanguard and TIAA to view complete account information: Vanguard for current balances and TIAA for contributions after March 26.
Learn more about the Transition to Single Recordkeeper, including available support resources.