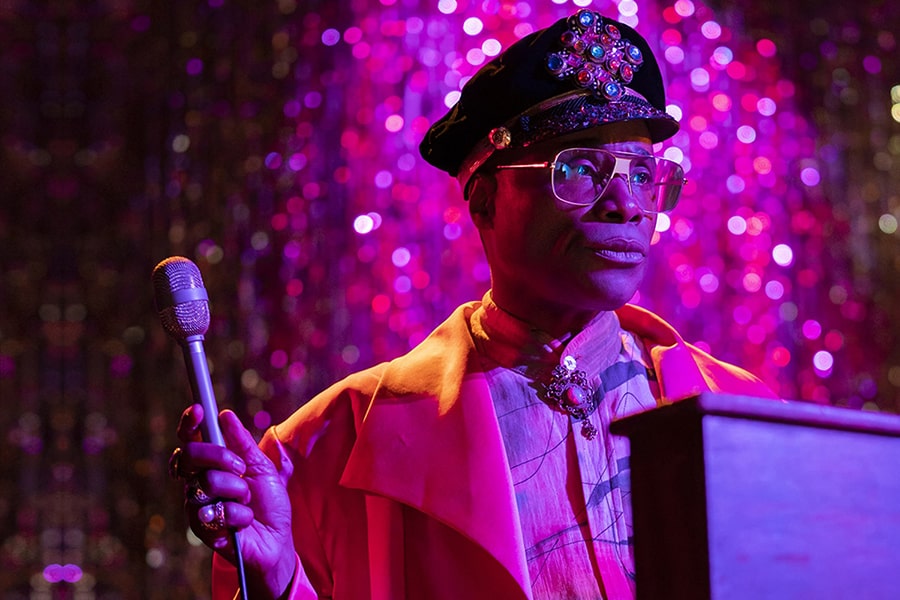 August 05, 2020
News Briefs
Billy Porter Leads 17 CMU Alumni Nominated for Emmys
Carnegie Mellon alumnus Billy Porter will be defending his historical Emmy win at the 72nd Emmy Awards.
In 2019, Porter became the first openly gay black man to win Outstanding lead actor in a drama series for his work as Pray Tell on FX's "Pose." The Tony, Grammy and Emmy award-winning actor graduated in 1991 from CMU's School of Drama.
This year, 17 CMU alumni have earned 18 nominations in 12 categories. See the nominees.
Let's Go to the Movies: Tartans in Film August 7-9
Let's go to the movies! In this era of social distancing, we don't have to sacrifice the magic of storytelling. Join CMU for a weekend of celebrating Tartans' contributions to every aspect of filmmaking. The special event will feature six movies and behind-the-scenes commentary from producers, directors, CMU faculty, actors, lighting designers and more! Have your own red-carpet weekend at cmu.edu/tartansinfilm.
Shawn Blanton Will Serve as Interim Vice Provost for Diversity, Equity and Inclusion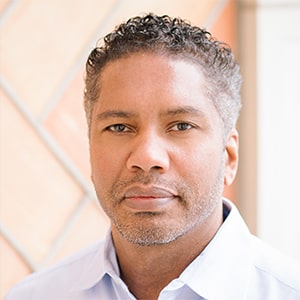 In an email to the university community, Provost Jim Garrett announced the formation of a search committee for a Vice Provost for Diversity, Equity and Inclusion and the appointment of Shawn Blanton to begin serving in that capacity in an interim role.  
"This role is profoundly critical and necessary for Carnegie Mellon University as it signals a change in how we address racism, classism, sexism and the language of othering that persists in this country and across our campus community," Garrett said.
In his interim role, Blanton, the Trustee Professor of Electrical and Computer Engineering, will focus on expanding CMU's local community engagement and exploring ways to attract and retain underrepresented students from the Pittsburgh area as undergraduates. He also will work with the academic deans and their DEI Strategic Planning leaders to increase the diversity of their faculty and graduate students.
Blanton led the development of the DEI plan in the College of Engineering and serves on the Campus Climate Implementation Steering Committee.
"Building on his excellent work in the College of Engineering, Dr. Blanton is extremely well suited to take up these important specific initiatives at the university level in the coming year and I am grateful to him for being willing to serve in this role," Garrett said.
The search advisory committee is co-chaired by professors Eric Anderson, Associate Professor School of Design and Senior Associate Dean of the College of Fine Arts, and Linda Babcock, Social and Decisions Sciences Department Head and James M. Walton Professor in Economics in the Dietrich College. Find out more.  
Professors Participate in Chautauqua Institution Series on AI and Humanity
David Danks, Jennifer Keating and Illah Nourbakhsh recently gave virtual presentations and were featured in online panel discussions in the Chautauqua Institution's summer series on the ethics of technology.
Danks, the L.L. Thurstone Professor of Philosophy and Psychology, and head of the Philosophy Department, spoke about the many algorithms impacting people's lives today, and the ways these algorithms are using biased data to make decisions that directly harm vulnerable communities.
Danks also participated in a panel discussion on algorithmic bias and its impact with Nourbakhsh, the K&L Gates Professor of Ethics and Computational Technologies and director of the Community Robotics, Education and Technology Empowerment Lab, and Keating, assistant dean for Educational Initiatives in the Dietrich College. The trio spoke about the use of biased data in algorithms used to determine who is granted a loan, emphasizing how historical information on loan repayment reflects racially biased practices in granting (or denying) credit to borrowers from communities of color.
Keep Your Eye on Campus Construction
Several campus construction projects are back up and running, including work on the new Fifth/Clyde residence hall and TCS Hall, and renovation projects in the Hall of Arts and the Fifth/Neville Apartments. Demolition of the Doherty Apartments also is well underway. 
If you'd like to see what's happening, two webcams have been installed allowing you to virtually keep your eye on the progress at Fifth/Clyde and the Doherty demolition. Watch the projects:
Call for Honorary Degree Nominations
President Farnam Jahanian has put out the call for honorary degree nominations. The CMU honorary degree is one of the highest distinctions the university bestows on an individual, Nominees must be distinguished individuals who meet at least one of the following criteria:
Achieved pre-eminent levels of distinction in their fields and demonstrated extraordinary achievements, with a preference for those with a clear affiliation or connection to CMU;
Established record of exemplary service to the world, to our nation, to our region, or to society; or
Displayed an extraordinary commitment of service to Carnegie Mellon University, with a demonstrable positive impact on the university and its community.
Recipients serve as an inspiration to the Carnegie Mellon community, especially to members of the graduating class. Recognizing them reinforces the significant scope of the university and enhances the commencement ceremony by highlighting the importance of the university in the world.
Please submit nominations no later than September 11, using the online form. If you have any questions, please contact Cathy Light, secretary of the corporation and adviser to the president, at 412-268-5345 or via email at calight@andrew.cmu.edu.
Nominate Your Outstanding Colleagues for an Andy Award; Nominations Due August 26
Nominations for the Andy Awards, the university's staff recognition program, are now being accepted. Now more than ever, we encourage you to take the time to nominate your colleagues whose outstanding work is deserving of this special recognition.

All nomination materials must be submitted by 5 p.m., Wednesday, August 26.
Award recipients will be announced and recognized this fall. The Andy Awards planning committee is currently exploring alternative options for the award ceremony, including hosting the event virtually.

For more information, including details about the nomination process, award category descriptions and criteria and past winners, visit the Andy Awards website.
Swartz Center Announces New Innovation Fellows
The Swartz Center for Entrepreneurship recently awarded five Innovation Fellowships for 2020-2021. This year's recipients are:
Alireza Chamanzar, a Ph.D. candidate in Electrical and Computer Engineering, who is developing diagnostic methods for Traumatic Brain Injuries (TBIs) by synthesizing ideas from AI, machine-learning, and signal processing. 
Brian Holt, a research associate in Chemistry, is part of a team working to overcome heavy metal toxicity with a new class of chelators that bind toxic metal ions while being biocompatible.
Gregory Houchins, a Ph.D. candidate in Physics, is developing electrochemically engineered carbon zero cement inspired by battery science, which would drastically reduce the embodied carbon of concrete and the carbon output of the built environment.
Luke Lyle, a Ph.D candidate in Materials Science and Engineering, is seeking to commercialize an industrially scalable, novel technique to grow gallium oxide to leverage this material for use in renewable energy systems.
Jay Reddy, a Ph.D. candidate in Electrical and Computer Engineering, is developing new minimally-invasive, flexible, biocompatible devices to allow long-term optical monitoring and intervention in biological tissues.
The Innovation Fellows Program is a yearlong program that aims to accelerate the process of commercializing university research. Fellows are awarded $50K in funding and participate in dedicated workshops and intensive mentoring to pursue their startup idea.
Find out more about this year's fellows.
How to Add Your Pronouns to Zoom
Zoë Levin, coordinator for undergraduate engagement and support in the Center for Student Diversity and Inclusion, created a how-to for members of the campus community who wish to add their pronouns to Zoom.
"As part of the work we do in the Center for Student Diversity and Inclusion, particularly through Tartan Allies, we want to contribute to normalizing introductions that include pronouns and we want to see this continue while we rely on Zoom for our meetings," Levin said. "In Zoom you are able to add your pronouns to your last name, as you are comfortable. That way, your pronouns are visible to anyone you might be meeting with."
If you would like to add your pronouns to Zoom, here are the steps to follow:
Click on the gear icon in the upper right corner
On the left side menu click on "Profile"
Click on the "Edit My Profile" button
Your browser will be opened >> login with your Andrew ID
To the far right of your name and profile image click "Edit"
Add your pronouns after your last name (ex. Change it from "Lewis" to "Lewis (he/him)"
Click the "Save Changes" button
Need to Visit Campus? Submit Request to Your Designated Point of Contact 
Beginning this week, individuals who have not yet been approved to be on campus and would like to come to campus for a brief visit to retrieve or drop off essential items, should submit their request to their designated college/division point of contact listed online. 
Twenty-five contacts are listed for the seven schools and colleges as well as many divisions and departments.  Find out more.
Weekly Onboarding Sessions Moving to Zoom
Weekly onboarding sessions for new faculty and staff members will soon be held virtually via Zoom. These comprehensive sessions, which were suspended in March and supplemented with a video recording of the content, provide new employees with the opportunity to complete all required onboarding tasks before beginning work with their department. Moving to a live virtual format will ensure that new employees, including faculty hires for the fall semester, have personal contact with the Office of Human Resources as they begin their CMU careers.

Representatives from the HR Service Center will reach out to each new employee via email in the weeks leading up to their first day. The employee's department initiator and hiring manager will be copied on the email, which will include session details as well as required pre-session tasks. Visit the Weekly Onboarding Sessions page to learn more about this initiative. 
Who's New at CMU?
Carnegie Mellon welcomes the following new staff members.
Matthew Froehlich, Dispatcher, University Police;

Tanisha Smith, Technical Manager, SEI ETC Leadership;

Steven Fleck, Entrepreneur-in-Residence, Swartz Center for Entrepreneurship;

Mario Benítez Preciado, Software Architect, SEI Ssd Engrg Intelligent Software Systems;

Eric Joseph, Temporary Employment Service; and

Destiney Plaza, Associate Security Researcher, SEI Monitoring and Response.