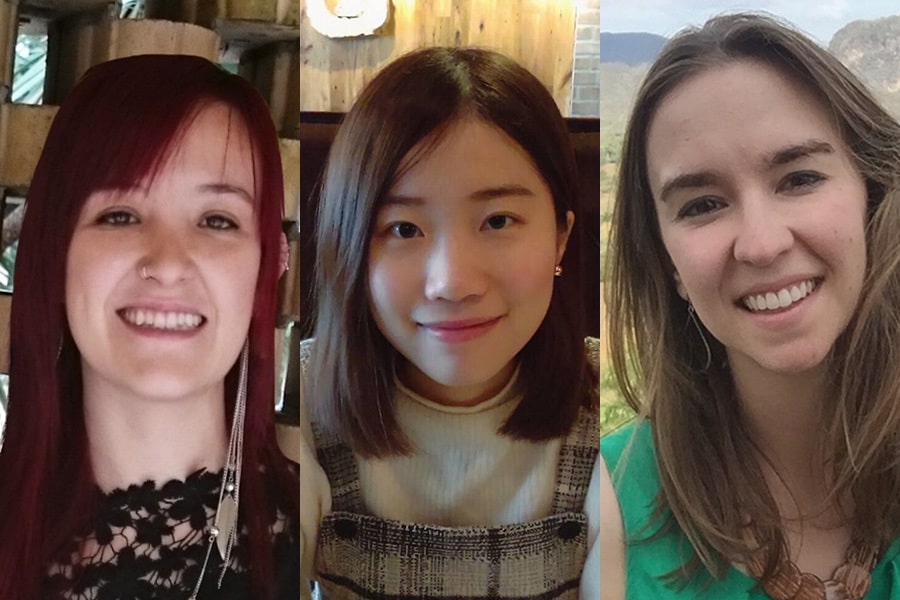 August 19, 2020
News Briefs
CMU Names K&L Gates Presidential Fellows
Three Carnegie Mellon University Ph.D. candidates — one each from the School of Computer Science, Dietrich College and Heinz College — have been chosen as the 2020 K&L Gates Presidential Fellows. Sponsored by the K&L Gates Endowment for Ethics and Computational Technologies at CMU, the Presidential Fellowship Program provides financial support to recruit and retain outstanding graduate students pursuing work at the intersection of technology and society.
María Alejandra Arciniegas Gómez studies philosophy under the guidance of David Danks, and her work focuses on the theoretical and practical conditions under which people provide consent for collection of their personal data. She focuses on the nature of privacy and consent in the digital age, an issue she says we are only just beginning to fully understand.
Amanda Coston is pursuing her degree in Machine Learning and Public Policy under the guidance of Alexandra Chouldechova and Edward H. Kennedy. Her research considers human-centered predictive analysis, and she has proposed modeling for a decision support system. Applications of her work so far include identifying algorithmic bias in consumer lending software and the use of risk assessment in child welfare.
Helen Zeng is a Ph.D. student in Information Systems and Management at Heinz College, advised by Michael D. Smith and Brett Danaher. She is interested in ways data can be used to solve societal problems and she incorporates statistics, econometrics and machine learning techniques to study the impact of federal laws on online advertisement for human sex trafficking.
Philosophy's Tetrad Project Awarded International AI Honor
The Tetrad Automated Causal Discovery Platform was awarded the Super Artificial Intelligence Leader (SAIL) Award at the World Artificial Intelligence Conference held in Shanghai in July. The award recognizes fundamental advances in the basic theory, methods, models and platforms of artificial intelligence (AI). Tetrad, developed by Peter Spirtes, Clark Glymour, Richard Scheines and Joe Ramsey of Carnegie Mellon University's Philosophy Department, was one of four projects chosen for a SAIL award from over 800 nominees, including nominations from Amazon, IBM, Microsoft and Google.
"The Tetrad project, including the open-source Tetrad software package and the now standard reference book, 'Causation, Prediction, and Search' (1993), are the basis for the modern theory of causal discovery," said Chris Meek, principal researcher at Microsoft Research. "The ideas and software that grew from this project have fundamentally shifted how researchers explore and interpret observational data." The book has almost 8,000 citations.
The Tetrad project was started nearly 40 years ago by Glymour, then a professor of history and philosophy of science at the University of Pittsburgh and now Alumni University Professor Emeritus of Philosophy at CMU, and his doctoral students, Richard Scheines, now Bess Family Dean of the Dietrich College of Humanities and Social Sciences and a professor of philosophy at CMU, and Kevin Kelly, now professor of philosophy at CMU.
Students Produce Pandemic Short Films
As a way to provide a positive pedagogical and social connection for film majors and minors, Professor Jeff Hinkelman presented those enrolled in the Film and Visual Media program with a simple "Pandemic Film Challenge." Students were asked to create a short film that commented on some aspect of their pandemic experience. The only condition was that the film be under five minutes long.
From animation to live-action, comedy to memoir, see their finished works.
Computer Science Students Awarded Apple Fellowships
Two Ph.D. students in the School of Computer Science — Graham Gobieski and Xinyi Wang — have received Apple fellowships in artificial intelligence (AI) and machine learning (ML). They're two of a dozen students who earned fellowships through Apple Scholars, a program that supports students in computer science and engineering. The scholars were selected based on their innovative research, demonstrated thought leadership, and willingness to take risks and push the envelope in AI/ML.
Gobieski, a student in the Computer Science Department, works primarily on developing software and hardware to enable machine learning and sensing applications on ultra-low-power devices. He has developed a system to deploy neural networks to resource-constrained devices and is building an energy-efficient microcontroller.
Wang, a student in the Language Technologies Institute, develops methods that allow artificial neural networks to intelligently and efficiently use data for machine translation. Building on these methods, she plans to design natural language processing models that not only support major languages but also serve people who speak minority languages, or those who speak language variations such as dialects and personal language styles.
Center for the Arts in Society Launches Borderlines Initiative
CMU's Center for the Arts in Society (CAS), a research center in the Dietrich College of Humanities and Social Sciences and College of Fine Arts that investigates the role of arts in societies, is launching a new initiative to explore borderlines.

CAS plans to approach the Borderlines Initiative with the idea that "borders are embedded in human experience, from the international to the cells in our bodies." The initiative aims at highlighting the artistic, theoretical and social issues that occur when considering the concept of borders in aesthetics, politics, technology and the everyday.
"'Borderlines' articulates so much about our present situation. Each of the selected projects explores the theme in a unique way, yet they are in conversation with each other," said James Duesing, CAS director. "We are launching the initiative this fall, and I think there will be some part of the programing that will interest everyone in the university."
Leading the Borderlines initiative are Mary-Lou Arscott, studio professor and associate head of the School of Architecture, and Nico Slate, professor of history and head of the Department of History.
Arbor Day Foundation Honors CMU as a Tree Campus USA
Carnegie Mellon has been recognized as a 2019 Tree Campus USA by the Arbor Day Foundation. Tree Campus USA is a national program that honors colleges and universities and their leaders for promoting healthy trees and engaging students and staff in the spirit of conservation.
To obtain this distinction, CMU met the five core standards for an effective campus forest management, including establishment of a tree advisory committee, evidence of a campus tree-care plan, dedicated annual expenditures for its campus tree program, an Arbor Day observance, and the sponsorship of student service learning projects.
ID Card Access Continues for Exterior Building Doors on Campus
Carnegie Mellon will continue to manage campus building access in an effort to reduce campus density and help mitigate the spread of COVID-19.  Students, faculty and staff will need their CMU ID to unlock exterior doors by swiping or tapping it for all buildings with card-key access.  Please make sure you have your CMU ID to ensure access into campus buildings. 
If you need a new ID card or have lost or misplaced your ID, visit The HUB's ID Card services website to make an appointment or send an email to idplus@andrew.cmu.edu with any questions. Following CMU's health and safety guidelines, The HUB is providing ID Card services on a limited and appointment-only basis for the fall 2020 semester. 
CareLink – Find Help, Find a Job, All Within the CMU Community
CareLink is a platform that allows talented members of the CMU community to share their skills and services with others on campus in need of help.

CareLink allows staff, faculty and students to post both requests for services and services available. Users can search the site by service provider profiles and by job postings of those seeking services. In addition to the CMU community, CMU staff, faculty and students can sponsor individuals – such as a sibling or a spouse – to allow them to use the site.

Developed by the Committee on Faculty Diversity, Inclusion, and Development in conjunction with the Vice Provost's Office, CareLink aims to address the CMU community's service needs. The Office of Human Resources is now sponsoring CareLink.

The next time you need a babysitter or tutor, or if you are looking to earn some extra money by providing a service, check CareLink for potential matches right here on campus.

CareLink is a way for our community to connect, to support one another, and to embrace our shared talent.

Find out more.
Nominate Your Outstanding Colleagues for an Andy Award; Nominations Due August 26
Nominations for the Andy Awards, the university's staff recognition program, are now being accepted. Now more than ever, we encourage you to take the time to nominate your colleagues whose outstanding work is deserving of this special recognition.

All nomination materials must be submitted by 5 p.m., Wednesday, August 26.

Award recipients will be announced and recognized this fall. The Andy Awards planning committee is currently exploring alternative options for the award ceremony, including hosting the event virtually.

For more information, including details about the nomination process, award category descriptions and criteria and past winners, visit the Andy Awards website.
Who's New at CMU?
Carnegie Mellon welcomes the following new staff members.
Joshmin Ray, Education Associate, Machine Learning Department; and
Wei-ren Murray, Software Engineer, SEI Security Automation.