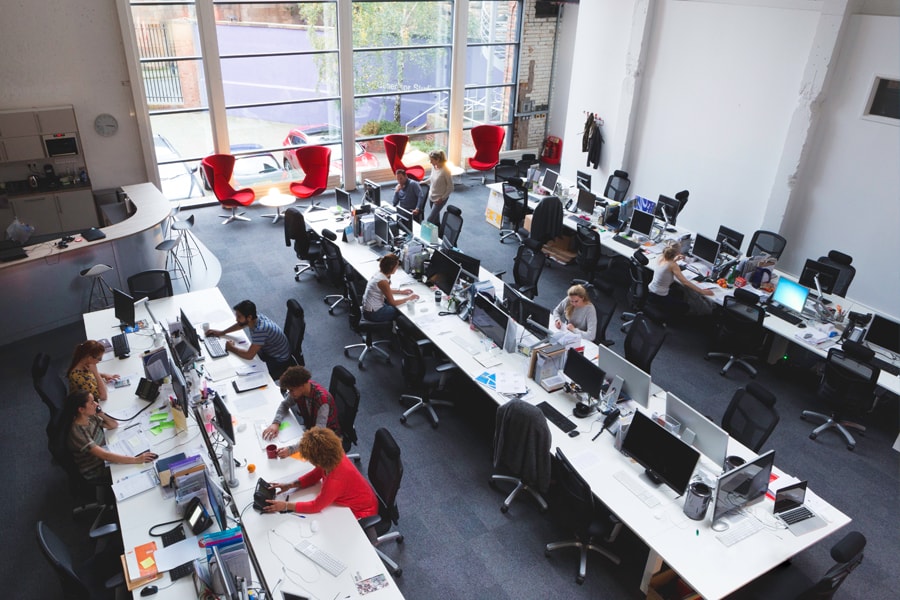 April 17, 2019
News Briefs
Lee Says Optimize Productivity by Shuffling Workstations
Companies that hope to avoid long-term stagnation can jolt employees into creative thinking by forcing them to sit alongside unfamiliar coworkers in open work spaces, according to new research from the Tepper School of Business at Carnegie Mellon University.
Sunkee Lee, assistant professor of organizational theory and strategy, found in his study published in Organization Science that reconfiguring work areas to force people to sit closer to co-workers with whom they did not previously sit close to naturally encouraged interactions, which helped employees develop new product ideas that benefited the company.
When people are forced to interact with unfamiliar colleagues, "you have more chances to learn things useful for developing new business ideas," Lee said.
CMU, Lumen Learning Partner To Expand Support for Learning Materials
Carnegie Mellon's Simon Initiative and open courseware provider Lumen Learning have announced a partnership to share tools for developing, evaluating and continuously improving evidence-based learning materials. Lumen and the Simon Initiative have collaborated to integrate the RISE Framework, an analytical tool used to identify poorly performing learning content, into a new educational effectiveness toolkit announced recently by Carnegie Mellon.
Through the partnership, Lumen will help build awareness, implement and support faculty members' use of next-generation learning tools developed by both organizations.
"Edtech innovation must become more connected to research insights as they unfold, rather than untethering learning technology from scientific breakthroughs about how people learn," said Norman Bier, executive director of the Simon Initiative. "CMU continually breaks new ground in learning engineering. Robust, mission-aligned partnerships, like our work with Lumen Learning, allow us to accelerate the research and innovation cycle, scaling up access to new approaches while using the toolkit to maintain strong connections to evidence-based design."
Parking Enrollment Process for 2019-2020 Gets Underway
Parking and Transportation Services has announced that the 2019-2020 enrollment process for parking permits will again be automated and include automatic rollover of your current-year permit. Student permits DO NOT automatically rollover.  STUDENTS MUST RE-APPLY.
The enrollment process for faculty and staff is as follows:
If you wish to retain your current parking assignment, no further action is required on your behalf. You will receive notice in mid-July regarding permit hangtag distribution.
If you wish to retain parking on campus, but are interested in switching to a different location, you can do so by adding your name to a waitlist beginning May 6. PLEASE NOTE: Waitlist assignments are not guaranteed; therefore, please do not cancel your 2019-20 parking if you want a guaranteed spot.
If you are a new applicant and wish to park on campus for the 2019-2020 year, you can add your name to a waitlist during the waitlist period, beginning May 6. Please be advised that waitlist spots are not guaranteed.
If you wish to cancel your 2019-2020 parking assignment, you will need to do so by visiting the Parking & Transportation Services website at cmu.edu/parking and follow the opt-out instructions.
Please refer to the FAQ page on the Parking & Transportation website for any additional questions regarding the automatic rollover and waitlist process. Rates for 2019-2020 can be seen on the website. 
Important Dates:
April 19 - May 3: Faculty/Staff Opt-Out Period
May 6-17: Faculty/Staff Waitlist Period
May 20 - June 3: Student Waitlist Period
Register Your Child for Take Our Daughters & Sons to Work Day
Registration is open for Carnegie Mellon's Take Our Daughters & Sons to Work Day on Thursday, April 25.  This is the 26th anniversary of the National Take Our Daughters and Sons to Work program, and the theme is Workforce Development for All. Find out more about this year's tracks and sessions.
The Take Our Daughters & Sons to Work program introduces girls and boys between the ages of 8 and 15 to what a parent or mentor in their lives does during the work day. The program also aims to show children the value of their education and make them aware of some of the many professions and fields they can pursue.
 
In the morning, the children "shadow" their campus host. Lunch includes a welcome from the campus community and entertainment. In the afternoon, participants can attend a variety of short presentations in areas such as the fine arts, business, robotics and science and technology. Each presentation features engaging activities facilitated by faculty, staff and students. 
Volunteers Needed:  Members of the campus community are needed to assist with registration, serve as lunch aides, chaperone guided tours across campus, and monitor the children waiting to be picked up from the gym. The time commitment for each role is detailed below.
Registration volunteers are needed from 10:45 a.m. through about 12:15 p.m.;
Lunch aides are needed from 11:45 a.m. through 1 p.m.;
Guides are needed from 1 to 3:30 p.m.;
Session Presenters are needed from 1 to 3:30 p.m.; and
Monitors are needed at pick-up from 3 to 4 p.m.
Since these positions include direct contact with children as defined by the Pennsylvania Child Protective Services Law (as recently amended by "Pennsylvania Act 153") you will be required to obtain certain clearances prior to participating in the event.  Information about these clearances and how to obtain them will be provided in a separate message.
If you are interested in volunteering in any capacity, please contact Gloria Gruber at ggruber@andrew.cmu.edu or 412-268-9685.
BXA Kaleidoscope to Showcase Students, Alumni Creative Work
All are welcome to join the BXA Intercollege Degree Program's yearly creative exhibition Kaleidoscope! The showcase will run April 25-30, with a reception from 4 - 7 p.m. on Friday, April 26 in the College of Fine Arts third floor foyers and Ellis Gallery.
BXA students have prepared a diverse array of creative work for the community to view — 2D and 3D art, videos, live performances, interactive pieces and much more. BXA seminars II and III will display their final course projects, and for the first time, alumni work will be displayed digitally in honor of BXA's 25th anniversary.
Indoor Triathlon Set for Friday, May 3
The Second Annual CMU Indoor Triathlon will begin at 6:30 a.m., Friday, May 3. Open to CMU students, faculty and staff, the "Tri 3" includes a 400-yard swim in the pool or a 1,500-meter row in the Fitness Center, a 6-mile bike ride in the cycling studio, and a 1.5 mile run/walk in the Fitness Center (or on the track weather permitting).
Contact Pattye Stragar at pls@andrew.cmu.edu with any questions. Register online.