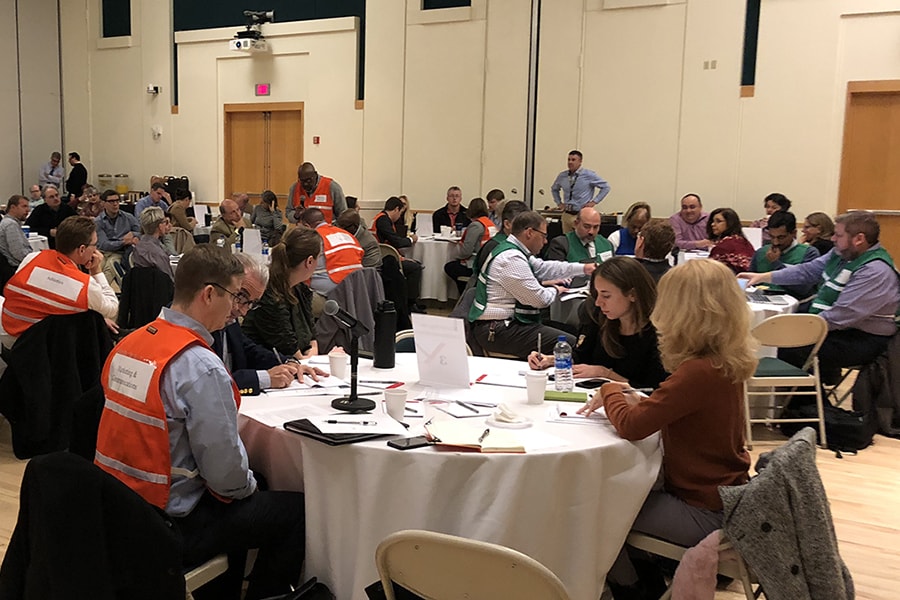 November 13, 2018
CMU Holds Active Shooter Drill To Reinforce Preparation, Readiness
By Bruce Gerson bgerson(through)cmu.edu
Planned months in advance, Carnegie Mellon University's annual emergency preparedness exercise Nov. 8 took on greater emphasis in the wake of the recent tragedies in Squirrel Hill and California.
The 90-minute tabletop drill presented an active shooter scenario to CMU's emergency preparedness and response team. The team includes representatives from more than a dozen departments across campus, from University Police, Operations, Student Affairs and Health Services, to Human Resources, Facilities Management and Campus Services, Computing Services and Marketing and Communications.
Lieutenant Joe Meyers of the CMU Police Department introduced the active shooter scenario with a video of a drill they conducted last summer in the Cohon University Center. Meyers said CMU Police participated in several active shooter exercises over the summer in various buildings on campus.
Once the active shooter situation was presented, each CMU department discussed the various steps they would take in the minutes and hours following the shooting incident. Scribes recorded each step of their initial action plans, and members of CMU's executive management team and several Pittsburgh Police officers observed and provided feedback.
"Unfortunately, recent tragic events in our own Pittsburgh community and in California remind us of our responsibility to ensure a safe, secure and resilient environment for our students, faculty and staff to teach, learn, create, work and grow," said Vice President for Operations Rodney McClendon.
"CMU's emergency preparedness exercise, in coordination with Pittsburgh Police and other community partners, provided an opportunity to affirm and refortify our collaborative relationships and protocols. We will continue to enhance both as we work to keep our campus community safe," McClendon said.
Melanie Lucht, assistant vice president for Enterprise Risk Management (ERM), said the exercise was intended to demonstrate CMU's readiness in the event of an active shooter on campus. Lucht has led the development of ERM at CMU for the past year, and has overseen Disaster Recovery and Business Continuity (DR/BC) Services at the university since 2013. She and Francisco Molina, director of DR/BC, and Brian Feldman, emergency management specialist, developed the active shooter exercise and worked with each department to help them develop their response plans.
"These exercises give each of us an opportunity to collaborate as one cohesive team, reinforce our training and preparedness, and identify opportunities for process improvement," Lucht said. "This exercise was just the beginning toward new opportunities that will further strengthen our preparedness and resiliency as a community."
Molina said an important goal of the drill was to learn to work together to stabilize, recover and move forward after an emergency on campus.
"We also want to identify gaps and opportunities for improvement," Molina said. "We plan to review each department's action plan and conduct follow-up meetings to incorporate some of the good feedback and recommendations we received."
Lucht and her team plan to send a final report to university leadership, summarizing strengths and opportunities.
"I am grateful to the Emergency Preparedness and Response team for putting together this exercise and their continued hard work in keeping us vigilant," McClendon said.