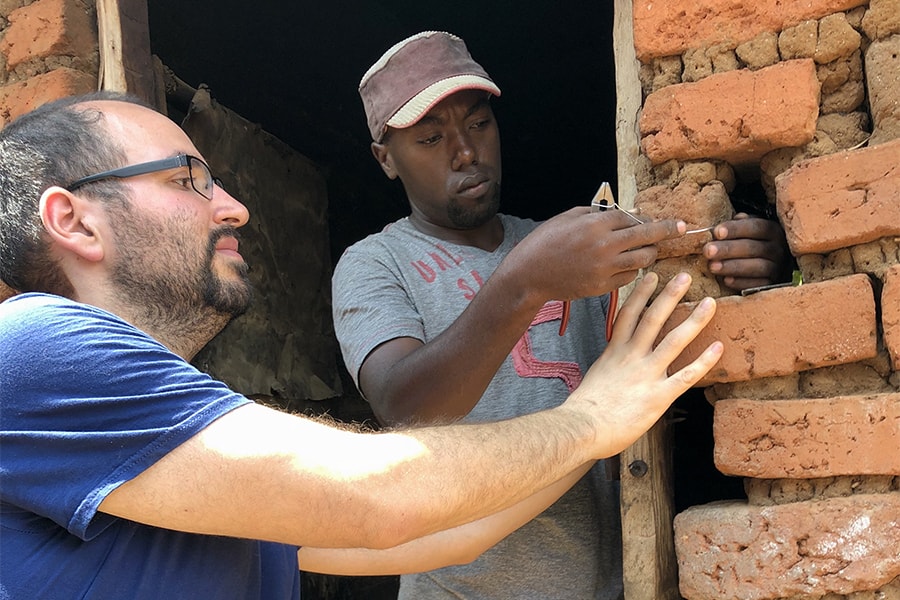 March 21, 2018
News Briefs
Solar-powered Ventilation Rids African Homes of Cooking Smoke
Two Robotics Institute research associates, Josh Schapiro and Mike Taylor, made good on a promise to villagers in Uganda, when they returned to the African nation with solar-powered ventilation systems to exhaust unhealthy cooking smoke from homes.
They delivered 30 of the systems they designed and built, based on an idea that emerged seven years ago as part of Toyota's Ideas for Good marketing campaign. They also trained villagers from Makukuulu parish to install, repair and service the devices.
Dining Services Hosts Food Extravaganza March 28
Dining Services is celebrating National Nutrition Month with an event titled "Go Further With Food Extravaganza!" The event, from 11 a.m. - 2 p.m., March 28 in the Cohon University Center, will include a healthy eating resource fair with free food and information about fueling for fitness, building a healthy plate, eating mindfully and dining more sustainably. There also will be sessions on "Meal Planning," "Composting" and "Creative Ways to Reduce Food Waste at Home." And don't forget to stop by the registration table to enter a raffle for a chance to win some great prizes!
CMU Artists Present MFA Thesis Exhibition
"IMMUTABLE STAGE," the School of Art's 2018 MFA Thesis Exhibition, features large-scale installations, two dimensional works, sculpture, video and sound from graduate student artists Shobun Baile, Alex Lukas, KR Pipkin, Gray Swartzel and Lee Webster. The exhibition runs through April 8 at CMU's Miller Gallery. A free, public reception will be held from 6-8 p.m., Friday, March 23.
Created in a climate of high political drama, "IMMUTABLE STAGE" examines pop culture fantasies of entertainment, capital and collapse. Interrogating the documentarian impulse, works in the exhibition use artifice as a tool to construct real narratives.
Alumnus Honors Mr. Rogers' Legacy
As a graduate student at Carnegie Mellon in 1999, Junlei Li was literally Fred Rogers' neighbor. In fact, he could spot Rogers' apartment building on the edge of campus from his office window in Baker Hall.
Today, Li is preserving Rogers' legacy and teaching child development as co-director of the Fred Rogers Center and Rita McGinley Professor in Human Development at St. Vincent College in Latrobe, Pa., Rogers' hometown.
The Fred Rogers Center, founded in 2003, embodies Rogers' virtues, values and vision. Visitors exploring the space will find vestiges honoring Rogers' memory, including puppets, shoes and his famous red sweater. As the center's first resident faculty member, Li works with St. Vincent's undergraduate students on their research and coursework, and leads a seminar called "What Would Fred Rogers Do?"
Volunteers Needed for Take Our Daughters and Sons to Work Day
Volunteers are needed to help with Take Our Daughters and Sons to Work Day on Thursday, April 26. Please consider helping with registration (10:45 a.m. - 12:15 p.m.), serving as a lunch aide (11:45 a.m. - 1 p.m.), chaperoning guided tours across campus  (1 - 3 p.m.) or monitoring the children waiting to be picked up from the gym (3 - 4 p.m.). Please email ggruber@andrew.cmu.edu for more information.
Since these positions include direct contact with children as defined by the Pennsylvania Child Protective Services Law (as recently amended by "Pennsylvania Act 153") you will be required to obtain certain clearances prior to participating in the event. The university is prepared to provide you with the necessary information and assistance in complying with Act 153's requirements.
Weekend Changes at East Campus Garage
Parking & Transportation Services has announced that beginning March 23, the East Campus Garage gates will no longer be raised during weekends. While parking in the garage will remain free of charge on the weekends, all CMU faculty, staff and students will be required to swipe their CMU ID card to enter and exit the garage. All non-CMU affiliates will have to pull a ticket to enter and use that same ticket to exit the garage.
Questions should be directed to parking@andrew.cmu.edu.
Swartz Center Seeks Innovation Fellows
Applications for the 2018 Swartz Center Innovation Fellows program are now being accepted. The Innovation Fellows program is offered to graduate students, postdoctoral fellows and young faculty — the research personnel working directly with faculty investigators on university research. Along with entrepreneurial program content, specialized cohort activities and expert mentoring, Innovation Fellows receive a $50,000 contribution from the Swartz Center (with a $50K match from another source) to support the fellow in the process of commercializing university research. The deadline to apply is Friday, April 6. For questions about this program, please contact Melanie Simko, program manager.
Register for Student Employee Appreciation Lunch
Registration is now open for the Student Employee Appreciation Lunch from noon to 1 p.m., Wednesday, April 11 in the Cohon Center's Rangos Hall. Campus supervisors can host their student employees and join them for lunch to celebrate the great work they do while attending college. Entertainment will be provided by The Originals, one of Carnegie Mellon's all-male a cappella group. Registration deadline is March 31. Admission fee is $7.50
Swimming Team Offers Lessons for Kids
Carnegie Mellon's swimming team is offering 30-minute swimming lessons for children 3 years-old and up beginning this April. Lessons, which will be taught by members of the team, will follow this schedule:
April 2-5 and 9-12: 4:30 - 5 p.m., 5 - 5:30 p.m., 5:30 - 6 p.m., 6-6:30 p.m.
Lessons are $25 each for one to four lessons, and $20 each for five to eight lessons.
Those interested should send email to assistant coach Myles Oliver at myleso@andrew.cmu.edu with the dates and times you would like, as well as the name of the swimmer(s), age, and a brief description of their ability level. A waiver form must be completed and returned prior to the first lesson.