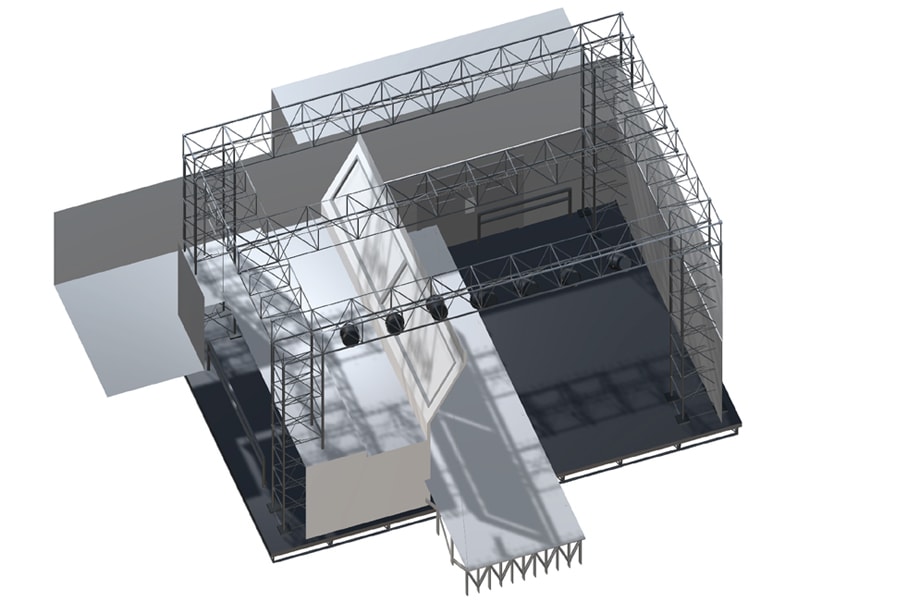 March 14, 2018
CMU Artists Present "IMMUTABLE STAGE"
MFA thesis exhibition "challenges deeply held assumptions that underpin cultural identity"
Media Inquiries
Andrew Ptaschinski
Pam Wigley,
"IMMUTABLE STAGE," Carnegie Mellon University School of Art's 2018 MFA Thesis Exhibition, features large-scale installations, two dimensional works, sculpture, video and sound from graduate student artists Shobun Baile, Alex Lukas, KR Pipkin, Gray Swartzel and Lee Webster. The exhibition opens March 17 and runs through April 8, at CMU's Miller Gallery. A free, public reception will be held from 6-8 p.m., Friday, March 23.
Created in a climate of high political drama, "IMMUTABLE STAGE" examines pop culture fantasies of entertainment, capital and collapse. Interrogating the documentarian impulse, works in the exhibition use artifice as a tool to construct real narratives.
"In a world where facts are debatable, truth is slippery, and the court of public opinion is more powerful than ever, the 2018 MFA exhibition challenges deeply held assumptions that underpin cultural identity," said Miller Gallery Director Elizabeth Chodos. "This exhibition explores the fractures and fissures of old systems breaking apart in a time of civil rupture and seismic social shifts."
Shobun Baile's "conversation with a man from the 14th floor," part of his ongoing project "Sector 78," is an audiovisual essay about a domestic worker riot that occurred at a luxury housing complex near a Special Economic Zone, an area where labor, business and trade laws differ from the rest of the county, in Noida, India. The conversation explores the unique role that Special Economic Zones play in Indian history, and the ways in which images, videos and language imagine, surveil and control these spaces.
Alex Lukas' work examines a closed highway outside Centralia, Pennsylvania, a ghost town that became notorious for an underground coal fire that ignited in 1962 and continues to burn today. Unofficially christened "Graffiti Highway," the mile-long stretch is covered in crudely written names, quippy messages, simple drawings, love declarations, juvenile vulgarities and Twitter handles. By chronicling and augmenting these shared souvenir experiences through historical research and fictionalization, Lukas looks to aggrandize the everyday, question historical narratives, archive the individual and collude with collaborators.
Hinging on the idea that the internet functions much like a physical landscape, KR Pipkin's work proposes an ecology of online space. In their work "Ellinger, TX," Pipkin creates a digital space that cuts off the real-world town from its two highways that bring in the majority of Ellinger's income through its two gas station. Building the content from creative-commons 3-D models, Pipkin examines ideas of recycling and reuse in a new vein while exploring narratives of survival outside of commerce and larger connective societal spaces. Their work refuses the death of a shared digital commons in an increasingly corporatized space, arguing that public space — online or otherwise — is a basic human right.
Fusing photography and video as well as the subjects, "mother / me" depicts artist Gray Swartzel and his biological mother as they invent and reinterpret the factual and fabricated happenings of their collective life. Through the body and union of two individuals, Swartzel investigates familial history, gender construction, identity fabrication and sexuality, blurring the lines between masculine/feminine, man/woman and son/mother.
Lee Webster uses the lens of mass media, particularly television, to examine personal and social nostalgia, positing that what we feel as emotional affect is as much a part of a political and social economy as anything else. Her ongoing project, "Dream House," documents her search for her mother's appearance on a game show of the same name in the late 1960s. Using archival sound, hand constructed sets and invented game show banter, Webster immerses the viewer in the search for an intimate connection across decades and a vast cache of media ephemera.