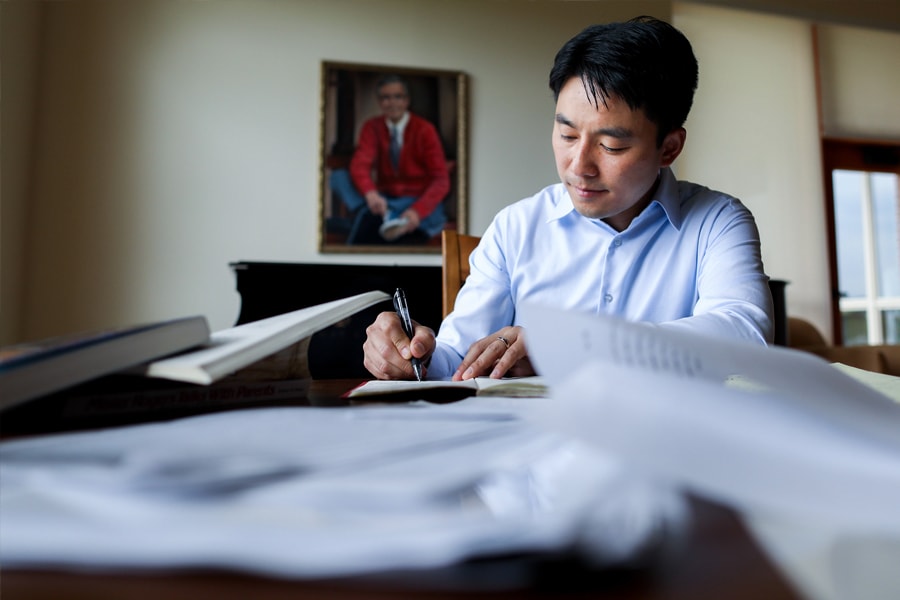 March 19, 2018
Alumnus Honors Mister Rogers Legacy
Junlei Li ensures Rogers' lessons continue to help children around the world
By Allison Hodsdon
Media Inquiries
Shilo Rea
Dietrich College of Humanities and Social Sciences
As a graduate student at Carnegie Mellon University in 1999, Junlei Li was literally Fred Rogers' neighbor. In fact, he could spot Rogers' apartment building on the edge of campus from his office window in Baker Hall.
"There was a lot of folklore. My classmates would tell me stories of walking home to Squirrel Hill and running into 'Mister Rogers.' He would always talk with students and was so interested in who we were," Li said.
Growing up in China, Li didn't know anything about "Mister Rogers' Neighborhood," the iconic educational television series that taught children across America about life, hard times and being true to oneself. This February marked 50 years since its first broadcast on PBS.
After watching a few episodes before class, Li said he realized that Rogers' lessons weren't just for kids. He knew they would have a major impact on his career as a researcher in child development.
"I was amazed by how Fred was teaching children to know and express how they felt about things," said Li, who earned a master's degree in instructional science and a Ph.D. in psychology. "As a researcher, I was focused on cognitive development; helping children build skills and focusing on the technology to improve learning. But Fred, he focused on their feelings."
Today, Li is preserving Rogers' legacy and teaching child development as co-director of the Fred Rogers Center and Rita McGinley Professor in Human Development at St. Vincent College in Latrobe, Pa., Rogers' hometown.
The Fred Rogers Center, founded in 2003, embodies Rogers' virtues, values and vision. Visitors exploring the space will find vestiges honoring Rogers' memory, including puppets, shoes and a famous red sweater.
In the basement is a treasure trove of memorabilia — 16,000-plus artifacts, reflecting his deepest thoughts and highest achievements in improving the lives of children. There are sermons, awards, scripts, speeches, personal letters, newspaper clippings, and handwritten notes, meticulously scripted by Rogers on yellow legal pads. Rogers explored every topic imaginable affecting children: from making mistakes, to the role of curiosity, to complex topics, including the funding of public broadcasting.
As the center's first resident faculty member, Li works with Saint Vincent's undergraduate students on their research and coursework, and leads a seminar called "What Would Fred Rogers Do?"
In his work as co-director, Li frequently confers with Rogers' closest family and friends, including his wife, Joanne, who still lives by CMU's campus. He became pen pals with a former Mister Rogers' director David Fu-Wing Chen, eventually visiting Chen in China.
As part of his work, Li travels the world to video and research diverse developmental learning settings, from Pittsburgh's public elementary schools to orphanages in rural China.
Like Rogers, Li sees no replacement for pure, human interaction in a child's development.
"At the core, Fred believed the single most important thing to helping a child is a caring, trusting, honest adult," Li said. "He called them 'the helpers.' On TV, that helper was Fred. But in our work, we are supporting the everyday teacher to be that helper."
Li created "Simple Interactions," a community-driven approach to help teachers interact with their students. Li takes video footage in a classroom and then helps teachers identify important moments to undertand and improve how they relate to children.
In 2011, Li visited Pittsburgh Allegheny K-5 elementary school, to record moments between a child and then-kindergarten teacher Melissa Butler.
"It created a space to talk about our practice outside of an evaluation," Butler said. "Teachers make millions of decisions every day. Learning 'Simple Interactions' allows them to feel more confident and better understand why they make those decisions."
Fifty years after "Mister Rogers' Neighborhood" first aired on PBS, Li finds its lessons more universal and important than ever. Li said he reminds center visitors to be gentle and kind to everyone.
"Fred was so much more than the TV show. To me, it's not about being nostalgic for nostalgia's sake. It's how to take those lessons forward to improve children's lives: to bring courage to 'the helpers' and remind everyone that nothing can take the place of true human connection."