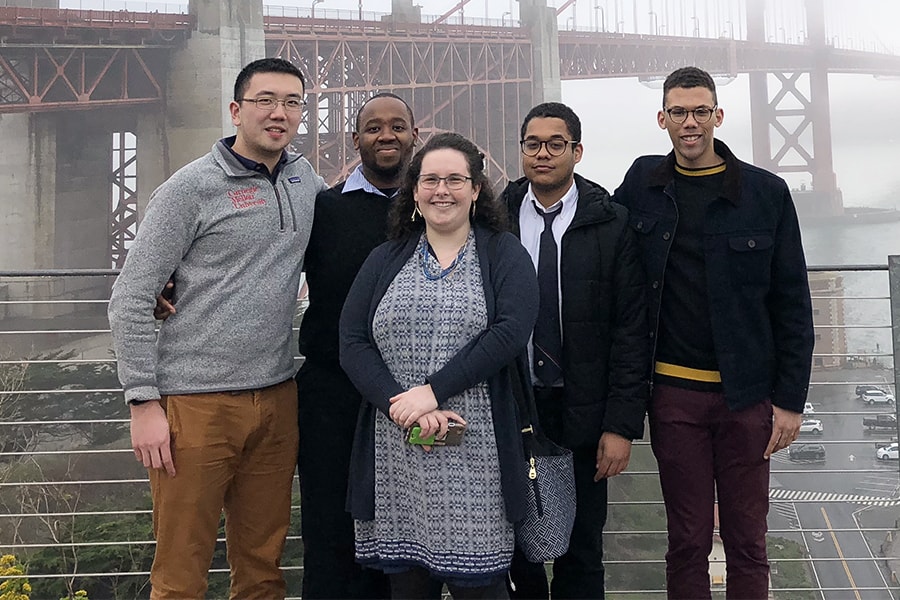 February 14, 2018
News Briefs
Students See How Security, Policy, Strategy Align in Silicon Valley
Students from the Institute for Politics & Strategy (IPS) recently got a glimpse of Silicon Valley's political side.
IPS organized the trip for the inaugural cohort in its International Relations and Politics Accelerated Master's Program (IRP/AMP) to show students some of the current issues and career opportunities at the intersection of technology, public policy, and international and domestic security.
"For many years now, I have been convinced that a deep understanding of the international system and national security is central to maintaining the United States' position as the world's leading tech hub," said Kiron Skinner, IPS director and the Taube Professor of International Relations and Politics. "My IPS colleagues and I are training our students to be fully prepared to amplify the growing field of global public policy in the tech industry. Our trip to Silicon Valley underscored the fundamental importance of this endeavor."
Over three days, the group met with Safra Catz, the chief executive officer of Oracle Corporation; Ray Lane, a partner emeritus at Kleiner Perkins Caufield and Byers and former chairman of CMU's Board of Trustees; and Eric Schmidt, the executive chairman of Alphabet, among others.
Tepper's Online MBA Program Is Tops
Poets & Quants has ranked the Tepper School of Business' online MBA program the best in 2018.
"Carnegie Mellon's Tepper School program is also the toughest online offering to get into, the longest to complete for a degree, and the one requiring more in-person time than any other option, with a half-dozen immersive access weekends a year in Silicon Valley, Philadelphia, or Pittsburgh," writes Poets & Quants. "But it can rightly boast the best admission standards, the best overall MBA experience, and the best career outcomes for its graduates, according to P&Q's analysis of online MBA programs."
Deadline Extended To Nominate Inspirational Teacher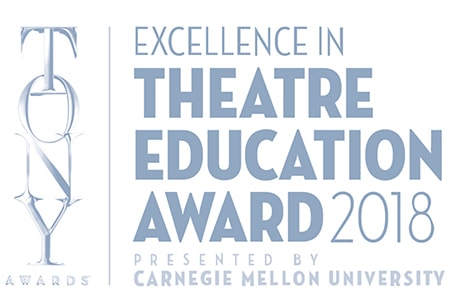 The deadline to submit a teacher's name for the Excellence in Theatre Education Award, sponsored by Carnegie Mellon and the Tony Awards, has been extended through Feb. 23. Teachers who qualify must meet certain criteria, including serving as an inspirational role model for current or past students in their theater programs.
This year, for the first time, Carnegie Mellon' School of Drama also has provided additional perks for the winner's school or theater program. Faculty from the School of Drama will teach a master class to students at the winning school, focusing on pertinent entertainment industry information.
And two lucky students from the winner's school or theater program will receive full scholarships to the six-week Carnegie Mellon University School of Drama Pre-College Program. The program introduces students to CMU's internationally acclaimed conservatory program through classes in acting, music theater, design and production, taught by School of Drama faculty. Students live on campus and take part in university activities and, together with fellow students, prepare for college auditions and interviews. The winning teacher and/or his/her school will choose scholarship winners.
For more information and to submit a teacher's name for the Excellence in Theater Education Award go to the award's website. 
ETC Press Releases "Augmented Reality in Museums"
The ETC Press has released "The Augmented Museum: Essays on Opportunities and Uses of Augmented Reality in Museums," a collection edited by Brett Ashley Crawford and Elizabeth Kane in the Heinz College's Arts Management and Technology Laboratory.
Pokémon Go swept the world in 2016. Today, augmented reality is both an artistic choice and an experiential expectation for many museum patrons. From the Smithsonian Institution's "Skin and Bones" app to various cities around the globe inserting historical overlays to city streets, augmented reality has become part of the lexicon of museum managers and audiences. AR, as it is commonly known, has an impact on the organization's infrastructure and its overall business and operational structure. To wit, the Knight Foundation analyzed how museums are adapting to digital demands and discovered that it is "vast" and "complicated."
The collection offers articles and essays to provide a perspective on how museums are using augmented reality and similar digital disruptions.
ScottySIPS Reusable Coffee Mug Program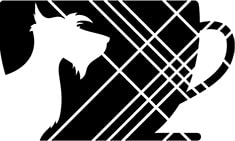 Drink a lot of coffee on campus? Join Dining Services in its sustainability efforts — and save a few dollars — by participating in the new Reusable Coffee Mug program. With the purchase of the ScottySIPS Reusable Coffee Mug ($17.99), enjoy $1 and $2 discounts on hot drip coffee at participating on-campus dining locations. Learn more.
Career Readiness Program Supports Students with Emotional and Cognitive Differences
CMU's Career and Professional Development Center is kicking off a new program in partnership with the Olitsky Family Foundation to engage students, employers and the campus community in supporting the career development process for students with emotional and cognitive differences.
The program, called The Olitsky Family Foundation Career Readiness Program at CMU, will provide one-on-one student coaching, a three-day career readiness workshop over Spring Break (March 12, 13, 14), a two-part Campus Partner Education & Training Session (March 12 and April 18) and an Employer Training Seminar for local Pittsburgh employers (April 12). The training sessions for both campus partners and employers will educate participants on student needs and the best ways to coach and support students. A student and employer networking event will be held following the Employer Training Session on April 12.
For more information about the program and to participate in any of the events, send email to Valerie Quatrini at vquatrin@andrew.cmu.edu or Megan MacGillivray at mmacgill@andrew.cmu.edu.
CMU Night at PNC Park is April 24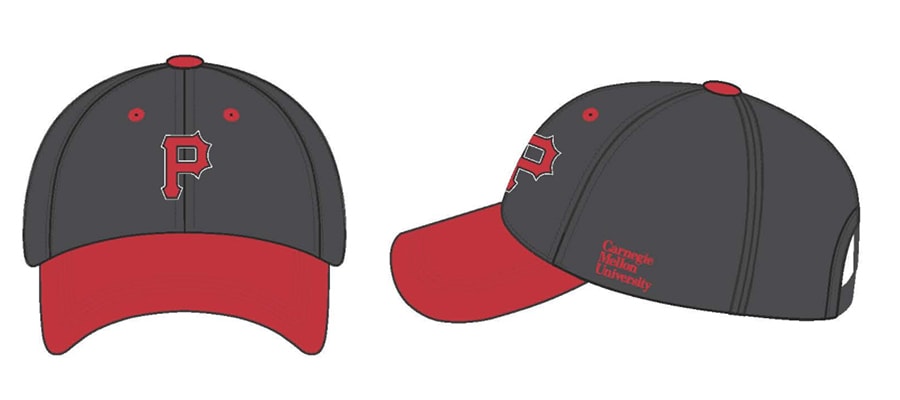 The third annual CMU Night at PNC Park will be Tuesday, April 24, when the Pittsburgh Pirates take on the Detroit Tigers at 7:05 p.m. Tickets are $25 for corner box seats and $17 for seats in the infield grandstand. Individuals purchasing tickets will receive an official Pirates/CMU baseball cap.
Presenters, Volunteers Needed for Take Our Daughters & Sons to Work Day

Presenters and volunteers are needed for Take Our Daughters & Sons to Work Day on Thursday, April 26. This year's theme is "Service Force, Agents of Positive Change."
Children of staff and faculty between the ages of 8 and 15 are invited to campus to learn about the wide range of career and learning opportunities at CMU. After a group lunch program, the children attend two activity sessions for which they have pre-registered.
CMU's organizing committee is seeking members of the campus community to assist with presentation sessions and registration, and to serve as lunch aides, chaperone guided tours across campus, and monitor the children waiting to be picked up from the gym. The time commitment for each role is detailed below:
Registration volunteers are needed from 10:45 a.m. —  12:15 p.m.;
Lunch aides are needed from 11:45 a.m. — 1 p.m.;
Guides are needed from 12:45 —  3:15 p.m.;
Presenters are needed from 12:45 — 3:15 p.m.; and
Monitors are needed at pick-up from 3  –  4 p.m.
Since these positions include direct contact with children as defined by the Pennsylvania Child Protective Services Law (as recently amended by Pennsylvania Act 153), presenters and volunteers will be required to obtain certain clearances prior to participating in the event. Information about these clearances and how to obtain them will be provided.
If you are interested in presenting or volunteering, contact:
RecycleMania Runs Through March 31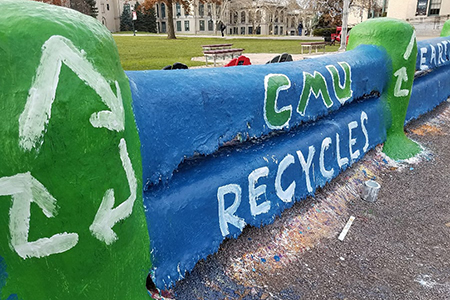 Carnegie Mellon is once again participating in RecycleMania, a competition and benchmarking tool for college and university recycling programs to promote waste reduction activities across their campus communities. Through March 31 participating schools will monitor each week's reports and rankings to see how their results stack up against other schools. Results are used as motivation to reduce waste and recycle more.
Over the 10-week period, schools report recycling and trash data and rankings are compiled in the following categories:
Largest amount of recyclables per capita;
Largest amount of total recyclables;
Least amount of trash per capita; and
Highest recycling rate.
Last Call for 3MT Participants; Prizes Now Doubled
The internationally recognized Three Minute Thesis competition, which challenges CMU doctoral candidates to present a compelling oration on their thesis and its significance in just three minutes, celebrates its fifth year at CMU with a significant increase in the prizes for winners. The prizes for the preliminary rounds are now doubled.
Preliminary round winners have their choice of either $1,000 toward their research/travel needs or a $1,000 credit in the University Computer Store to be used at their discretion. Winners of preliminary rounds will compete for an additional $500-$3,000 in research/travel grants in the Three Minute Thesis Championship on April 10. Prizes will be given for 1st ($3,000), 2nd ($2,000), and 3rd place ($1,000), as well as the People's Choice ($500) and Alumni awards ($500).
An 80,000-word thesis would take 9 hours to present. Your time limit? 3 minutes! Think you've got what it takes to compete?
Any currently enrolled CMU Ph.D. student may sign up to compete. Register online. Registration deadline has been extended to Feb. 16. Preliminary heats will be held Feb. 23 – March 21 and the championship round will be held on April 10 during Graduate and Professional Student Appreciation Week.
Contact David Scherer at daschere@andrew.cmu.edu with questions about the 3MT at CMU Competition.
Last Call for Student Employee of the Year Award Nominations
Student Employee of the Year Award nominations are due Feb. 17. This award program, sponsored by the National Student Employment Association, recognizes the outstanding contributions of students who work while attending college. All undergraduate student employees are eligible for nomination.
Nominated students will be recognized and honored at the annual Student Employee Appreciation Lunch on April 11 during National Student Employment Week.
Questions? Contact Pati Kravetz at pk13@andrew.cmu.edu.
Purchasing Policy Update Seeks Your Comments
The university's current Purchasing Policy, which went into effect on Feb. 15, 2002, is being updated to address changes to the federal "Uniform Guidance Procurement Standards." The university must be fully compliant with these new standards by July 1, 2018.
The updated Purchasing Policy draft is open for community comment on the University Policies site for a 30-day period. The comment period will close on Feb. 22. Upon approval by the president of the university, the updated Purchasing Policy will be implemented.

Additional information about the policy updates is available on the Finance Division news website. For questions, contact Procurement Services at procurement-inbox@andrew.cmu.edu.
Get to Know Human Resources
Get to know HR: visit www.cmu.edu/hr to see this week's "Get to Know HR" hint. The hint points to a piece of information located on the newly-redesigned HR website. You will find a Scotty dog hidden on the page where the information is located.
The first person to find Scotty and email hrcommunications@andrew.cmu.edu with the link to the correct page is this week's winner and may select a reward from a list of CMU-themed items or opt for a "Get to Know HR" opportunity.