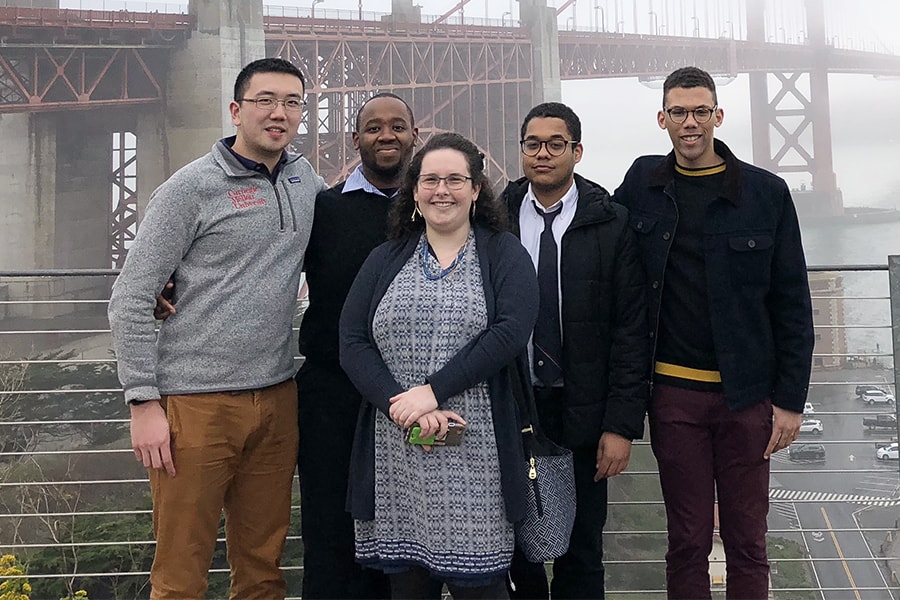 February 09, 2018
Students See How Security, Policy, Strategy Align in Silicon Valley
By Ann Ritchie Lyon
Media Inquiries
Shilo Rea
Dietrich College of Humanities & Social Sciences
Carnegie Mellon University students from the Institute for Politics & Strategy (IPS) recently got a glimpse of Silicon Valley's political side.
IPS organized the trip for the inaugural cohort in its International Relations and Politics Accelerated Master's Program (IRP/AMP) to show students some of the current issues and career opportunities at the intersection of technology, public policy, and international and domestic security.
"For many years now, I have been convinced that a deep understanding of the international system and national security is central to maintaining the United States' position as the world's leading tech hub," said Kiron Skinner, IPS director and the Taube Professor of International Relations and Politics. "My IPS colleagues and I are training our students to be fully prepared to amplify the growing field of global public policy in the tech industry. Our trip to Silicon Valley underscored the fundamental importance of this endeavor."
Over three days, the group met with Safra Catz, the chief executive officer of Oracle Corporation; Ray Lane, a partner emeritus at Kleiner Perkins Caufield and Byers and former chairman of CMU's Board of Trustees; and Eric Schmidt, the executive chairman of Alphabet, among others.
"All of the speakers discussed a need to integrate policy and security considerations as technology intertwines more closely with daily life," said Rob Stephens, who received his undergraduate degree from CMU in 2017 in international relations & politics and global studies, a student in the first IRP/AMP cohort.
Trends show technology companies are hiring public policy teams. The speakers recommended the students follow their personal career interests. While some employers might seek certain skills, some of the large firms, such as Google, look for the brightest minds and not necessarily specific kinds of training.
"When you start to study policy, your initial expectations are to someday work for state or local governments or in Washington, D.C., but I was astonished to learn there is room for [expertise in] political science and public policy everywhere in the tech sector," Stephens added.
Borge Feliz, another student who also graduated from CMU in 2017 with an undergraduate degree in international relations & politics, said "a whole new world" opened up for pursuing his career interests in political analysis and consulting. He especially liked the talks with Quinn Slack, the CEO and co-founder of Source Graph, and Tasha Russman, who worked on a Bay Area Video Coalition project in workforce development with the City of San Francisco.
Many of the IRP/AMP students also have visited or studied in Washington, D.C.
"The students are currently writing their master's theses and may integrate the insights they gained from the tech leaders into their final submissions," said Emily Baddock, an IPS staff member and the program director of CMU's Washington Semester Program.
IPS recognizes that technology companies play a growing role in international and domestic security policy, said Arlane Gordon-Bray, executive director of the Institute for Strategic Analysis, which is affiliated with IPS. She points to visits by military leaders to the Bay Area and how venture capital firms influence what new products will become available to consumers.
"It was an eye-opening experience for our students," Gordon-Bray said.
The trip was supported by a grant from the Bradley Foundation for initiatives to increase understanding about national security and international security policy.