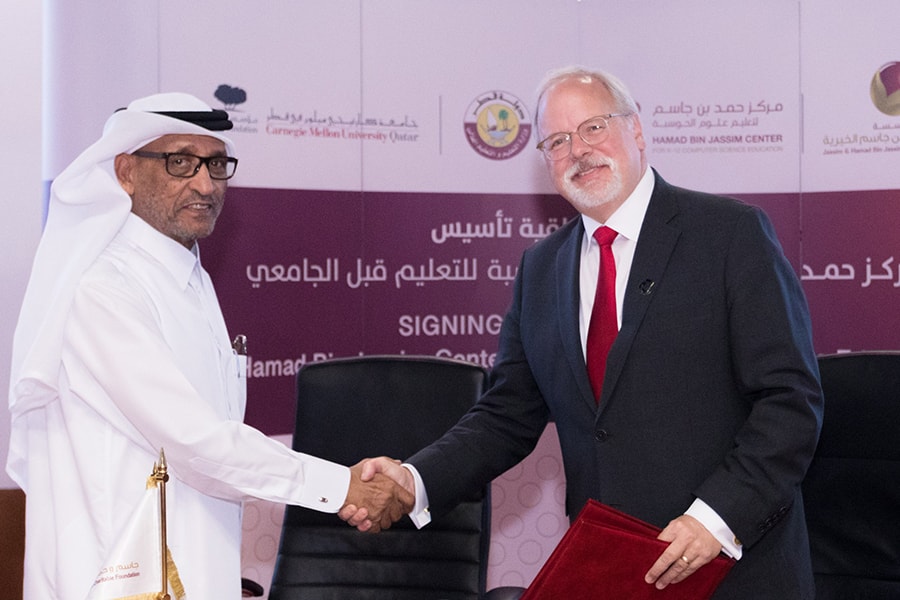 April 25, 2018
News Briefs
CMU-Q To Help Create Center for K-12 Computer Science Education
Carnegie Mellon University in Qatar and the Jassim & Hamad Bin Jassim Charitable Foundation signed a Memorandum of Understanding to create the Hamad bin Jassim Center for K-12 Computer Science Education. The center will promote computer science education in schools throughout Qatar.
The Hamad bin Jassim Center for K-12 Computer Science Education aims to educate students in the fundamentals of computer science, helping to develop basic computational thinking skills. A second objective is to expose and raise awareness among students about the importance of computer science to the future of a knowledge-based society.
The MoU was signed by Ishaq Hashem, board member of the Jassim & Hamad Bin Jassim Charitable Foundation, and Michael Trick, dean of CMU-Q.
To reach its objectives, the Hamad bin Jassim Center will implement a curriculum based on Alice Middle East, the educational, interactive software that was developed at Carnegie Mellon, and adapted to a Middle East context at CMU-Q through funding from the Qatar National Research Fund.
Student-Created Platform To Transform Course Planning
An app created by and for Carnegie Mellon students is set to streamline course planning across the university.
Stellic, the planning and advising platform created by CMU Qatar alumni, is rolling out to the Pittsburgh campus community this month in time for undergraduate students' fall registration.
"This is a Carnegie Mellon success story," University Registrar John Papinchak said. "Stellic began as a student project in 2015 to fulfill a university need to help improve course planning, advising and scheduling. It grew into a venture startup and now is a released product that Carnegie Mellon University and other institutions are using."
Students currently find courses through an online portal and use a variety of methods to track their course requirements, including an online static degree requirement tool, spreadsheets or even paper notes. They share this information periodically with advisers. Stellic brings this process into one platform where students can drag and drop available courses to plan their schedules per semester and map out degree plans. Advisers can then use the interactive tool to review students' plans, share notes and identify students who are at risk of delaying graduation or dropping out.
New Fund Invests in Future of CMU Innovators, Entrepreneurs
Entrepreneurs with a Carnegie Mellon connection will have access to a new fund that will award $500,000 to selected startups. The Industrial Technology Investment Corporation is partnering with CMU's Swartz Center for Innovation and Entrepreneurship to create the ITIC Fund presented by Carnegie Mellon University.
The program is being managed by CMU alumna Cinnie Huang, an ITIC investment manager. Huang earned a master's degree in human computer interaction and a bachelor's degree in business administration, both in 2010.
"CMU holds a very special place in my heart," Huang said. "I've learned from some of the best professors — Brad Myers, Lee Branstetter and Randy Pausch. It's not just about academic endeavors but character and integrity. It gave me strength to explore and excel in areas perhaps I've never thought I would pursue."
CMU Joins Army Research Lab's Open Campus Initiative
Carnegie Mellon University has signed a collaborative research agreement with the Army Research Laboratory to be part of its Open Campus Research Initiative, which aims to accelerate transformational, game-changing research to make soldiers safer, stronger and more effective.
The Army Research Laboratory's (ARL) Open Campus Initiative is a collaborative research endeavor, with the goal of building a science and technology ecosystem that will encourage groundbreaking advances in basic and applied research that will help to enhance the country's national security.
Through the Open Campus framework, Army scientists and engineers will work side-by-side with visiting CMU scientists in ARL's facilities and as visiting researchers at collaborators' institutions. The effort will address homeland and national security issues by providing soldiers with the most cutting-edge equipment and technology to ensure their safety and increase their effectiveness.
University Libraries Excellence Awards Now Accepting Nominations
The University Libraries Excellence Awards Committee is accepting nominations from the CMU community through May 25. The annual Excellence Awards recognize library employees for exceptional performance in any of five categories: citizenship, customer satisfaction, innovation, outreach and productivity.
Taking the time to nominate a person or team is one of the best ways to recognize superior performance and to thank the individuals or teams whose work you value most. Nominations for Excellence Awards may be submitted by any member of the Carnegie Mellon community, helping to ensure that those who most deserve special recognition are publicly acknowledged. Nominate a University Libraries employee or team.
Sign Up for CMU's "Tri 3" Spring Triathlon
The Department of Athletics, Fitness and Recreation is hosting a spring triathlon, beginning at 6:30 a.m., Friday, May 4. The "Tri 3" Super Sprint Distance Triathlon includes:
a 400-meter swim in the pool or 1,500 meter row in the Fitness Center;
a 6-mile bike in the Cycling Studio; and
a 1.5 mile walk/run in the Fitness Center (on the track, weather permitting).
All CMU students, faculty and staff are eligible to participate. Prizes will be awarded to top finishers.
To sign up, pick up a registration form at the Fitness Desk or Equipment Desk in the Cohon Center. Contact Pattye Stragar at pls@andrew.cmu.edu with questions.
Calling All Artistic Staff; Display Your Work May 23
Do you create art in your spare time? Would you like the opportunity to display it for the CMU community?
A group of volunteers from the Community Picnic Committee is planning a 2-D art exhibition for CMU staff from 11:30 a.m. – 1:30 p.m. in the Cohon Center's Kirr Commons during the picnic on May 23. Space is limited, so the organizing committee reserves the right to make the final selections for display.
If you would like to submit a piece for consideration, please contact Sharrell Rushin at srushin@andrew.cmu.edu for details. Volunteers are needed for set-up and during the exhibition/picnic. If you would like to volunteer, contact Krista Campbell at kcampbell@cmu.edu.