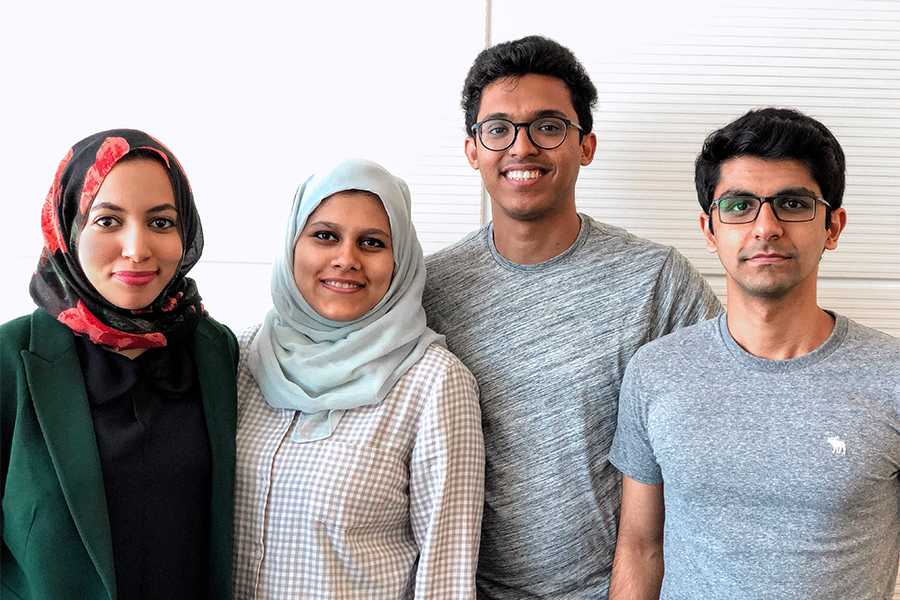 April 20, 2018
Student-Created Platform To Transform Course Planning
By Julianne Mattera jmattera(through)cmu.edu
Media Inquiries
Julianne Mattera
Marketing & Communications
An app created by and for Carnegie Mellon University students is set to streamline course planning across the university.
Stellic, the planning and advising platform created by CMU Qatar alumni, is rolling out to the Pittsburgh campus community this month in time for undergraduate students' fall registration.
"This is a Carnegie Mellon success story," University Registrar John Papinchak said. "Stellic began as a student project in 2015 to fulfill a university need to help improve course planning, advising and scheduling. It grew into a venture startup and now is a released product that Carnegie Mellon University and other institutions are using."
Students currently find courses through an online portal and use a variety of methods to track their course requirements, including an online static degree requirement tool, spreadsheets or even paper notes. They share this information periodically with advisers. Stellic brings this process into one platform where students can drag and drop available courses to plan their schedules per semester and map out degree plans. Advisers can then use the interactive tool to review students' plans, share notes and identify students who are at risk of delaying graduation or dropping out.
With those plans mapped out in the online tool, the meeting time advisers and students currently spend reviewing requirements can be focused on discussing a students' academic goals and career path. The university also expects it will better anticipate and meet demand for course offerings thanks to those long-term plans.
Mark Stehlik, assistant dean for outreach in CMU's School of Computer Science, advised Stellic co-founders Sabih Bin Wasi, Rukhsar Neyaz Khan and Jiyda Moussa while they were still students at the Doha campus. He said the team and their work is a true example of what CMU's program in Qatar has achieved.
"Stellic came from an innate sense of entrepreneurship on their side, but also a clear need not only from the CMU side, but also more universally across colleges and universities," said Stehlik, the platform's namesake and board member. "Colleges now closely pay attention to student retention and to graduation rates. This is a tool that can help facilitate improving those metrics."
Bin Wasi saw the need for the tool after experiencing first-hand the shortcomings of building a four-year schedule on paper. He said what course planning software existed at the time lacked an element of student experience.
"We wanted to introduce that student-driven, unified platform with a modern interface to higher education," Wasi said.
As CMU's academic advising software was out of date, Stehlik helped the team realize that their project could be broadened to benefit the advisers and administrators who guide the course plans of hundreds of students. With the help of Stehlik and other CMU faculty, the team created a prototype and piloted it at the CMU-Q campus, where students gave it positive reviews.
"Every single factor that made Stellic useful or valuable has a definite contribution from CMU," Bin Wasi said. "The only credit we can take as a team is that we didn't hesitate in approaching them. We just took initiative, and all of these champions of ours in Carnegie Mellon helped us complete that initiative."
Following graduation, the team launched the company with seed money from the Qatar Science and Technology Park in Doha and spent six months at the Alchemist Accelerator, a business incubator in Silicon Valley. Since then, the company has been growing its client base. In addition to CMU, Tufts University, Northwestern University in Qatar and Elon University have signed contracts with the company for the course-planning platform. Bin Wasi said about a dozen other schools are in the process of signing contracts.
Jamie Brandon, senior systems analyst in the University Registrar's office at CMU, said Stellic's team was very receptive to feedback from university advisors as it modified the platform to meet CMU's needs. It also has been rewarding to see the alumni's work in action.
"They're extremely innovative and forward thinking. The application itself is trailblazing because there is nothing else like it available," said Brandon, project manager for Stellic's integration. "There are a lot of audit applications and degree planning applications, but none of them have the same functionality as Stellic."
CMU's academic advisers also are looking forward to using Stellic.
Stephanie Murray, director and academic adviser of CMU's BXA Intercollege Degree Programs, said Stellic is a great fit for CMU because it was built by people who know the university's culture from the inside.
"They understand the ways in which CMU is unique, and they used that understanding to build a system that matches our already established procedures and expectations," Murray said. "They really are the best example of what CMU innovation can produce."