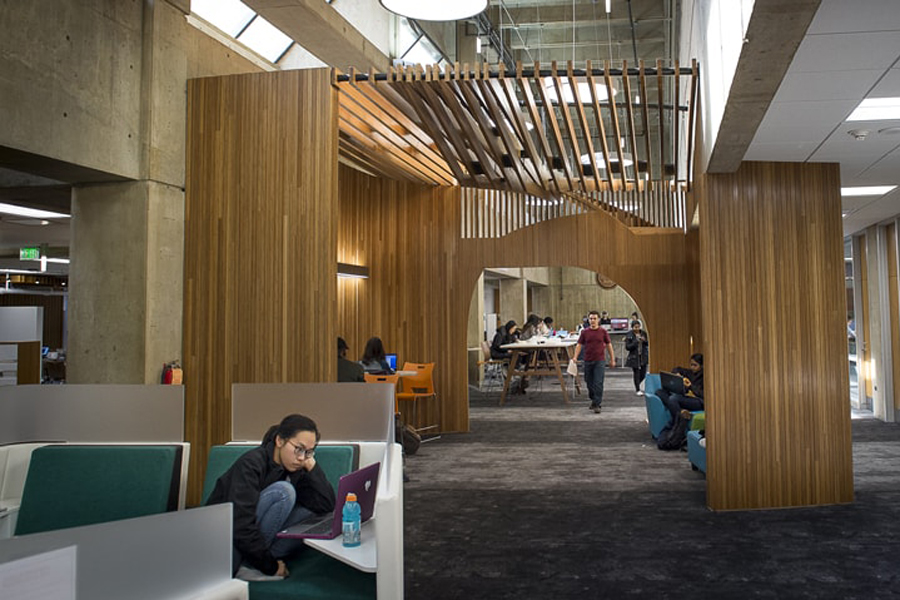 December 06, 2017
News Briefs
Library Recognized as a "Learning Space Transformed"
The Roger Sorrells Engineering & Science Library was recently featured in Library Journal for its renovations that were completed last spring.
The library was included in Library Journal's "Learning Spaces Transformed | Year in Architecture 2017" column. Here's what the journal had to say:
"Sorrells Engineering and Science Library at Carnegie Mellon University, Pittsburgh, transformed a Brutalist space into something completely different. The remodeled concrete envelope includes bamboo 'interventions' that define zones of active and collaborative engagement. The 'cabana' establishes open nooks where students can work together or independently."
Make an Impact; Help Those in Need Through United Way
Please help to make an impact in the quality of life in Pittsburgh and Southwestern Pennsylvania by giving to the United Way.
The United Way of Allegheny County addresses the most critical human needs in the region through its support of health and human service organizations and activities. Your generosity will provide meals for the hungry, beds for the homeless, care for young children, and new health care options for the sick and uninsured. For more information about the local charities the United Way supports, visit uwswpa.org.
Please help those less fortunate by making a donation to the United Way. CMU's United Way Campaign runs through Dec. 31, 2017.
Make a difference. Make your gift today.
New Technique Improves Delivery of Chemotherapy Nanodrugs
Carnegie Mellon researchers, led by Biological Sciences Professor Chien Ho, have developed a new method for delivering chemotherapy nanodrugs that increases their bioavailability and reduces side effects.
Their study, published online in Scientific Reports, shows that administering an FDA-approved nutrition source prior to chemotherapy can reduce the amount of the toxic drugs that settle in the spleen, liver and kidneys.
Ho and his colleagues have developed a novel way to improve delivery of chemotherapy nanodrugs by using Intralipid®, an FDA-approved nutrition source to temporarily blunt the reticuloendothelial system — a network of cells and tissues found throughout the body, including in the blood, lymph nodes, spleen and liver, that play an important role in the immune system.
Prep Work Underway for ANSYS Building; Hamerschlag Drive To Close
Campus Design and Facility Development will be conducting preparatory work for the ANSYS Simulation Building and Undergraduate Maker Center through Dec. 19.
The work will include widening the existing sidewalk from Scaife Hall to the Hamerschlag Hall C-Level entrance, installing sound dampening at select windows, miscellaneous HVAC work in the Porter Hall stair tower, and providing temporary barriers adjacent to the site within Hamerschlag and Porter halls.
Upper Hamerschlag Drive will close on Dec. 19 and will remain closed until August 2019. To access lower Hamerschlag Drive, and the Gates and CIC parking garages and loading docks enter via South Neville Street. Please redirect truck deliveries to Roberts, Wean and Scott Hall loading docks.
Questions or concerns should be directed to Jennifer McDowell at 412-268‐3763 or jmcdowell@cmu.edu.
Comment on CMU's Reaccreditation Self-Study Dec. 11
Carnegie Mellon is currently engaged in a self-study process in preparation for its 2018 reaccreditation review by the Middle States Commission on Higher Education (MSCHE). In this process, the university must demonstrate that its educational programs and administrative operations meet all MSCHE requirements and standards in the context of CMU's own institutional mission and goals. More information about MSCHE and CMU's Self-Study may be found at www.cmu.edu/middlestates.
A draft of CMU's 2018 Self-Study Report is now available for review on the Middle States website.
The Self-Study Steering Committee welcomes all comments or questions about the report from CMU students, faculty, staff and alumni. To that end, a town meeting is scheduled for open discussion of the report and its recommendations. The meeting is scheduled for:
Monday, Dec. 11
4:30 - 5:30 p.m., Danforth Conference Room, Cohon Center
You also may submit comments on the report by emailing Lettia DeNormandie at lettia@andrew.cmu.edu.
Innovation in Teamwork Class Offered to Staff
Innovation in Teamwork (76-371/76-771), taught by English Professor Linda Flower, is being offered to staff next semester.
In this course, you will learn how to become more effective as a team member, project leader and group consultant in your work and workplace. Looking at films, case studies, research and your own experience, you will learn how to analyze how teams of all sorts are working, to communicate more effectively across different expectations and values, and to collaboratively innovate new ways of working together. Your final project will let you document your ability to be a knowledgeable team leader and effective collaborator.
The course is being offered from 10:30 to 11:50 a.m. Tuesdays and Thursdays. Information on tuition benefits for staff is available online. Questions about the course? Contact Laura Donaldson at ldonalds@andrew.cmu.edu.
Credit Union Offers New Low Personal Loan Rate
Carnegie Mellon's Federal Credit Union is celebrating 81 years of service to the university community with a special offer through the holidays. Now through January 31, 2018, the Credit Union is offering personal loans as low as 7.5 percent. Pay off your high rate credit cards or bank loans and save thousands in interest.
For more information and to join the Credit Union, go to http://www.cmufcu.org or call 412-268-2905.
Register Your Child for Gelfand Center's Saturday Classes
The Leonard Gelfand Center invites you to get a first chance at registering your children for its upcoming Spring Saturday Series Classes. The Saturday Series Classes are for K-9 students, are STEM focused and highlight the research and work of Carnegie Mellon faculty and staff.
Classes are developed to be fun, engaging, rigorous, and hands-on. Registration is first-come, first-served. Spaces fill quickly so don't delay. Register today!
Seeking Ph.D. Participants for Three Minute Thesis Competition
An 80,000-word thesis would take nine hours to present. Your time limit? Three minutes!
The Three Minute Thesis (3MT®) Competition challenges CMU doctoral candidates to present a compelling oration on their thesis and its significance in just three minutes, in language appropriate for a general audience. 3MT is not an exercise in trivializing or "dumbing-down" research, but requires students to consolidate their ideas and crystallize their research discoveries.
Any currently enrolled CMU Ph.D. student may sign up to compete. Register online. Registration deadline is Jan. 24. Preliminary heats will be held Feb. 8 – March 21 and the championship round will be held on April 10 during Graduate and Professional Student Appreciation Week.
Heat winners will win their choice of technology (iPads or Apple Watches) or travel/research funds. Championship winners will receive $3,000, $2,000 and $1,000 in research/travel grants and a potential $500 research/travel grant for the winner of the "People's Choice" and "Alumni's Choice" awards.
Contact David Scherer, daschere@andrew.cmu.edu, with questions about the 3MT competition.
CMLH Seeking Fellowship Applications
The Center for Machine Learning and Health (CMLH) is seeking applications for fellowships in digital health. Applications are due January 16, 2018.
Each fellowship provides full support for one year for a graduate student at Carnegie Mellon who is pursuing cutting-edge research that advances digital health, broadly defined. Students can write applications about their own research or be inspired by a topic from a set of UPMC challenges.
See https://www.cs.cmu.edu/cmlh-cfp/fellowships for more information. If you have questions, send email to cmlh.fellowship@gmail.com.
Last Call: Help With Toys for Tots and Winter Clothing
Carnegie Mellon students, faculty, and staff have two opportunities to donate during this season of giving through initiatives being coordinated by the SLICE Office.
Toys for Tots. This year, CMU's Police Department is teaming up with the SLICE Office to support the U.S. Marine Corps Reserve Toys for Tots Program. The program collects new, unwrapped toys and distributes them as Christmas gifts to less fortunate children in the local area. New unwrapped toys can be dropped off at these following locations through Dec. 11.
Carnegie Mellon University Police, 300 South Craig Street, Main Lobby
Software Engineering Institute, Main Lobby
Mellon Institute, 3rd floor Security Desk
UTDC Main Lobby
Morewood Gardens, Residence Life Office
Warner Hall, Enrollment Services
Cohon University Center, SLICE Office
College of Fine Arts, room 104
Pittsburgh Technology Center, Technology Drive, Main Lobby
NREC, 40th Street, Main Lobby
Hunt Library, 1st Main Lobby
Tepper School of Business, 1st Floor Main Lobby
Scaife Hall, Room 110
FMS Service Response Desk
Wean Hall, Room 4212
CIC, 2nd Floor CyLab Office
Money can be donated via the cash box in Entropy in the Cohon University Center. Or, shop the Amazon Wish List and toys you purchase will be delivered directly to the SLICE office. For more information, email the SLICE Office.
FORGE Winter Clothing Drive. FORGE (Facilitating Opportunities for Refugee Growth and Empowerment) is collecting new and gently used winter clothing for refugee families in Pittsburgh. They are in need of hats, gloves, scarves, and winter coats of all sizes. The group also is collecting packages of diapers and wipes for families. Donation boxes are located around campus, or purchase an item from their Amazon Wish List and items will be shipped directly to the Student Life Suite. Email FORGE for more information.