February 20, 2017
Library Renovation Supports "21st Century Students"
By
Shannon Riffe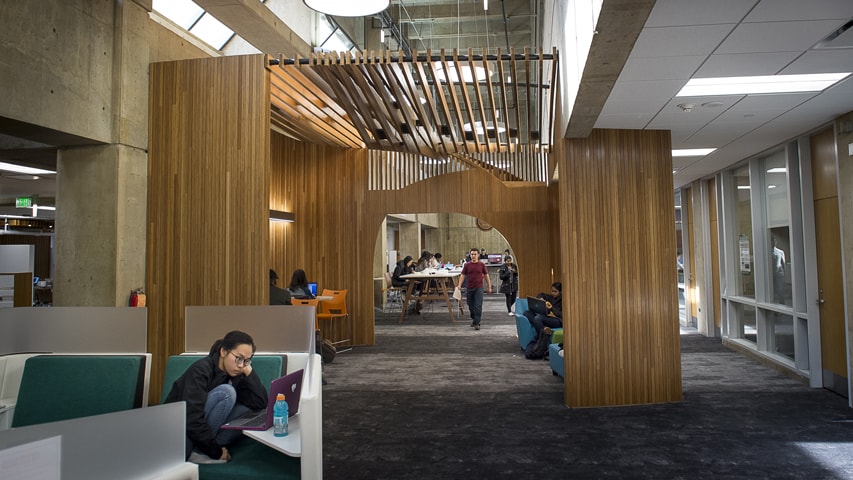 The new "portal" in the Sorrells Engineering & Science Library.
A renovation of Carnegie Mellon University's Sorrells Engineering & Science Library has transformed the space to support student learning in new and innovative ways.
Individual study spaces have increased by 25 percent, and new technology-equipped group study and project rooms have been added to facilitate collaborative work. These recent upgrades build on work completed in 2013 that included quiet and group study areas and improved lighting.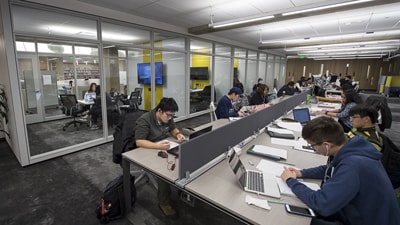 Individual and group study spaces have expanded.
A grand re-opening event is slated for 4:30 p.m., Wednesday, March 1.
"For generations of students, the Sorrells Library has been at the heart of their work, providing access to information spaces for serious study, and an opportunity to work alongside specialist librarians," said Keith Webster, dean of University Libraries. "This remodeling begins to deliver spaces that meet the needs of 21st century students — spaces for collaboration and innovation, a venue for quiet study, and innovative technology."
"I love the new modern look to the library," said Juliana Nam, a junior design major. "It's definitely drawing in more students because not only is it visually pleasing, but also much more intuitive of students' needs in a study environment."
Made of bamboo, three striking millwork pieces bring the transformation to life, defining spaces and bringing warmth where students can go to collaborate, focus and learn.
A "portal" connects the front and back sections of the library; the "cabana" lines the group study tables along the south wall; and the "den" houses a multimedia group study area at the rear of the library.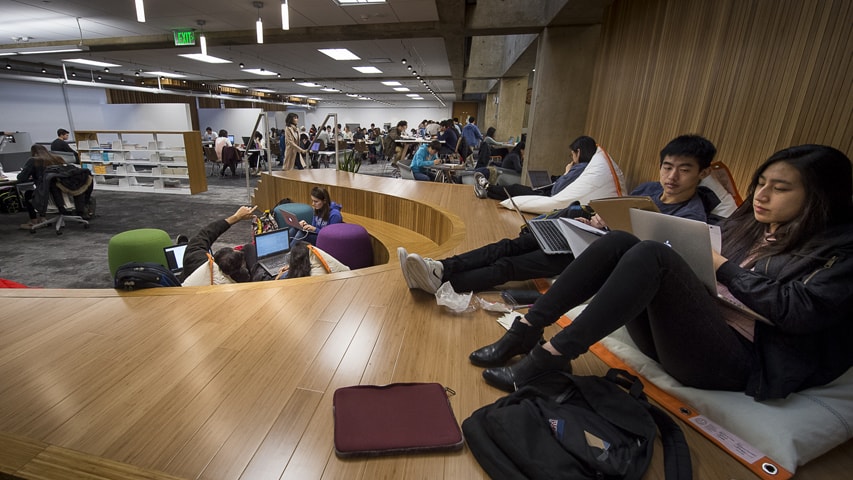 The platform on the back side of the portal is a casual gathering area.
The organic structures were created by Standard & Custom, an architectural design and fabrication firm founded by Carnegie Mellon College of Fine Arts alumni Filip Agren and Lexi Chung, 2011 and 2010 graduates, respectively.
To accommodate the major changes, a large number of books were moved to offsite storage. About 12,000 frequently used books remain on site.
GBBN Architects was the architectural firm leading the project and the construction manager was Mosites Construction. Jennifer McDowell of Campus Design and Facility Development was the project manager.
View a gallery of additional photos.
Related Link:
Alumni Give Library a Facelift