March 24, 2016
News Briefs
It's Elementary for Presidential Candidates
A readability analysis of presidential candidate speeches by researchers in Carnegie Mellon's Language Technologies Institute (LTI) finds most candidates using words and grammar typical of students in grades 6-8, though Donald Trump tends to lag behind the others.
A historical review of their word and grammar use suggests all of the five candidates in the analysis — Republicans Trump, Ted Cruz and Marco Rubio (who has since suspended his campaign), and Democrats Hillary Clinton and Bernie Sanders — have been using simpler language as the campaigns have progressed.
A comparison of the candidates with previous presidents show President Lincoln outpacing them all, boasting grammar at the 11th grade level, while President George W. Bush's 5th grade grammar was below even that of Trump.
"Assessing the readability of campaign speeches is a little tricky because most measures are geared to the written word, yet text is very different from the spoken word," said Maxine Eskenazi, LTI principal systems scientist who performed the analysis with Elliot Schumacher, a graduate student in language technologies. "When we speak, we usually use less structured language with shorter sentences."
Faculty Brief Congress on Economic Impact of 3-D Printing
College of Engineering faculty Jack Beuth, Gary Fedder and Adam Feinberg participated in a congressional briefing to the House Manufacturing Caucus and the Maker Caucus titled "Additive Manufacturing/3-D Printing: Transforming Industry, Creating New Economic Opportunity" on March 16.  Hosted by Carnegie Mellon and America Makes, the briefing addressed how additive manufacturing is transforming industry in the United States and creating new economic opportunity around the country.
As briefing panelists, College of Engineering faculty joined other academic and industry leaders in the field. The event included a discussion and showcase with demonstrations of the latest advances in additive manufacturing.
Beuth, professor of mechanical engineering and director of the NextManufacturing Center, discussed the future of metals additive manufacturing and how industry and academia can take advantage of the technology. Feinberg, associate professor of materials science and engineering and biomedical engineering, discussed 3-D bioprinting for medical applications and his research in 3-D printing human tissue.
Website Sheds Light on Privacy Policies
Few people read those often long and confusing privacy policies. But a new study conducted over the past two years by researchers at Carnegie Mellon, Fordham and Stanford, is paving the way for technology to provide users with short summaries of those policies.

In sharing early results of the study, the Usable Privacy Policy project just released a website that enables visitors to navigate over 23,000 privacy policy annotations covering 193 websites. The project leverages crowdsourcing, machine learning and natural language processing to semi-automatically annotate privacy policies, extracting relevant statements from the often long and rather convoluted policies found on many websites and mobile apps today.

"This is the first site to provide analysis of privacy policies at this scale," said School of Computer Science Professor Norman Sadeh, lead principal investigator of the study and a researcher in CyLab, Carnegie Mellon's security and privacy institute. "Our objective is to produce succinct yet informative summaries that can be included in browser plug-ins or interactively conveyed to users by privacy assistants that inform users about salient privacy practices."
Statistics Department Hosts First Data Science Cup
The Department of Statistics hosted its first Tartan Data Science Cup (TDSC) late last month.
Professors
Sam Ventura
and
Rebecca Nugent
organized the event as a way to showcase the department's strengths in data science. Students were tasked with creating elegant data visualizations, selecting appropriate statistical methods to apply to a problem, collaborating with peers across disciplines and communicating their results to a broad audience.

"We wanted to host a series of events that would allow our students to not only showcase their impressive data analysis skills, but their creativity in collaborating to solve real-world problems," said Ventura, visiting assistant professor of statistics. "We find that our students gain the most valuable experiences when solving real-world problems by analyzing large, complex datasets."
For the debut "episode," over 100 students representing each of CMU's undergraduate colleges used data on the New York City bike share system, Citi Bike NYC, to determine where two new bicycle stations should be added.
Students implemented a wide variety of solutions, including geospatial mapping techniques and pattern recognition. The winning team, Real Distributions Have Curves, used features like trip duration, start and end time and the birth year of the rider to predict gender of non-subscribers. The team used this information to recommend station placement that would provide the largest increase in female ridership.
CMUThink Begins With Sports and Games

The CMU Alumni Association will launch CMUThink, its new lifelong learning platform for alumni and the CMU community, during Spring Carnival, April 14-16.
CMUThink will begin its series of interactive intellectual programs focused on sports and games. The programs include:
Sports & Start-ups, a conversation with the alumni behind Commissioner.com (21+);
Fastball Screening and Panel Discussion, featuring Michael Tarr, professor and head of the Psychology Department; Gregg Franklin, professor of physics; Emmy Award-winning director Jonathan Hock; and Pirates Director of Performance Chris Johnson;
CMUThink @ the ETC: Gender in Modern Games panel discussion and tour (21+);
Faculty Lecture: Puzzle-Based Learning: From Huh? To Aha! with Raja Sooriamurthi, teaching professor of information systems; and
Faculty Lecture: A Psychological Approach to Designing and Researching Games to Reduce Stereotypes and Biases with alumnus Geoff Kaufman, assistant professor of human-computer interaction.
Visit www.alumni.cmu.edu/cmuthink for more information and registration. Students, faculty, staff and their families are welcome to attend.
Volunteers Needed for Take Our Sons & Daughters to Work Day
The Take Our Sons & Daughters to Work Day Committee is seeking volunteers for the 22nd anniversary of the program on Thursday, April 28. This year's theme is "Sparking Aha Moments."
Children of staff and faculty, between the ages of 8 and 15, are invited to campus where they can get a glimpse of the wide range of career and learning opportunities that exist at CMU. After a group lunch program, the children attend two activity sessions for which they have pre-registered.
Volunteers from the campus community are needed to assist with registration, serve as lunch aides, chaperone guided tours across campus, and monitor the children waiting to be picked up from the gym. The time commitment for each role is detailed below.
Registration volunteers are needed from 10:45 a.m. - 12:15 p.m.;
Lunch aides are needed from 11:45 a.m. – 1 p.m.;
Session Guides are needed from 1 – 3:30 p.m.; and
Monitors are needed at pick-up from 3 – 4 p.m.
Since these positions include direct contact with children as defined by the Pennsylvania Child Protective Services Law (as recently amended by "Pennsylvania Act 153"), you will be required to obtain certain clearances prior to participating in the event. Information about these clearances and how to obtain them will be provided in a separate message.
If you are interested in volunteering in any capacity or have questions, please contact Gloria Gruber at ggruber@andrew.cmu.edu or 412-268-9685.
Register Your Child for Gelfand's Summer Series
CMU's Gelfand Center Summer Series Classes for K-8 students are STEM focused and highlight the research and work of Carnegie Mellon faculty and staff. They are developed by CMU faculty and staff to be fun, engaging, rigorous and hands-on.
Classes include Anatomy and Robotics, Finch Programming, Junk-bots, Research @ CMU and Green Engineering. Activities include creating, designing and programming robots. Student scientists will explore, investigate and discover exciting topics throughout the weeks!
Space is limited. Don't delay, register today!
Join the Celebration: #CMUwomen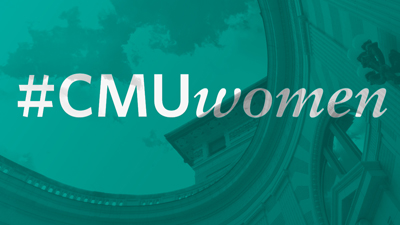 What do Marlene Behrmann, Mary Shaw, Lorrie Cranor, Dawn Waleski and Gina Grosso have in common? They're among 31 Carnegie Mellon women and programs being celebrated during Women's History Month in March.
Each day on social media, CMU will honor and recognize its history-making women and programs on Twitter and Facebook.
Join the conversation on Twitter at #CMUwomen.
Student Employee Appreciation Lunch is April 6
Registration is now open for the Student Employee Appreciation Lunch from noon - 1 p.m., April 6, in the Cohon Center's Rangos Hall. Campus supervisors can host their student employees, and join them for lunch to celebrate the great work they do while attending college. Entertainment will be provided by The Originals, one of Carnegie Mellon's all-male a cappella groups. Register by March 31.
ProSEED/Crosswalk Grant Proposals Due March 31
Students, faculty and staff are invited to submit proposals for the next round of ProSEED/Crosswalk seed funds; proposals are due March 31. This program aims to foster and promote new ideas that cross boundaries within and outside of CMU. Funds ranging from $500 - $2,500 may be requested to support the development of new initiatives in areas such as quality of campus life, service learning, student competitions, new course development, entrepreneurial activities and pilot projects.
Learn more about ProSEED. Email questions to proseed@andrew.cmu.edu.
Swimming Lessons Offered
Carnegie Mellon's swimming and diving team is offering private swimming lessons for children (ages 3 and up) and adults. Each one-on-one, 30-minute lesson is designed to benefit swimmers of all levels: beginner, intermediate and advanced.
Lesson dates are March 28, 29, 30 and 31, and April 4, 5, 6 and 7. Lesson times are 4:30 – 5 p.m., 5 – 5:30 p.m., 5:30 – 6 p.m. and 6 – 6:30 p.m.
The cost is $25 for one lesson, $80 for four, and $150 for eight lessons.
For more information and to register, contact James Sica at 412-268-6082 or jsica@andrew.cmu.edu.
Responsible Research Conduct Sessions Offered
CMU's Office of Research Integrity and Compliance (ORIC) is once again sponsoring Responsible Conduct of Research (RCR) Brown Bag Sessions during the spring 2016 semester for faculty, students and staff. All sessions are from 12 – 1 p.m. in the Cohon Center's Connan room, as follows:
Wednesday, March 30: Export Control Update: Changes to OFAC Regulations and Sanctions;
Wednesday, April 20: Intellectual Property at CMU; and
Wednesday, April 27: Data Management Planning.
More information is available on the RCR website. Space is limited, so please register early.