March 17, 2016
News Briefs
Volunteers Needed for Take Our Sons & Daughters to Work Day
The Take Our Sons & Daughters to Work Day Committee is seeking volunteers for the 22nd anniversary of the program on Thursday, April 28. This year's theme is "Sparking Aha Moments."
Children of staff and faculty, between the ages of 8 and 15, are invited to campus where they can get a glimpse of the wide range of career and learning opportunities that exist at CMU. After a group lunch program, the children attend two activity sessions for which they have pre-registered.
Volunteers from the campus community are needed to assist with registration, serve as lunch aides, chaperone guided tours across campus, and monitor the children waiting to be picked up from the gym. The time commitment for each role is detailed below.
Registration volunteers are needed from 10:45 a.m. - 12:15 p.m.;
Lunch aides are needed from 11:45 a.m. – 1 p.m.;
Session Guides are needed from 1 – 3:30 p.m.; and
Monitors are needed at pick-up from 3 – 4 p.m.
Since these positions include direct contact with children as defined by the Pennsylvania Child Protective Services Law (as recently amended by "Pennsylvania Act 153"), you will be required to obtain certain clearances prior to participating in the event. Information about these clearances and how to obtain them will be provided in a separate message.
If you are interested in volunteering in any capacity or have questions, please contact Gloria Gruber at ggruber@andrew.cmu.edu or 412-268-9685.
Register Your Child for Gelfand's Summer Series
CMU's Gelfand Center Summer Series Classes for K-8 students are STEM focused and highlight the research and work of Carnegie Mellon faculty and staff. They are developed by CMU faculty and staff to be fun, engaging, rigorous and hands-on.
Classes include Anatomy and Robotics, Finch Programming, Junk-bots, Research @ CMU and Green Engineering. Activities include creating, designing and programming robots. Student scientists will explore, investigate and discover exciting topics throughout the weeks!
Space is limited. Don't delay, register today!
Join the Celebration: #CMUwomen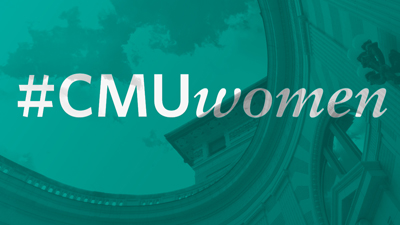 What do Marlene Behrmann, Mary Shaw, Lorrie Cranor, Dawn Waleski and Gina Grosso have in common? They're among 31 Carnegie Mellon women and programs being celebrated during Women's History Month in March.
Each day on social media, CMU will honor and recognize its history-making women and programs on Twitter and Facebook.
Join the conversation on Twitter at #CMUwomen.
Student Employee Appreciation Lunch is April 6
Registration is now open for the Student Employee Appreciation Lunch from noon - 1 p.m., April 6, in the Cohon Center's Rangos Hall. Campus supervisors can host their student employees, and join them for lunch to celebrate the great work they do while attending college. Entertainment will be provided by The Originals, one of Carnegie Mellon's all-male a cappella groups. Register by March 31.
ProSEED/Crosswalk Grant Proposals Due March 31
Students, faculty and staff are invited to submit proposals for the next round of ProSEED/Crosswalk seed funds; proposals are due March 31. This program aims to foster and promote new ideas that cross boundaries within and outside of CMU. Funds ranging from $500 - $2,500 may be requested to support the development of new initiatives in areas such as quality of campus life, service learning, student competitions, new course development, entrepreneurial activities and pilot projects.
Learn more about ProSEED. Email questions to proseed@andrew.cmu.edu.
Swimming Lessons Offered
Carnegie Mellon's swimming and diving team is offering private swimming lessons for children (ages 3 and up) and adults. Each one-on-one, 30-minute lesson is designed to benefit swimmers of all levels: beginner, intermediate and advanced.
Lesson dates are March 28, 29, 30 and 31, and April 4, 5, 6 and 7. Lesson times are 4:30 – 5 p.m., 5 – 5:30 p.m., 5:30 – 6 p.m. and 6 – 6:30 p.m.
The cost is $25 for one lesson, $80 for four, and $150 for eight lessons.
For more information and to register, contact James Sica at 412-268-6082 or jsica@andrew.cmu.edu.
Responsible Research Conduct Sessions Offered
CMU's Office of Research Integrity and Compliance (ORIC) is once again sponsoring Responsible Conduct of Research (RCR) Brown Bag Sessions during the spring 2016 semester for faculty, students and staff. All sessions are from 12 – 1 p.m. in the Cohon Center's Connan room, as follows:
Wednesday, March 23: Human Behavior Monitoring;
Wednesday, March 30: Export Control Update: Changes to OFAC Regulations and Sanctions;
Wednesday, April 20: Intellectual Property at CMU; and
Wednesday, April 27: Data Management Planning.
More information is available on the RCR website. Space is limited, so please register early.
SURG and SURF Application Deadline is March 21
The application deadline for 2016 Summer Undergraduate Research Grants (SURG) and Summer Undergraduate Research Fellowships (SURF) is 5 p.m., Monday, March 21.
SURFs are open to all undergraduates interested in any form of research. Awards of $3,500 are available for eight to 10 weeks of full-time summer research on campus in any field of study. Students may work alone or in a group, but must apply for the fellowship as an individual — no group awards are available. There are two types of proposals: Type I for students in the creative arts and humanities who will submit a research-based "making" project; and Type II for all other students submitting proposals.

SURGs are open to all undergraduates in any discipline. Grants of up to $500 are available for single entries and grants up to $1,000 are available for group entries to cover costs such as supplies and materials, time on laboratory equipment, or travel to another city for data.
To assist students with their applications, a workshop is being held from 4:30 - 5:30 p.m., Tuesday, March 15 in the Gates Center 4102.
Whether or not students attend the workshop, it is recommended that they submit a draft proposal for review at least one week before the deadline. Proposals can be reviewed by Undergraduate Research Office Director Stephanie Wallach (sw4s@andrew.cmu.edu) or Assistant Director Joanna Dickert (joannad@andrew.cmu.edu). Please send them email for an appointment.