April 05, 2016
Space Mission
Real Estate Division Launches Campus-Wide Planning Initiative
By Bruce Gerson / 41-268-1613 / bgerson@cmu.edu
As the university seeks to improve support for students, faculty and staff, administrators have undertaken an initiative to make the best use of the limited space on campus.
At a town hall meeting March 3, members of the Real Estate Division introduced the Space Planning Initiative to members of the campus community. The initiative's sponsors are Provost Farnam Jahanian and Amir Rahnamay-Azar, vice president for Finance and CFO.
Sarah Bush, associate vice president for real estate, said as the university continues to grow at a rapid pace, the project aims to proactively address needs and implement best practices based on a comprehensive inventory and analysis of current classroom and office space.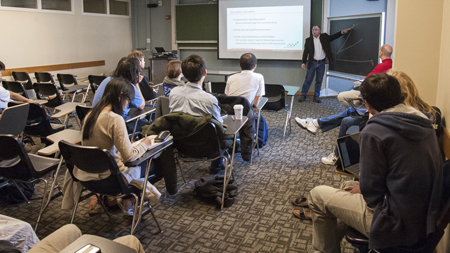 During the first phase of the project, the team toured classrooms and
office space in 33 campus buildings.
Emily Blaze, a senior space planner, said the project is about getting more from the facilities we have.
"It's not about reducing everything to numbers, forcing folks to operate in tiny spaces or mandating 'do more with less.' It's about getting more mileage out of what we have now," she said.
A look at the numbers reveals CMU's growing trends. Over the last nine years, the total undergraduate and graduate student population on the Pittsburgh campus has increased 23 percent, from 9,841 in 2006 to 12,066 in 2015. Over that same time period faculty and staff on the Pittsburgh campus have increased 15 percent, from 4,532 in 2006 to 5,359 in 2015.
Academically, new programs and centers have emerged, and partnerships with industry have been forged.
Over the last several months, Bush and her team have met with key stakeholders from across campus, including deans, vice presidents, department heads and unit representatives, and will hold focus groups with faculty, staff and students to gain an understanding of their facility needs.
During the first phase of the project, they spent more than 80 hours touring classrooms and office space in 33 campus buildings to collect information, assess space and understand how spaces are being used. They even counted tables and chairs.
The second phase of the project, set to begin in early spring, will include analyzing the data, performing benchmarking activities, developing metrics, and discussing the preliminary findings with campus stakeholders.
In the third stage of the project, the findings will be reviewed by an expert advisory group, which will include members of Campus Design and Facility Development, Facilities Management Services, Environmental Health & Safety, Human Resources and Legal Affairs.
In phase four, the project team will work with key stakeholders to develop strategies to present to the university space committee for funding consideration.
Bush and Blaze said some "early wins" to enhance space may be as simple as "thoughtful furniture plans, storage solutions, and new tools to enhance how people use their space."
Phase five will monitor and track progress and explore areas for additional study in future project cycles.
"We have no pre-conceived notions. This is an open and iterative process," said Bush, who encouraged those at the town hall meeting to reach out to the project team with their ideas and suggestions. "We don't know what we don't know," she said.
In a question and answer session following the team's presentation, a question was raised about the classrooms in Posner Hall once the Tepper Quad was completed.
Bush said the 16 classrooms in Posner would be turned over to Enrollment Services, which will increase the number of the registrar's classrooms to more than 100 in 2018.
"Not only will the Posner classrooms add high-quality instructional space to campus, but they also will address a critical need for additional classroom capacity and availability — a need that is regularly identified by faculty and students across the campus landscape," said Lisa Krieg, associate vice president for Campus Affairs and director of Enrollment Services.
Bush said what will become of the office space in Posner Hall has not yet been determined, and that time is needed to fully understand how these spaces can be used best.
Faculty Senate Chair Todd Przybycien and Beth Whiteman, director of Accreditation and Strategic Initiatives, encouraged the project team to solicit more input from faculty.
Przybycien, a professor of biomedical and chemical engineering, suggested holding another town hall meeting at 4:30 p.m. when more faculty members would be able to attend. Whiteman urged Bush and her staff to consult the Eberly Center for Teaching Excellence regarding new classroom designs that would enhance teaching.
"We'll be asking faculty and staff to be part of focus groups that we convene and we're also engaging faculty and staff as unit representatives," said Bush, who promised to schedule the next town hall meeting when more faculty could attend.
She also stated that the team is interested in meeting with other faculty members who have expertise in this area.
You can find out more about the Space Planning Initiative and contact the team online.