June 30, 2015
Instructor "Bridged Gap" for Engineers Studying Physics
Korey Haug Was CMU's 2015 Student Employee of the Year
By Bruce Gerson / 412-268-1613 / bgerson@cmu.edu
Korey = Success.
That's the equation one student used to succinctly describe the teaching efforts of Korey Haug, Carnegie Mellon's Student Employee of the Year for 2015.
A Supplemental Instruction (SI) leader and student supervisor of the SI and EXCEL Collaborative Learning Group programs, Haug proved his worth to fellow students and faculty members over six semesters working for the Academic Development Department.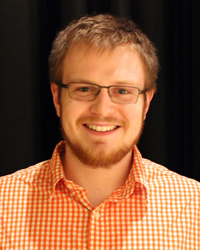 SI leaders are responsible for assisting course professors and facilitating one-hour review sessions for students twice a week. This includes assessing students' needs and structuring the content for the review sessions, communicating complex and abstract ideas in an understandable way, and preparing and implementing interactive activities to foster learning.
"The SI leader position is known to be the most demanding student employee position in the Academic Development Department, not only because it is a 12-15 hours per week commitment, but also because of the complex nature of the job's responsibilities," said Jessica Owens, SI and EXCEL program coordinator in Academic Development.
"Korey surpassed the expectations of the role, making significant contributions to student learning and enhancing the learning culture at Carnegie Mellon," she said.
In three years as SI leader for 33-106 Physics I for Engineering Students, Haug led more than 200 review sessions, made over 4,300 student contacts and logged more than 7,800 hours assisting professors Roy Briere, David Anderson, Helmut Vogel and Hy Trac.
Haug was selfless, putting his students' welfare above his own.
"Juggling my schedule was difficult, but I would try to always prioritize my job commitment to my students above my own coursework," he said. "Preparing for a great session would directly impact 20 or 30 students, whereas studying for myself would at best just affect me."
His impact was well documented. He earned a 3.7 student satisfaction rating, out of a possible 4.0, each semester and received praise from students and faculty.
"He's absolutely, hands down, bar none, the greatest help I've found yet," said one student. "He is very friendly and approachable, extremely helpful, and incredibly patient when explaining solutions. I'm the kind of student who needs several different approaches to the same question and Korey happily provides that.
"If you could provide a million more Koreys to help with the rest of the courses I'll be taking, I would be eternally grateful," the student added.
Another student called Haug a "great instructor" who "went the extra mile for us."
"He really bridged the gap between us, as students, and the professor. He understands the content the professor is teaching but also understands what it's like to be in our shoes," the student said.
Haug loved his job.
"I had the best job on campus," he said. "I got to meet, mentor and help each new class of engineering students during their freshman year.
"Students would arrive unsure of what they wanted to study or where they fit in, and I got to befriend them and help them to answer some of those really difficult questions. I met some of my best friends through SI. I would also get a huge thrill from seeing them succeed," he said.
Haug's favorite success story involves a student who is now a rising senior. He recalls she was intimidated and struggled at first, but as the semester continued her confidence rose.
"We would email back and forth weekly to discuss lectures, problems and any confusion she had. By the end of the semester she was a leader among her peers and had thoroughly mastered the subject, and ended up with the highest final exam score in the class.
"To me, this was the most rewarding story of an ambitious, dedicated student finding the necessary resources to be successful, and pulling it all together to realize her full academic potential. I was really motivated by students that would start off slow and really flourish throughout the semester," he said.
Haug graduated this past May with a double major in mechanical engineering and engineering and public policy. He'll be getting married this summer to Taylor Hughes, who also earned her bachelor's degree this past spring with a double major in mechanical engineering and biomedical engineering. After the wedding, Haug will be heading to Seattle, where he will join Microsoft's Manufacturing and Supply Chain Group.
Each year, CMU's Career and Professional Development Center hosts a luncheon to recognize outstanding student employees and participates in the Northeast Association of Student Employment Administrators and the National Student Employment Association Student Employee of the Year program.
The center selects a CMU Student Employee of the Year from nominations submitted by supervisors. Nominees are judged on reliability, quality of work, initiative, attitude and contributions to the department.