March 27, 2014
News Briefs
University Center To Be Named for Jared L. Cohon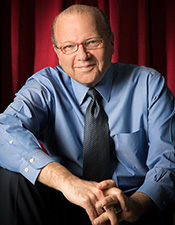 The university community is invited to a special ceremony at 12:15 p.m., Friday, April 11 in the University Center's Kirr Commons, where the University Center will be officially named the Jared L. Cohon University Center in honor of Carnegie Mellon's distinguished eighth president.

In keeping with CMU's tradition of naming buildings for former presidents, this fitting honor recognizes President Cohon's university citizenship, his dedication and commitment to the CMU community, and to improving the quality of life on campus. In many ways, Cohon's 16-year tenure as president transformed and strengthened the university by fostering a culture of interdisciplinary collaboration. Similarly, the University Center has promoted collaboration and a sense of community, serving as a prominent and popular meeting place for all students, faculty, staff and alumni to come together to work and play.

The timing of this special ceremony also is very appropriate, as it will take place during the 100th anniversary of Spring Carnival, one of the most anticipated traditions at Carnegie Mellon, when alumni, students, faculty and staff gather to celebrate our university and our community.
Celebrating Graduate Students, March 31-April 4
Carnegie Mellon's annual Graduate Student Appreciation Week is March 31-April 4. The week recognizes the contributions, impact and value graduate students have at CMU. The week features a variety of opportunities and events for graduate students, including the graduate interdisciplinary exhibition, Innovation with Impact, from 4:30 – 6 p.m., Thursday, April 3 in Rangos Ballroom, University Center. Graduate student work from all disciplines will be presented through posters, displays and performances, and the winners of the Graduate Student Service Award and Graduate Student Teaching Award will be honored.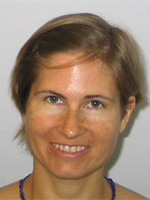 The recipient of this year's Graduate Student Service Award is Rebecca Balebako (right), a fourth-year Ph.D. candidate in the Engineering and Public Policy (EPP) Department. Balebako, who has given birth to two daughters while at CMU, has been working to create more support for graduate students with children, including advocating for new policies for family leave and child care, and re-invigorating a community of student parents. She also has been a Graduate Student Association representative for EPP.

The recipient of this year's Graduate Student Teaching Award is Skyler Speakman (right), a Ph.D. candidate in information systems at Heinz College with a focus on applying pattern detection algorithms to public policy issues such as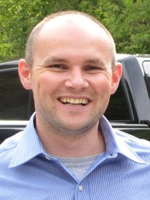 disease surveillance.  He received a master's degree in machine learning from CMU in 2013.  Speakman has been involved with mathematics and statistics secondary education for over 10 years.  Last fall he was the head instructor for Heinz College's Statistics for IT Managers course.  During the summers of 2011, 2012 and 2013, he taught an algebra refresher course for students with conditional acceptances into Heinz College.  Speakman was awarded Heinz College's Teaching Assistant of the Year (2012) Award for his communication skills, knowledge and enthusiasm in the classroom. Additional courses he has taught at Carnegie Mellon include Empirical Methods for Policy and Management, Large Scale Data Analysis and Data Mining.
Learn more about Graduate Student Appreciation Week.
Cooper's University Center Mural Ranked Most Impressive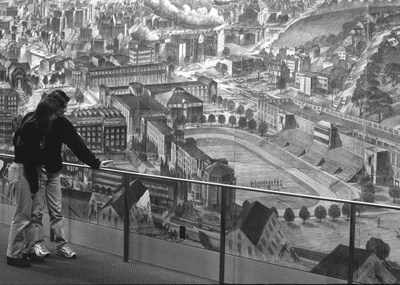 Graphic Design Degree Hub, an online resource for graphic design degrees and those seeking careers in the industry, has ranked the panoramic mural on the second floor of Carnegie Mellon's University Center (right) as the most impressive mural on a university campus.

The mural, created by Doug Cooper, the Andrew Mellon Professor of Architecture, ranked first among 25 murals featured. Ranking second was Notre Dame's "Word of Life" mural, which is often called "Touchdown Jesus" because of its depiction of Christ the Teacher with arms raised. See the top 25.

In addition to his University Center mural, Cooper's mural in the Community House in East Liberty is drawing media attention and was recently featured in the Pittsburgh Post-Gazette. Cooper and his wife, Stefani Danes, collaborated on "The Once and Future City," a 24- by 44-foot mural that covers an entire wall in the building's Great Hall, a venue for meetings and receptions. The couple's aim was to portray the city's past and future while illustrating ways people can work together to heal the rivers and landscape that were ravaged by heavy industry. Learn more about "The Once and Future City."
PigPen Returns to Pittsburgh
Members of the award-winning PigPen Theatre Co, graduates of the School of Drama's Class of 2011, are visiting Pittsburgh on their first national concert tour. At 8 p.m., Tuesday, April 1, the group will perform at Mr. Smalls in Millvale, Pa.

The troupe has been on a 30-plus city tour across the United States to raise awareness of their first two musical releases, "Bremen" and "The Way I'm Running." They've performed at South By Southwest, the Ann Arbor Folk Festival and the Firefly Music Festival.

They also have agreed to develop over the next two years a production of a new, original piece that will premiere in New York City. Band member Arya Shahi calls it "a completely re-imagined version of yet another story we wrote while we were students at CMU." The commissioned work is in partnership with Manhattan Theatre Club and Ars Nova.
See details of the Pittsburgh performance.  And purchase tickets.
Dietrich College Creates New Honors Fellowship Program
The Dietrich College has announced a new Honors Fellowship Program, which will provide summer funding to rising seniors in the Dietrich College senior honors program as they undertake early-stage research and development of their thesis topics. Summer months offer an opportunity for fellows to build a strong foundation for their thesis, creating momentum for academic year pursuits leading to completion of the project by the end of the spring term. This opportunity is expected to deepen the intellectual enterprise for undergraduates in the Dietrich College. Learn more.
CMU-Q Team Wins Business Training Competition
Memzy, an application-based startup comprising Carnegie Mellon students, took home first prize in Quick Startup 2014, a business training program launched by Carnegie Mellon in Qatar. The program coaches budding entrepreneurs as they develop a concept into a business plan and present an investor pitch to a panel of industry experts in just 72 hours.

Memzy developed a business plan for a social platform mobile application and was keen to have seasoned professionals analyze its venture before moving forward.

"We signed up for Quick Startup because we wanted to understand the process of how you start a venture. More importantly, having a panel of judges with industry experience was the perfect opportunity for us to gather feedback," said winning team member Afrah Hassan, an information systems senior at Carnegie Mellon.

The six participating teams that competed over the weekend included students from CMU-Q, Qatar University, College of the North Atlantic – Qatar, Weill Cornell Medical College in Qatar, Texas A&M University at Qatar and the Gulf English School.

Learn more about the competition.
Meditation Sessions Thursdays
Ramakrishna Vedanta Ashrama Pittsburgh (vedanta-pitt.org), in collaboration with CMU's Indian Graduate Student Association, is conducting weekly meditation sessions from 6:30-7:30 p.m., Thursdays in Porter Hall 226B. RSVP would be helpful at http://tinyurl.com/bf4ptst.
Learn To Swim; Improve Your Stroke
Carnegie Mellon's Adult Learn to Swim and Stroke Improvement Classes will be held each Wednesday in April (April 2, 9 16, 23 and 30) in the University Center pool. Learn to swim sessions will be held from 4 – 4:30 p.m. and stroke improvement sessions will be held from 6:30 – 7 p.m. 

This program is designed to help the non-swimming adult and basic beginner adult learn survival skills, develop their stroke, overcome fears with swimming and treading, and to improve their overall fitness level by swimming. Instructors are trained to teach swimming skills at all levels. They are proficient swimmers and will be able to teach the necessary swimming skills/strokes for this class. They are varsity swimmers, lifeguards and members of the aquatics staff.

The cost is $15 per session and registration forms are available at the University Center Equipment Desk. Only credit cards or plaid cash will be accepted. Please pay the first night of the class.

Questions? Contact Pattye Stragar at pls@andrew.cmu.edu.
Presenters, Volunteers Needed for Take Our Daughters and Sons To Work Day
Staff Council's Take Our Daughters and Sons to Work committee is looking for activity leaders/presenters and general volunteers to contribute their time and enthusiasm to this year's Take Our Daughters and Sons to Work Day event on Thursday, April 24. This year marks the 20th anniversary of the national Take Our Daughters and Sons to Work program, and the theme is "Plant a Seed, Grow a Future."

Faculty and staff are encouraged to bring their children between the ages of 8 and 15 to campus to give them a glimpse of the wide range of career and learning opportunities that exist at CMU. After a group lunch program, the children can attend two activity sessions for which they have pre-registered. The Staff Council committee is looking for individuals on campus who would like to create and lead an activity or presentation for one or two sessions in the afternoon. The commitment of presenting a program has been streamlined in order to minimize the impact to your regular academic schedule.

Each session will run roughly 45 minutes. If you volunteer for both sessions, your total commitment will be from approximately 12:40 – 3:20 p.m., including set-up and tear down. Depending on the nature of your activity/presentation, you will have either a smaller group of children (15 maximum) or a larger group (30 maximum).

If you are interested in leading an activity or presentation, please go to https://cmuprecollege.wufoo.com/forms/todastw-presenter-registration-form-cmu/. For more information about presenters, please contact M. Shernell Smith at mssmith@andrew.cmu.edu or 412-268-2075. 

If you would like to volunteer as a general assistant to serve as a chaperone, lunch server or monitor at the end of the day (3 -4 p.m.) for the parental pick-up in Weigand Gym, please contact Gloria Gruber at ggruber@andrew.cmu.edu or 412-268-9685.
Dry Cleaning Services Offered
Housing Services offers professional dry cleaning for members of the campus community. Faculty and staff can have dry cleaning picked up and then delivered to their office when completed.  Students are asked to drop off and pick up their items to the Margaret Morrison laundry room between 11 a.m. and noon, and 1 and 2 p.m., Monday through Friday.
Please call 412-268-6939 or email dry-clean@andrew.cmu.edu to arrange for dry cleaning services. For rates, please see http://www.cmu.edu/housing/utilities-and-services/dry-cleaning/index.html.
Tartans Offer Swimming Lessons for Kids
Carnegie Mellon's swimming team is offering one-on-one swimming lessons for children ages 3 and up every Tuesday and Thursday in April in the CMU pool.  Lesson times are 4:30 – 5, 5 – 5:30, 5:30 – 6 and 6 – 6:30 p.m. The cost is $20 for one session, $70 for four lessons, $100 for six and $140 for all eight half-hour sessions.

For more information and to register, contact Kellie Ayres at klayres@andrew.cmu.edu or 412-268-6082.
Buggy Practices Continue
Buggy practice sessions will continue every weekend through April 5-6. Tech Street, Frew Street and Schenley Drive will be closed to traffic and parking from 5 - 9 a.m. on the following dates:
March: 29, 30; and
April:  5, 6
This year's 100th anniversary of Spring Carnival is April 10-12. Learn more about Spring Carnival.
Last Call: Student Employee Appreciation Lunch Registration Deadline is March 28
Registration is now open for the Student Employee Appreciation Lunch from 12 – 1:30 p.m., April 2 in the  University Center's Rangos Hall. Campus supervisors can host their student employees, and join them for lunch to celebrate the great work they do. Entertainment will be provided by musical theater students in the School of Drama. Registration deadline is March 28. Register at http://www.cmu.edu/career/student-employment-experiential/.
Responsible Conduct of Research Seminars Continue
The Responsible Conduct of Research (RCR) Seminar Series continues. Upcoming sessions are scheduled from 12 – 1 p.m. in the University Center. Dates and topics are:
Tuesday, April 8: International Research Considerations: Foreign Travel and Foreign Collaborators
Tuesday, April 15: Ethical Issues with Research Involving Human Subjects
Tuesday, April 22: Research Data Management
More information is available on the RCR website. Space is limited, so please register early.