March 26, 2021
Students Seeking Service Opportunities Find Virtual Groove
SLICE connects with Virtual Global Brigades for alternative spring break activities
By Katy Rank Lev klev(through)andrew.cmu.edu
Media Inquiries
For decades, Carnegie Mellon University has supported alternative spring break opportunities for servant leadership. Student Leadership, Involvement and Civic Engagement (SLICE) helps Tartans travel around the world to lend their skills to communities with limited resources.
Kaycee Palko, senior coordinator of student activities at SLICE, said students typically spend the entire academic year preparing for these service trips, starting with fundraising in the fall and working through a training curriculum that includes topics such as cultural competency, voluntourism and reflection in the lead up to their trip. This year, due to the pandemic, volunteering will look a little different.
"Our students are still motivated to find a way to make a difference," Palko said.
Global Brigades, the international nonprofit that often supports these trips, found a solution for students determined to make a difference in 2021.
Three groups of CMU undergraduate students partnered with Global Brigades to offer remote business, medical and public health service to communities throughout Central America, staggered throughout the spring semester.
"Our students are still motivated to find a way to make a difference." — Kaycee Palko
"It's very telling that in this switch to remote operations, our students didn't give up," Palko said. "Sometimes the students feel like you have to be there in order to make a difference. We are really hoping to expand that perspective and help students learn it's not just about stepping down onto the ground in another location."

Good Business
Sean Gao, a senior with double majors in statistics and business administration, and Carrie Stewart, a junior in social decision sciences and business administration, co-led the virtual business brigade this year. Both students experienced in-person travel to Ghana in previous years, consulting with a cassava processing plant to help solve business and logistics challenges.

"That experience was truly incredible," Gao said. "Being able to go in and really experience a different country's culture … I personally haven't experienced anything outside of ours. And it was really meaningful being able to apply what we learned here at Tepper."

Gao and Stewart decided last May to plan a virtual global brigade experience for 2021. They knew the CMU calendar did not include a week of spring break, so the pair selected a service experience they could complete in January over winter break instead.

"We were actually able to do more of the business side of the service during the virtual project," Stewart said. "At home we have access to Excel and Google which gives us the ability to look up information for the clients. I think we could offer them a really great business workshop."

The business brigade students divided themselves into small groups, and each met virtually with a small business to listen to business plans and discuss challenges. The students then met to plan solutions and presented these to partners in Panama.

Global Brigades partners with Kiva, an organization that provides crowdfunded small business loans. The CMU students also helped their clients create presentations to secure Kiva loans.

Gao's group supported a small computer and printing cafe called Betsy's Copies.

"She needed a finance tracker to chart inflows and outflows of cash," Gao said. "She didn't have an expense tracking sheet so she had no way of knowing how much profit her business was actually making."

Gao's team created an Excel spreadsheet for the owner and designed a logo that could serve as a virtual business card.

"In Panama, most people use WhatsApp as their primary way of communicating, so a virtual business card she could send through that app would be really, really helpful," Gao said.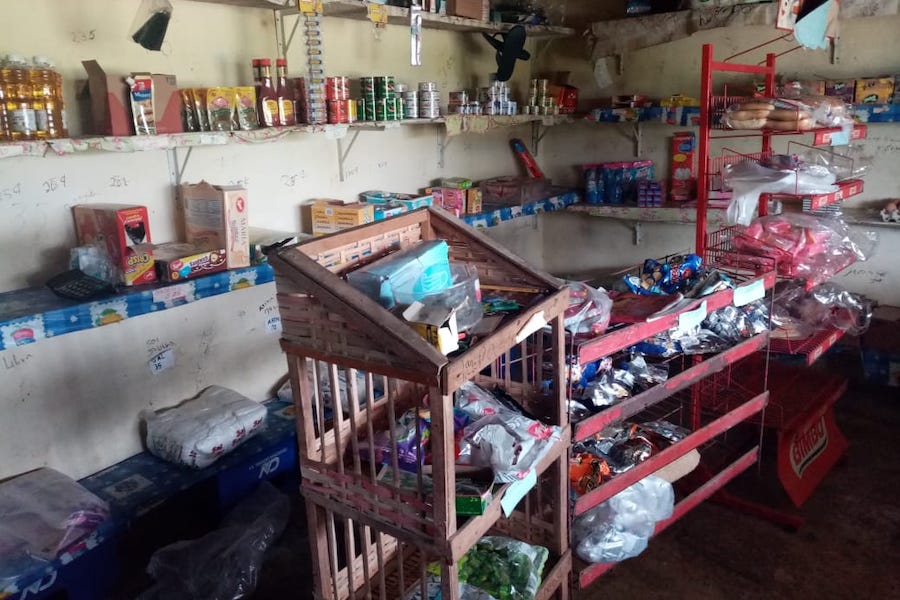 Many people in rural Panama rely on kiosks to purchase basic foods. CMU students supported a kiosk owner in creating an inventory tracking system for her business.
Stewart's team supported a kiosk owner. Stewart said, "Many people in Panama don't have access to big grocery stores, or don't have cars, so they rely on these kiosks for milk, sugar, eggs, and our partner also sells meat that her husband raises and butchers."
Stewart and her teammates helped create an inventory tracking system for their business partner. "She wanted to purchase a bigger freezer to store more meat, so we helped her calculate which type of loan would be most appropriate based on her profit margins," said Stewart.
Supporting Telehealth
Katherine Kim, a senior majoring in biological sciences, has been involved in Global Brigades since her first year at CMU. Her alternate spring break trips have included Nicaragua and Panama, and this year, she will be supporting a telehealth clinic in Honduras through a virtual program.
"There is a lot of civil unrest in Honduras, so it's great that we are able to support people from that community virtually," Kim said.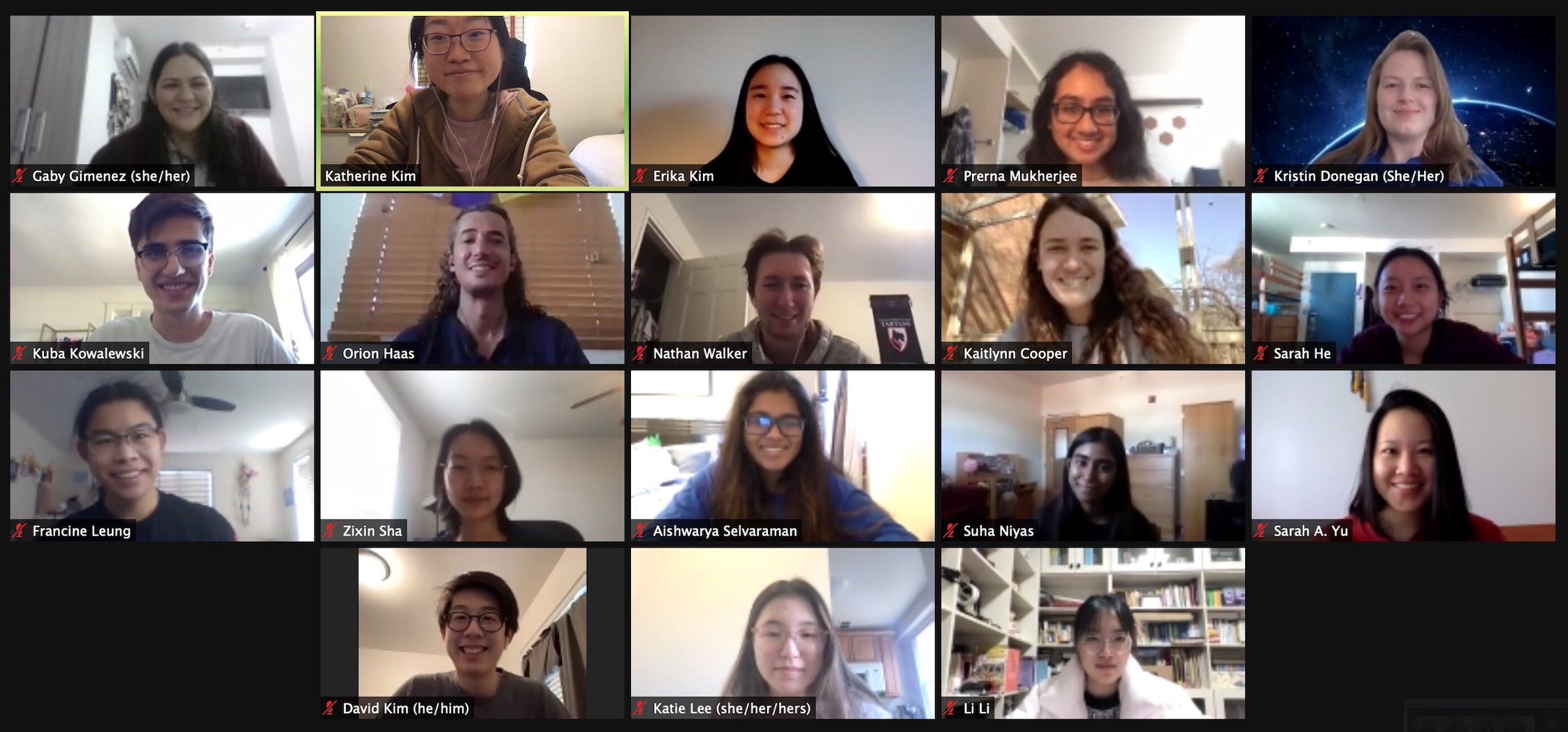 Kim and her co-chair for the project, senior mechanical engineering major Jakub "Kuba" Kowalewski, will be supporting a medical clinic with telehealth stations for optometry, dentistry, pharmacy and general intake.
"The ratio of nurses and doctors to people in Honduras is much lower than the World Health Organization would recommend," said Kowalewski. "Our role will support doctors in an urban clinic."
Donations raised by Carnegie Mellon students will support the purchase of equipment for the clinic, including digital stethoscopes and other tools that allow the patients to interface with volunteers from anywhere in the world. "We will help give directions and explanations to patients," Kowalewski said. "The physicians will interpret readings as they're the medical professionals."
CMU students will gain experience recording data, taking vitals and performing triage work they would have been able to do in person, freeing up physicians and nurses to perform medical assessments.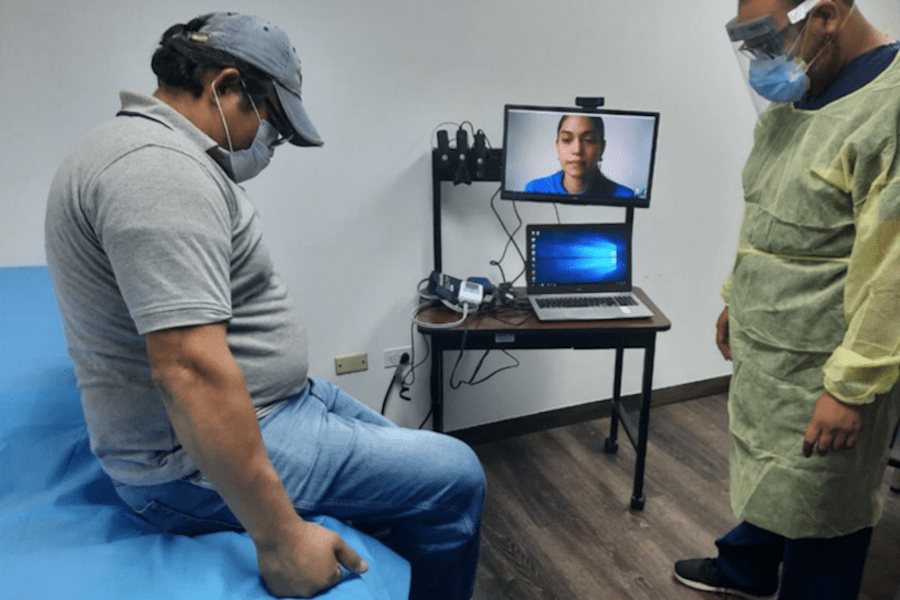 Telehealth allows Global Brigades to serve hundreds of patients per day in large, urban clinics. CMU students will support physicians with patient intake.
The virtual brigade experience still includes curriculum prior to the live clinic. Students will discuss cultural norms, refresh their Spanish language skills, and learn about the challenges physicians face in Honduras. Kim said, "Issues like hygiene, mental health and water purity aren't technically medical, but are still very integral to health." Their group is helping to provide at-home water filters to the community they'll serve through March.
"The global brigades are really focused on sustainability," Kowalewski said. "They have a holistic model that incorporates this idea that of course a one-week service project isn't going to fix a community challenge. They're focused on establishing relationships and empowering the communities so they reach a point where they no longer need this sort of volunteer."
Most of the 23 students participating in the medical brigade are not actually planning to go into medicine. They're interested in the ways their chosen fields of engineering or biology or mathematics can support the communities being served.
Community Approach to Public Health
Ana-Maria Poole, a senior in biological sciences and modern languages, and Emily Ha, a senior in biological sciences, traveled to Ghana and Nicaragua with Global Brigades as underclassmen. Now, as co-leaders of the Public Health Brigade at CMU, the pair are preparing their group for a virtual service experience in Honduras as well as coordinating virtual service experiences throughout the year for students in Pittsburgh. For example, the group partnered with Clean Water Action to host online lectures and help spread awareness of clean water access issues in the United States.
Ha recalls her trip to Ghana when the group helped build sustainable septic tanks called biodigesters. The biodigesters last for 25 years before needing to be emptied and recapped.
"Sanitation is a major public health issue in the countries served by the Global Brigades," Poole said. "I like that the solutions we help build are made from simple materials, sourced locally and built by local artisans."
The public health brigade students spend hours digging ditches when visiting communities.
"I really valued that full day experience talking with families about their culture and their lives, just getting to sit down with them and talk," Ha said.
This year, CMU students are learning about a different aspect of public health: data analysis. The team partnered with the basic sanitation committee in Honduras, and CMU students will work with raw data collected from a household survey.
"We will find out more details about everyone's public health needs and what sort of infrastructure they'd like to see in their community, and we will build something called a Community Action Plan," said Ha.
Ha, Poole and the other public health brigade students will spend weeks studying existing plans from other communities to help prepare solutions to problems such as mosquito-borne illness.
"One brigade group helped another community create a timetable for people mowing their grass to help prevent the spread of disease," Ha said. "Serving with the global brigades has been a great way for me to learn about how medicine and public health issues go together."
After the brigade presents their plan, they will have follow-up meetings with community partners to learn about implementing the solutions.
"The breadth of ideas and creativity of solutions for public health is so cool to me. I love learning about all the wide impacts of different challenges," Poole said. "Global Brigades has taught me so much about the importance of listening to people and what their real challenges are."