July 16, 2021
A Passion for Entrepreneurship
Undergraduates aim to forge new paths through Innovation Scholars program
By Heidi Opdyke opdyke(through)andrew.cmu.edu
Media Inquiries
Heidi Opdyke
Marketing & Communications
While watching the 2012 Olympics, Avika Bansal fell in love with fencing.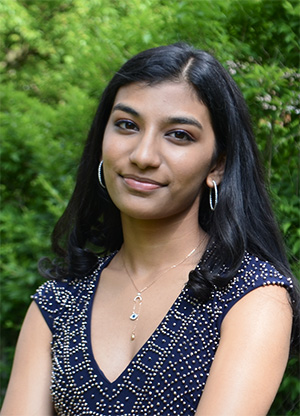 "I was hooked by the speed and the agility of the people who were competing," said Bansal (left), a rising junior in chemical engineering and biomedical engineering at Carnegie Mellon University. "I told my mom I was going to do this. I didn't look back from there."
She started fencing in sixth grade, sharpening her skills enough to become a nationally ranked fencer before college. While competing, she noticed places where the sport could be improved, in particular in how athletes can review and critique performance.
"The coaching technology in fencing is quite antiquated compared to other sports like golf, swimming or football where you can use digital tools and advanced technology to analyze the exact angle where the quarterback threw the football or the exact angle of which a golfer swung his club," Bansal said. "But there wasn't anything really like that in fencing."
So, she created TurnPRO, an app that provides tools to allow users to share videos, images and notes with coaches, and receive more technical and tailored feedback. With a simple user interface, this app can harness the power of new technology to help fencers, and perhaps other types of athletes, to elevate their skills.
"It's been a great journey so far. I'm looking to implement a lot more data analysis to track performance over an extended time," Bansal said.
Bansal is a member of CMU's Innovation Scholars program, which provides academic coursework, experience working in a startup, networking and mentorship to rising juniors. Sonya Ford is the manager of the Innovation Scholars Program within CMU's Swartz Center for Entrepreneurship. Thirteen students were chosen for this year's cohort.
"We look for entrepreneurially minded, passionate undergraduate students who have a desire to engage and build a network with the other Innovation Scholars as well as the Swartz Center," Ford said.
Samarth Gowda, a rising senior in statistics and data science, is in his second year of the Innovation Scholars program and a familiar face at the Swartz Center where his platform Pralent is being tested. An all-in-one platform for organizations to manage their professional communities, it grew out of Gowda's work with CMU's Undergraduate Entrepreneurship Association, where he was president this past year.
"I reached out to the Swartz Center's Dave Mawhinney, Sonya Ford and Allyson Hince who said, 'Let's try it,'" Gowda said. "We worked together to build different features. We're hoping to launch the expanded version shortly."
Mawhinney, executive director for the Swartz Center, said that in the past decade more than 400 startups linked to CMU have raised more than $7 billion in follow-on funding. The Innovation Scholars program, now in its eighth year, seeks to increase the number of startup companies initiated by or involving undergraduate students.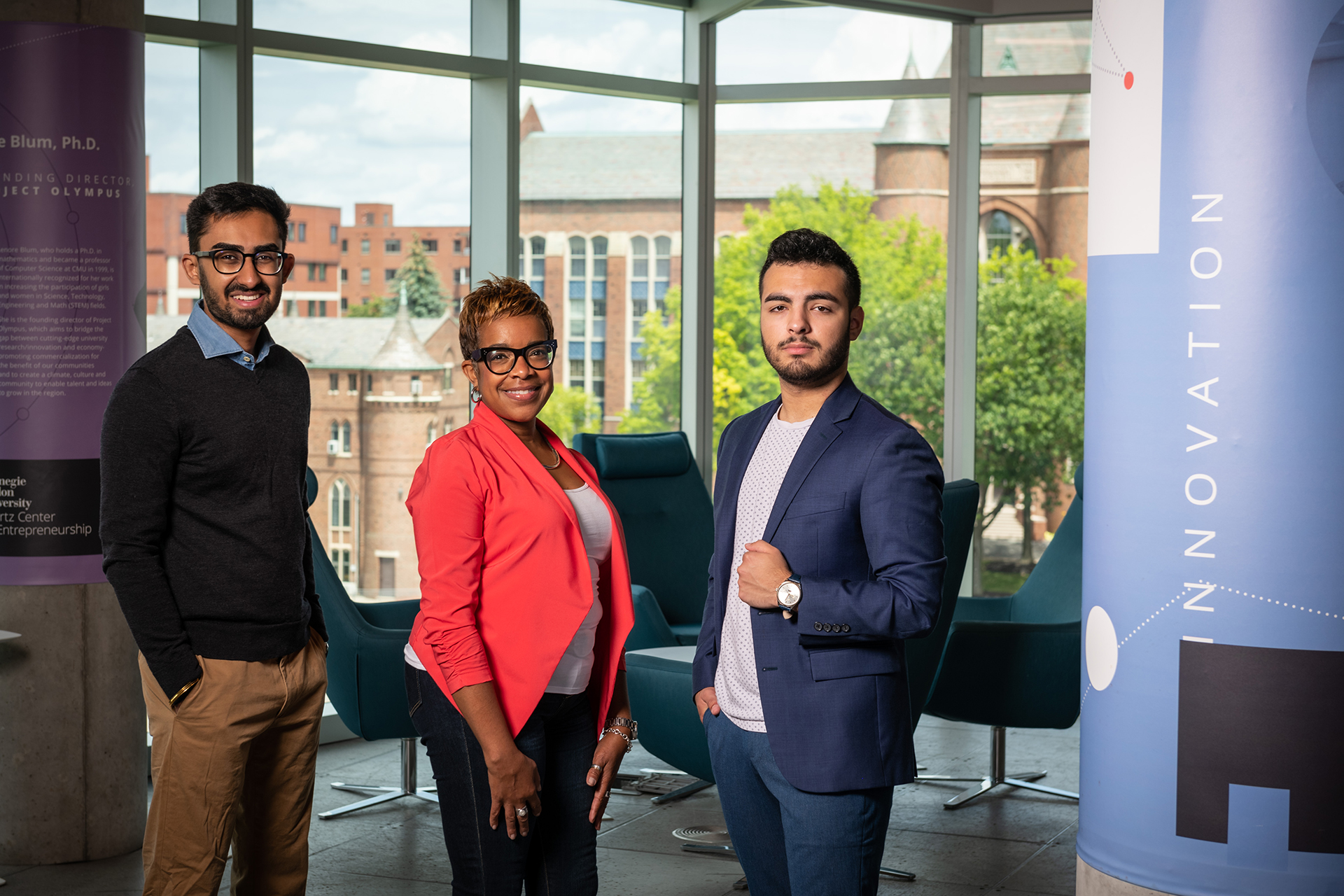 From left, Ishgun Arora, Sonya Ford and Alex Garcia stand in CMU's Swartz Center. Arora and Garcia are two of the 13 juniors chosen for the Innovation Scholars program, which Ford manages.
Entrepreneurship is solving problems at its core. For Ishgun Arora, a rising junior in business administration, those problems relate to education in his home country of India.
"When it comes to running a business, you need to work through the supply and demand in an industry and fix it," Arora said.
Arora has started several endeavors related to education. The most recent being an online tutoring platform that allowed Indian students studying for a national exam to get assistance from high-quality tutors around the country. Another idea he is contemplating involves professional development training related to blockchain technology. There is high demand for engineers with the skills to work in the industry, but few people have the background.
"Some colleges don't have it as a course yet, so right now, the only way you have to learn and be employed in blockchain is to do it on your own time," Arora said.
Arora came to CMU because of its interdisciplinary study and has embraced the entrepreneurial community here. He hopes to inspire more students to take unexpected paths with their careers over joining established companies.
"My family has been in business and are entrepreneurs, and it can be tough for people not exposed to that to think of this life. But consider the value and impact you can create," Arora said.
Alex Garcia also knows what it's like to grow up in an entrepreneurial family. A rising junior in business administration, his parents are serial entrepreneurs in legal technology.
"I've been in the entrepreneurship space all my life. It's an advantage I have over other people. My parents would show me how they're running things, and I was exposed to a lot of the business world early on."
Similar to Arora, Garcia has worked on different business models. His latest, and most successful, is AGIS media, which helps startups and other businesses with digital marketing campaigns.
I've grown it to a really good point right now," Garcia said. "I want to be one of the leaders in social media marketing space. The plan is to keep working on this and growing this over time."
Max Mirho, who graduated from CMU in 2019 with a degree in business administration is a former Innovation Scholar.
"It was really great. It's a place to be exposed to entrepreneurship, innovation and creating new things and solving problems in the world," Mirho said. Founder of the EntrepreNerd podcast, he livestreams processes related to building microbusinesses and prototypes on Twitch. Mirho's latest build is Beyta.co, which helps entrepreneurs get started on business ideas quicker by providing quick access to templates and prebuilt apps.
He recently joined the Swartz Center as a hacker-in-residence and is serving as a mentor for current Innovation Scholars. He has a bit of advice before applying to the program.
"Show some level of initiative by building something or go after something you want. Try to start a project. If you tried one or two things, yet failed, you still learned a ton from those experiences," Mirho said. "If you try something, you will learn how easy it is and your brain will explode with different ideas. Make something stupid, toss it out there and see what happens."